Wanna celebrate Christmas in Texas but don't know where? You're in luck! Here we talk about the most delightful cities and towns to experience a magical Christmas in the Lone Star State!
Everything is bigger in Texas, and this saying is also true for holiday celebrations. With larger-than-life light tunnels, Christmas trees, and holiday displays, Texas is one of the best getaways for Christmas in the USA.
It has the whole festive combo of holiday entertainment, Santa Claus, and good weather!
In general, the temperatures stay between the mid-30s and mid-60s, ensuring a pleasant Christmas vacation in Texas for the entire family!
9 Incredible Places to Visit in Texas During Christmas
Whether you are going on a winter road trip or a Christmas vacation in Texas, this list has delightful suggestions of busy cities and cute small towns in Texas to get you in the holiday spirit!
Even if you can't visit them all, be sure to include these festive places on your USA bucket list for a future trip. You won't regret it.
Here are the 9 best places to celebrate Christmas in Texas!
1. Dallas
Christmas in Dallas comes with a full season of events and activities spread across the city.
The Dallas Arboretum alone has quite a few holiday attractions. The fun Holiday at the Arboretum has life-size displays of 12 Days of Christmas, hand-carved Christmas Village, and more!
But if you want to take your Texas Christmas experience to the next level, enjoy festive drinks at the rooftop bar Winterproof. This trendy pool bar has a great lounge that is transformed into a winter wonderland!
Namely, they place cozy igloos and offer a fantastic themed drink menu that no one can say no to.
Are you looking instead for Christmas date night ideas in Dallas-Fort Worth? Then you will want to check out these romantic restaurants in Dallas (with a map of romantic venues in the surrounding area).
But if you like us love festive lights, you can't miss the Prairie Lights, the world's most massive Christmas lights tunnel!
With over 4 million lights and 2 miles of driving paths, Prairie Lights boasts over an hour of in and out of car fun and is a local favorite.
Where to stay in Dallas? We have a detailed guide about where to stay in Dallas divided by neighborhoods and budget. For a local experience, you might want to read this article about the best VRBOs in Dallas.
2. Fort Worth
The holiday season is one of the best times to escape to Fort Worth with the entire family and celebrate Christmas in Texas in style!
Like Dallas, Fort Worth is filled with great holiday activities and Christmassy things to do.
Grab a cup of hot cocoa and shop around the Stockyards — all decked out for the holidays.
For holiday gifts, stop by the Cowboy Christmas, where over 250 vendors sell custom-made jewelry, furniture, original art, and more!
For light displays, take in the Modern Lights at the Modern Art Museum or head to Texas Motor Speedway to see over 2 million LEDs at the Gift of Lights.
And skate around Panther Island Ice – Fort Worth's only outdoor ice skating rink.
Beyond that, the Fairmount neighborhood goes all out on holiday decorations.
It's a Fort Worth holiday tradition to cruise through this historic neighborhood with the family to enjoy the many decorated homes and light shows, and you obviously can't miss that.
Wondering where to stay in Fort Worth? If you would like to stay in a quaint apartment near many restaurants and coffee shops, you might want to check out this one-bedroom Vrbo, which is within walk distance of Magnolia Street.
Read next: Best Places to Visit During Christmas in the USA
3. Austin
Christmas in Austin is the holiest and jolliest it can be!
Start your itinerary by strolling under 2 million lights in the Austin Trail of Lights at Zilker Park. In total, over 70 lighted tunnels or displays come to life shining in the Austinite night.
This activity is not only incredibly Christmassy but also one of the most romantic things to do in Austin.
Still, to celebrate a real Texas Christmas, head over to Santa's Ranch, where a 50-foot Christmas tree surrounded by 1.5 million lights transforms the country roads into a magical land of holiday enchantment.
Obviously, there are Texan holiday snacks to keep you warm on this ride.
Did you have too many non-waist-friendly dishes in the last few weeks? Then work off all the cookies and cocoa at the Trail of Lights Fun Run, which is one of the most adventurous holiday activities you will experience!
The run is a fun way to create lasting holiday memories in a festive atmosphere.
But before leaving town, take your Christmas in Texas to the next level and celebrate the holidays in a German-Texan Christmas Market near the Texas Capitol Building!
It's an excellent opportunity to shop for unique gifts and sip some gluhwein while honoring the German heritage in Central Texas.
Where to stay in Austin? This stylish condo is near the South Congress and has new appliances.
4. San Antonio
Christmas in San Antonio means visitors get to experience even bigger and brighter celebrations than usual.
Start your self-guided tour at the San Antonio Riverwalk to experience the Christmas lights along the river.
The beautiful, delicate paper lanterns–luminarias–are an unmissable sight for your Christmas in San Antonio.
So assemble your caroling team, bring a good mood, and head out to spread some holiday cheer as you enjoy the Christmas magic at this place!
Are you looking for an old western experience? Then head over to the annual event Old West Christmas Light Fest at the Enchanted Springs Ranch.
With over 40 old Western storefronts with holiday decor, this festival has everything to keep the whole family entertained.
This Texas Christmas event is a unique experience with light mazes, lawn games, and mechanical bull rides to holiday drinks in a saloon.
Looking for accommodation in San Antonio? This cute studio in Southtown is beautifully designed and is only minutes from Downtown.
5. Houston
You won't find a white Christmas in Houston, but you can still find an outdoor skating rink, Santa Claus, a holiday village, gingerbread houses, and many Christmas lights. How does that sound?
The Space City has holiday events out of this world and is packed with festive things to do for the entire family.
Celebrate Christmas in Houston with the little ones by driving through Rudolph's Lightshow, which has lights synced to music that will be played over the radio.
Then, take your holiday photos at the larger-than-life Christmas tree at the City Hall. This tree glows its Christmas lights with energy-efficient LED lamps and brightens the night for Houstonians and tourists alike.
After catching an incredible gingerbread house competition, experience the Galaxy Lights. This interactive holiday lights tradition happens in the Space Center Houston and is filled with out-of-this-world displays.
It's an incredible attraction for space lovers of all ages.
Need a place to stay in Houston? Then you will love this condo in Midtown. It is close to many bars and restaurants.
6. Fredericksburg
Oh, Christmas in Fredericksburg is simply incredible and will make you feel in a German town with a country twang. Seriously, this lovely German town knows how to ring in a Texas Christmas.
With a lovely ice skating rink and an incredible light parade, Fredericksburg is sure to get you in the holiday spirit in no time!
This little European enclave boasts a 30-foot tall Christmas tree and a 26-foot tall Christmas pyramid, which was handcrafted in Germany!
Beyond that, a trip to Fredericksburg, the center of Texas Wine Country, wouldn't be complete without a Christmas winery experience.
There are many award-winning Texas wineries in or around Fredericksburg, and many of them have a holiday agenda.
Still, if you just can't get enough of Texan wine, head over to our comprehensive list of wine tours in Fredericksburg for all the must-read recommendations on where to grab your next glass.
For family-friendly activities, drive through the incredible nativity scene at the Bethany Lutheran Church. It is an unbelievable show with special effects, live actors, and music!
Are you still looking for accommodation in Fredericksburg? There are a few great accommodation options in town. You can stay in hotels or bed and breakfast, whatever suits your needs the best.
In this guide about where to stay in Fredericksburg, we talk about the best spots in town.
Alternatively, there are excellent Airbnb in Fredericksburg, from cabins to lofts. However, if this is a romantic getaway, you might want to check out these romantic cabins in Fredericksburg.
7. Johnson City
Johnson City is a small town in the Texas Hill Country that glows during the holiday season!
With the incredible Lights Spectacular festival, the town transforms itself into a bright beacon of light, welcoming visitors with a good old-fashioned Christmas cheer.
Drive through the Pedernales Electric Cooperative headquarters to marvel at over 1.3 million LED bulbs lighting up the whole campus.
The lights will shine brightly from November 26 through January 2, 2022, making Christmas in Texas even more special.
Where to stay in Johnson City? The town is tiny, so whatever accommodation you pick, you will be close to the action and relaxation at the same time.
Still, the Joan of Arc suite at Arc de Texas Building with breathtaking Hill Country views.
8. Galveston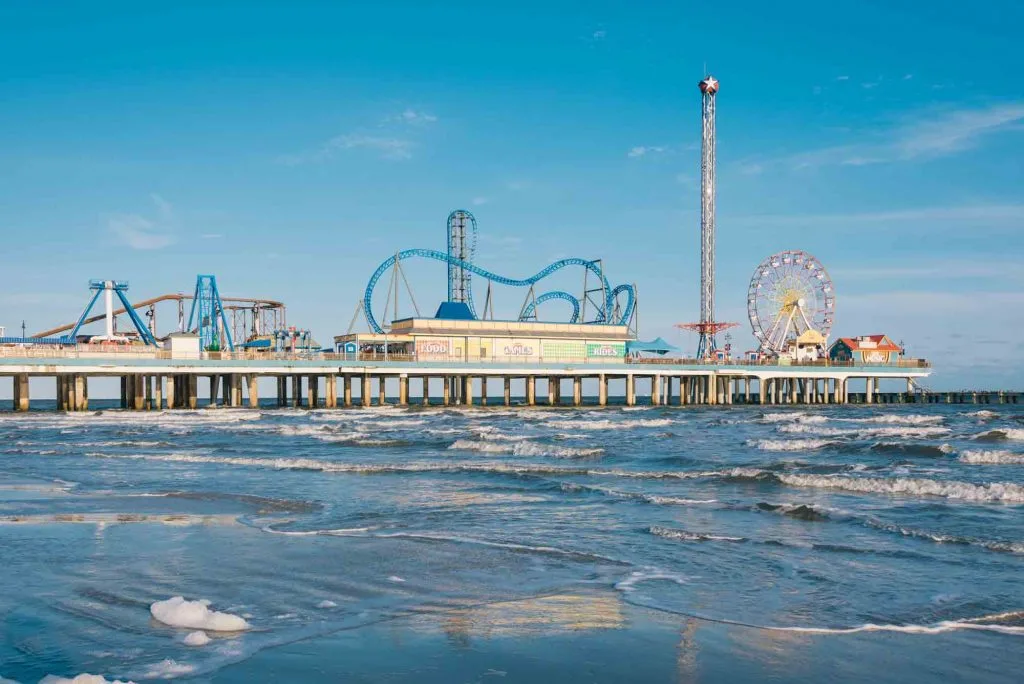 If you want to experience a relatively warm Christmas in Texas, head south to Galveston, a lovely beach town in the Lone Star State.
From November through New Year's, magical events and activities overflowing with holiday cheer occur in the town.
While the Galveston Railroad Museum has incredible activities for children, including train rides and Santa, the Moody Gardens is packed with Christmassy things to do for the entire family!
Hosting a mile-long trail of lights with millions of twinkling lamps, holiday music, ice sculptures, hot cocoa, and fireside s'mores, the Moody Gardens Christmas will be your go-to holiday destination in the Southwest.
But that's not all! They also have a 4D Rudolph experience, ice slides, train rides, a dancing tree, and classic holiday movies playing on Texas's most massive screen.
Where to stay in Galveston? That's a no-brainer, right? You will want to stay at the Moody Gardens Hotel & Spa for a front-seat pass to all their incredible Christmas celebrations!
9. Grapevine
Last but not least. We recommend you experience Christmas in Grapevine, TX. After all, this is the Christmas capital of Texas!
With 40 days of holiday events, millions of sparkling Christmas lights, larger-than-life decorations, and much more, Christmas in Grapevine is unique!
Start your itinerary riding the Grapevine vintage railroad—the famous North Pole Express—if you're visiting with the little ones.
Then stop at the Historic Palace Theatre for some classic Christmas movies and live performances to continue the holiday season's merriment.
Ready to snap some photos of incredible light displays? Then know that Grapevine's famous Parade of Lights is one of the largest lighted Christmas parades in North Texas, while the Twinkle Light Boat Parade is certainly one of the quirkiest.
After the parades, stroll along the historic Main Street for some more Christmas decor and shopping some holiday gifts too!
Whether you're looking for a night out with the family, an opportunity to enjoy the season with someone special, or a unique Christmas getaway, Grapevine offers some of the most magical moments of the season.
After all, this is the Christmas Capital of Texas!
Where to stay in Grapevine? The Gaylord Texan Hotel has excellent facilities, beautiful Christmas decorations, and spacious rooms.
More Texas Christmas spots
San Angelo – It has a lovely 2.5 mile Tour of Lights with giant Christmas cards and Holiday scenes galore!
Marble falls – It has the incredible Marble Falls Walkway of Lights.
College Station – It has a beautiful Santa's Wonderland!
Richmond – The George Ranch Historical Park in Richmond offers an old fashioned celebration.
Did you like this article about Christmas in Texas? Then share it with a dear friend who might like it too!
Latest posts by John Oakley
(see all)