Perhaps nowhere else in the world does the holidays quite like Germany or the US South, making Christmas in Fredericksburg a fabulously festive way to spend the winter season.
This little European enclave in the Texas Hill Country goes all out for the holidays, with festivals, parades, and German-style Christmas markets galore.
Since there are so many activities to choose from, we've put together this list of the jolliest festivities Fredericksburg has to offer, from family-oriented events to intimate evenings for two.
So don your best Santa hat and cowboy boots, and keep reading to put together the best plans for a lovely Christmas in Fredericksburg, Texas!
Need more than one day to take in all the winter magic? Check out our suggestions on where to stay in Fredericksburg for a number of gorgeous accommodations that will keep you close to the action.
12 Festive Ways to Celebrate Christmas in Fredericksburg, Texas
Of course, this incredible town is perfect to celebrate Christmas in Texas because it has tons of ways to get into the holiday spirit.
You can munch and sip your way through your trip, enjoying all the German holiday treats Fredericksburg, Texas, has to offer (bring on the gluhwein!) or shop 'til you drop along the town's Main Street.
Whatever activities you opt to enjoy, you're sure to bump into Santa Claus more than once during your visit, and we're sure he'd approve our picks below!
Turn on the holiday tunes, sit back, and let's talk about Christmas in Fredericksburg, TX!
1. Have an Ice Day at the Eisbahn Ice Skating Rink
Take a break from all the walking around town and get your glide on at the Eisbahn Ice Skating Rink. Nothing says Christmas time quite like bundling up and twirling around the rink with friends and family.
For only $15, you get an all-day skate pass that lets you come and go as you please and includes a skate rental. That means you can hit the rink earlier in the day when it's not so crowded, and go for another spin under the Christmas lights at night.
The rink kicks off the holiday skating season the Friday after Thanksgiving and remains open through New Year's Weekend, except for Christmas Eve and Christmas Day.
Best of all, a portion of the proceeds from holiday ticket sales goes towards funding for cystic fibrosis research and the Boys and Girls Club of Fredericksburg. Get into the spirit of giving as you enjoy a classic holiday activity.
Read next: Best Places to Visit During Christmas in the USA
2. Spread Some Christmas Cheers on a Holiday-Themed Wine Tour
If you've been dreaming of a white (or red) Christmas, a holiday wine tour is just the thing to add to the itinerary. A trip to Fredericksburg, the center of Texas Wine Country, wouldn't be complete without a Christmas winery experience.
Every year, for the first few weeks of December, the city holds a "Christmas Wine Affair," during which participating vineyards offer excellent discounts, decked out tasting rooms, and plenty of holiday cheer.
This year, the event will run from November 29 – December 24.
The so-called "wine passport" gets you access to four complimentary tastings per day, so genuinely dedicated drink-lovers can hit the Texas Wine Trail for a long weekend and grab the most bang for their buck.
It's also the perfect opportunity to pick up last-minute Christmas gifts. Passport holders get a 15 percent discount for every three bottles purchased, so all your loved ones that couldn't make it on the trip don't have to miss out.
Get a head start with our list of the best wineries in Fredericksburg and scope out the must-visit vineyards in the city.
3. Have a Presidential Christmas at the LBJ Tree Lighting Ceremony
Family-friendly Christmas events that also incorporate the storied history of Fredericksburg? Yes, please!
Every year, at former president Lyndon B. Johnson's estate, visitors can take part in a holiday tradition that began more than 50 years ago with the Johnson family themselves.
Christmas carolers, a live nativity, and an appearance by Santa kick off the celebration, and the evening culminates in a spectacular tree lighting ceremony.
You can also explore the grounds on a wintery walk along one of their many nature trails.
The festivities and tree lighting will take place on December 19 from 5:30 PM, and entrance is free.
This destination also scored a spot on our list of the best things to do in Fredericksburg, so it's definitely worth a visit.
4. Ooh and Aah at the Light the Night Christmas Parade
The always magical Fredericksburg Main Street gets an even more glamorous makeover during the holiday season, and it is sure to get you into the Christmas spirit upon the first stroll.
On December 3, the town center will be transformed into a flurry of homemade floats, marching bands, and Christmas lights that carry on a tradition that has drawn visitors for over two decades.
Guests can purchase reserved bleacher seating, but seating alongside the Christmas parade route is entirely free. Just bring your own blankets or folding chairs and get comfy!
Better yet, the festivities don't end when the lighted parade does. A family-friendly holiday film screening, photos with Santa and Mrs. Claus, and a number of food and drink options are just a few of the activities that keep crowds mingling in the streets for hours after the show.
For anyone celebrating Christmas in Fredericksburg, this event is absolutely unmissable, and there's no better way to get in the holiday spirit.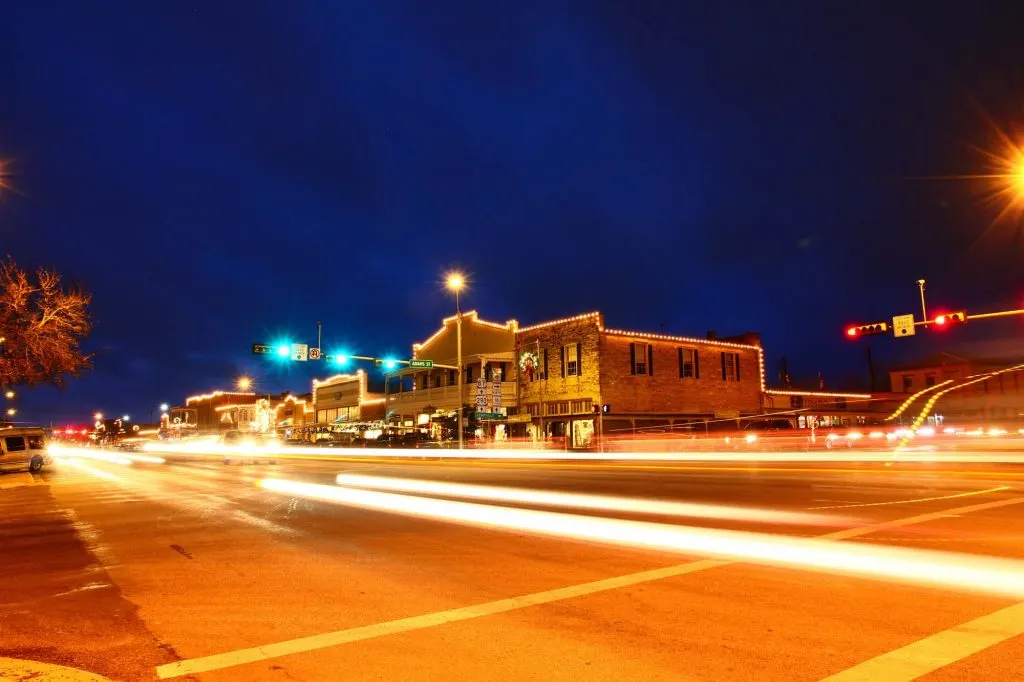 5. Hunt for Local Treasures at Fredericksburg Trade Days Holiday Encore
This city is known for its markets year-round, but Christmas in Fredericksburg brings an extra special holiday cheer to the monthly Trade Days event.
As their website claims, "If you can't find it at Trade Days…you don't need it!" Since the event comes complete with seven barns full of artisan goods and over 400 vendors, we can bet it has pretty much got all your gift-buying needs covered.
From November 26-28, you can browse antiques, furniture, and booth after booth full of homemade goodies. When you need a bit of a break, stop by the super cozy onsite Biergarten for live music and a drink.
The entrance to the market is free, and parking costs only $5 for the whole weekend.
6. Soak Up Some German culture at the Marktplatz's Weihnachtspyramide
For the epitome of a Fredericksburg, Texas Christmas, you have to check out the holiday decorations that go up in the town center.
Perhaps the most iconic is the weihnachtspyramide, or Christmas pyramid, a traditional German decoration that may have predated the Christmas tree, or in German, the weihnachtsbaum.
Towering 26 feet high in the center of the Marktplatz, this giant spinning display looks like some fantastical mix between a carousel and an oversized children's toy. They are also a legendary festive decoration that cannot be missed in Germany's most traditional Christmas fairs.
The weihnachtspyramide was handcrafted in Germany and shows off an intricate nativity scene that has welcomed holiday visitors to Fredericksburg for more than a decade.
On the other side of the square, opposite this large outdoor pyramid, is a gorgeous 30-foot tall Christmas tree. Together, the two are meant to show the blend of cultures that make Fredericksburg so unique.
The weihnachtspyramide goes up on November 23 at 6 PM and remains lit through the first week of January, ensuring that any holiday visitor to Fredericksburg will get to see it in its full glory.
7. Deck the Halls at Sauer-Beckmann Living History Farm
Some people say Christmas today has become all about shopping for shiny new things. While we love the holiday hunt for giftable goodies as much as anyone, it can be just as nice to travel back in time to more humble seasonal traditions.
At the Sauer-Beckmann Living History Farm, located within the Lyndon B. Johnson State Park, you can experience the old-world wintertime traditions of the original German settlers in Fredericksburg.
String up popcorn and decorate cookies for the tree, then get crafty as you learn how to make a wreath from local cedar or hand-dip your own Christmas candles.
This year, the event will be held on November 27 from 10 AM-3 PM. The entrance is free, so don't miss out!
8. Get Your Gifts at the Fredericksburg Christmas Store
Shopping for just the right things to show your loved ones how much you care can be one of the hardest parts of the holiday season.
Luckily, Fredericksburg is home to the ultimate one-stop shop for all of your gift-giving needs.
Christmas getaways in Texas are bigger and better than anywhere else in the United States, and the Fredericksburg Christmas Store takes that mission seriously.
With 10,000 square feet of space, the store boasts enormous collections of ornaments, candles, and miniature villages along with staple items like clothing and jewelry.
There is certainly something for everyone, and you might even have to treat yourself to an early present.
The Christmas Store is located right on Main Street, so for those that have energy leftover after this ultra holiday shopping experience, the festivities can continue at all the other boutiques.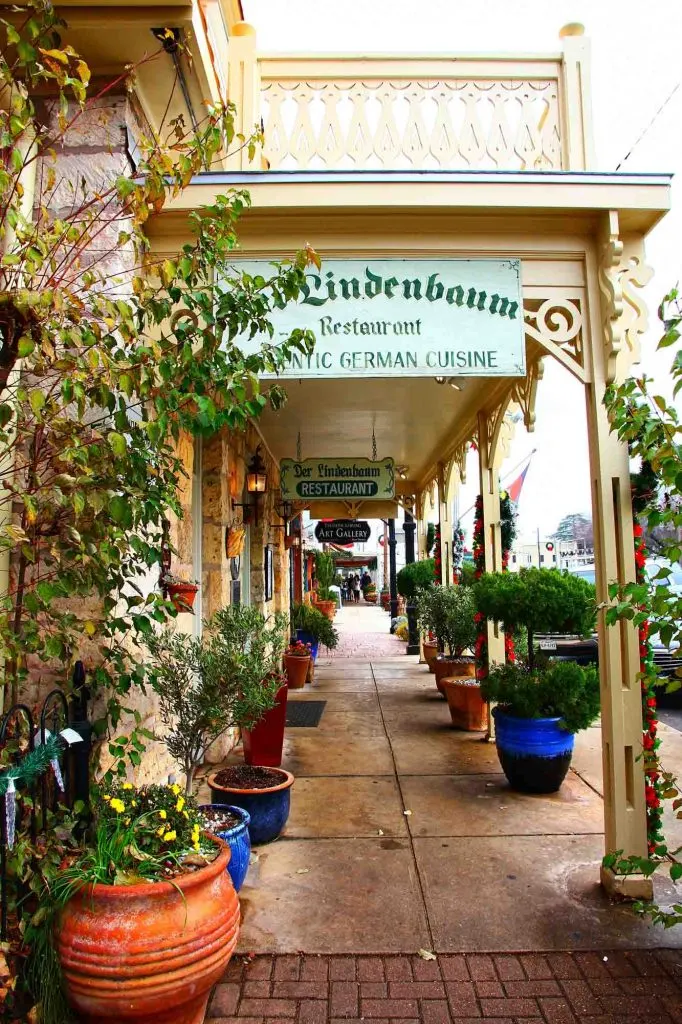 9. See Santa in the Ranger Wonderland
Enjoy some cookies, cocoa, wagon rides, and much more at the Texas Rangers Heritage Center!
The Ranger Christmas Wonderland is not only an incredible way to experience Christmas in Fredericksburg but also to visit an honorable place.
On December 4, a bit before Santa heads out to deliver gifts all around the world, he will make a pitstop in Fredericksburg, meaning you won't want to miss it!
The event runs from 2.30 PM-5 PM, and the entrance is free.
10. Wine and Dine at the Annual Port & Stilton Cheese Tasting
While many of Fredericksburg's Christmas events are meant to be family-friendly, the adults need to have a little fun too.
So swap the Santa hat for some nicer attire and head to an elegant wine and cheese tasting at Becker Vineyards, one of the most romantic wineries in the city.
Psst: Going on a romantic Christmas trip? Then you might consider staying in one of these romantic cabins in Fredericksburg!
With award-winning bottles that have even been served at the White House, Becker is like an early Christmas gift for your palette.
The tasting usually runs for two weekends in December, but dates aren't confirmed yet.
They serve a bold vintage port paired with an even bolder Stilton Blue Cheese, and even some sweet holiday port shots.
If you just can't get enough, head over to our comprehensive list of wine tours in Fredericksburg for all the must-read recommendations on where to grab your next glass.
11. Give Christmas a Country Twang at the Luckenbach Bazaar
A Christmas in Fredericksburg will come with all the classic holiday songs that you know and love, but it wouldn't be a truly Texan experience without some country influences thrown in.
Luckily, Luckenbach–a legendary home of country music–is just a 15-minute drive from downtown Fredericksburg.
In December, the tiny town will host a Christmas Bazaar full of country-inspired holiday hits, shopping, and the Luckenbach Christmas tree's lighting.
The true small-town feel (Luckenbach has a population of only three people!) is perfect for a cozy Christmas, and the festivities are entirely free.
12. Immerse Yourself in the Christmas Story at a Drive-Through Nativity Scene
Every year, the Bethany Lutheran Church of Fredericksburg puts on a stunning display of the Christmas story, complete with music, special effects, and live actors and animals.
If you traveled to Fredericksburg by car or are renting one on your trip, you can join a line of other revelers and drive through the experience.
Remember to tune the car radio to the right station to hear the narration and some lovely Christmas carols.
For those that choose to walk, a complimentary hayride will take you along the trail.
Altogether, the nine different scenes take about 10 minutes to go through, so it's the perfect stop to end a day full of festivities and indulge in a more traditional Christmas activity.
Swing by on December 10-11 from 6 PM-8:30 PM for a glimpse at the living holiday art!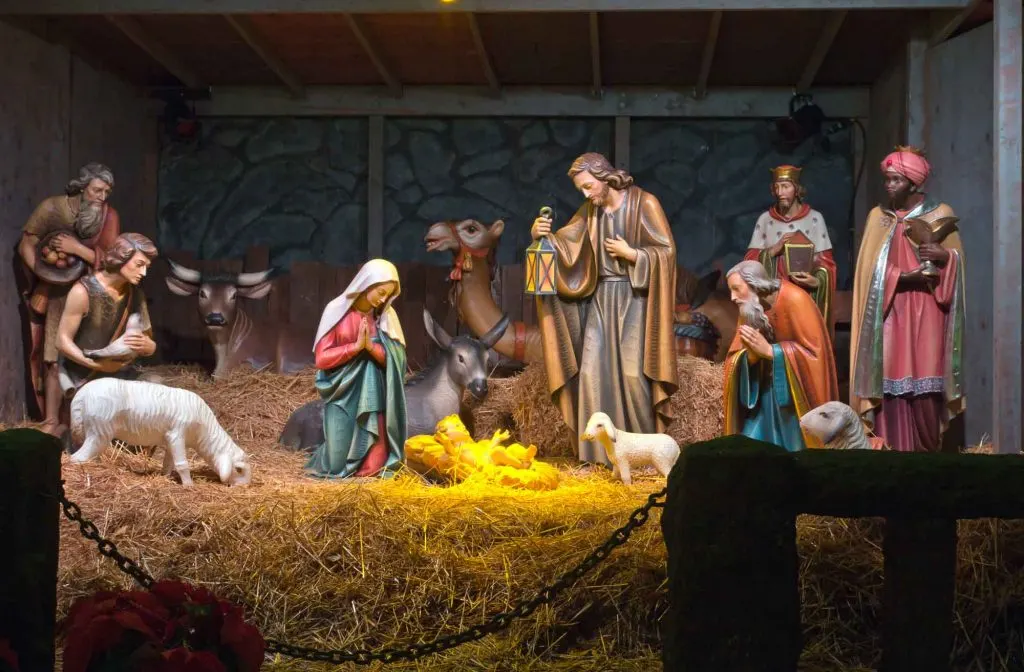 Holiday Guide of Fredericksburg TX
Straight out of a Hallmark movie, Fredericksburg is a fun Christmas destination for anyone who wants to enjoy the holiday festivities in German-style.
Whether you're in Austin, San Antonio, Houston, or even Dallas, plan a fantastic road trip in Texas and experience this special time of the year in such a pleasant town!
After all, Christmas in Fredericksburg is filled with holiday events, holiday lights, local wines, hot chocolate, and unique gifts for the whole family. There is no better way to get into the festive vibes than experiencing the Christmasiest Town in Texas!
Make your own holiday memories!
Did you like this article about the Christmas season in Fredericksburg? Then share it with a friend who might like it too!