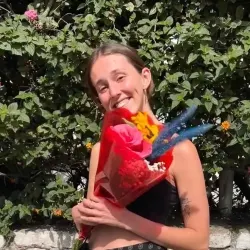 Latest posts by Katelyn van Sligtenhorst
(see all)
With its stunning historical sites, blend of cultures, and lively pedestrian streets, this city is on any traveler's USA bucket list, and Christmas in San Antonio means visitors get to experience even bigger and brighter celebrations than usual.
This city didn't earn the title of one of Texas' top tourist destinations without the goods to back it up, and Christmas activities in San Antonio include everything from seeing the iconic Riverwalk in a new light (literally) with its dazzling holiday decorations to chowing down on some mouth-watering Tex Mex.
With so many hotspots to see even in non-holiday seasons, you'll definitely need some help narrowing down your Christmas itinerary. That's where we come in.
So keep reading for all our favorite festivities that will make your San Antonio Christmas totally unforgettable!
12 Festive Ways to Celebrate Christmas in San Antonio
San Antonio is often touted as the best city in Texas for tourists to visit. Of course, iconic attractions like the Alamo and the River Walk draw visitors all year round, but Christmastime brings a special shine to this central spot.
We've gathered a range of activities, from more high-energy outings to the best of the food scene to classic Christmas light viewing.
These are the best things to do in San Antonio if you want to celebrate Christmas in Texas. Check it out!
1. Experience a Decades-Long San Antonio Christmas Tradition
Every year, the Windcrest in San Antonio metropolitan area lights up during holidays to bring magical Christmas lights to locals and tourists alike.
This tradition started over 60 years ago and is still in full power!
Homes, trees, and more all get lit up and decorated from early December. Also, there's a contest for the best decoration in different categories and yearly themes —this year's theme is A Kaleidoscope of Color!
Get a map of the winners at the City Hall and drive through the city to experience these unique San Antonio Christmas traditions!
Read next: Best Places to Visit During Christmas in the USA
2. Go For a Riverside Stroll at Christmas
The beautiful, delicate paper lanterns–luminarias–are an unmissable sight for your Christmas in San Antonio.
In a tradition that stretches back hundreds of years, the famous San Antonio River Walk is lined with thousands of these Mexican Christmas lanterns, meant to guide the holy family on their way.
With them at your feet and over 100,000 lights twinkling overhead, an evening walk along the water is sure to be an unforgettable affair.
Grab a bite or your favorite beverage and stroll the Riverwalk under the holiday lights.
It's obviously free to wander around, but you can also pull up a chair at one of the many bars or restaurants on the waterfront and indulge in a meal or a few drinks as you take it all in.
Read next: 11 Festive Ways to Celebrate Christmas in Dallas
3. Watch The Nutcracker at Ballet San Antonio
Calling all culture lovers! The Christmas season marks the return of a beloved audience favorite at the Ballet San Antonio.
Travel to a winter wonderland of dazzling costumes and larger-than-life sets with Clara and the sugar plum fairies at the annual performance of The Nutcracker.
It's the perfect family-friendly activity but makes for a magical date night getaway as well.
Ballet San Antonio has been around since 1985 and is involved with several community initiatives, including the Boys and Girls Club and the Parks and Recreation Department, so you'll also be supporting local causes.
The performances will run for two weekends from December 3-December 12, and tickets cost between $40-$114.
4. Enjoy Underground Caroling at Natural Bridge Caverns
If you're searching for one of the truly unique things to do in San Antonio for Christmas, look no further. Christmas at the Caverns takes all the typical holiday festivities…and puts them underground.
In Texas' largest underground cavern, you'll hear the echo of carols and even catch a glimpse of a spelunking Santa.
After you're done, the fun continues aboveground with an outdoor maze, a 30-foot tall Christmas tree, and of course, a walking trail with lots of lights.
When it gets a little chilly, just gather around the Christmas campfire to warm your hands, roast some s'mores, and sip on hot chocolate or eggnog.
Dates to be confirmed!
5. Indulge in TexMex Traditions at Tellez Tamales & Barbacoa
Any San Antonian will tell you that tamales are a crucial part of celebrating Christmas in this Southern city.
Luckily, there are lots of restaurants cooking up fresh TexMex treats all holiday season long. One of the local favorites is Tellez Tamales & Barbacoa, a family-owned spot specializing in traditional homemade tamales since 1975.
Plenty of people will be lining up in the early hours of the morning on Christmas Eve to get their holiday tamales, so make sure to show up before they sell out.
Some years, Tellez sells 1 million tamales between Thanksgiving and Christmas alone, so you can rest assured that the entire San Antonio community has vouched for the tastiness of this TexMex!
Take them to go and enjoy along the River Walk or at one of the city's lovely parks with all your friends and family for a truly local Christmas in San Antonio.
Read next: 11 Festive Ways to Celebrate Christmas in Austin
6. Say Hi to Santa at Christmas on the Ranch
Sure, plenty of places boast that they have the best light shows in San Antonio, but Don Strange Ranch is home to over 4 million lights and dozens of displays that come to life every night in a complete Christmas extravaganza!
The ranch was settled by German immigrant Nicolas Zink more than 150 years ago and has lived on a stunning destination for a range of events.
But Don Strange is best known for its Christmas festivities, including everything from a mile of eye-popping driving under dancing lights to hot cocoa and s'mores with Santa.
Hop on a hayride, check some of that holiday shopping off your to-do list, or sit back and relax at one of the ranch's drive-in family-friendly holiday movie nights. There's truly something for everyone at Christmas on the Ranch!
Dates to be confirmed!
7. Be Dazzled by The Lightscape at San Antonio Botanical Gardens
San Antonio's newest Christmas even, Lightscape is a magical trail featuring one-of-a-kind installations unique to Texas.
Namely, it features Texas bluebonnets and Winter Cathedral, an incredible towering cathedral arch tunnel with 100,000 Christmas lights!
You can enjoy all of that and more at San Antonio Botanical Gardens. Of course, there will be lots of s'mores and hot chocolate to evoke holiday feelings.
This impressive event routinely sells out in other cities, so be sure to buy your tickets early.
Lightscape will take place on November 19, 2021-January 2, 2022, from 5.45 PM-9.15 PM. Tickets are just $23-25 for adults and $16-18 for kids age 3-12. The littlest ones get in free!
8. Enjoy the Cheery Music at Historic Market Square
While Fredericksburg celebrates a German-style Christmas market, San Antonio's Historic Market Square turns into a magical Mexican-style one!
This is one of the classic things to do in San Antonio for Christmas and a great way to experience the famous Historic Market Square from an up-close and personal perspective.
So assemble your caroling team, bring a good mood, and head out to spread some holiday cheer as you enjoy the Christmas magic at this place!
The Historic Market Square is probably the next best thing to a visit to Mexico because you can find local-owned shops, stalls, restaurants, and more—all with Mexican flavor!
Celebrate the Latin heritage of the city in this lively and colorful place.
9. Witness The Majesty of Christmas at Six Flags Holiday in the Park
If you prefer rollercoasters to rockin' around the Christmas tree, then San Antonio's largest amusement park, Six Flags Fiesta Texas, is a great place to spend the holidays.
Every year, they transform the park into a winter wonderland full of impressive light displays, lots of live entertainment, and rides that range from heart-pumping spins and drops to heart-warming holiday-themed singalongs.
Six Flags' most popular show, The Majesty of Christmas, is a breathtaking reenactment of the nativity scene, featuring live animals, a singing Mary and Joseph, and angels soaring through the sky.
Holiday in the Park will be in full swing from November 20, 2021-January 2, 2022, but some events only run on particular nights, so check their website before you go.
10. Swap the Sleigh for a Railroad Car at Santa's Railroad Wonderland
The Texas Transportation Museum is yet another San Antonio institution that gets a makeover for the holidays.
Bagpipers, carolers, and other live entertainment will make appearances throughout the evening. Of course, Santa Claus will show up too.
And all 40 acres of the park will be decked out with the famous holiday lights and displays, so there will be plenty of holiday magic to soak in through the windows of the train as you ride around.
The event will run for the first three weekends of December, with the grounds opening at 5 PM and the last admission at 8 PM.
11. Hike or Bike Through History on the Mission Trail
Technically, this isn't one of the typical Christmas things to do in San Antonio, and it's actually a popular activity all year round.
But Texas' winter weather makes November and December an especially lovely time to walk or bike the Mission Trail, which is in one of the best parks in San Antonio.
While temperatures often spike above 100 degrees in the summer, the holiday season brings easier, breezier riding along the 15 miles of biking and hiking trails that lead you between five historical San Antonio missions.
Along the way, you can enjoy views of local flora and fauna, charming neighborhoods, and rustic farmland.
Then, take some time to explore the stunning Spanish colonial missions that make San Antonio such a popular tourist destination.
It's the perfect activity for nature lovers and history buffs, or anyone that wants to step away from the hustle and bustle of Downtown San Antonio during the holidays and get some fresh air.
12. Celebrate Christmas Like a Cowboy at Enchanted Springs Ranch
No Christmas in San Antonio would be complete without a little Texas flair, so head over to Enchanted Springs Ranch for food, fun, and over 40 old Western storefronts all dressed up for the holidays.
Just 20 minutes from the city center, you'll feel like you've entered a different world at the annual Old West Christmas Light Fest.
There are more than enough activities to keep guests of any age entertained all night long, from games of laser tag in the Christmas lights to rough and tumble mechanical bull rides.
You can also make your way through a light maze, shop for gifts, try your hand at some oversized lawn games, and warm up with a holiday drink at the Silver Spur Saloon.
The ranch will be lit up in November 2021 but dates are still unconfirmed.
From previous years, the general admission is $15 per person, and kids under 6 got in free. They also offered a family 5-pack deal for $60, so bring the whole gang!
Christmas in San Antonio
Plan your trip to see and experience Christmas in San Antonio that is sure to get you in the holiday spirit.
After all, the city is packed with lovely Christmas events for the whole family, and you surely won't want to miss all of that fun, will you?
Did you like this article about San Antonio Christmas events? Then share it with a friend who might like it too!