While you may not always get piles of snow and freezing temperatures, Christmas in Dallas is full of larger than life festivities that make it well worth a visit for the holiday season.
From peppy parades to some of the best light displays in the country, there are more Christmas activities in Dallas than you could possibly have time for on a single trip.
To help you plan the best itinerary, whether you're looking for family-friendly entertainment or a lovely dinner and drinks, we've put together a list of holiday hits that can't be missed.
Keep reading for the highlights, and of course, all those need-to-know dates and times that will make your Christmas in Dallas a breeze!
Need more than one day to take in all the festive big city delights? Check out our suggestions on where to stay in Dallas for a number of stunning accommodations in the city's coolest neighborhoods.
11 Festive Ways to Celebrate Christmas in Dallas
Dallas and its surrounding suburbs are known for their indulgent, immersive, over-the-top holiday celebrations, and one suburb has even been named the Christmas capital of Texas.
This being the loud and proud Lone Star State, you can be certain that the festivities will live up to that reputation.
Of course, that also means you'll need help narrowing down what attractions to hit and when which is exactly what we're here to help with!
These are the best things to do in Dallas if you want to celebrate Christmas in Texas!
1. Watch the 12 Days of Christmas Come to Life at the Dallas Arboretum
Christmas comes with a full season of events at the Dallas Arboretum, where guests can wander through gorgeous winter gardens and explore displays inspired by a classic holiday tune.
Make your way from a Partridge in a Pear Tree to the 12 Drummers Drumming, each housed in a charming Victorian-style gazebo.
These life-size displays of the 12 Days of Christmas are a Dallas Christmas hit, and many visitors come every year to take the short but magical stroll. The paths are smooth and even the whole way, making them accessible for all guests.
Live entertainment, plenty of food and drink, and appearances by Santa himself are also featured throughout the gardens, so be sure to give yourself plenty of time to hang around and enjoy the sights.
The Dallas Arboretum also scored a spot on our detailed weekend in Dallas itinerary, so you're extra lucky to visit it in all its winter splendor.
2. Pay a Visit to the North Pole at the Pauline and Austin Neuhoff Christmas Village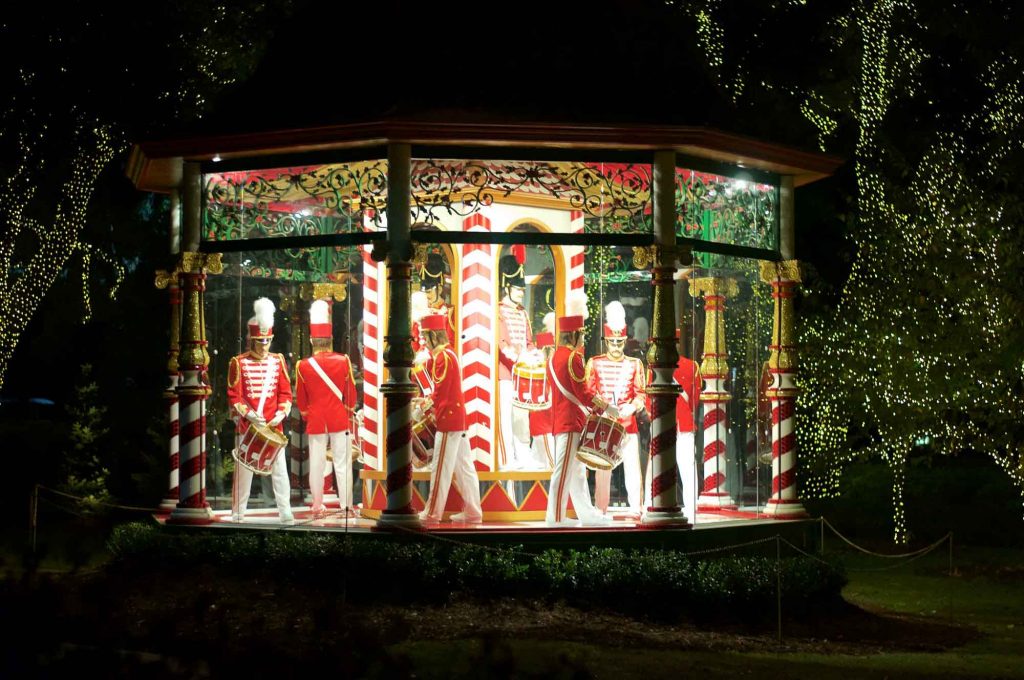 The fun of Holiday at the Arboretum doesn't end with the 12 Days of Christmas display. Last year, the Arboretum debuted a new attraction that has quickly become one of the best things to do in Dallas for Christmas.
At the Christmas Village, over a dozen shops are decked out in full festive decor. Each miniature house has a unique theme, from a post office where the little ones can mail letters to Santa to a German bakery full of freshly-made treats.
This year, in the expanded village, you can also enjoy a chocolate shop and a traditional Christmas pyramid, specially hand-carved by a team of German artisans.
The events run November 7-December 31. Daytime admission is $17 for adults and includes access to both the 12 Days of Christmas and the Christmas village.
Nighttime admission is a bit higher at $25 per person, but the more than one million lights that come on across the gardens make it well worth the extra cost.
3. Light up the Night at Frisco's Christmas in the Square
Frisco is only a 30-minute drive from downtown Dallas, but it presents a whole other set of Christmas activities.
Perhaps the cream of the crop is the largest choreographed light and music display in North Texas, which features more than 175,000 lights moving in time to holiday hits.
The show takes place daily between November 25-December 31, starting at 6 PM every night. Best of all, it's totally free!
Christmas in the Square also features an outdoor skating rink and a Christmas tree maze.
And since Texas isn't exactly known for its white Christmases, snow flurries are sent up into the air every 15 minutes on Fridays and Saturdays.
Read next: One day in Dallas
4. Enjoy Festive Drinks with a View at Winterproof
During the rest of the year, Waterproof is an ultra-trendy pool bar and rooftop lounge resting atop the Statler Hotel.
But when the holidays swing around, it undergoes a dramatic transformation into a winter wonderland full of cozy igloos and a delightful themed drink menu.
With an updated name to match, Winterproof is the place to be for a proper Dallas Christmas celebration. The bar makes the switch early in December and remains decked out in full Christmas decor throughout the season.
The igloos cost $100 per hour during non-peak hours and $200 per hour during prime times, but split between a group of six, the price tag is not nearly so bad.
Just grab yourself a spiced cider or candy cane cocktail and sip away while soaking in some of the most stunning views Dallas has to offer.
If you're in the mood for more skyline shots and crisp, winter air, browse our breakdown of the hottest rooftop bars in Dallas and hop around to catch several of the city's coolest sights in one night.
5. Watch a Christmas Classic at Klyde Warren Park
Thankfully, Christmas in Dallas isn't too cold, making December the perfect time to grab a couple of blankets or lawn chairs and cozy up on the grass at Klyde Warren Park.
Several times a month, the sprawling lawns fill up for outdoor film screenings, and on December 19, starting at 7 PM, they'll be showing beloved family-favorite, Elf.
The park is also known for its number of delicious food trucks, so you can grab some movie snacks to keep you warm and full while you watch.
After the movie, stretch your legs along one of Klyde Warren's beautifully lit walking paths and admire the towering Christmas tree that stands in the center of the park.
6. Hit the City's Biggest Party at the Dallas Holiday Parade
A long-running tradition in North Texas, the Dallas Holiday Parade is the largest one-day season event. Huge crowds gather to watch floats, dancers, and marching bands make their way through the streets of the downtown area.
It starts on December 5 at 10 AM and runs for a full two hours, but other festivities will be in full swing between 8 AM and 1 PM.
Food trucks serve up classic Texas fare, and of course, lots of holiday treats, and there are a number of family-friendly activities to enjoy before and after the main event.
Seating along the route is totally free, but you can also opt for reserved bleacher spots that start at $20 and include unique goody bags and a meet and greet with Santa.
This is one of the most beloved things to do in Dallas for Christmas, so be sure not to miss it if you're in town.
7. Deck the Malls with Boughs of Holly at the Galleria Dallas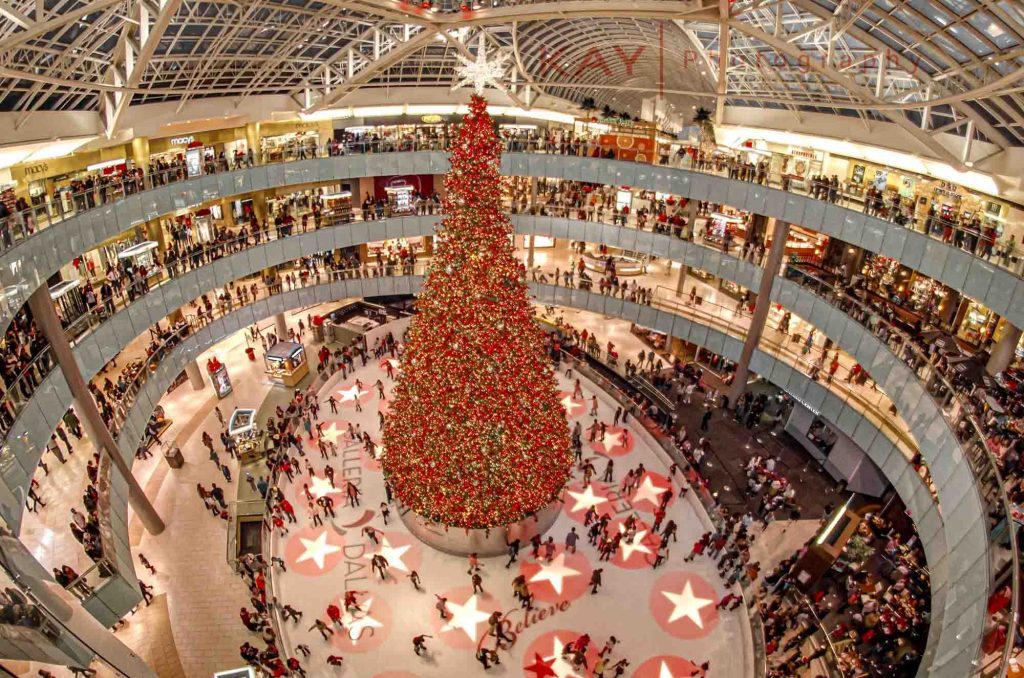 The Galleria Mall is an iconic Dallas institution, and it really steps up its game around Christmastime.
Thousands of people, from casual shoppers caught up in the chaos to those that have traveled just for the event, show up to the mall's annual majestic tree-lighting ceremony.
The classically decorated tree, carefully strung with 10,000 ornaments and almost half a million lights, then topped with a 100-pound star, is the country's tallest indoor Christmas tree.
Since this is Texas, the big and bold festivities don't stop there. Have you seen Santa ice skating before?
The spectacle at Galleria Dallas is accompanied by a fireworks display and a skating Santa who performs some incredible acrobatic stunts while sparks shoot from his skates.
Famous Mr. Missile Toes is accompanied every year by world-class skating guests, including in past years Olympic gold medalists and former national champions.
For $15, you can even get in on the fun yourself and ice skate around the tree while all the holiday shoppers watch from above.
A free musical tree lighting is scheduled daily between November 29-December 24, and the grand celebration happens once a week within the same time period.
8. Interact with Holiday Art at SNOWDAY
Christmas in Dallas isn't the winteriest wonderland, but that's where SNOWDAY comes in.
This interactive art installation comes complete with 11 uniquely decorated rooms and lots of holiday magic, all drawing on the childhood nostalgia of waking up and seeing a fresh blanket of frost on the lawn and roads.
It's a goofy, unbelievable, and super immersive way to spend an afternoon. Even adult visitors will feel like kids again as soon as they step into the first exhibit, a life-size snow globe featuring the city's iconic skyline.
Not only are the scenes super fun for kids, but they're also incredibly Instagrammable for older audiences!
SNOWDAY opens on November 20 and runs throughout the holiday season. Tickets are $30 for adults and $22 for children, and $1 from every purchase goes towards the Children's Medical Center.
9. Skip the Christmas Cooking with Dinner at Elm Street Cask & Kitchen
If you're on the lookout for a slightly calmer Christmas in Dallas, dinner and drinks at one of the city's coolest restaurants is just the ticket.
Elm Street Cask & Kitchen boasts a specially crafted holiday menu full of upscale takes on your favorite Southern comfort favorites.
Start strong with some spiced root vegetable soup, dig into a fantastic entree of ham, turkey, or pork loin, and end the night with a delectable Christmas dessert.
The restaurant is open for evening service from 4 PM-9 PM on both Christmas Eve and Christmas Day, and it only costs $32 for the customizable three-course meal, so it won't totally break the bank.
Are you on a holiday trip for two? Check out our list of other romantic restaurants in Dallas for some insider tips on the hottest spots to take your significant other for an evening.
10. Have a Wild Time at the Dallas Zoo Lights
When it comes to Christmas things to do in Dallas, this one is a classic. Every year, the Dallas Zoo puts on a spectacular show of more than one million lights.
From giant rainbow arches to life-sized light displays of some of the zoo's most beloved animals, no corner of the park will be left dark!
Beyond the light shows, the little ones can enjoy rides on a carousel and miniature trains, while the whole family indulges in ornament crafts, live musical performances, and as many yummy sweets as they can eat.
The festivities carry on every weekend from mid-November through the start of January, and tickets cost $17 for adults and $14 for children. That price also includes general admission for the park, so you get a little extra bang for your buck.
11. Drive Through the World's Largest Christmas Light Tunnel at Prairie Lights
Calling all lovers of Christmas lights! Just 15 minutes from Downtown Dallas awaits the ultimate lights experience.
With over 4 million lights and 2 miles of driving paths, Prairie Lights boasts over an hour of in and out of car fun.
Just turn your radio to a holiday music station, cozy up close to the windows, and get ready to ooh and ahh at the arches, banners, and other Christmas displays shining overhead.
Halfway through, hop out and stretch your legs at the Holiday Village, where you can get up close to the action at a number of walk-through light installations and grab some warm food to keep you going through the rest of the ride.
In the end, you'll even roll through the world's largest light tunnel, so make sure to have the camera ready.
Perfect for date night, an adventure with friends, or a fun family activity, the Prairie Lights are one of those Texas spectacles that just can't be missed.
It's open every night from 6 PM-10 PM between Thanksgiving and New Year's Eve, and tickets run $30 per car. If you can, stop by on a weekday to avoid the worst of the lines; this is a popular spot!
Wrapping up on Christmas in Dallas
Dallas is full of holiday cheer from mid-November through January. During this time, the Big D gets a magical touch and holiday decor, making it unique!
You will certainly have a packed agenda between visiting Christmas markets, marveling at nativity scenes, and saying howdy to Santa Claus!
It isn't difficult to get in the holiday spirit in such a wonderful city holding classic Christmas events for the whole family, is it?
We hope these suggestions will make your Christmas Eve memorable and make you want to celebrate the holiday season every year in Texas.
Dallas travel resources
If you're heading over to Dallas to enjoy everything the Big D has to offer, you might want to check out our handy guides for the city.
We've recently published a super lovely guide on the most romantic things to do in Dallas. It includes places to go, things to see, and even some romantic restaurants in the city.
If you're planning on stretching your Texas road trip, you will want to read more about some incredible weekend getaway from Dallas.
This post includes several road trips from the Big D to fantastic places, including some beach towns as well as German towns in Texas.
And if you're looking for accommodation options for this trip, we have some tailored guides to the most romantic cabins in Texas. You won't want to miss it, will you?
That's it for today, folks. Happy travels!
Did you like this article about things to do in December in Dallas? Then share it with a friend who might like it too!