Does treating yourself to a well-deserved getaway in a luxurious Texas cabin sound like something you might need right now?
Honestly, who doesn't!
Take a few days off, escape your routine, and prepare for nothing but relaxation and pampering.
We know how stressful planning a vacation can be. That is why we crafted this list of some of the most luxurious cabins Texas has to offer.
Your only task is to take 5-minutes of your day, read along, and decide who you are bringing to your memorable getaway.
Everyone wants to feel like royalty at times, and this is your chance. Looking for the best luxury cabins in Texas to experience the natural wonders of the Lone Star State? Without further ado, let's get to it.
Editors' picks: The most luxurious cabins in Texas
Here is our list of some of the best luxury cabin rentals in Texas in no particular order.
Luxury Cabin near Wimberley, Texas
This first cabin is situated only 10 miles from Wimberley and boasts incredible Hill Country views.
It's easily reached from Austin, a 1-hour drive, and San Antonio, just a little over an hour. Beyond that, it is an excellent location to explore the Texas Hill Country–for instance the Canyon Lake, just 30 minutes away.
This luxury cabin has high-end amenities, such as an outdoor hot tub, high-quality furniture, high windows, and an oversized walk-in shower. All in all, it is a luxury camping retreat that allows you to experience the beautiful wilderness and the Texas Hill Country views in the comforts of a luxurious stay.
Besides, this cabin accommodates 2 people, so it is the perfect place for you and your significant other to reconnect and enjoy your escape without distractions.
If you're looking for a secluded getaway in Texas, look no further–this place is exactly what you've been looking for!
Beautiful Architectural Cabin in Royse City, Texas
The outside of this romantic cabin will immediately captivate you. Its design is fashioned after Frank Lloyd Wright's signature architecture. He is considered to be the "greatest American architect of all time."
The inside of the cabin is extremely light and full of windows. The decor is tasteful and simple. There is a beautiful see-through fireplace that separates the living room from the bedroom.
This rental can accommodate up to 4 people, but we think that it is the perfect place for a romantic getaway. After all, isn't Texas an excellent honeymoon destination?
Just imagine having a glass of wine and stargazing while soaking in the outdoor hot tub–there are many of these fantastic cabins with hot tubs in Texas, by the way!
Then going back inside, where the fireplace close to the bed is already burning.
You won't want to miss out on this cabin on a romantic trip.
Unique Treehouse Cabin in Dallas, Texas
Tucked away in the heart of Little Forest Hills in Dallas, this wonderful, private getaway cabin is straight out of a fairy tale!
Winding gravel footpaths will lead you to a footbridge that you have to cross before entering this handcrafted rental.
You will feel as if you are one with nature in a place like this. There is a lot of light coming inside filtered through countless Japanese Maples and so many plants tucked into various corners in the house.
The style is a blend of Bauhaus contemporary and warm rustic elegance.
This beautiful cabin can accommodate up to 4 people but such a secluded and romantic place will be perfect for a getaway with that special someone. After all, it is one of the most extraordinary treehouse rentals in Texas!
Every detail feels modern, luxurious, and unique. This treehouse cabin has everything you might need and want for an unforgettable stay.
Just look at the pictures!
Also, make sure to check out our list of some of the best Airbnb in Dallas!
Upscale Luxury Cabin near Wimberley
This luxury cabin offers gorgeous views of the great Texas Hill Country and excellent amenities, so you can kick back and enjoy the scenery comfortably.
A total of 4 guests can sleep in this rental, making it perfect for a family getaway or friends traveling together as it has a cozy and unique living area.
Filled with country charm, the rustic details give it a more intimate touch, making you feel as if you were at home. Curl up under the blanket by the fireplace as you watch the sun setting on the horizon in front of you—very few luxury cabins in Texas offer these unique moments.
You are provided with everything you might need and want—a covered deck with an outdoor speak system, hot tub, outdoor shower, and even a private nature trail.
Luxury Victorian Cabin in Royse City, Texas
This vintage 20th century home, located in Royse City, will steal your heart away.
It can accommodate up to 8 people and it will make you want to plan a wedding so that you can get ready for the big day in this perfect vacation rental.
The exterior is very cute. You first see the mint green walls and a beautiful wrap around porch where you can enjoy the breakfast the host prepares for you every morning. It includes a pastry basket, yogurt, juice, and coffee!
The interior of the cabin is light, airy, and spacious—everything goes well together.
You get a fully equipped kitchen, an indoor fireplace, and a pink bathroom and bedroom.
There is no Wi-Fi but in a place full of so much charm, who needs it!
Rustic Getaway Cabin in Fredericksburg, Texas
If you are a fan of rustic atmosphere, rocking chairs, cozy indoor fireplaces, and you have a dog, this is the place for you.
This Fredericksburg cabin is just a short three-mile drive from town.
You will feel secluded while still being able to enjoy everything this town has to offer, have an excellent location to discover the Texas Hill Country, and go on a wine tour or two.
The cabin is meant for 2 people. However, there is a possibility to rent out the place with which the cabin shares a covered breezeway.
This is the perfect arrangement for 2 couples or a family with children.
The interior of the cabin is very rustic and homey. Don't worry, you are also provided with modern touches to help you relax—air conditioning, cable TV, an indoor fireplace, and a jetted bathtub.
Don't even think about taking your work life with you at this getaway because there is no Wi-Fi!
The light breakfast that will be waiting for you will make your lazy late mornings even better.
Also, this town has a lot to offer, making it the perfect spot for your next getaway to the Texas Hill Country. Just read through our list of the most romantic cabins in Fredericksburg!
Rustic Luxury Cabin with Hot Tub near San Marcos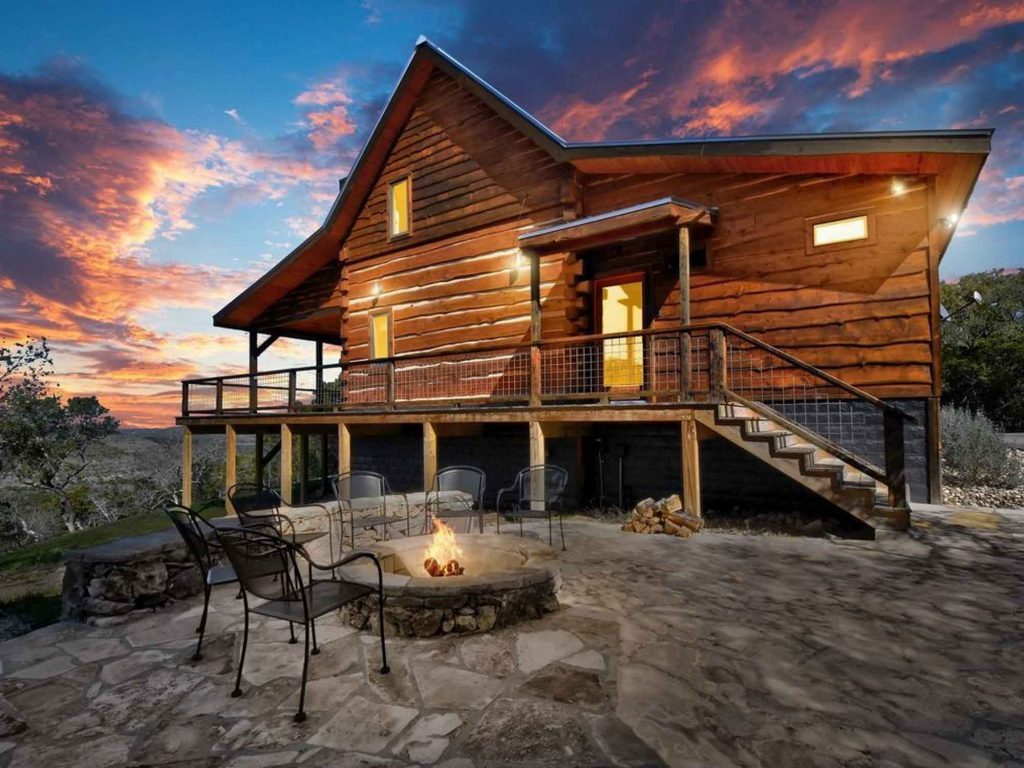 Consider this luxury cabin rental if you want to have an unforgettable weekend with your family or friends.
Nature lovers will definitely enjoy the beautiful surroundings!
Located between the quintessential towns of San Marcos and Wimberley, the rental is private, secluded, and nestled on a great spot to discover other Texas gems: Canyon Lake is 10 minutes away, Gruene 20 min, Guadalupe River 25 min, Austin 45 min, San Antonio 50 min, and Fredericksburg is 1 hour away.
The cabin has a rustic and cozy interior, full of Texas charm and with everything you need for a luxury getaway.
It accommodates 6 people, and there is no shortage of common areas to enjoy a good laugh together. Gather around the outdoor fire pit, picnic table, BBQ grill, indoor fireplace, or in the outdoor hot tub.
Whether you want to celebrate your wedding anniversary or enjoy a Texas Hill Country escape, this cabin is everything you could wish for!
Gorgeous Coastal Cabin in Port Aransas, Texas
If you're looking for a luxury beach getaway, you might want to book your stay at this cabin.
This lovely cabin in Port Aransas can comfortably fit 2 people—perfect for couples.
Beyond that, this modern cabin features a comfortable king-sized bed, large TV, Netflix, and a fully-equipped kitchenette. Curl up under the blanket at the lovely outdoor fireplace while you take in the views of the dunes.
The covered patio offers an enjoyable place to sip a cup of coffee or tea while enjoying the evening breeze.
To top it off, a spa-like bathroom with a soaking tub next to a double-sided fireplace makes it the perfect place to unwind and escape your busy life for a long weekend, or who knows, a whole week!
This cabin has private beach access, and you are free to use the shared swimming pool.
Luxurious Honeymoon Cabin in Wills Point, Texas
If you want an insanely romantic weekend with your significant other, look no further! This is what this next log cabin in Wills Point is made for!
What is special about it is the fact that it is brand new and built exclusively for couples!
That is why the rental has so many romantic features—a bathtub next to the bed, an oversized shower, an outdoor hot tub, an outdoor fireplace, and an incredibly comfortable porch swing bed.
Every detail will make you feel expensive! The interior is sleek and extremely modern. There are high ceilings and the place is decorated in gorgeous earth tones.
This honeymoon log cabin is where you will take time to cherish your loved one and feel like royalty!
If you are interested in rentals with a romantic atmosphere where you can spend a memorable couple of days with the one you love, make sure to check out our list of the most romantic cabins in Texas, which includes tree houses and log cabins in the Texas Hill Country and beyond!
Elegant German-Style Cabin in Fredericksburg, Texas
If there is a place where you will feel like an actual queen or king, it has to be this beautiful cabin!
It is located right in the heart of Fredericksburg, Texas Hill Country, allowing you to explore this quaint town with ease. You are within walking distance of popular eateries, local attractions, and wine tasting rooms.
You first see the light-colored stone exterior of the cabin with a cute covered porch. There you can enjoy the light breakfast that is provided before heading out into the heart of Texas wine country.
The inside of the cottage rental will probably take your breath away—golden, warm tones, high ceilings, stone walls, polished floors, and abundant light pouring in from the garden-facing windows.
Sounds magical, doesn't it!
Well, there is also a custom stone gas fireplace, large walk-in shower, double vanity, private outdoor hot tub, firepit, and a king-sized bed.
The result is a perfect wine country basecamp for you and your special someone to enjoy a secluded getaway.
Pond-Side Luxury Treehouse Cabin in the Woods
This romantic cabin in Texas is brand new, luxurious, and incredibly romantic—everything you and your special someone will need for a relaxing stay. This cabin is located in Van Zandt County.
Cute lights will lead your way up the stairs to your cabin.
Outside this wonderful cabin, you get a gazebo with a hot tub, an outdoor deck with a table and chairs, A queen-sized swing bed, and hanging pod chairs.
Now let's talk about the inside—wall to ceiling window with an incredible view, a cute blue kitchen, make up vanity, and a plush king-sized bed.
We are not surprised that the hosts think you will fall in love all over again in a place like this! This cabin offers the ideal setting for a unique lodging experience.
Luxury cabins in Texas
No matter if you want a romantic getaway, some quality family time, or a bonding corporate retreat, each one of these luxury cabins in Texas will make you feel relaxed.
Everyone deserves to feel special and pampered from time and time.
So go on an exciting road trip in Texas, book your dream luxury cabin, grab your bags, make a list of everything you might need, pack, and just leave!
Take someone you love, explore everything Texas has to offer together, and make lovely honeymoon memories!
Enjoy!
Did you like this article about the next luxury cabins in Texas? Then share it with a friend who might like it too!