Treehouse rentals in Texas are all the rage – and with good reason.
They're the perfect combination of the great outdoors and that Cottagecore vibe that's so trendy right now.
But with so many Texas treehouses to choose from, it's hard to find the best one for your travel plans. Not to worry!
We scoped out the best treehouses in Texas to streamline your search. Whether you're planning a solo trip, an intimate romantic getaway, or a family reunion, if you're looking to rent a treehouse in Texas, we'll help you find the perfect one.
14 Extraordinary Treehouse Rentals in Texas
Here are our favorite treehouses in Texas for a perfect getaway in no particular order.
Tucked away in the heart of Little Forest Hills in Dallas, this wonderful, private getaway cabin is straight out of a fairy tale!
Winding gravel footpaths will lead you to a footbridge that you have to cross before entering this treehouse rental in Texas.
You will feel as if you are one with nature in a place like this. There is a lot of light coming inside filtered through countless Japanese Maples and so many plants tucked into various corners in the house.
The style is a blend of Bauhaus contemporary and warm rustic elegance. This beautiful treehouse cabin can accommodate up to 4 people but such a secluded and romantic place will be perfect for a getaway with that special someone.
Every detail feels modern, luxurious, and unique, making it one of the best luxury cabins in Texas. This treehouse cabin has everything you might need and want for an unforgettable stay. Just look at the pictures!
This unique rental is straight out of a fairy-tale! It is located between New Braunfels and Canyon Lake, in the Texas Hill Country.
If you want to escape your life and feel renewed, this treehouse in Texas is the right place for you and your significant other!
It has WiFi, a TV, a private deck, and a walk-in shower. On top of that, the treehouse is attached to the large hardwood trees that run along a seasonal creek.
The treehouse cabin is accessible by a wooden boardwalk, and the loft upstairs is accessible through a narrow but charming spiral staircase.
The interior of this beautiful property is cozy and homey. There is a beautiful balcony with a sitting area that gives you a unique view of the majestic forest.
This remarkable place feels just like a treehouse as the treehouse hangs over a cliff looking down on Lake Travis. It's truly one of the most romantic cabins in Texas!
The unique decagon architectural design, vaulted ceilings, panoramic windows, wood floors throughout, wrap-around private deck with incredible views will steal your breath away.
The interior of this gorgeous waterfront treehouse in Texas is immaculate, modern, and tasteful. It is spacious and full of light.
Cuddle up in front of the fireplace, go swimming in the pool, relax in the hot tub, or have a BBQ—the options will seem endless.
After you are relaxed, take a walk to Lakeway Marina and rent a kayak, jet skis, or a boat. Have fun, and make the most of this memorable getaway.
This adorable little spot is the perfect pick if you're looking for rustic but not too rustic. The 1-bedroom house has the exact vibes you'd expect from a treehouse, but without sacrificing many of the comforts, you'd expect from a hotel.
You'll still enjoy a queen-size bed, covered patio, and easy access to shopping. On top of that, the premises boast a walk-in swimming pool, cabana, children's playground, and hot tub.
And it's just a few miles away from the waterpark, shops, restaurants, and wineries.
But you'll also get a taste of the outdoors. Just a short walk away, and you'll find the Guadalupe River and Lake Dunlap, perfect spots for fishing and kayaking.
Get cozy by the fire pit and enjoy a delicious outdoor meal cooked on the charcoal barbecue grill.
This treehouse rental in Texas is an ideal spot if you want the best of both worlds.
This treehouse in Texas is appropriately named – you'll feel like you're stepping into a whole other world!
This fantastic rental is situated deep in the forest on a cattle ranch along the Brazos River, 40 minutes from Forth Worth and 1 hour from Dallas.
Right by the elevated deck is a waterfall. It's a fantastic way to enjoy the seclusion and the sounds of nature.
But that doesn't mean missing out on amenities. Enjoy the fire pit, hot tub, rocking chairs, and grill. If you're craving water sports, head to the river for kayaking or a 2-hour tubing trip.
But what sets this spot apart are the unique touches.
Meet the two donkeys that live on the ranch, or stop by the chicken coop and feed the chickens a snack. There's even a fairy forest where you can build a fairy house out of sticks and branches to keep the magic going.
It's the perfect destination if you want to escape the city for a while and feel transported into nature. It's also very kid-friendly.
This deceptively spacious studio can accommodate up to five guests, making it ideal for a weekend getaway with a great group of friends.
The bright, sun-filled space boasts queen beds (and a loft twin bed) and a flat-screen TV. Outside, enjoy the nearby pond, sitting area, picnic table, swing, cornhole, and gazebo.
This little spot is perfect for those looking for a simple place to enjoy the company they're with.
You won't find extravagant furnishings or exotic activities, but sometimes all you really need is to spend time with your favorite people.
Situated 8 feet off the ground, this little house is the perfect romantic getaway (or destination for a weekend of solo travel). The seaside-inspired décor and abundant natural light make this space feel really special.
Outside, you'll find a picnic table, sitting area, swing, pond, cornhole, and an adorable little gazebo where you can enjoy the natural surroundings. Inside, the house is fully stocked with books and a flat-screen TV.
Look no further for a luxury getaway with friends that combines a taste of the outdoors with the comforts of a more upscale treehouse experience – all just 5 miles from Downtown San Antonio.
This spacious property boasts a living area, bedroom, bath, dining room, loft bedroom, and kitchen – so you'll have plenty of space to spread out and feel right at home.
No cramped camping vibes here. Outside, enjoy the shared pool, arbor with seating, and ping pong table while you soak up the sunshine.
You'll also be within walking distance of the San Antonio River, San Jose Missions, a grocery store, and a pharmacy – so you're never too far off the grid.
Embark on an outdoor adventure on the biking and walking trails or kayaking. Or, head to Downtown San Antonio or the nearby Pearl Brewery and shops.
It's the perfect luxury getaway with a group of close friends if you want a taste of the outdoors but all the comforts of a more upscale treehouse experience. The overall feel is refined and cozy. Definitely not camping.
For a textbook glamping experience, this little treehouse would make the perfect romantic getaway or a whimsical family vacation and turns out, it's one of the best treehouse rentals in Texas.
It's exactly what you picture when you think "upscale treehouse," and it's ideal for photo ops galore to make your friends jealous when you return home.
The property's also dog-friendly, so you can bring your furry friend along. You might even meet the owners' 2 dogs that roam the property.
While the house accommodates up to 4, there's also room to set up tent camping if that's more your speed.
Set on 42 wooded acres, you'll get the whole experience of the great outdoors. However, the property does have scorpions and snakes, so prepare accordingly if someone in your group has a phobia.
Head to the walking trails for nature-walking or stay at the house and look for frogs in the pond.
If you're looking for even more nature, head to nearby Bastrop State Park for trails and a swimming pool, or hop in the car for a quick drive to kayak rentals.
This location's also a special treat if you're into antiquing; there are plenty of shops nearby.
Look no further for the ideal weekend getaway for a big group. This adorable house accommodates up to 8 and boasts a complete kitchen, full bathroom, and shared pool.
Lounge and laugh with friends on the outdoor furniture nestled underneath the treehouse.
Relax in the cabana, let the kiddos run wild on the playground, soak in the hot tub, or cook up something delicious at the barbecue grill.
And if your friends get stir-crazy, you're just a quick drive to a waterpark, shops, restaurants, and wineries. You're never far from your next best memories together.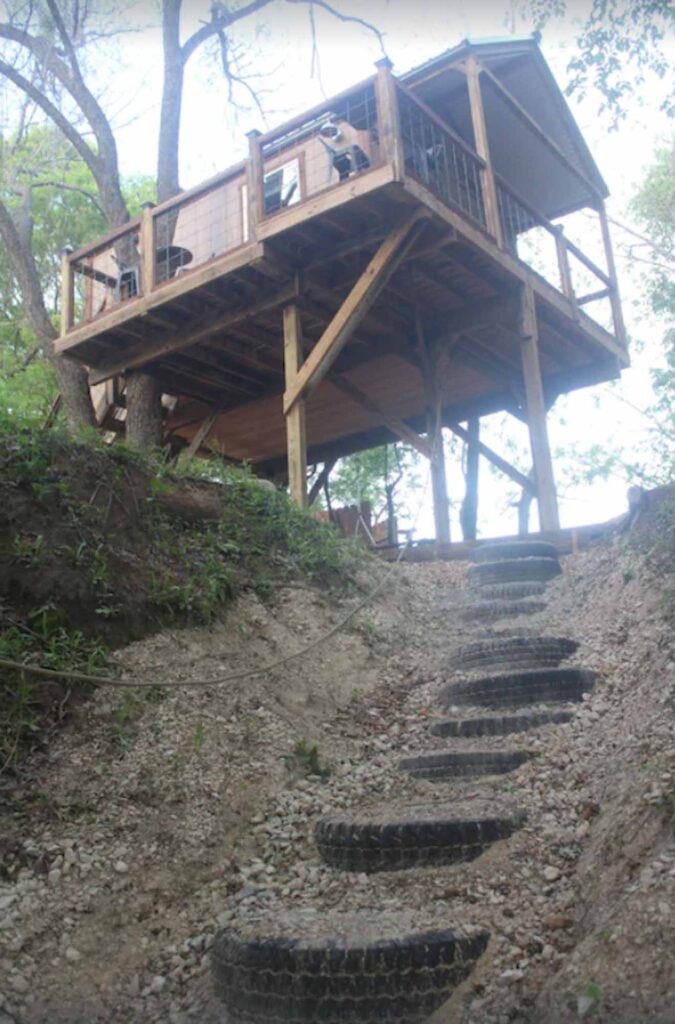 Surrounded by trees, this secluded spot is the perfect scenic, romantic getaway.
But it's not just a nature lover's retreat. The newly-built space has a loft, deck overlooking the nearby creek, fire pit, hammocks, and swings, so you'll have plenty of places to relax and enjoy each other's company.
If you're raring for an adventure, there are scavenger hunts on the property and a zip line near the creek. Take it slow, or get your heart racing!
If you're looking for a spot for your next family reunion or big group getaway, look no further – especially if you want something a little different than a regular Airbnb or hotel stay, you're your heart's not set on the treehouse vibes.
Despite the farmhouse décor, this light-filled home feels decidedly luxurious and modern thanks to its vaulted ceilings and picture windows. Beyond that, this treehouse in Texas can accommodate up to nine guests, and there's plenty to do to entertain a group.
Kick back and enjoy a movie on the 65" smart TV, get cozy in front of the wood-burning fireplace, or head to the multi-level deck to soak up the lake views. You have three pools, tennis courts, and even a boat launch at your disposal.
And if you want to cook up some delicious group meals, the house is also equipped with a full kitchen – an unusual find for treehouse rentals.
Treehouses like this one are practically designed for cozy, intimate couples' getaways.
This particular spot feels like a quintessential adorable cabin in the woods and is set on a secluded piece of property, so you'll feel like you have the whole world to yourself.
Soak in the hot tub, relax on the patio as you take in views of the river, and enjoy each other's company in this intimate setting.
It's a unique experience in such a marvelous place!
If you're looking for a healthy dose of luxury set in the wilderness, this little house will be right up your alley.
The décor is rustic yet tasteful, but the setting is decidedly woodsy – perfect for enjoying the outdoors.
Sip coffee in the enclosed porch, equipped with rocking chairs and a dining area. Fire up the barbecue to make something delicious or relax in front of the flat-screen TV.
For the outdoorsman, there's hiking and fishing nearby. But you might find yourself wanting to soak up the atmosphere of this little house.
Wrapping up on the Best Treehouses in Texas
There's no shortage of treehouse rentals in Texas. Luckily, that means you can find one perfect for your weekend trip, romantic getaway, or simply a well-deserved escape!
Now tell us, which of these treehouse rentals in Texas is your favorite? Let us know in the comments! We'd love to hear from you!