The Lone Star State is filled with tons of great destinations that you absolutely must explore. If you happen to find yourself staying here, be sure to go on some of these unmissable day trips from Dallas.
Rich history, delicious cuisine, and enchanting parks are within a few hour's drive of Dallas, just waiting to be explored.
Compiled within this article, you'll find all the best places to visit from Dallas, which will leave you wanting to chase your wanderlust. Sorry not sorry for making your list of places to visit in the US even longer.
Are you ready to start exploring? Keep reading this article to find all the best cities and towns that your trip to Texas wouldn't be complete without.
Still looking for accommodation in Dallas? Then you will want to check out our detailed guide to where to stay in Dallas. Alternatively, you can also check out our favorite Dallas VRBO if you prefer a local stay.
The Best Day Trips from Dallas
Here are some of the best places to visit near Dallas. Some are within Texas, while others allow you to get away to another state, which can be a lot of fun!
1. Fort Worth, TX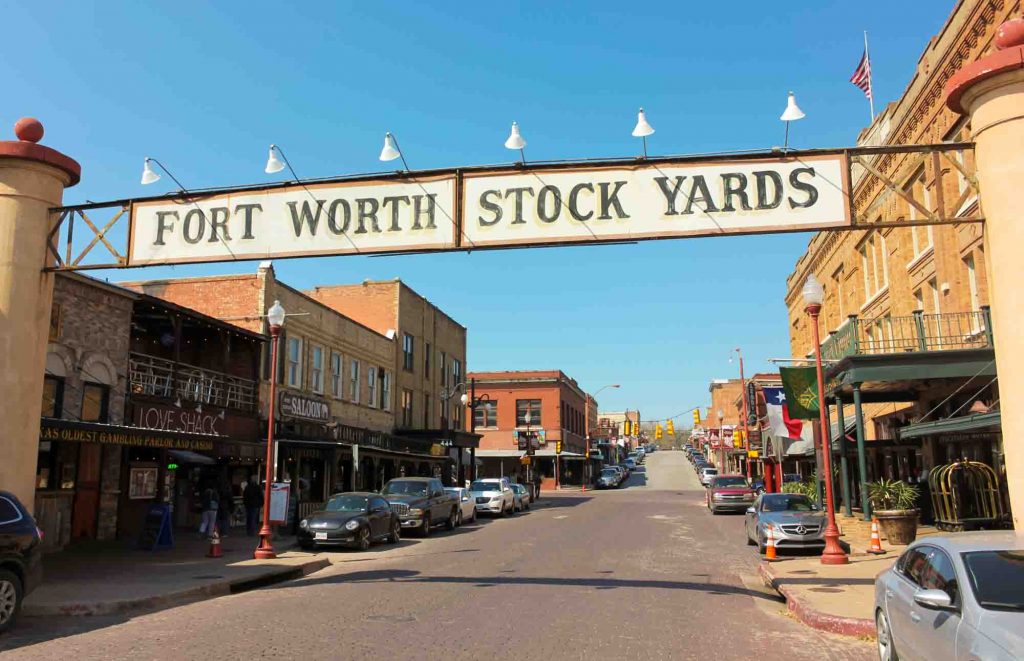 One of the best day trips from Dallas is Fort Worth, Texas. It's about forty minutes west of the city and can be reached in a 32 mile drive, making it the shortest road trip from Dallas.
Fort Worth is one of the largest cities in the United States and has a history with cowboys, despite feeling very modern today.
Some of the top attractions to visit in Fort Worth include the Fort Worth Stockyards, Texas Cowboy Hall of Fame, and the beautiful Fort Worth Water Gardens.
This city filled with cowboy culture is one destination you won't want to miss while visiting the Dallas area!
Read next: 27 Best Summer Vacations in the US
2. Denton, TX
If you're a music fan, one of the best day trips from Dallas for you will be Denton, Texas.
It's 40 miles northwest of Dallas, approximately a one hour drive, depending on traffic. This city is known for hosting the annual 35 Denton Music Festival and the Denton Arts and Jazz Festival.
Denton is particularly popular among millennials for being home to many different Instagrammable locations, including murals throughout the city.
Because it's also a college town, there are also top-rated restaurants like Barley & Board that can't be missed.
Other great attractions in Denton include the Denton County Courthouse-on-the-Square Museum, Clear Creek Natural Heritage Center, and Ray Roberts Lake, one of the prettiest state parks near Dallas.
3. Terrell, TX
Terrell is one of the best Dallas day trips. It's just east of Dallas, a 43-minute drive that spans 35 miles. The city is very historic, yet is a lot smaller than other cities in the area with a population of just 20,000.
This authentic Texan town may not be as modern as other cities, but that adds to its charm. You'll truly feel like you're stepping back in time by visiting, which is what makes it such a perfect destination.
Some of the top places to visit in Terrell include the Books and Crannies bookshop, the Terrell Heritage Museum, and The No. 1 British Flying Training School.
4. Greenville, TX
Next is an easy day trip from Texas, Greenville. It's a one-hour drive northeast from Dallas, approximately 51 miles.
The best part of Greenville to explore is its bustling downtown area. It's filled with great local businesses where you can support those who live in the area.
This part of town is also home to two theaters, which are perfect for arts entertainment.
If you're lucky to be visiting on a Saturday, be sure to also stop by the Greenville Farmers Market. This volunteer-led market sells high-quality produce and souvenirs!
5. Canton, TX
Located an hour southeast of Dallas is Canton, which can be reached with a 59 mile drive.
This charming town is even smaller than Terrell and has a population of just 3,500, making for a very local experience when you visit. You're more likely to meet people who live in the area than tourists.
Canton is one of the best Dallas day trips and is known for having the biggest flea market in the whole country: First Monday Trade Days.
This flea market is filled with tons of great bargains, and you could easily spend the entire day exploring it.
6. Oklahoma City, OK
Oklahoma City is a great weekend getaway from Dallas located a bit further than other places on this list. It's 206 miles north of Dallas, about three hours by car.
However, the drive is well worth it because Oklahoma's capital is filled with Wild West culture and historical attractions.
This destination, also known as OKC, is filled with great museums and places to learn history like the Oklahoma City National Memorial and Museum and the National Cowboy and Western Heritage Museum. To escape Texas for the weekend, look no further than OKC.
7. Beavers Bend State Park, OK
Beavers Bend State Park is another one of the best places to visit near Dallas, and it's located about three hours away from the city.
It's approximately 178 miles of a drive to get to this incredibly scenic outdoor destination.
This park is filled with tons of adventures just waiting to be had, from paddleboarding to hiking, ziplining, and golfing.
If you feel up to it, you can even try your hand at riding a yakanoe, a canoe, and a kayak combination! Talk about a fun time.
8. Jefferson, TX
Jefferson is a two and a half-hour drive east of Dallas, approximately 166 miles. This small city is most well-known for its direct history of artificial lighting. It was the first Texan town to use natural gas for lighting.
This city is on the Big Cypress Bayou, a series of wetlands in this area of the state.
Other great places to visit in Jefferson include the Jefferson Historical Museum the Historic Jefferson Railway, which will bring you through some of the best sights in the area.
Read next: Magical Winter Vacations in the US
9. Grapevine, TX
For an easy day trip from Dallas, look no further than the suburb of Grapevine. It's located only 20 minutes outside of the city, approximately 23 miles away.
This destination has lots of great activities, including the Grapevine Vintage Railroad. This train ride will let guests ride in stylish cars from the 1920s.
As you might be able to guess from the name of the town, Grapevine is also known for its wine that it makes. To try local wines and meet producers in the area, be sure to attend Grapefest, an event dedicated to Graapevine's wines.
10. Fredericksburg, TX
To explore more of wine country in Texas, head to Fredericksburg, another weekend trip from Dallas. It's located 4 hours south of Dallas, near Austin, about 250 miles away.
Fredericksburg is known for being one of the most romantic getaways in Texas, let alone in the United States, so if you need a weekend away with your loved one, look no further.
It also one of the prettiest German towns in Texas, and many parts of the town are named in German, like the Vereins Kirche.
However, the real highlight of Fredericksburg is the local wineries. The best way to explore them is to book a tour.
11. Turner Falls Park, OK
For another great place to explore outside of the Lone Star State, consider traveling to Turner Falls Park, one of the best day trips from Dallas. It's two hours north of Dallas, or 128 miles away.
This destination is incredibly enchanting. Within Turner Falls Park, you can visit the tallest waterfall in all of Oklahoma. There are also tons of outdoor areas to explore via hiking trails.
While Turner Falls could be a place you experience in just one day, consider staying for a weekend for a fun getaway that will bring you closer to nature.
12. Lake Texoma State Park, OK
Lake Texoma State Park is located right on the Texas-Oklahoma border, so its name is very fitting. It's only a short 88-mile drive north of Dallas, which takes approximately one and a half hours.
This state park is an absolute adventure lover's dream. There are hiking trails, spots to go swimming, and even camping if you want to make it a weekend getaway from Dallas.
Lake Texoma is also the second-largest lake in all of Oklahoma and is known for being one of the best fishing spots in this part of the state.
13. Austin, TX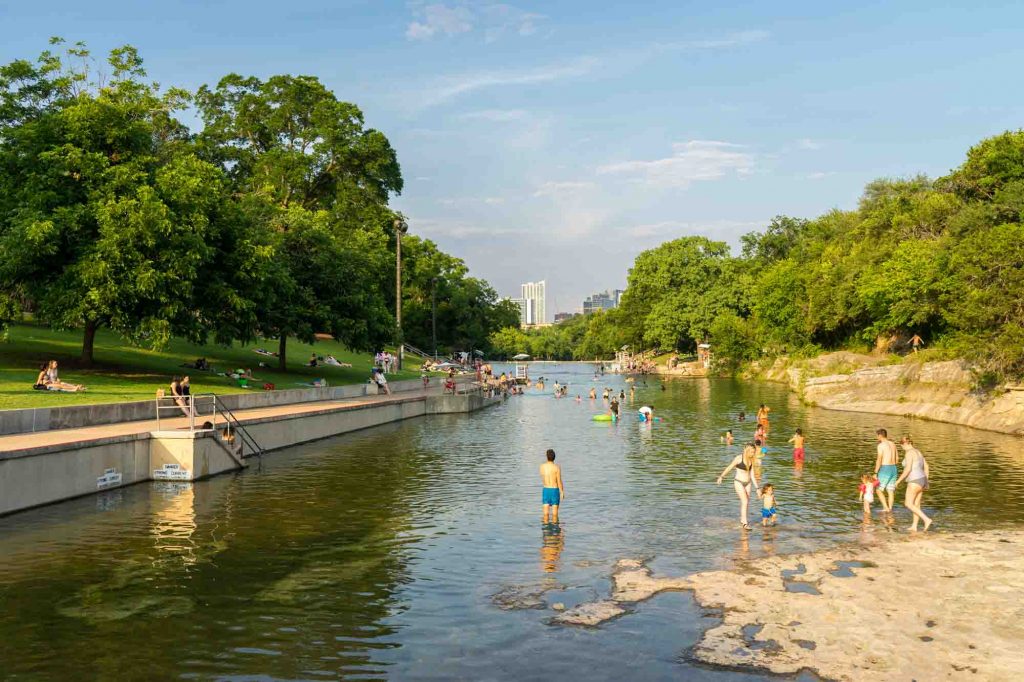 Austin is hands-down one of the most popular day trips from Dallas and has recently gained lots of popularity the past few years due to its unique charm. It's about 3 hours south of Dallas, or 196 miles.
While the distance may make you think it's more of a weekend trip from Dallas, you could easily explore this great city in a day if you wake up early.
Austin is known for being a destination for all major foodies, so you have to be sure to grab a bite to eat somewhere.
For a fine dining experience, head to Odd Duck. Franklin Barbecue is a more affordable restaurant with excellent food.
14. San Antonio, TX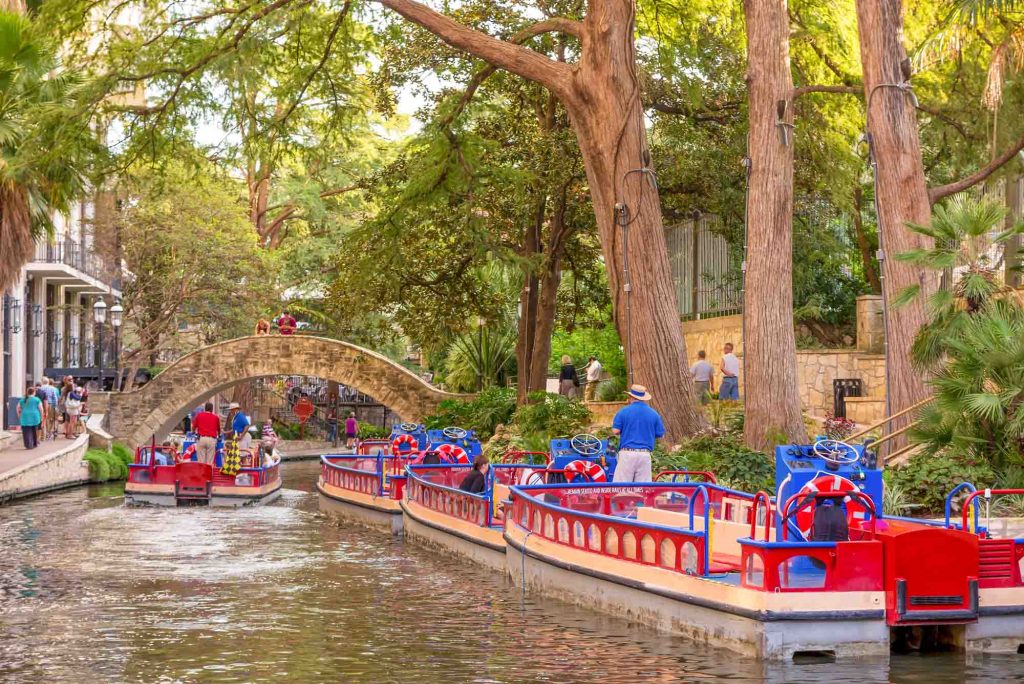 If you are in the mood for a long road trip in Texas, make the drive to San Antonio, one of the best places to visit near Dallas.
It's about 4 hours south of Dallas or 274 miles. Most routes go right through Austin, so you can even stop for a great bite to eat.
San Antonio is filled with tons of history. Be sure to spend some time exploring The Alamo and the San Antonio River Walk.
On your way to San Antonio, be sure to make a pit stop at Buc-ee's, one of the biggest gas stations in the world. Even the pickiest of eaters can find a fun snack here!
Read next: 25 Spring Break Destinations in the US
15. Houston, TX
To escape to an even bigger city, visit Houston, easily one of the best day trips from Dallas.
It's twice as big as Dallas and is jam-packed with places to explore around every corner. It can be reached in a three and a half-hour drive, or 239 miles.
While it's still a city in Texas, Houston is known for having its own unique culture.
The top attraction in Houston is the NASA Johnson Space Center, which absolutely can't be missed.
The museums in Houston are also top-notch, as its home to the Houston Museum of Natural Science and the Museum of Fine Arts.
16. Granbury, TX
Granbury is an easy day trip from Dallas, just over an hour west of the city or 70 miles. This city is a bit smaller but is still filled with great things to do.
If you want to have an outdoor adventure or you're looking to relax, be sure to stop by Lake Granbury or Granbury City Beach Park. They both offer great opportunities for swimming, water skiing, and boating.
A hidden gem in Granbury is the Barking Rocks Vineyard & Winery. This casual yet upscale winery has some of the best Texas-made wines in the whole state and consistently works to give back to its community.
Read next: Best beach towns in Texas
17. Waco, TX
Waco is a top destination to visit from Dallas, located an hour and a half south of the city, or 95 miles. Located in central Texas, Waco is filled with tons of fun things to do.
Some of Waco's top attractions include the Dr. Pepper Museum and the Texas Ranger Hall of Fame and Museum.
The Waco Mammoth National Monument is a great place to explore to learn more about fossils found in the area, which can give you a great glimpse into the city's past.
18. Davy Crockett National Forest, TX
Last but not least is the Davy Crockett National Forest, which covers more than 150,000 acres of land. This is the perfect destination to get closer to Texas's nature and wildlife and escape the city.
It's located slightly under three hours away from Dallas, or 180 miles, so it's easily one of the best day trips from Dallas.
The forest is filled with many hiking trails, which will allow you to explore the best parts of the park. However, if you're visiting during the hot summer, you could also go swimming or even rent a boat to cool off.
Dallas Travel Resources
Whether you're spending one day or a weekend in Dallas, be sure to check out the city's murals as they're mind-blowing and totally worth the trip.
And before you leave town, sip a few drinks in one of the best rooftop bars in Dallas! They offer incredible views of the Big D! Still, if you would prefer to chew more than you can bite, there are a plethora of rooftop restaurants just waiting for your reservation.
However, if you're visiting Dallas with your significant other, you might want to book a reservation in any of these romantic restaurants instead, which are hands-down one of the most romantic things to do in Dallas.
Wrapping up on Dallas Day Trips
There are tons of great destinations near Dallas that can easily be reached in a day. Some of them even have a route that will allow you to explore more than one must-visit destination in Texas.
What are you waiting for? Start planning your next trip to Dallas today!