It's not a secret: many US beaches are among the most stunning beaches in the world. That's a fact. On top of that, many agree that multiple Gulf Coast beaches are among the prettiest in the country.
While there are thousands of jaw-dropping beaches on America's Gulf Coast, some are better than others, making them a must-see if you ever plan to travel through those areas or want some inspiration for your bucket list.
After all, America is famed for its beautiful coastline; however, the beaches on the Gulf Coast remain severely underrated. West Coast and East Coast beaches get all the fame. But we are here to change that.
This article will show you the best beaches on the Gulf Coast and hopefully inspire you to visit them.
20 Best Gulf Coast Beaches From Florida to Texas
Here are our favorite beaches on the Gulf Coast for you. To make it easier to browse, we divided these Gulf Coast beaches by state. Have fun!
Best Beaches on the Gulf Coast – Alabama
1. Orange Beach, Alabama
As part of the Gulf State Park, Orange Beach will treat your senses to a luxurious imaginative trip.
White, soft, sandy beaches and shimmering blue waters are some of the reasons this is one of the best Gulf Coast beaches.
Enjoy dolphin cruises and private tours, kayaking on the sea, or dolphin watching from a catamaran.
Orange beach is known for its top-notch holiday accommodation, dining experiences, and breathtaking views.
They also host unique events like the arts festival that attract many tourists to this pristine location.
This beach is excellent for families as swimming and beach sport are available for kids and teenagers.
In addition, many attractions like the Gulf Coast Zoo and Alligator Alley is close enough for more entertainment and learning.
2. Gulf Shores, Alabama
The Gulf Shores is located in the Alabama region of the American Gulf Coast.
With warm temperatures, pristine shorelines, and the best seafood in America, it's no wonder the Gulf Shores have become so critically acclaimed.
While Alabama is not usually known for its sugar white and soft sandy beaches, the Gulf Shores remain a hidden and must-see gem.
The Gulf Shores in Alabama, according to everyone that's visited, is a must-see destination.
The warm weather, untouched geographical beauty, and local charm remain unmatched throughout America and the rest of the world.
Each beach has unique offerings, making it the perfect beachside location for people of all ages, especially for young couples and families.
Best Gulf Coast Beaches – Louisiana
3. Rutherford Beach, Louisiana
Rutherford Beach, located along Louisiana's Gulf Coast, is not known for its white and pristine beaches.
Instead, Rutherford Beach has become famed for its outstanding array of collectible shells and bird-watching offerings, with travelers being permitted to drive on the sand and experience the most exquisite wildlife offerings imaginable from the comfort of their cars.
Most people visiting Rutherford Beach do so to drive on the sand, view the bird and shell life, and camp on its pristine shoreline.
While Rutherford Beach's water is brown and not as beautiful as other beaches mentioned on this list, it is perfect for an out-of-the-way family vacation.
Read next: 6 National Parks in Louisiana
Best Gulf Coast Beaches – Mississippi
4. Biloxi Beach, Mississippi
Biloxi Beach, situated near the northern end of America's Gulf Coast, is widely accepted as Mississippi's most popular and loved beach.
Biloxi Beach did not obtain the title of the most famous and popular beach in the state of Mississippi for nothing, comprising a variety of mouth-watering offerings for anyone.
Locals and tourists mostly visit Biloxi Beach to enjoy the vast array of fishing, local charters, kayaking, surfing, and a variety of family-friendly activities.
As expected, Biloxi Beach has idyllic sand, shorelines, and crystal-clear blue waters, making it the perfect location for leisure activities and general relaxation.
If you have not yet visited Biloxi Beach, ensure it's penciled at the top of your future adventure list.
5. Gulfport, Mississippi
Gulfport, located along the Mississippi Gulf Coast, has been ranked as one of the most desirable beach and holiday towns in America for decades.
Gulfport Beach is enormously aesthetically appealing, with a pristine coastline stretching for countless miles in each direction.
In addition, Gulfport's location is ideal for quick day travel hops over to the neighboring Horn and Cat Islands.
While Gulfport Beach is best known for its desirable water, sand, and entertainment venues, the area is packed with significant historical, art, and cultural significance, uniquely combined with outstanding local seafood shacks.
Best Gulf Coast Beaches – Texas
Here are our favorite beaches in Texas. Enjoy!
6. South Padre Island Beach, Texas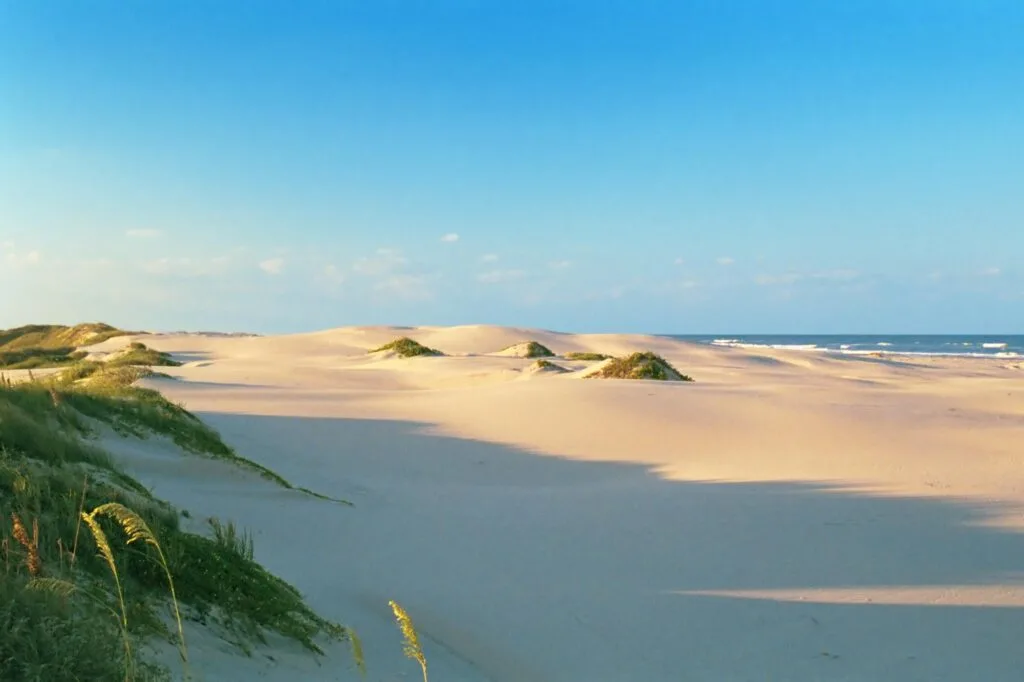 Boy, will South Padre Island Beach knock your feet straight out from under you! This incredible place in Texas isn't one of the best Gulf Coast beaches for nothing.
With plenty of activities, beautiful sands, and calm waters to enjoy, and many attractions, you are sure to add South Padre Island Beach to your bucket list. This beach town in Texas has it all!
The only island vibes in Texas are these beautiful 34 miles of ongoing white sands—South Padre is on a barrier island with the same name.
With inevitable space next to the ocean, the clutter won't ever be too much for a beach day, and the activities are endless.
You can do dolphin cruises, windsurfing, kitesurfing, or normal surfing. Little kids can swim and build sandcastles or attend sandcastle lessons.
There are excellent bars and restaurants next to the beach, live music each night, and an adventure park if the kids need to get rid of their energy.
Those who want to chill more can take a horseback ride on the beach or attend one of the top spas beside the beach and enjoy a massage with a beautiful view.
7. East Beach, Texas
East Beach, situated along Texas's Gulf Coast, is known for its festivals, entertainment, and party-like atmosphere.
While East Beach in Galveston is not known for its soft white sandy beaches, thousands of tourists descend on the destination for its festive atmosphere, with most claiming it to be one of the best beaches in the Gulf.
In addition, East Beach has become globally revered for being Galveston's party hotspot, where tourists from around the world can mingle and enjoy many of life's greatest pleasures.
East Beach is located on the eastern end of Galveston, with the beach containing many unique qualities and near the family-friendly amusement park.
It should be noted that alcohol is permitted on the beach, while there are countless beach-side bars.
Activities such as birding, horseback riding, and fishing are inexpensive and popular, making East Beach a must-see beach in Texas for people of all ages.
Read next: Best Beaches Near Houston
Best Gulf Coast Beaches – Florida
Here are some of the best beaches in Florida for your next getaway.
8. Clearwater Beach, Florida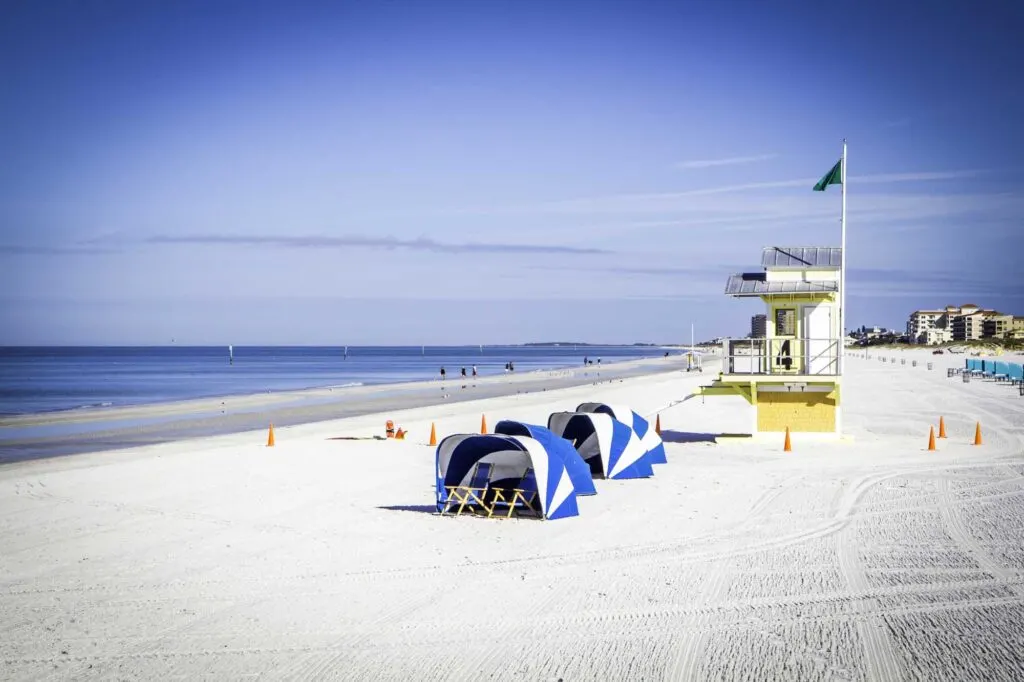 Clearwater Beach isn't only one of the most beautiful beaches in Florida but also one of the best in the US.
With soft, white sands inviting you to enjoy the clear turquoise waters and everything this small town offers, you might just find your holiday beach destination here.
With many hotels and resorts lined next to the beach, many restaurants and cafés to fill hungry tummies, and even great nightlife for the youth – everyone will love this Florida Gulf Coast beach.
Swimming is safe for all, and there's an abundance of watersports available: snorkeling, kayaking, many different boat cruises, scuba, and fishing.
If you want to see more of the region, head over to one of the best state parks in Florida, Caladesi Island State Park, for white sand beaches and perfect spots for picnicking.
9. Henderson Beach State Park, Florida
Henderson Beach might mimic your dreams or come very close. This white sandy beach of 30 feet and warm waters of 75 to 80 degrees Fahrenheit will give you a reason to visit one of the most beautiful Gulf Coast beaches – for only $6 per vehicle.
The green emerald water invites you to enjoy fun activities in the water. Swimming, bodyboarding, snorkeling, scuba, and surfing are some of the things that can keep you busy.
In any State park, it's crucial to adhere to specific rules and regulations to protect the beach and its fauna and flora.
For example, fishing is only allowed if you have a license. Other popular activities in the park include bicycling and hiking while viewing the wildlife.
Henderson beach uses a flag system instead of lifeguards to show people the conditions of the sea.
Children should not be left alone to swim and need supervision. You might see dolphins, turtles, and tropical fish at Henderson beach.
A nearby campsite and outstanding amenities will be the perfect place to sleep over and enjoy the night sky with a bonfire.
Although your dog may not escort you to this beach, it is more than welcome to join you at one of the 60 campsites in the park.
Henderson Beach is hands down one of the best places to visit in Florida!
10. Fort Myers Beach, Florida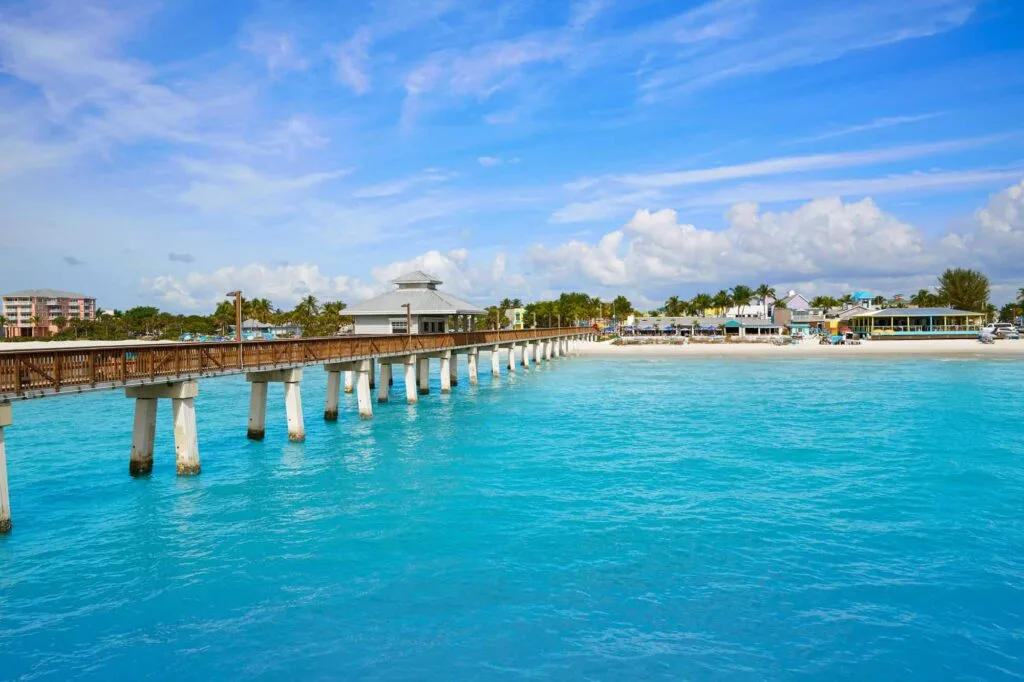 Fort Myers Beach is one of those Florida Gulf Coast beaches you simply must see. Fort Myers Beach is located on Estero Island's scenic seven-mile-wide sandy beach.
Estero Island has many of the world's most awe-inspiring beaches, including Fort Myers Beach.
The beach stretches more than 7 miles in either direction and has become a pristine destination for travelers, locals, and snowbirds.
Moreover, Fort Myers Beach is an ideal place to visit during a Gulf Coast Beach tour, with its untouched, soft, and white sandy beach known for having strikingly mild currents or waves.
Fort Myers Beach is the perfect place for an afternoon or late evening ocean dip and offers top-quality restaurants and bars for those aiming to relax after a long year's work.
The Gulf Coast along America's Southern States has some of the most breathtaking and unknown beaches globally, often overlooked for their more famous western and eastern counterparts
If you are ever in the area or planning an American Gulf Coast tour, ensure you stop and enjoy the unmatched beauty and entertainment offered by Fort Myers Beach and Estero Island, as most would agree it's a once-in-a-lifetime opportunity.
11. Marco Island, Florida
Marco Island, located in Florida, is globally revered for its beauty, beaches, wildlife sanctuaries, and world-class golf courses.
Marco Island is a must-see for tourists, travelers, and even locals. The island has become famed for its stinkingly beautiful, sandy, and white beaches.
In addition, Marco Island has ocean warm water and soft waves, making it perfect for anyone to swim in.
However, Marco Island has far more to offer than many surrounding areas, with it being closely situated to the Everglades (one of the best national parks in Florida), famed shopping and dining areas in Naples, and some of the best golf courses in the world.
Marco Island has long been known for its variety of tourist offerings, becoming a popular place to visit along America's Gulf Coast.
Found at the southernmost end of Florida's Paradise Coast, Marco Island should immediately be penciled into your travel plans if you are planning to visit the region.
12. Siesta Key Beach, Florida
Siesta Key Beach is ideally located along Florida Gulf Coast, making it one of the best Gulf Coast beaches for travelers and tourists.
The Siesta Key stretches for more than eight miles and comprises unmatched sand quality. Siesta Key's sand is 99% quarts, making it enormously soft to the touch.
In addition, the waters are stacked full of stunning marine life, which has resulted in the beach being ranked among the top 5 in America for many years.
Over the previous decade, Siesta Key beach and its surrounding areas have undergone extensive and consistent upgrades.
It has endless miles of pedestrian esplanades, expanded parking lots, and raised concessions for everyone with access.
Moreover, Siesta Key beach has world-class dining facilities, which are appropriately complimented by various entertainment activities such as fishing, wildlife observation, and yoga retreats, making this location one that everyone must visit at some point in their lifetimes.
13. Bradenton Beach, Florida
Bradenton Beach, located on Anna Maria Island along Florida Gulf Coast, is home to many of the world's top beaches and sunsets.
Due to its idyllic location, Bradenton Beach is a beach town in Florida that offers extraordinarily stunning sunsets each night.
Tourists and travelers from far and wide frequently descend to Bradenton Beach to see the once-a-in-a-lifetime sunset while the soft sand and warm water remain unmatched.
Locals note that Bradenton Beach and its surrounds have always been known for their walking oaths and shelling offerings, meaning the beach is a must-see for young families and out-of-state tourists alike.
In addition, Bradenton Beach offers some of the best beaches on Anna Maria Island.
You cannot go wrong by visiting Bradenton Beach on Florida Gulf Coast, with the scenery, water, and sand continuously and easily ranking it among the world's best beaches.
14. Panama City Beach, Florida
Panama City Beach on Florida Gulf Coast is among the best beaches on the Gulf Coast in America, if not globally.
If you are aiming to visit a private beach or location, this is not the one for you; however, its sheer beauty means you should visit and explore it before it's too late.
While Panama City Beach remains popular for its unrivaled soft white sandy beaches, abundant wildlife offerings, and turquoise waters, it is also closely situated to many of Panama City's best tourism destinations.
Moreover, Panama City is a globally revered tourist destination, which can uniquely be combined with perfect waters and weather for water sports enthusiasts and people aiming for relaxation alike.
15. Pensacola Beach, Florida
Pensacola Beach, perfectly situated along Florida's Gulf Coast, is a must-visit destination for locals, travelers, and tourists, as it is known as being one of the best beaches on the Gulf Coast.
Pensacola Beach offers some of the most striking and beautiful shorelines globally, with the beach consistently ranked among the best in revered online travel guides.
Moreover, Pensacola Beach comprises a unique geographic barrier, allowing visitors to easily access the Perdido Key, which is associated with pristine, soft, and white sandy shorelines.
Moreover, Pensacola Beach and its surrounding locations on the island have some of the softest waves ever experienced, making swimming in the region easy, safe, and joyous for people of all ages.
16. Navarre Beach, Florida
Navarre Beach, located just a few miles from the northern tip of Pensacola along Florida's Gulf Coast, is one of the most sought-after beaches in the United States.
Navarre Beach is famed for its small, tight-knit beaching community, containing more than 13 miles of the most idyllic white sandy beaches imaginable.
To add to the countless miles of pristine white beaches, Navarre has crystal, near translucent, blue waters that tourists travel from all over the world to see.
In addition, Navarre Beach has numerous activities that do not include beach picnics.
Out-of-state citizens can ride bicycles along stunning bike trails or run between untouched forest-lined pathways.
It should be noted that Navarre beach is best known for remaining untouched, making it one of the few beaches in America to retain most of its cultural and historical significance.
17. Seagrove Beach, Florida
Seagrove Beach, located along Florida's state lines, is one of the best beaches on the Gulf Coast and America in general.
People come from far and wide to see Seagrove Beach's crystal clear and warm waters and unparalleled sugar-white sandy shorelines that most can only dream of.
Moreover, Seagrove Beach has 20 different beaches, each with unique offerings, making it an appealing and scenic location for people of all ages, sizes, and cultures.
However, Seagrove Beach is the most desirable beach among its 20 neighbors, as it comprises utterly untouched and uncrowded shorelines and accompanying communities.
The two-mile stretch of beach is perfect for young families and couples to spend their days relaxing and enjoying what nature has to offer.
18. Venice Beach, Florida
Often confused with Venice Beach in California, Florida's version of Venice Beach is uniquely situated along America's greatest Gulf Coast beaches.
Venice Beach is best known for its thriving and diverse farming community that has been operational for hundreds of years.
Moreover, Venice Beach is one of the oldest inhabited places along the Gulf Coast, making it an ideal destination for tourists, young families, and adventurous individuals.
Furthermore, Venice Beach has become known for its numerous vocational offerings.
It is perfectly suited for people who shop, cycle, surf, windsurf, and collect pre-historic shark teeth from the many miles of untouched shoreline.
19. Madeira Beach, Florida
Madeira Beach, uniquely located along the American Gulf Coast, is one of the best beaches in the country, if not the entire world.
Madeira Beach is lively, quaint, and pristine, attracting tourists from far and wide. Moreover, the beach is based on a historic fishing village, making fishing one of the area's top activities and income drivers.
Madeira Beach, which is often thought of as being one of the most fascinating Gulf Coast beaches, forms a barrier between surrounding islands, making it the ideal location for a relaxing yet fun-filled holiday.
The area is globally revered; however, it has managed to maintain its untouched aura while not being known for its rowdiness even during peak seasons.
If you have not yet visited Madeira Beach, it should be on the top of your to-do list as the 3-mile-long rustic-themed beach is not ranked among the top 10 on global travel ratings' lists' for nothing.
20. Key West Beaches
If you want to experience natural beaches, the Key West beaches are right up your alley.
Currently, Fort Zachary, Smathers Beach, Higgs Beach, South Beach, and Simonton Street Beach are ranked as the top 5 must-see beaches in south Florida.
The Key West Beaches comprise numerous different islands and pristine shorelines. While Key West is best known for being a party town, the local beaches are among the most beautiful and desirable worldwide.
The coastline has vast amounts of natural beauty, with most of it remaining untouched and undeveloped.
While there are numerous and stunning Key West Beaches, Fort Zachary, Smathers Beach, Higgs Beach, South Beach, and Simonton Street Beach are currently considered the top 5 beaches in the region.
If you are an adventurous person, a young couple, or a young family, traveling to any of the Key West Beaches, especially the top 5, is highly recommended by most locals, and everyone that visited the region before.
Did you enjoy reading about these wonderful Gulf Coast beaches? Then share it with your dear friends!