Stretched over 1,200 miles, the West Coast beaches offer some truly amazing scenery that is well worth a visit, but with so much coastline, including beaches in California, Oregon, Washington, and Alaska on offer, which are the best West Coast beaches to explore?
We will take an in-depth look at some of the best beaches on the West Coast and what makes them stand out as must-visit Pacific beach destinations.
With a climate that changes from Mediterranean to Oceanic as you move up the coast, there will surely be the perfect western beach for everyone.
Still, if you want to discover more beaches in the USA, don't forget to check out the Gulf Coast beaches as well as the East Coast beaches.
21 Best West Coast Beaches
Here are our favorite beaches on the West Coast for you. To make it easier to browse, we divided these West Coast beaches by state. Have fun!
Best Beaches on the West Coast – Alaska
1. Black Sand Beach, Alaska
As the name suggests, Black Sand Beach is a beach with beautiful black sand. Situated in Prince William Sound, this Alaskan beach is a must-visit for nature lovers and kayaking enthusiasts.
Black Sand Beach provides spectacular views of glaciers, icebergs, and mountains. Visitors will also be treated to views of wildlife and sea life.
The black sands of the beach lie in stark contrast to icebergs and glaciers; the beach itself is about a quarter mile long and provides a fantastic viewpoint from which to watch glaciers' calving.
Visitors can camp on the beach but expect cold as you will be camping amongst icebergs.
This beach is not easily accessible, with visitors needing to charter a boat or kayak; the best time of year for visiting this beach is during the summer vacations, and kayakers should keep an eye out for calving glaciers as these can create sizeable waves.
Best Beaches on the West Coast – Washington
2. Rialto Beach, Washington
Another of the best western beaches is Rialto Beach, situated in the Olympic National Park, one of the most visited national parks. It is a beautiful natural cobble beach that provides visitors with a large beach area and coastal forest.
This West Coast beach is great for hiking and walking with superb scenery and rock formations, and there is a scenic 2-mile hike from Rialto Beach to the famous Hole-in-the-Wall rock formation, which visitors should only visit at low tide.
Rialto Beach is not commercial, and if you are looking for a café vibe, then this stretch of beach is not a good match. But, if you're looking for a beach that exudes wild nature, it's perfect; it is also a surf hot spot with some great waves.
Rialto Beach is situated along a piece of Western coastline that experiences a massive storm surge, ensuring masses of driftwood, leading the area to be considered a tree graveyard.
Rialto Beach is best visited between July and September, with temperatures ranging from 51°F and 61°F; the sea temperatures sit at about 57°F for a short period in August.
Otherwise, you will likely experience much cooler water temperatures, and wetsuits are advised for surfers.
3. Ruby Beach, Washington
Ruby Beach is another spectacular beach in Washington. Boasting a rugged and wild coastline, if you are looking to experience coastal nature at its best, this is a good beach to visit.
Named for its reddish sand Ruby Beach is situated in the Olympic National Park; Ruby Beach is a nature lover's paradise with breathtaking views, and remarkable rock formations called sea stacks.
Like many Washington beaches, Ruby Beach also has its log graveyard as downed trees get swept onto the beaches in bad weather. The beach is considered one of the most beautiful in the US.
Summer is the best time of year for visiting, and if you plan to camp, prior booking is recommended to secure your spot at the Kalaloch campground.
Average summer temperatures will range between 52°F and 60°F, so pack warm clothing for the evening.
4. Cama Beach, Washington
Cama Beach is situated in Cama Beach State Park on Camano Island. It is a premier fishing destination and offers nature enthusiasts the perfect beach getaway.
First opened as a family-run resort in the 1930s, Cama Beach offers stunning wooden cabins along a pebble beachfront with a forest backdrop.
The beach has an old-world feel, and visitors have many activities available, including boat-building classes, boating, hiking, and paragliding.
Cama Beach has Wi-Fi facilities, a beach café, and restrooms. The beach is open year-round, with winter visits becoming popular as visitors can sit and watch the impressive winter storms over the Saratoga Passage.
Summer temperatures average between a minimum of 50°F and a maximum of 70°F, while average winter temperatures range between a minimum of 35°F and a maximum of 45°F.
Best West Coast Beaches – Oregon
5. Cannon Beach, Oregon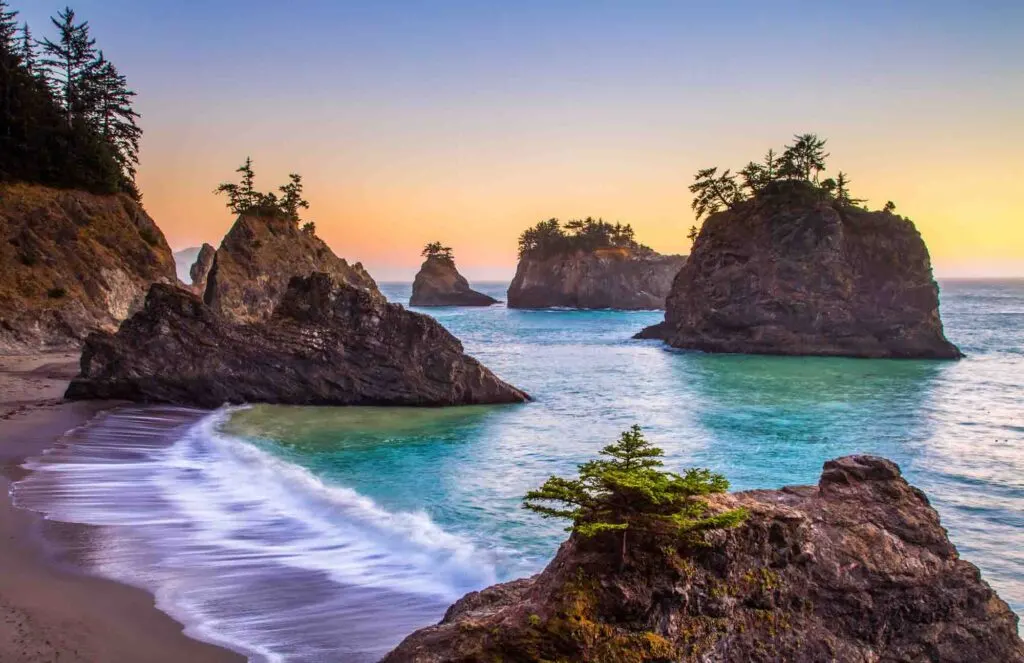 Cannon Beach is one of those beaches you might find on a postcard.
Picturesque views of waves splashing against Haystack Rock with a beautiful sunset and a comprehensive 4-mile-long sandy beach and puffins, if you're lucky. Cannon Beach is hands down one of the most beautiful beaches on the West Coast.
The artistic side of Cannon Beach is relatively high, with many art galleries and shows to attend. In addition, there are shopping stores for those needing to get out of the sun for a while.
The main attraction is the big rock, and the sea causes pooling around it at low tide, where kids can play and search for shells.
The water at Cannon Beach is quite cold, but if you don't mind, you may swim. The stretched-out beach gives way to many activities.
You can take a bike ride on the beach, fly a kite, explore caves and waterfalls, and even make campfires on the beach.
6. Rockaway Beach, Oregon
Located on the North coast of Oregon, Rockaway Beach was established as a holiday destination and seaside resort in 1909. It is a fantastic place for families with lots to do along the 7 miles of beach.
Rockaway Beach is a nature lover's paradise, and one can go whale watching, beachcombing, and hiking along some beautiful trails.
Children of all ages will enjoy the largest Kite flying festival in the Northwest as avid kite flyers. Onlookers assemble every May to create a colorful kaleidoscope on the beaches.
Rockaway Beach is also one of the best beaches on the West Coast for clamming and crabbing; with a license, you can catch your own or buy freshly caught seafood from the locals.
The best time to visit Rockaway Beach is between June to October, with temperatures averaging between 50°F and 70°F and water temperatures sitting at approximately 70°F during this time.
7. Agate Beach, Oregon
Agate Beach is found in Newport, Oregon, and offers over a mile of beach area that remains well protected during storms.
This beach is enjoyed due to its width, with some sections over 500ft wide, allowing for shallow water access, making it a great place to bring small children.
The beach is named for the agate stones sometimes found on the beach in this area; this beach offers large open spaces and is one of the best Pacific beaches on the West Coast.
There are four access points to the beach as well as ample parking areas. The Agate Beach State Recreation Site offers restroom facilities.
Agate Beach is a popular surf spot year-round, and razor clamming is another top activity in the area.
Near the beach is a golf course, and the city of Newport is not far away. Agate Beach is a popular picnic spot for visitors to Newport.
The beach is open year-round but best enjoyed during the summer months.
Best Beaches on the West Coast – California
As one of the most beautiful states, California has an abundance of beautiful beaches.
8. Coronado Beach, California
Coronado is one of the prettiest West Coast beaches because of its size, beauty, and various attractions.
The stretch of 1.75 miles of golden sand will undoubtedly give you a range of things to do – all in one place.
Located in southern California, the entrance to Coronado Beach is at the Hotel Del Coronado, which means you can book your holiday at the hotel and walk over to the beach. Some people sit here and build beautiful, enormous statues from sand that you can enjoy.
As one of the best places to visit in California, Coronado Beach is vast, and even though it can get busy quickly, the space won't cause crowdedness.
Swimming, surfing, fishing, scuba, and long walks on the beach are some available activities. There are also a couple of volleyball courts available.
The beach isn't dog-friendly, but your dog can run to its heart's desire at the adjacent beach, Dog Run Beach.
They also have wheelchairs with tires for the sand, making this beach even more attractive.
Many restaurants are available next to the beach, where you can enjoy lunch or dinner while enjoying the beautiful views.
9. Pfeiffer Beach, California
Pfeiffer Beach is hands down one of the most beautiful places in the US.
This little gem of a beach is found within the Los Padres National Forest in the Big Sur area, there is a $12 entry fee, but it is well worth it as Pfeiffer Beach is easily one of the most beautiful and unique West Coast beaches.
Boasting the beautiful Keyhole Arch rock, Pfeiffer beach is a well-loved spot for sunset views.
One of the most memorable parts of this beach is the purple sand towards its North end. Manganese garnet rock formations in the nearby cliffs are responsible for this unique sand color.
Pfeiffer Beach includes a sheltered cove and beautiful rock pools, and it is a great place for nature lovers and those wanting a bit of peace in a stunning setting.
Pfeiffer beach is quite remotely situated but does have restroom, picnic, and parking facilities. Dogs are welcome on the beach but must be kept on a leash when out of your vehicle.
Pfeiffer beach is best visited in the summer months. You can visit this spot and many others during a road trip in California or when venturing on some of these West Coast road trips!
10. Baker Beach, California
Baker Beach is a top West Coast beach situated in San Franciso.
This beach offers spectacular views of the world-famous landmark and one of the most beautiful bridges in the US, the Golden Gate Bridge.
Running south from the Golden Gate Point towards the Seacliff Peninsula. It is a long beach that extends for about a mile.
The Northern section of Baker Beach is a nudist spot popular amongst clothing-optional bathers.
The beach is otherwise child friendly and offers great picnic spots with grill and restroom facilities available.
Baker Beach provides a great beach getaway within this US city limits and can get crowded on weekends and holidays.
The beach has great walking and hiking trails, and visitors can spot porpoises in the bay.
Baker Beach is open year-round, with its most popular time being the summer months.
The average summer temperatures range from 55°F to °60F, with winter temperatures being about 10°F cooler, making this a pleasant beach to visit year-round.
11. Pismo Beach, California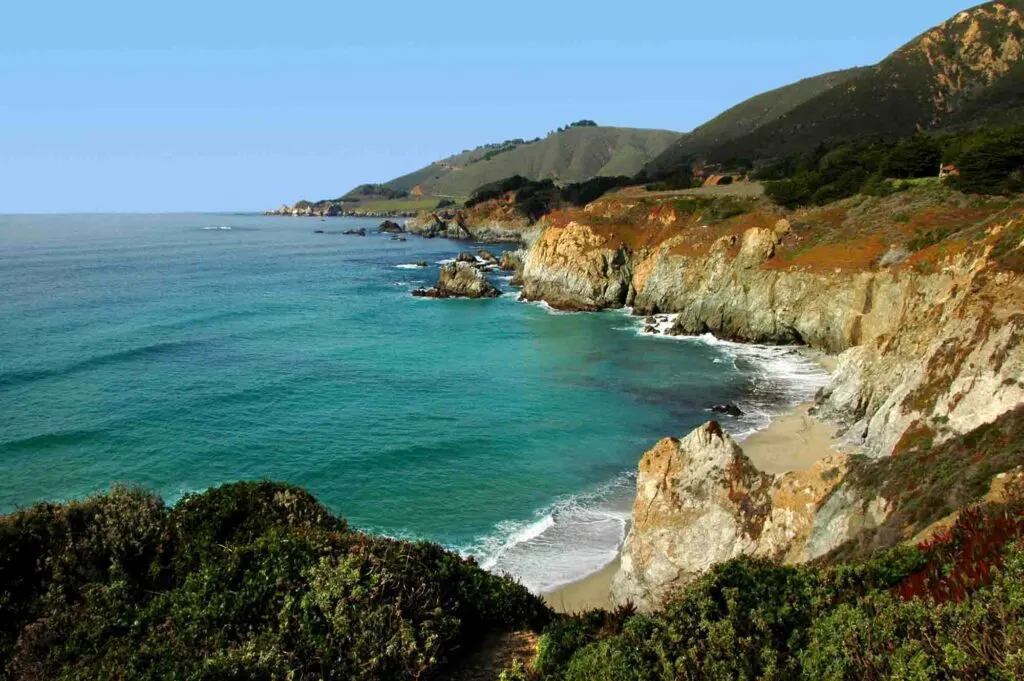 Pismo Beach is easily one of the best West Coast beaches; situated on the central Californian coast, it is a quintessential small beach town with long sandy beaches and superb ocean views.
Pismo Beach was once considered the clam capital of the world, and every year it holds its annual Clam Festival in October.
Pismo Beach is a great family destination with a multitude of things to do, from spending a day on the beach to hiking, fishing, surfing, shopping, and ATV dune riding.
The Pismo Beach pier is a great sunset spot that stretches far into the ocean.
In addition to beach activities, the town also offers great cultural and culinary happenings, including wine tasting and Art galleries.
Pismo Beach is best visited after the summer fog has dissipated, from September to November, with temperatures falling between the 70°F and 80°F.
12. Moonstone Beach, California
When you think the list cannot add anything more exclusive, you get Moonstone Beach, another of the best West Coast beaches.
This beach offers excellent surfing waves, swimming, and discovering beautiful stones.
Those who dislike sand ending up everywhere will love this beach as it's mainly covered with small pebbles and moonstones.
Those who want to avoid the ocean can swim in the mouth of Little River just south of the beach.
The beach might not offer stretched sands for a walk, but a boardwalk of a mile is available if you want to take a hike with your dog and enjoy the stunning views.
In addition, dolphins, whales, and sea otters can be spotted during certain times of the year, and you can explore caves along the golden shoreline.
13. La Jolla Cove, California
La Jolla Cove in San Diego is something else. A small beach with beautiful water and many fun things to see and do.
The waves are not as robust as on an open beach, and families love to bring the kids here for a dip in the water.
The lifeguards available at the beach are reassurance for parents, and everyone can enjoy the picnic site.
The sea lions are one of the attractions drawing many to this beach, as they love to chill on the rocks and bark at each other.
There's a cave at the beach to walk through, but you should only attempt this during shallow tide as the waves on the other side can be unpredictable.
No boarding activities are allowed, but you may snorkel and scuba to the artificial underwater marine reserve.
In addition, you can book a tour to see all the beautiful marine life and find out the history of each creature.
14. Laguna Beach, California
Located between Huntington Beach and San Diego, Laguna Beach is not only one of the wealthiest towns in America but has some of the best West Coast beaches.
A total of 20 miles of white sand is divided into Main Beach, North Beach, and South Beach.
Main Beach covers 3,2 miles of white sandy beach, swimming waves with lifeguards, and no surfers to prohibit your fun in the waves.
Kids can plunge and play in the shallow waters, and parents can take in the views and breeze. South Beach is perfect for surfers to be on their own, and North beach gives divers a space to perform their hobby.
Suppose you are looking for an activity to get some fresh air away from the hustle and business on the beach; take a stroll on the boardwalk of Laguna Beach.
This 1,4 miles walkway allows you to take in the beautiful views, get a hike in, and do some birdwatching.
15. Carlsbad State Beach, California
Carlsbad State Beach is one of the best West Coast beaches, offering everything you want to do at the beach.
It offers a variety of water sports, including kayaking, surfing, and windsurfing. Carlsbad also has great fishing spots off the jetties.
Also known as Tamarack Beach, the Carlsbad State Beach stretches from South of Tamarack Avenue to Frazee beach and includes a 4-mile-long sea wall popular amongst joggers and cyclists.
Carlsbad State Beach is family-friendly and offers beachcombers ample room to wander. The beach offers lifeguard towers, restrooms, water fountains, and picnic spots on the paved seawall walkway.
This West Coast beach has become a popular spot for watching the sunset, with crowds gathering at the North end of the beach to watch the sinking sun.
The best time to visit Carlsbad State Beach is between July and October, with temperatures between 60°F to 73°F and water temperatures at around 70°F.
16. Carmel Beach, California
Carmel Beach is situated along the central coastline of California; the area is arty and elegant and makes the perfect relaxing getaway.
Carmel Beach is one of the best West Coast beaches for pet owners as it is dog friendly, with pets being allowed off-leash provided they can be voice controlled.
Another perk at Carmel Beach is that one can enjoy beach fires, which is a great way to end a day by watching the sunset over the ocean, particularly as the weather gets cooler.
Beach fires will have to abide by City-of-Carmel-by-the-Sea guidelines.
Carmel Beach offers a great view of the Pacific Ocean from its scenic beach path that includes a well-maintained walkway for the more active visitors.
The beach does not have lifeguards, so visitors are cautioned to keep an eye out for rip currents and to swim with care.
The best time to visit Carmel Beach is between June and September, with temperatures between 51°F and 72°F. Sea temperatures in summer sit around 57°F.
17. Stinson Beach, California
Situated in the Golden Gate Region of Northern California, 20 miles from San Francisco, Stinson Beach is a popular spot on the Pacific coastline, thanks to its long white sandy beaches.
Stinson Beach is a top swimming beach with lifeguard facilities operated from July through early September.
Water temperatures are on the cold side, so it's best visited in summer if you're just there to swim, whilst spring and winter are the best times for the surfers.
Stinson's white beaches also make it a popular spot for volleyball games and beach walks. During the summer, the beach has a snack bar, and restrooms and showers are available all year round.
The beach is dog friendly, provided they remain in the picnic areas and stay on a leash, and dogs are prohibited in the National Parks section of the beach.
The nearby town offers a few restaurants and shops for those who aren't interested in picnicking.
18. Venice Beach, California
One of the most renowned beaches on the West Coast, Venice Beach, is a California icon. This beach is a must-visit just because there is so much.
It's a quirky, bohemian place, so if you prefer quiet and nature, this may not be a great beach choice.
But if you feel like jumping deep into California culture, Venice beach will be great fun.
Venice Beach has been designed to be enjoyed; from piazzas to canals, walkways, bridges, and a lagoon, there are lots to see and do.
Visitors can enjoy beach time, stroll along promenades, play basketball, put in a weight session at the beach gym made famous by Arnold Schwarzenegger, rent a cruiser bike, skate at the skate park, and generally soak up some sun and the colorful characters that make Venice Beach their home.
Venice Beach is renowned for the number of musicians and street performers that provide endless entertainment for visitors.
Venice Beach is so well-developed that the beach offers many amenities, including restrooms, parking, restaurants, and shops.
The best time of year to visit Venice Beach is summer, although it can become quite crowded. The average temperature in summer is around 72°F, although it can reach highs of 82°F.
19. Harbor Sands, California
Harbor Sands is a small beach located at Two Harbors on Catalina Island. This beach has a full island feel, and it will be hard to believe you're not somewhere in the South Pacific but just off the coast of California.
Harbor Sands provides a glamping version of a beach visit with various upmarket amenities to ensure your beach day is in ultimate comfort and style.
Rustic-style Palapas provide shaded comfort, and visitors can also hire lounge chairs.
Other than lazing on the beach, visitors can go kayaking, fishing, snorkeling, and diving. The island also provides ample scenic hiking trails.
The best time to visit Harbor Sands is in the summer when temperatures will rise to about 75°F.
20. Santa Cruz Beach, California
Santa Cruz is one the best West Coast beaches for surf culture, with the beach being known as 'Surf City' thanks to its 11 world-class surf breaks.
Other than surfing, many other water sports, like stand-up paddle boarding, swimming, diving, and sailing, are also popular.
Santa Cruz is home to the Santa Cruz Surfing Museum for those who want to learn more about surfing history.
The pier offers great fishing opportunities and sightings of various marine mammals, which are plentiful as the city includes the Natural Bridges Marine Reserve.
Santa Cruz has one of the oldest amusement parks in California at its Beach Boardwalk, which offers visitors many fun rides and stalls.
Santa Cruz is best visited just after summer, from September to November, as it is less crowded and visitors can better enjoy the beaches. Temperatures will range in the mid-70s.
21. Manhattan Beach, California
With more than 2 miles of ocean frontage, Manhattan Beach is one of the best beached on the West Coast.
Long sandy beaches provide fantastic views of the Pacific, and prime surfing, with El Porto on the North end of the beach providing a much sought-after surf spot.
Manhattan Beach has a great 900 ft. pier from which one can fish all year round. In addition to surfing, Manhattan Beach also has permanent volleyball nets.
Lifeguards are also on duty in demarcated areas along the beachfront, making the beach safe and swimming-friendly.
The beach also boasts parallel cycling and walking paths that run for 2.1 miles along the beach, restrooms, and showers for beach users.
There is wheelchair access to the beach and ample restaurants to cater to all tastes.
Manhattan Beach can be visited year-round, with the most popular season being summer, June through August. Temperatures will range from 68°f to 83°F.
Did you enjoy reading about these wonderful West Coast beaches? Then share it with your dear friends!