The US's East coast is home to some fantastic beaches, each unique and charming, but which are the best East Coast beaches?
While every beach offers something special, choosing the ideal spot is often challenging.
Fortunately, we've narrowed the selection down to the 25 best beaches on the East coast to make holiday planning simple, stress-free, and something to look forward to.
The spectacular East Coast beaches are spread across 13 states, ranging from a subtropical paradise in the south to a temperate retreat in the north.
While choosing a beach is important, deciding on a date is also critical, along with arming yourself with enough information about each beach.
25 Best East Coast Beaches From Maine to Florida
According to the US Environmental Protection Agency, there are 6,368 beaches across the US.
The East Coast alone is home to 2,620 beaches, which you can include (some of them at least) in an East Coast road trip. These Atlantic beaches offer various options for holidaymakers, from popular warm beaches to secluded private getaways.
Still, if you want to discover more beaches in the USA, don't forget to check out the Gulf Coast beaches as well as the West Coast beaches.
So, without further delay, here are the best East Coast Beaches for your next summer vacation.
1. Amelia Island, Florida
Amelia Island (a barrier island off the coast of Florida) boasts 13 miles of beaches. The most popular is Main Beach Park.
Amelia Island's average temperature range is 46°F to 91°F, with an annual rainfall of up to 48 in.
Late March to mid-May and mid-October to mid-November are the best times to have a holiday at Amelia Island (to avoid the summer hurricane season and the oppressive heat and humidity).
As one of the most beautiful states, Florida has some of the best east coast beaches, and Amelia Island's secluded beaches are in the running.
On the Atlantic coast, there are lovely beaches, while the west side of the Island features marshes.
The beaches are close to various storefronts, restaurants, and public amenities like skateparks, putt-putt, and hotels.
Amelia Island beaches cater to various visitors, from families to surfers to those seeking nightlife activities.
Fort Clinch, one of the best state parks in Florida, is on Amelia Island's doorstep, while Cumberland Island National Seashore and Timucuan Ecological Historic Preserve are a short trip away.
Read next: Best Cabins in Florida
2. Hammonasset Beach State Park, Connecticut
Hammonasset Beach State Park in Madison is one of the most popular beaches in Connecticut.
It's been a top place to visit in the Northeast ever since it was first established in the early 1900s and has two miles of shoreline, making it one of the longest beaches to enjoy the summer in Connecticut.
There are so many great things to do at Hammonasset Beach Park, including swimming, lounging in the sun, walking along the boardwalk, and even making sandcastles in the sand.
Because of the park's length, it's not super challenging to find a spot for yourself either, especially if you get there earlier in the morning to claim an area.
One of the best parts about this beach is that you can also go camping there. It's usually open all through the summer up until October and features just over 500 different campsites.
3. Rehoboth Beach, Delaware
Rehoboth Beach is a one-square-mile town located on a beach of the same name, and it is the largest beach resort in Delaware. The area is rich in history, predating the English and Dutch settlers of 1650 and 1675.
This mid-Atlantic beach experiences warm and humid summers and cold, wet winters. Including:
Average temperature range: 30°F to 84°F
Annual rainfall: roughly 45 in. and 12 in. of snow.
Between June and October is the best time to visit Rehoboth Beach.
Rehoboth is one of the best beaches on the east coast thanks to its variety of nightlife activities for those who want more than a quiet trip to the beach. The popular boardwalk area features many local shops, restaurants, and entertainment options for the whole family.
Rehoboth beach was once known as the "Nation's summer capitol" and boasted popularity with Washington DC residents who wanted to escape for a beach holiday.
Rehoboth Beach is popular with kayakers, paddle boarders, sailors, and surfers due to its 30 miles of coastline.
For the avid walker, there are various trails (including the ones in Cape Henlopen State Park) to keep you occupied, and the resorts in the area are ideal family-friendly spots.
4. Ocean City Beach, Maryland
Ocean City Beach is 10 miles of Atlantic beach with warm water, delightful soft sand, and enjoyable activities.
Ocean City Beach's climate is warm, humid summers and cold, wet, and windy winters.
The average temperature range is 29°F to 84°F, the annual average rainfall is 44 in., and eight in. of snow.
The best time to visit Ocean City Beach is between June and October (excluding mid-July to early August).
Aside from free access, Ocean City Beach was voted in the Top 10 beaches in the US on TripAdvisor in 2017 and number 13 on Tripadvisor in 2022.
There are various outdoor activities like:
Canoeing and kayaking
Fishing
Sunbathing
Surfing
Swimming
This beach is one of the best East coast beaches for family-friendly activities, which include concerts, fireworks displays, and movies.
Ocean City beach features a 3-mile boardwalk packed with shops, restaurants, and fun activities, making it a pleasant destination.
Read next: Best Weekend Getaways in the USA
5. Vero Beach, Florida
Vero Beach is a small town on the east coast of Florida, while the beaches are located across the Indian River Lagoon on a barrier island.
The average temperature range for Vero Beach is 53°F to 90°F, with an average annual rainfall of 54 in.
The best times to visit this beach town are late February to mid-May and between late October and mid-December.
Like most Floridian beaches, Vero beach makes the list of best East coast beaches thanks to its spectacular weather, scenery, and nearby amenities.
Whether you're an angler or golfer or enjoy water sports, you'll find something to do on Vero Beach.
The 26 miles of beach boast spectacular marine (and coastal) wildlife and ideal waters for most water sports. Vero Beach is less crowded than other popular beaches and offers nature tours. Still, this is one of the closest beaches to Orlando.
Vero Beach (town) has numerous museums, nightclubs, restaurants, stores, and parks, making it one of the best places to visit in Florida.
6. Block Island, Rhode Island
Situated 9 miles off the coast of Rhode Island, Block Island boasts roughly 17 miles broken up into 15 pristine beaches.
The average temperature range for Block Island is 27°F to 78°F, average annual rainfall of 21 in. and 26 in. of snow.
Visiting Block Island between May and October will serve you with the best weather.
The 15 beaches provide a variety of activities for a diverse group of interests, including:
Cow cove/North Light area is home to the popular 1867 lighthouse "North Light."
Fred Benson Town Beach offers a range of facilities, like restrooms, equipment for rent, and seasonal lifeguards.
Ballard's beach would be your top pick for those who enjoy Tiki Bars (and food services).
Of the Eastern beaches, Mohegan Bluffs commands spectacular views of the Atlantic ocean.
There are many other fun and exciting things to do and see on Block Island, including visiting where the mansion once stood, taking one of the many hiking/walking trails through the parks and preserves, snorkeling, surfing, and beach combing.
7. North Beach, Georgia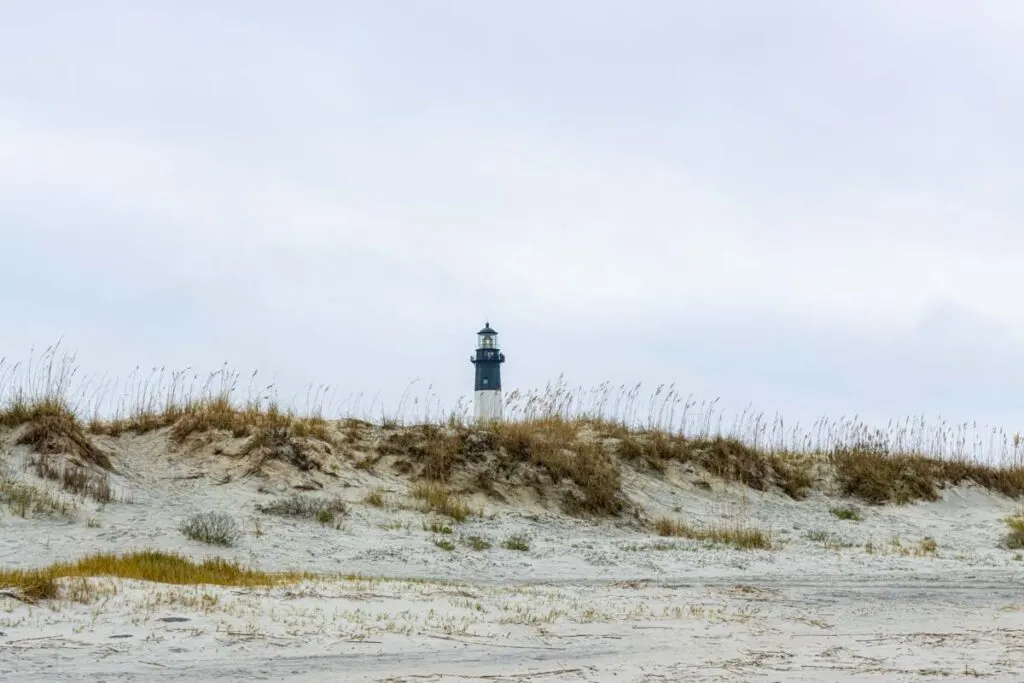 Tybee Island, located 18 miles from Savannah off the coast of Georgia, is divided into North and South Beach.
North Beach has an average temperature range of 45°F to 88°F, annual rainfall of 76 in., and 0.2 in. of snow.
Early April through late May and late September to early November are the best times to take a holiday at North Beach (to avoid the hurricane season).
North Beach is one of the best beaches because it boasts an array of historic landmarks like the Tybee Island lighthouse.
On top of that, North Beach is great for surfers (there's a great spot past the rock jetties) and bathers alike, and the sugar-white, soft sand makes lounging or combing the beach a pleasant experience.
North Beach also features a shower section (after bathing), restrooms, the North Beach Grill (restaurant), and many shops, including Seaside Sisters, Fish Art Galleries, and the Shoppes at 1207 and Tybee Oaks shopping centers.
One of the best features of North Beach is that it's usually less crowded than South Beach.
The uninhabited nature preserve, Little Tybee Island, is also within boating/rowing distance. Visitors to this Island often find fossils or take ecological tours of the area.
8. Folly Beach, South Carolina
Folly Beach is on a 12-square-mile island, 11.5 miles from Charleston, representing a true "beach town" in spirit and function.
Folly Beach has an average temperature range of 43°F to 89°F and an annual rainfall of 48 in.
The best time of year to visit Folly Beach is between March and May and again in September and October (to avoid the high heat and humidity of summer).
Folly Beach is considered the best East Coast Beach for surfing (thanks to the conditions after Hurricane Hugo "washed out" a section of the surrounding area in 1989).
Fishing from the pier is popular, and a convenient bait and tackle shop is nearby.
Aside from swimming and boating, there are bars, restaurants, and live music entertainment at Folly Beach.
Folly Beach gets its name from the old English word "folly," which describes a dense cluster of trees and vegetation. Folly Beach (Island) is home to a maritime forest.
This homey Beach Island/town appeals to many due to its slower pace and the relaxed nature of residents and visitors.
9. Hampton Beach, New Hampshire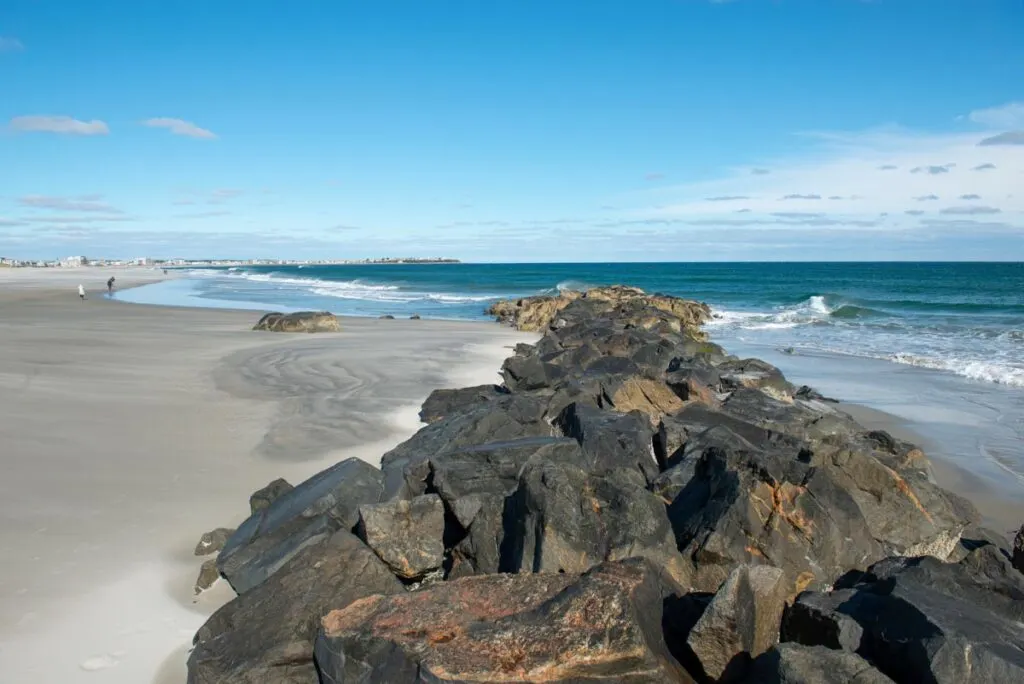 Hampton beach is one of New England's most popular beaches, covering an area of 1.49 square miles.
Hampton Beach has an average temperature range of 21°F to 80°F, annual rainfall of 50 in., and 56 in. of snow.
The best time to visit Hampton Beach is late June to mid-September (the best weather).
Hampton beach was voted one of the three cleanest beaches in the US and one of the top 10 for values for resorts.
Popular attractions include a boardwalk, local shops, restaurants, the Hampton Beach Casino Ballroom, and seasonal hotels along Ocean Boulevard (running next to the beach).
Hampton Beach holds regular fireworks displays throughout the year and weekly on a Wednesday night during summer.
Hampton Beach State Park is a popular spot that hosts many fun and exciting activities, including:
A sand sculpture event
Miss Hampton Beach Beauty Contest
Talent competition
Music festivals
Seafood festivals
10. Cape May, New Jersey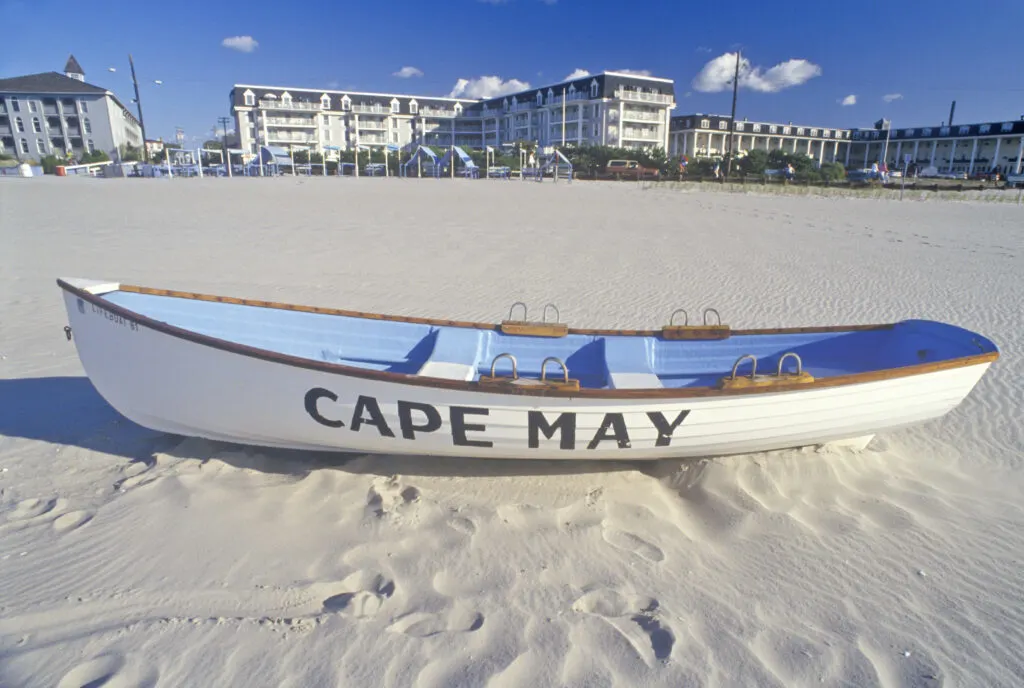 Cape May Beach is one long beach subdivided into several areas of white sand beaches. These beaches are popular thanks to their soft sand, family-friendly nature, and proximity to stores on the beachfront (for 2.5 miles along Beach Ave).
Cape May has an average temperature range of 29°F to 84°F, an annual rainfall of 44 in., and around 12 in. of snow.
Although June until September is the best time to visit, Cape May is busy throughout the year.
Cape May is one of the best east coast beaches because of its historical heritage. Within the town of Cape May, there are around 600 restored Victorian-styled buildings. Some of which are hotels.
During the colonial days (the 1700s), pirates often stopped at Cape May. There are also rumors of buried treasure on the beaches.
Cape May Point is a must for lighthouse lovers, where you can climb the 199 steps of the 1859 lighthouse by moonlight.
Cape May is also a Mecca for bird watchers during the spring and fall migrations (and whale and dolphin lovers too).
11. East Hampton Main Beach, New York
Main Beach is one of five eastern beaches in the East Hampton area, operated and maintained by the Village of East Hampton.
The average temperature range for Main Beach is 27°F to 79°F, average annual rainfall of 47 in. and 26 in. of snow.
The best time to visit Main Beach is from mid-June to late September.
In 2002, National Geographic voted Main Beach in the top 10 Best US Beaches.
Main Beach is one of the best east coast beaches because the Village association stipulates that the dunes are protected areas for nesting birds and other wildlife and maintain a conservation approach.
Under the Village's management, this gorgeous beach is clean, controlled, calm, and respected.
The fire department of East Hampton puts on a fireworks display annually at Main Beach, and a further benefit of Main Beach is that there are a snack bar, bathroom, and lifeguards (seasonal).
There is a shuttle service between East Hampton and Main Beach provided by Free Ride. The beach offers various local activities, including a holiday night market.
12. Miami Beach, Florida
Many people have their beach bucket lists, and Miami Beach is often among them. But don't mistake this beach as one only for the young at heart that want to party the night away – there are more than enough for young and old to see and explore.
Miami Beach is a city, and the beach area can divide into four different beaches in south Florida.
The stretch is about 9 miles of uninterrupted white sand to sink your toes. The water is fantastic for swimming and various watersports.
(Besides, this is a unique warm winter vacation spot!)
One of the beaches is open to dogs, and you can take your four-footed friend for a walk or game of fetch.
The culture and history of Miami beach are pretty spectacular, and there's a lot to learn. In addition, each week, there's an open-air show and arts event in the evening, giving those who want to visit Miami Beach a reason to stay the night.
13. Bethany Beach, Delaware
The small town of Bethany Beach is home to a lovely stretch of eastern beach.
The average temperature range for Bethany Beach is 29°F to 83°F, the annual average rainfall is 44 in., and 11 in. of snow.
The best time to visit Bethany Beach is from early June to early July and again from mid-August until early October.
North of Bethany Beach lies the Seashore State Park, while in the south, you'll find Fenwick Island State Park, which offers some great dunes and fantastic surfing opportunities.
Bethany Beach features a ½ mile boardwalk bordering the beach. You'll find various shops, vendors, and food stalls along the boardwalk.
Bethany Beach offers various activities, like movies on the beach on Mondays from June to August. The Bethany Beach Bandstand also offers live entertainment on national holidays.
Bethany Beach is situated amongst other beautiful beaches, making it a great spot to stay while traveling.
14. Sand Beach, Maine
Sand Beach is a beautiful 290-yard stretch of sandy beach in Acadia, one of the most visited national parks.
Sand Beach's average temperature range is 13°F to 76°F, with an average annual rainfall of roughly 48 in. and 61 in. of snow.
The best time to visit Sand Beach is between late June to early September.
Sand beach is one of the best east coast beaches because of its picturesque setting. The beach is headed by a mountain on one side and the rocky shores of Mount Desert island.
Sand Beach's position in the national park means that the whole area benefits from a "tucked away" feeling. The refreshing water (with a maximum of around 55°F) is clean and clear.
There are several amenities in the area, including restrooms and changing rooms. The beach is also wheelchair accessible.
For those interested in other activities, there are some fantastic hiking trails in the area, too (particularly the one that passes the Great Head).
15. Old Orchard Beach, Maine
Old Orchard Beach is a popular resort town named after the adjacent beach opening up on Saco Bay.
The average temperature range for Old Orchard Beach is 16°F to 78°F, with an average annual rainfall of 49 in. and 60 in. of snow.
The best holiday time in Old Orchard Beach is between late June and mid-September.
Old Orchard Beach is one of the best East coast beaches because of its rustic characteristics.
The beach is 7 miles long, and the old wooden pier is a prime attraction, stretching 500 feet into the clean, clear Atlantic.
The pier is home to shops, restaurants, nightlife attractions, and concerts. Some of the surrounding area's attractions include fishing charters, sailing trips, and a theater.
There are also amusement park rides and an arcade in the town for kids who want a bit of variety during their holiday.
16. Assateague Island, Maryland
Off the Delmarva Peninsula, Assateague Island is a 37-mile-long barrier island. The Island falls under the protection of the Assateague Island National Seashore.
The average temperature range of Assateague Island is 39°F to 79°F, with an average rainfall of 43 in.
Due to the weather, taking a holiday from the end of June to early September is the best time to visit Assateague Island.
Assateague Island is a spectacular getaway South of Ocean Beach, Maryland.
Assateague is one of the best East coast beaches because the Island is constantly changing, thanks to the elements.
Located in a nature preserve, the Island features coastal bays, dunes, sandy beaches, salt marshes, maritime forests, and wetlands.
There is a visitors center and opportunities for kayaking, fishing, camping, hiking, and many other activities.
One of the Island's most prominent features is the Assateague Island wild ponies who roam the Island as they please. There are also guided tours available.
17. Daytona Beach, Florida
One of the most popular and well-known Florida beaches, Daytona Beach is a beautiful city named after its bordering beach.
The average temperature range of Daytona Beach is 50°F to 89°F, with an average rainfall of 51 in.
The best times to visit Daytona Beach are mid-March to mid-May and mid-October to late November.
Daytona Beach is one of the most recognizable beaches in Florida, thanks to its history. Daytona Beach's physical features (hard-packed sand and width) allowed automobile companies to start testing vehicles in the early 1900s.
These tests evolved into racing events, which elevated Daytona Beach to international renown and the construction of the Dayton International Speedway.
Aside from a petrol head hotspot, Daytona Beach's 23 miles cater to hiking, water sports, golf, numerous parks (including skate parks), and a plethora of shops and restaurants.
18. Moshup Beach, Massachusetts
On the west side of Martha's Vineyard, Moshup Beach (also called Aquinnah Beach) is a ½ mile-long beach that opens into the Vineyard sound.
The average temperature range for Moshup Beach is 30°F to 72°F, with an annual rainfall of 47 in.
The best time to visit Moshup Beach is from June until September; however, this beach features year-round activities.
Moshup Beach is one of the best East coast beaches and is aesthetically stunning.
Surrounded by the Aquinnah cliffs, this secluded beach is less busy than surrounding beaches, making it an ideal getaway.
The cliffs also provide a particular type of mud, which many sunbathers collect and smear on themselves.
Several hotels, inns, and cottages surround Moshup Beach, providing excellent views of/from the cliffs.
There are also restaurants and shops, although the beach area has little development, so you'll need to travel to get to the shops.
19. Kiawah Island, South Carolina
This Atlantic coast barrier island is 25 miles Southwest of Charleston. The major feature of this beach is the golf resort, making most of the beach private.
The average temperature range for Kiawah Island is 43°F to 88°F, with an average rainfall of 48 in.
Taking a holiday in Kiawah Island from mid-April to late May and from late September to late October would serve you best.
Although 10 miles of beach are dedicated to the golf resort, there are public beach areas visitors can reach after a walk or cycle.
Kiawah Island boasts marshes, maritime forests, and dunes. Occupying these and other habitats are seabirds, turtles, and white-tailed deer.
Some activities include fishing, hiking, bird watching, water sports, and nature tours.
For those looking for a luxurious holiday, the golf resort caters to the entire family, with many activities and attractions. There are even shopping villages in town.
20. Driftwood Beach, Georgia
Driftwood Beach on Jekyll Island is one of the best beaches in the USA because of the magic in the air.
Driftwood and trees from years of erosion signify this beach with enchanting views.
Wedding planners and photographers love to use this beach as their canvas because, with a sunset, beach, the sea, and the shadows of driftwood, it indeed sets a romantic scene.
High tides might leave the beach tiny and inaccessible, so plan your visit on low tide times. With a 1.5-mile stretch of sand, you can take a horseback ride while enjoying the sunrise or sunset.
The nearby villas and picnic sites give you a reason to stay a little longer to enjoy this beautiful beach.
Bring your hammock and nap in one of the driftwood on the beach; enjoy family time, and your dog is also allowed.
There are a few rocky parts in the sea at Driftwood Beach, but you can swim there if you can find a good spot.
21. Cape Hatteras, North Carolina
Cape Hatteras previously held the title of the fifth-best beach in the USA. It's part of North Carolina's Outer Banks and has four lifeguarded beaches along the 70 miles of outstretched beach.
If you have a fishing license, you can go on a family trip to do some crabbing. The blue crab is famous here, and when catching one, remember to put it back in the water after you admire its beauty.
Swimming is welcomed anywhere, but be aware of the currents. Families with children should instead visit one of the guarded beaches. You can see turtles, stingrays, and much more sea life from a kayak or canoe.
Windsurfing and kitesurfing are also popular at Cape Hatteras. Other things to do is a hiking, fishing, and camping. You can find the best seafood here and must put it on your to-do list when visiting Cape Hatteras.
22. South Beach, Florida
You might've thought to run into South Beach somewhere on this list. With some of the best shopping streets, cuisine, and clubs, South Beach is one of the best beaches in the USA.
South Beach, hence its popularity, is the most crowded in Miami, but that doesn't have to stop you from having a great time.
The wide sandy beach of 2,5 miles long can entertain any person or family with a walk, building sandcastles, or playing games.
The beachgoers can swim, bodyboard, and surf. Some can rollerblade on the boardwalk, and others can sunbathe and enjoy the modern vibe around this beach.
The vibrant nightlife will attract another crowd to this beach, where they can enjoy the top-rated restaurants and clubs next to the sea breeze and crashing waves.
23. Myrtle Beach, South Carolina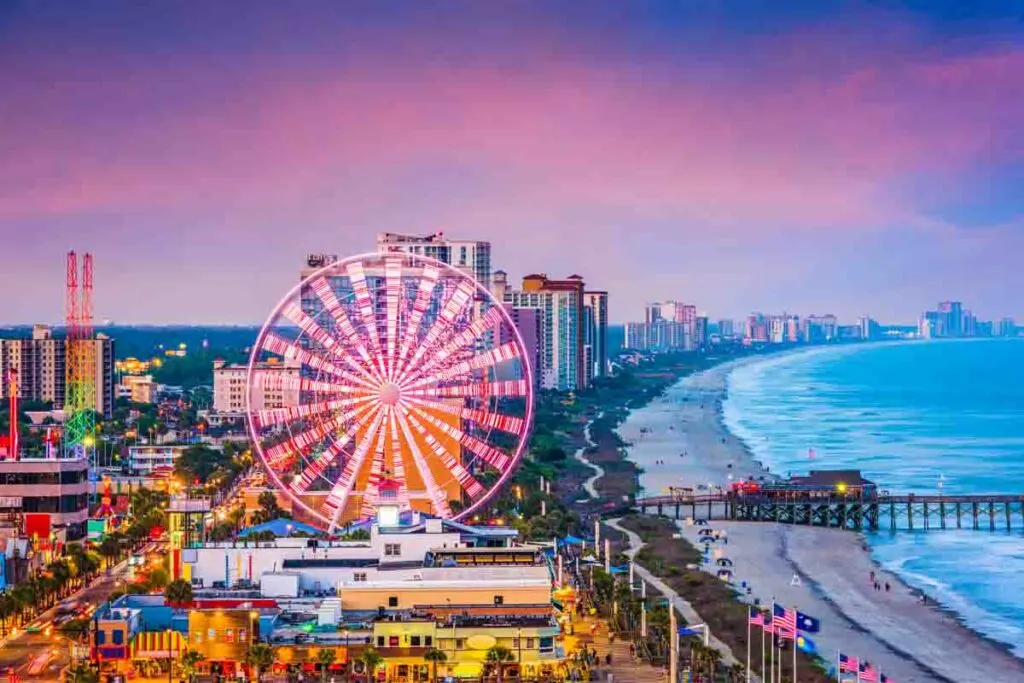 Myrtle Beach is a 60-mile stretch along the northeast coast of South Carolina.
The beach provides your normal beach activities with endless sand and warm waves but is best known for the attractions you can explore along the shoreline.
A fun park named "Funplex" will surely get the blood-pumping day or night, and the tallest ride in North America is located here.
Another fun thing is to walk the promenade and enjoy the local shops, treats, and seafood Myrtle Beach provides. The Ripley's Aquarium will show some of the most beautiful marine life and the history of the area's wildlife.
The SkyWheel at Myrtle Beach is one of the reasons people come here. Take an air-conditioned ride as high as 38 stories to enjoy the best views there are of the great coastal city of Myrtle Beach.
In addition, they have VIP experiences and can do your "gender reveal" for you by lighting up the wheel in the color of your baby's gender.
24. Coast Guard Beach, Massachusetts
Coast Guard Beach is a prime swim spot in the Cape Cod National Seashore, especially in the summer months.
With beautiful sandy shores stretching 20 miles, it's on the list of best beaches in the USA. It offers incredible waves, and body boarding is quite the thrill, although you cannot surf here.
Volleyball is a favorite sport that you'll see on the beach. Unfortunately, you won't be able to bring your dog.
Because Coast Guard Beach is part of a National Park, you'll have to pay an entrance fee. You'll pay according to the way you arrive, whether by car, bicycle, or foot.
Seals are enjoying the sun at Coast Guard Beach, and during mating season, you might be able to see sea lions.
25. Coligny Beach Park, South Carolina
Coligny Beach Park is one of the Hilton Head Island Beaches, South Carolina. You can rent a bike, swim to your heart's content, or sunbathe on the beautiful sandy beach.
Hilton Head Island has a stretch of 12 miles of pure bliss. Kids can splash in water fountains, and you can use the change stations and showers to cleanse your body from the salt water.
Nearby attractions are within walking distance away. At the Coligny Plaza, you can stroll through shops, enjoy the available treats or sit down at the outdoor bar for a cooling end to a successful day at the beach.
Final Words on East Coast Beaches
We hope we have helped you choose the next beach vacation. This region has lots of beaches with clean sand, crystal-clear water, and family-size fun.
So pack your bags and prepare for a fantastic beach trip on the East Coast! Enjoy the summer!
Did you like these East Coast beaches? Then share it with your friends on social media!
25 Best East Coast Beaches From Maine to Florida
Amelia Island, Florida
Hammonasset Beach State Park, Connecticut
Rehoboth Beach, Delaware
Ocean City Beach, Maryland
Vero Beach, Florida
Block Island, Rhode Island
North Beach, Georgia
Folly Beach, South Carolina
Hampton Beach, New Hampshire
Cape May, New Jersey
East Hampton Main Beach, New York
Miami Beach, Florida
Bethany Beach, Delaware
Sand Beach, Maine
Old Orchard Beach, Maine
Assateague Island, Maryland
Daytona Beach, Florida
Moshup Beach, Massachusetts
Kiawah Island, South Carolina
Driftwood Beach, Georgia
Cape Hatteras, North Carolina
South Beach, Florida
Myrtle Beach, South Carolina
Coast Guard Beach, Massachusetts
Coligny Beach Park, South Carolina