Basking in a mild sub-tropical climate virtually all year round and surrounded by calm and clear seas, South Florida beaches must surely rank highly amongst the best beaches in the world.
If it's sun, sea, and sand that you're after, look no further than the southern beaches in Florida to take a break from the rat race and recharge your batteries.
Whether it's swimming, snorkeling, kayaking, surfing, fishing, or just lazing in the sun that you're after, South Florida beaches will have you spoilt for choice.
Below we have listed just a few of the best beaches in South Florida you could consider for your next getaway. They are all stunning!
Best Beaches in South Florida
South Beach, Miami
Starting off on the east coast, South Beach is the most popular beach in Miami, where the rich and famous hang out, and for good reason too. This gorgeous beach ranks highly among the best beaches in South Florida.
Fine white sand and turquoise water are perfect for swimming, paddle boarding, surfing, or sunbathing, with a buzzing nightlife, loads of hotels and resorts, shopping, trendy bars, outdoor cafes, and fine oceanside dining street.
But, be prepared to pay through the nose. There's nothing for free here.
A short stroll to the southern end will take you to the South Pointe Park Pier for a spot of fishing and panoramic views of the beach while cruise liners glide in and out of the harbor.
The park playground, with its water features, is a great place to take the kids for a full day's entertainment. Or have a picnic on the grassed banks in the evening and watch the sky turn all shades of red as the sun sets behind the city's skyline.
This beach does get a little crowded, and parking can get pretty hectic during high season, so come early.
Fort Lauderdale Beach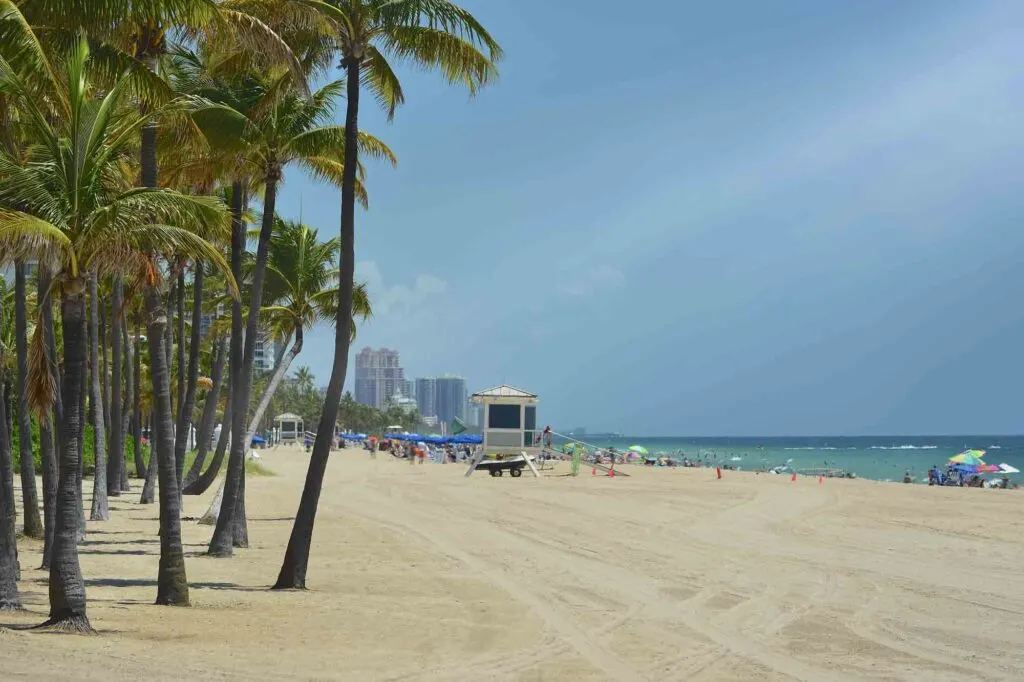 If you're looking for an almost identical setting to Miami Beach but less crowded, Fort Lauderdale Beach, slightly to the north, would be an excellent choice.
Miles of sand on which to stake your umbrella, with lifeguards towers every 200 yards, a landscaped promenade with showers and loads of eating joints available on the adjacent boulevard. A dog-friendly section is available in the northern section.
Shaded parks immediately behind the beach offer welcome relief from the sun in the nature trails and picnic areas, as well as fishing, kayaking, and cycling.
Las Olas on the southern section offers scenic riverboat and gondola rides through the city's waterways, dubbed The Venice of America. All in all, a wonderful location for a full day's R &R.
Delray Beach
Just a little more than 20 miles north, in the heart of Delray Beach, is another long stretch of golden sand with clear azure water, perfect for sunbathing, swimming as well as surfing when conditions are right.
Plenty of pay parking is available, with numerous access points down to the beach across the entire stretch. Beach umbrellas and chairs can be hired, but it's best to bring your own as prices can be a little high.
Public toilets and numerous restaurants and cafes are close by. No pets are allowed on this beach.
Palm Beach
Just 20 miles or so north, we come to Palm Beach and one of the quieter Southern Florida beaches for those wanting to escape from the madding crowds.
Yet it still offers miles of golden sand beaches, perfect for swimming, sunbathing, and paddleboarding, with loads of restaurants and shops nearby, off Worth Avenue.
Directly behind the beach on the northern section, the Manatee Lagoon Educational Center is an excellent place to witness these fascinating creatures in their natural environment. Entry is free!
The Lake Trail and the adjacent marina are worth strolling or cycling through, seeing elegant and historical mansions with sweeping views of the Lake Worth Lagoon and the city's impressive skyline.
It's a beach that easily earns its place among the best beaches in Southern Florida.
Read next: Best Road Trips in Florida
Marco Island
Moving across to the west coast, Marco Island offers 6 miles of glorious white sand beaches that have something for everybody.
Tigertail Beach Park in the northern section has a beautiful calm and shallow tidal lagoon, ideal for small children and great for kayaking, shell collecting, and bird-watching. Picnic tables, parking, and washroom facilities are available.
The central and southern sections are where most people head, with wide, pristine beaches providing ample space for beach games, paddling, swimming, snorkeling, and lazing in the sun.
Parking is a problem, however, as no street parking is permitted. If you're staying in one of the resorts or beach rentals, it's easier to just walk down to the beach.
Naples Municipal Beach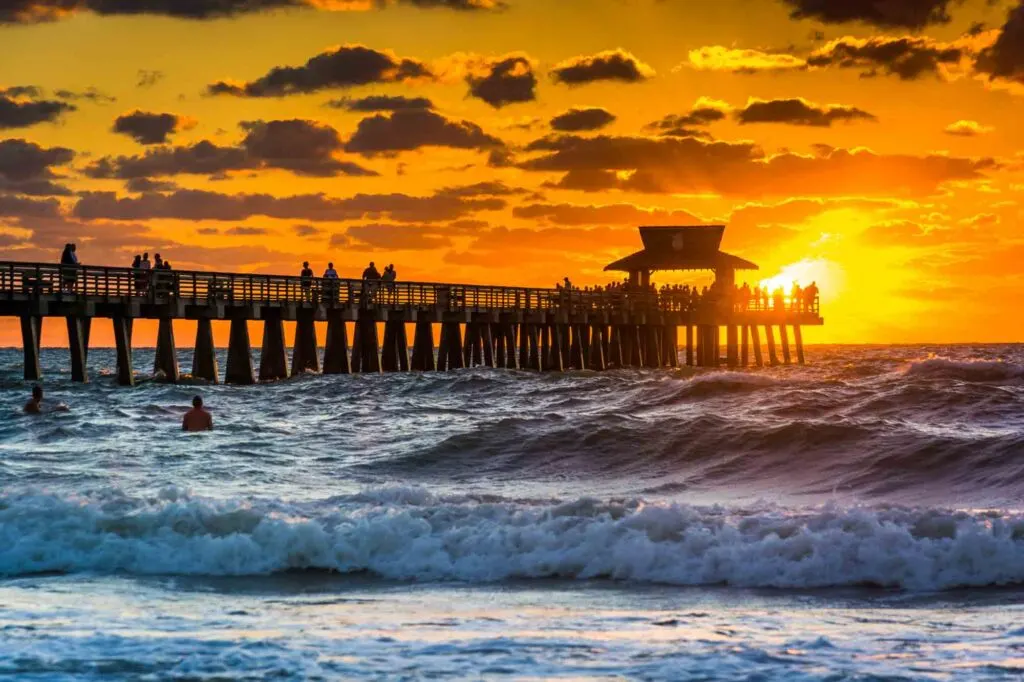 Just 30 miles north of Marco Island, Naples Municipal Beach is another firm favorite among South Florida beaches.
Situated in the city center, this magnificent 7-mile white sand beach is the perfect location for a family to spend a day.
The gentle and shallow shoreline is ideal for small children to play in the water, swim, kayak, sunbathe, collect shells, and long walks.
Built in the late 19th century, the iconic 1000-foot pier bisecting the beach has become the city's symbol, providing washroom facilities, excellent fishing with fish-cleaning bays, and astonishing views of the coastline in both directions.
Sunsets from here are magical. No filters or photo-shopping required…nature does all that for you. Loads of shopping, eating joints, and bars are close by, and the Farmer's Market on Saturdays on 13th Avenue is not to be missed.
Sugden Regional Park
Just a mile or so inland is a hidden gem among the whole of Naples. The Sugden Regional Park consists of a 60-acre freshwater lake with a beautiful sandy beach with tall palm trees you'd never say is artificial!
The lake itself offers swimming, sailing, and water skiing, while a picnic area with a playground and bathrooms makes it a wonderful place for kids and the elderly to enjoy a day outdoors.
A level wheelchair-friendly paved path surrounding the lake is an added attraction for our often forgotten disabled friends.
Lovers Key State Park
Another 30 miles or so north of Naples is the narrowest of islands with a stunning west-facing beach, which many claims to be one of the best beaches in South Florida. Spectacular sunrises and sunsets can be captured from here.
This large park comprises a stunning beach that runs for miles, offering fantastic swimming and sunbathing in a peaceful setting. The southern section, aptly known as Dog Beach is a wonderful stretch for dogs to run wild along the shoreline.
Behind the beach lies an interesting estuarine ecosystem, perfect for fishing and kayaking among the mangrove-fringed waterways teeming with fish, manatees, and birdlife.
Lighthouse Beach, Sanibel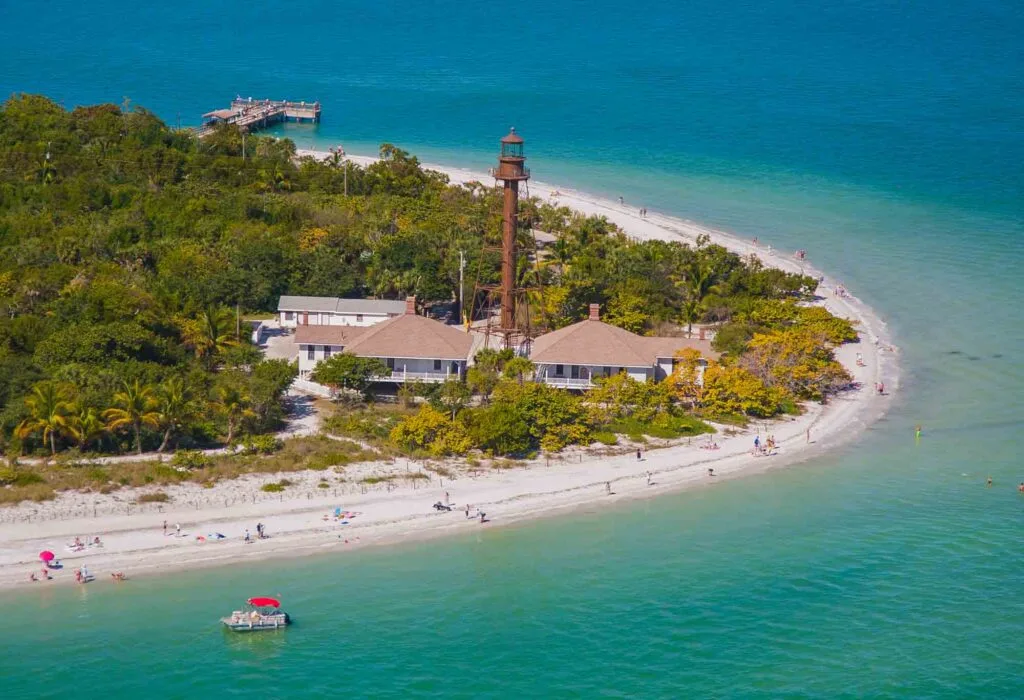 A little further north-west, wrapped around the eastern tip of Sanibel Island, is a little gem of a beach within a 32-acre, well-maintained park.
A nature trail through the adjoining wetlands offers wonderful views of the abundant birdlife and the historic 19th Century Lighthouse.
The beach offers all water-related activities and great scenery, with a shaded picnic area, restrooms, and showers. It is also a favorite beach for shell collectors.
The pier on the north section is a magnet for fishers and makes an excellent backdrop for photographers at any time of the day.
Two pay-parking lots provide parking for 150 vehicles, so arriving early during peak season is advisable.
Captiva Beach
A short hop across the bridge from Sanibel brings you to Captiva Island, a barrier island that may be the closest thing to paradise you'll ever get.
Five glorious miles of golden sand, lapped by warm, crystal blue water, home to a rich underwater ecosystem with several artificial reefs drawing an abundance of gamefish. Sweet music to the ears of any snorkeler, scuba diver, and angler.
Above all that, swimming, kayaking, shell collecting, or just catching a tan can take place on this beach, making Captiva a popular family holiday destination.
Various resorts and beach rentals provide excellent lodging options, while numerous fresh seafood joints are nearby.
Venice Beach
Moving up the west coast, we arrive at Venice Beach, one of the most popular of all South Florida beaches.
Situated in the center of the city, it's easily accessed from the free-parking area a few feet from the beach.
Miles of space to spread out to sunbathe, swim, or kayak, while the kids play in the shallows, under the watchful eyes of lifeguards, or gather seashells and fossilized shark teeth constantly washed ashore.
Amenities include showers and restrooms, a picnic area, a boardwalk, volleyball courts, and a snack and souvenir shop.
Two miles south is the famous Venice Beach Pier, a popular spot for fishers.
Dolphins and a wide range of seabirds are often sighted here, and if you're there between May and October, you may have to share your space with a few turtles. A wonderful experience for adults and kids.
Bill Baggs Cape Florida State Park
Bill Baggs Cape Florida State Park is hands down one of the best beaches in South Florida and a wonderful place to visit in the state. As such, Bill Baggs is very busy, especially on weekends. You'll want to arrive early to find parking.
Here, you can experience breathtaking views of the Atlantic Ocean and Biscayne Bay from atop the historic 1825 Cape Florida Lighthouse.
Access to the lighthouse tower and keeper's cottage are only during tour times; no additional fees or reservations are needed.
Visitors can delve into history on guided tours through the lighthouse and keeper's cottage or explore the park on foot, on a bicycle, or by boat or kayak. Oh, you won't want to miss the stunning sunsets over the bay.
Dry Tortugas
And last — but certainly not least — on our list is the remote Dry Tortugas, one of the best national parks in Florida.
Located 70 miles from Key West, it takes about two hours by boat to arrive — but the long ride is worth every second. Seaplane flights to the island are also available.
The 100-square-mile island houses Fort Jefferson, one of the largest 19th-century forts in the United States, and incredible coral reefs surround the land, making it one of the best beaches in South Florida.
Hundreds of shipwrecks also lurk below, making it a super spot for snorkeling and scuba diving.
Dry Tortugas doesn't have shops, galleries, or even restaurants. But it does boast fantastic campgrounds, and it's an ideal beach for couples who enjoy spending time with Mother Nature.
Siesta Beach
This is definitely the prettiest of all Southern Florida beaches. Whether you're looking for a romantic getaway, family vacation, or active watersports activities, this beach has it all.
Miles of white powder-like sand gently caressed by the gulf's calm, warm, and turquoise waters. Jaw-dropping stuff!
It is a beautiful life-guarded beach to swim, snorkel, and kayak during the day, and in the evening, just sit on the sand, sip a cocktail, and watch the sun paint the sky in all colors imaginable as it sinks into the blue horizon.
And all this while you sway to the mesmerizing rhythm of the drum circle gang—no ordinary experience.
Cafes, restaurants, and bars abound between the various resorts and condos, a mere stone's throw from the beach.
Bahia Honda State Park
We end way down south in the Florida Keys at a stunning location, offering exceptional snorkeling, swimming, kayaking, and fishing to satisfy everyone.
Gorgeous beaches, crystal blue water, and a wonderful place to observe various birds. Unique sunrises and sunsets every single day.
This is one of the darkest locations in Florida, and so, when the sun sets, the stars come out to play, putting up a spectacular show of the galaxies and constellations that surrounds us.
Campers and day visitors can hire kayaks and snorkeling gear, with restrooms, showers, and a small store to provide basics, food, and souvenirs.
The Old Bahia Railway Bridge is not only steeped in history, but offers spectacular fishing and stunning views of the ocean and waters below.
We hope these beautiful beaches will inspire you to visit South Florida and have an incredible beach vacation in the Sunshine State!