Looking for charming small towns in Florida? We've got you covered with this incredible list!
Even though the first destinations that may pop to mind when you think of Florida are probably cities like Miami or Orlando, there's actually a whole lot more to the Sunshine State than meets the eye.
If you're looking to stray away from the popular tourist route and visit some lesser-frequented destinations in order to get to know the state a little better, you'll find opportunities aplenty to do just that.
From laid-back seaside villages to towns dotted by Victorian-era buildings and riverside locales, here are 26 of the loveliest small towns in Florida you've got to visit at least once!
26 Lovely Small Towns in Florida
1. Anna Maria Island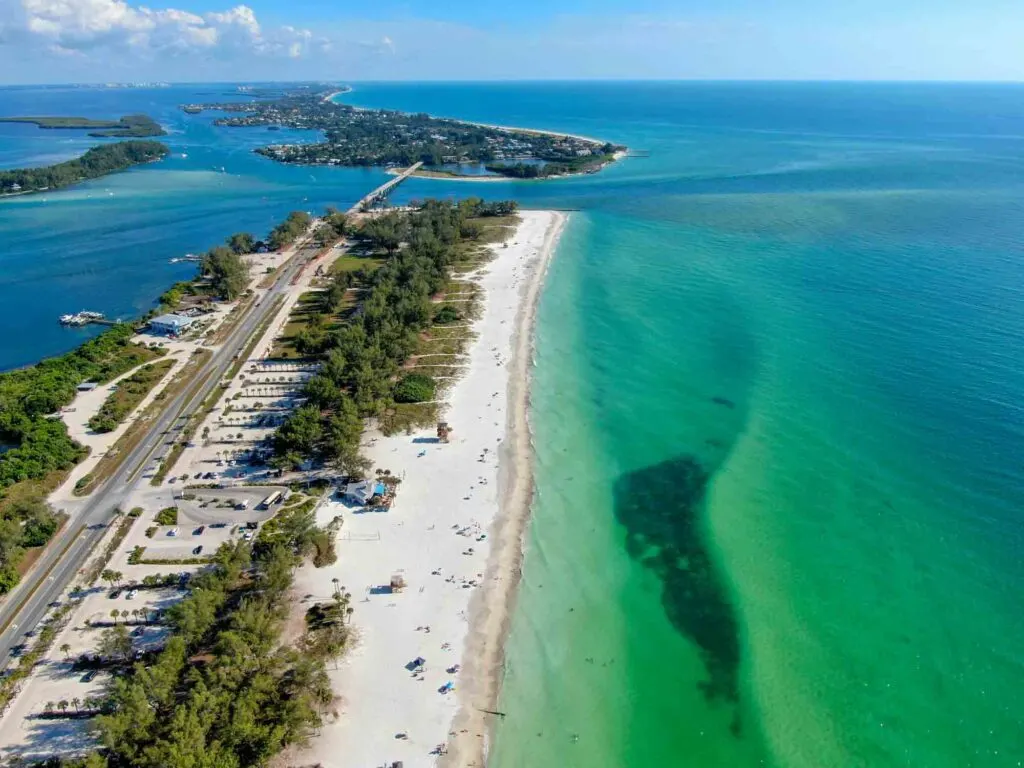 Anna Maria Island is a small barrier island located just off the Gulf Coast of Florida.
Home to 7 miles of gorgeous white sandy beaches and calm turquoise-toned waters, Anna Maria is the perfect place to head to for Old Florida vibes thanks to the fact that the island has some pretty strict building regulations, so chain stores and sky-high buildings are a big no-no here.
Aside from enjoying its beautiful beaches, you'll find plenty more to do on the island, be it by exploring its historic buildings, relaxing in a beautiful vacation rental, trying out excellent seafood, or shopping at the many locally-owned boutiques spread all over.
Hiking is also a thing here, with many trails available at the nearby Leffis Key Preserve which also happens to be an excellent place to spot wildlife.
A huge must is kayaking around the island, where you'll find several mangrove areas that are perfect for spotting marine life such as dolphins and manatees!
2. Havana
Located only a few miles north of Tallahassee, Havana is considered the friendliest small town in Florida and one of the most unique villages in the state to visit for vintage aficionados.
Havana was founded in the early 1900s, and today, this quaint little town boasts rows of specialty shops set inside historic buildings, where visitors can browse for hours on end in search of unique art, antiques, vintage collectibles, and furniture.
3. Blountstown
As part of the Florida Panhandle, Blountstown is the ultimate place to head to for a rural Florida experience.
Back in the late 1800s, this charming town is home to beautiful rivers, gorgeous hiking trails, and a super friendly atmosphere.
Aside from that, there are several courthouse buildings spread all over, one of which is actually considered a historic Florida landmark.
The biggest allure of Blountstown is the fact that it brims with history, all of which you can explore by following the Greenway Trail, which follows an old railroad.
At the end of this trail, you'll find the town's top attraction: the Panhandle Pioneer Settlement, where you'll get to see an assortment of historical buildings that tell the story of pioneer times.
4. Chipley
Located in Northwest Florida, Chipley is a small town that homes just under 4,000 people that will make you feel as though you were transported back in time to Old Florida.
While its neighborhoods have been brought to life through renovations, the town's historic buildings remain as charming as ever.
One of the top things to see in Chipley is its Main Street Market, where you'll find farm products and all sorts of local goodies to enjoy, including seafood treats and fresh oysters during the season.
Moreover, Chipley is located only a few miles away from Falling Waters State Park, which is home to a 73-foot waterfall that is the highest one in Florida!
5. Crystal River
If swimming with manatees is part of your Florida bucket list, look no further than a visit to Crystal River, which houses one of the most beautiful natural springs in Florida and is the perfect go-to for high chances of spotting these Florida water dwellers.
Thanks to the fact that the springs have constant warm waters and crystal-clear visibility, seeing manatees is pretty easy here, especially when you consider that it's one of their favorite hangout spot to escape the colder waters of the Gulf of Mexico during the winter months.
6. Miramar Beach
Home to old surf shops, a great dining scene, and beachside resorts and condos lining the shores of the Gulf of Mexico, Miramar Beach is one of the best destinations in the state for a beach escape and lots of water adventures.
Plus, Miramar Beach tends to mix the old with the modern, with a few sections of town still remaining pretty much the same throughout the decades while others feel ultra-modern, with large outlet centers and luxury condos dotting the landscape.
7. DeFuniak Springs
Perfect for a quiet vacation spent relaxing, exploring nature, and walking amid Victorian-era buildings, DeFuniak Springs has a pretty unique claim to fame: it homes a perfectly round lake, one of the only two of them in the entire world (the other one is located in Switzerland)!
The main thing to do at DeFuniak Springs is to enjoy the lake itself, which is dotted by pine trees and surrounded by beautiful Victorian-style homes that will very make you feel as though you jumped into a storybook setting.
Moreover, another great way to explore is by grabbing a bike and driving down the Circle Drive Historic Center, which will have you making your way through beautiful homes and buildings that have stood the test of time and are pure eye candy.
8. Mount Dora
Home to only a few thousand people, Mount Dora is a pretty small town in Florida that provides a wonderful escape from the bustle and hustle of Orlando.
While strolling its enchanting downtown, you'll stumble across low-key eateries, antique shops, museums of all sorts, and lots of lakefront charm.
Aside from Mount Dora's unraveled beauty and calmness, what attracts hundreds of thousands of visitors to this historic village are its annual celebrations – including seafood, blueberry, and arts festivals!
9. Mexico Beach
Set only 20 miles away from popular Panama City, Mexico Beach is one of the best small towns in Florida and a wonderful spot to head to for that small-town charm.
As part of the Florida Panhandle, natural beauty is the staple of this small coastal community. During your visit, you'll get to enjoy activities like shelling, dolphin spotting, snorkeling, kayaking, eco tours, and more.
Mexico Beach is also a great destination for avid birdwatchers, with numerous species having made it their home, including osprey, pelicans, herons, bald eagles, and more.
Moreover, spotting turtles is easy here, especially when you consider five species of them thrive in the area – Kemp's ridley, hawkbill, loggerhead, green, and leatherback turtles.
10. Cedar Key
As the second oldest town in Florida, Cedar Key holds that old-fashioned charm that will make you feel as though you traveled back in time.
Dotted by historical buildings and housing fewer than one thousand residents, Cedar Key is the ideal vacation spot for those looking to enjoy the beach in silence.
While here, you'll be able to enjoy delicious fresh seafood overlooking the Gulf of Mexico, go kayaking to nearby islands, or explore a few of the nature preserves in the area.
Tip: Don't forget to try clam chowder and a craft beer during your visit to Cedar Key!
Read next: Best Beach Towns in Florida
11. Vero Beach
Vero Beach has been awarded the title of the "Best Smal Town in Florida" for several years, and once you step foot in it, you'll see exactly why that is!
Farm-to-table restaurants and organic cuisine are the staples of Vero Beach's foodie scene, which fits the town's verdant surroundings that are dotted by unique flora and vegetation that's unique to the area
Aside from its small-town charm that still offers visitors all the amenities they could wish for, something that makes Vero Beach stand high above the crowds of other destinations in Florida is the rare fact that you are still very likely to get the beach all to yourself, which is a pretty unique thing to say about any Sunshine State locale!
12. Ponce de Leon
Located in Northwest Florida, Ponce de Leon is said to be the place where the Spanish explorer of the same name searched for the Fountain of Youth.
This small Florida town still retains a pretty rustic charm, where slow-paced living is the norm and nature reigns supreme.
During your visit, you can visit the nearby Ponce de Leon Springs, which boasts crystal-clear waters and nature trails you can follow.
Moreover, there are a few more lesser-known springs scattered throughout the area: Vortex and Morrison, where you can swim, camp, and even scuba dive if you want to explore them on a deeper level!
13. Marco Island
As the largest island on Florida's Ten Thousand Islands and the only one featuring amenities of the lot, Marco Island is an excellent gateway to exploring tropical beaches, pristine state parks, and even the Everglades, which is set nearby!
Even though Marco Island still retains that small-town feeling, it still has everything you could hope for in a comfortable stay, including modern condos and luxury resorts, trendy restaurants, and great shopping options.
If you're into outdoor adventures, make sure you check out Collier Seminole State Park, which is set a few miles away from the island and provides excellent opportunities to explore Florida wilderness, be it on a boat tour, by renting a canoe, or going on a nature walk!
14. Marathon
Spread over 13 islands on the Florida Keys, the small town of Marathon is a water lover's paradise.
During your visit, you can get tons of hands-on experience with the marine life that surrounds the town, be it by interacting with dolphins at the Dolphin Research Center, meeting stingrays at Aquarium Encounters, learning about the conservation of sea turtles at the Turtle Hospital, or actually going underwater on a snorkeling adventure!
For those keen to explore over the water, you'll also find opportunities aplenty to do just that, be it by dining at the many waterfront restaurants in town, exploring the Crane Point Hammock and Nature Trail for all things nature and history, or checking out Curry Hammock State Park, one of the most untouched sections of the Florida Keys!
15. Venice
Famed for being the Shark Tooth Capital of the World, Venice is one of the best small towns in Florida to visit if an interesting destination is what you're after.
Aside from the usual fun under the sun activities you'd expect to find in any coastal location in Florida, Venice provides visitors with the unique opportunity to go on a scavenger hunt in search of shark teeth (Caspersen Beach is a popular place to do this).
Another aspect that makes Venice truly special is its Italian-inspired architecture and its bustling arts scene – go in search of art galleries in its charming downtown and count how many you can find!
16. Islamorada
Commonly nicknamed the sport-fishing capital of the world, Islamorada is one of the most charming Florida small towns.
If fishing isn't exactly your thing, fret not, as you'll find plenty more activities on its menu to keep you entertained during your stay. Water adventures are a favorite here, with snorkeling, sailing, and diving being just a few of them.
Moreover, Islamorada is located right where saltwater wilderness, barrier reefs, and even a section of Everglades (a Florida national park) meet, which pretty much means you'll have options aplenty when it comes to exploring the outdoors.
Aside from that, Islamorada is also home to great amenities to guarantee a comfy stay, including fine dining, great shopping, and lots of entertainment.
17. Ybor City
More than a small town, Ybor City is actually more of a neighborhood in Tampa, but thanks to its unique persona, it's often considered a town of its own!
A visit here is a sort of mix of Cuban, Italian, and Spanish heritage, all of which were brought here back when Tampa was a cigar industry hub.
Today, not much has changed since then, and a stroll through this distinctive city may very well make you feel as though you traveled back in time as you make your way through its brick-paved streets and historical buildings.
Another aspect that makes Ybor City so special is its foodie scene – thanks to its Cuban and European influences, you'll find food as authentic as it gets here, including a coffee scene like no other.
18. Deerfield Beach
Home to the longest cable ski courses in the country, an award-winning beach, and lots of oceanfront entertainment, Deerfield Beach is one of the best small towns in Florida to visit if you want everything you could hope for from a sun-drenched vacation without the hoards of crowds around.
The town's name comes from the many deer than once inhabited the area, and up to today, Deerfield Beach continues to protect its wildlife, with several nature centers and state parks committed to the job located nearby.
Aside from enjoying the beach and the town's amenities, you can also head outdoors for an authentic adventure out in nature, be it by spotting alligators on swamps, kayaking through mangrove forests, or hitting a few hiking trails amid the forest.
19. Dunedin
One of the oldest towns on the west coast of Florida and a must-visit for nature aficionados, Dunedin is one of the most charming small towns in Florida to visit, especially if you're feeling keen to experience something slightly different from the usual Sunshine State's vibes.
Dunedin still remains pretty faithful to its Scottish roots, and you'll be able to feel that every step you take, be it thanks to its architecture or the many Scotland-inspired festivals hosted throughout the year.
Nearby, you'll find Honeymoon Island State Park, a wonderful place to visit in order to get a combination of pristine beaches and nature trails you can follow on a hiking or biking adventure!
20. Tarpon Springs
Boasting a historic downtown listed on the National Register of Historic Places, a visit to Tarpon Springs is all about walking amid brick streets and exploring repurposed Victorian-era buildings from the late 1880s, which now serve as antique shops, local restaurants, art galleries, and more!
Aside from its enchanting streets, Tarpon Springs is also famous for its waterfront activities and its unparalleled fishing opportunities – in fact, its name comes from the abundance of tarpon found in its waters!
21. Matlacha
Colors and arts are the staples of this small finishing village just off the coast of Cape Coral.
Home to a coastal village charm like no other, Matlacha is one of the best small towns to visit in Florida, especially if what you're after is picture-perfect Instagram eye candy, lots of local arts, fresh seafood, and relaxing beach vibes like no other.
Aside from strolling its colorful streets, other great things to do during your time in Matlacha include checking out Old Pine Island, spotting dolphins, snorkeling, or kayaking around its mangrove-lined waters in search of marine life!
22. Marianna
Marianna is a small town located close to Florida's capital city and one of the best small towns in Florida if what you're after is to explore up north.
This adorable historical town is often nicknamed "The City of Southern Charm", and while you explore its spellbinding downtown, you'll see exactly why that is!
Marianna is the perfect gateway to Florida Caverns State Park, one of the most unique Florida state parks because it homes the only dry caverns in the state!
In addition, you'll also find plenty of more opportunities to explore the outdoors near Marianna, be it its many spring-fed rivers, lakes, or state parks.
23. Bristol
Located almost on the border with Georgia, Bristol lies a few miles away from the Apalachicola River. This town became a small-ish tourist attraction in the 50s as it was believed to be the home of the Garden of Eden.
Whether that's true or not, Bristol's magic lies in the fact that it does boast beautiful nature, especially when you consider it's set on tea country.
Moreover, Torreya State Park is located nearby, a wonderful place to take a hike amid high bluffs that overlook the Apalachicola River.
24. St. George Island
Located a stone's throw away from North Florida's Gulf Coast, St. George Island is one of the few remaining untouched barrier islands in the Sunshine State.
Thanks to its uncrowded scene, calm waters perfect for swimming, and wildlife spotting opportunities, St. George is considered one of the best islands and small towns to visit in Florida for those looking for a low-key vacation where nature is the norm.
Chain stores and high-rise buildings are not welcome here, but you'll still find plenty of accommodation and dining options, be it a quaint cottage or an eatery set inside a historical building.
25. Fernandina Beach
Found on the alluring Amelia Island just off the coast of Tampa, Fernandina Beach isn't only a paradise-like destination to visit in the United States, but it's also one where you'll get to feel as though you were transported back to Old Florida as its buildings and vibes haven't changed much since then.
Aside from boasting miles on end of white sand beaches and emerald-hued waters, Fernandina Beach is also home to a lovely downtown you can spend hours exploring, be it by trying out a few restaurants offering delicious seafood, checking out the many antique shops that dot the streets, or spending a few hours browsing local art galleries.
26. Safety Harbor
Filled with a relaxed ambiance, Safety Harbor is located close to Tampa, which means you can get that small-town experience while still being close to a big city in case you start craving more action.
One of the biggest pulls of Safety Harbor is the town's Safety Harbor Resort and Spa, where you can enjoy a relaxing staycation while soaking up in waters said to hold healing properties.
Aside from that, visitors can enjoy Main Street's top-notch restaurants, walk along the harbor at Philippe Park, stroll the historic district for some serious eye candy, and see an ancient Live Oak said to be hundreds of years old!
Have you ever visited any of these small towns in Florida? If so, we'd love to hear what you loved about them, so feel free to tell us all about your time there in the comment section below!
Latest posts by Victoria Green
(see all)