The Anna Maria Island beaches rank among Florida's best with their silky white sands and turquoise waters. So if you're searching for a fun-in-the-sun vacation destination, the gulf-ocean island may be an ideal spot to rejuvenate, de-stress, and get your tan on!
Anna Maria is a barrier island off the southwest coast of Florida, near Tampa.
Known for its low-key, Old-Florida vibe, the island is belted by gem-colored waters trimmed with white sand beaches.
One-story bungalows, deceptively luxurious resorts, delectable restaurants, and fun shops dot the landscape, punctuating the beach vacation atmosphere.
Anna Maria runs north-south and is about seven miles long. Gulf Drive serves as the island's vehicular spine and runs the entire length. It's also a walker's paradise, so beware of pedestrians!
Since the entire island is a bird sanctuary, pelicans, cranes, herons, sandpipers, eagles, and ospreys soar through the skies and mingle on the area's piers and roofs.
Bottlenose dolphins, mackerels, redfish, snapper, trout, and amberjacks swoosh through surrounding waters, and between May and October, sea turtles waddle ashore to nest. Animal lovers will have a great time here!
Anna Maria Beach Holiday: A Must-Visit Destination
Local officials and private businesses have poured millions of dollars into Anna Maria Island over the past two decades, and it's become an increasingly popular beach town in Florida. So expect crowds on holidays.
That said, it's one of those places that truly makes you feel like you're on vacation — which is a plus in most people's books. The vibe is fun-loving, and the style is resort casual.
Looking for accommodation? Here are incredible vacation rentals on Anna Maria Island worth checking out.
Best Beaches on Anna Maria Island
Here are the spectacular beaches on Anna Maria Island!
Coquina Beach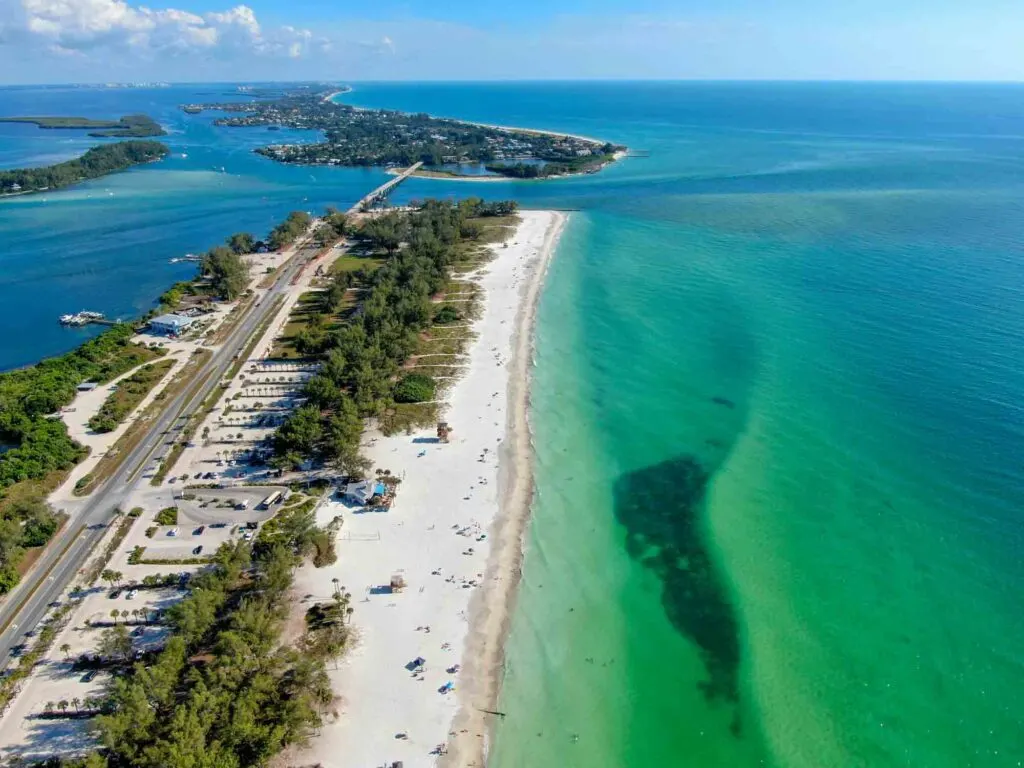 The southernmost beach on the island, Coquina is a long and slim stretch of white sand backed by a row of Australian pine trees — and one of the more crowded beaches on Anna Maria Island.
During your visit, take some time to walk southwards down the beach to Longboat Pass for incredible views, just before Longboat Key.
Lifeguards watch over swimmers from several towers, vendors selling their wares wreath the beach, and bikers wend their way down the area's paved walkway. In a phrase: Coquina is buzzing!
It's also a popular place for families to spend the day and features grills, picnic tables, beach volleyball courts, and game tables. There's even a nearby playground. Showers, changing rooms, beach gear rentals, sunbeds, and umbrellas are also on tap.
Feeling a bit restless? Leffis Key, a nature preserve, is across the street from Coquina Beach, and it's open from 6 AM to 9 PM.
Do you love outdoor "flea markets"? Then you'll love Coquina because it has one that sells everything from food to fashion. During the winter months, it's open on Sundays and Wednesdays; in November, vendors only set up shop on Sundays; for the rest of the year, people can shop at the Coquina Beach market on Wednesdays and Fridays.
If your idea of the perfect beach day involves sunbathing and watching boats go by, Coquina fits the bill. It's situated right at Longboat Pass, which offers a parade of sailboats — and occasionally bigger vessels.
The Coquina Beach Cafe — open for breakfast, lunch, and dinner — sits about halfway down the strip and offers patio dining with a side of people-watching.
But don't forget to pack swimming shoes along with your sunscreen — as its waters are filled with sharp rocks.
For the entertainment history buffs out there, Coquina Beach has an Old Hollywood connection. In 1921, Paul Gilmore — a famous stage actor of the time — bought the land where Coquina Beach now sits. His goal was to transform southern Florida into a film colony rivaling California's. Unfortunately for Gilmore, it didn't work out, and only one movie was ever filmed at the location.
Coquina Beach is located at 2650 Gulf Drive and is open daily from 6 AM to midnight. Three massive parking lots service the beach, and there's even a special section for RVs. But the good spots fill up on busy days. So if you don't like to walk, arrive early.
Cortez Beach
Cortez Beach is a 140-foot stretch of sand south of the Bridge Street historical area, and its claim to fame is a trio of long concrete piers that extend into the ocean. It's one of the less busy beaches on Anna Maria Island — but for some folks, it's paradise.
The piers may obstruct the views, but Cortez Beach also has strong points. To wit:
Swimming is safer at Cortez Beach on calm days because the piers act as breakwaters. However, lifeguards go off duty late afternoon — usually around 4 PM — and guests should pay attention to riptide warnings.
Cortez is good for snorkeling.
During particular weather, surfing is excellent at Cortez.
People have been known to find great shells on Cortez Beach.
Cortez Beach also features picnic benches, bike racks, restrooms, and a hiking trail. If you want to escape the velvet sands for a few hours, check out the nearby shops and restaurants on Bridge Street.
And although they can be an eyesore, the piers do have their benefits. People fish off them, but diving isn't allowed. Moreover, you can snap some great shots of the ocean from their ends.
Cortez Beach is located at 1506 Gulf Drive South, has a parking lot, and is open from 6 AM to midnight.
Manatee Public Beach
Of all the beaches on Anna Maria Island, Manatee Public Beach may be the best one for foodies.
First up is the Anna Maria Island Cafe, where gorging on all-you-can-eat pancakes under an umbrella is encouraged.
Later in the day, stop by Skinny's for a super juicy hamburger, or grab an ice cream or a cocktail at the Bamboo Beach Tiki Bar. Public grills and picnic tables are also scattered throughout the beach.
Manatee Beach is chock full of amenities. Guests enjoy:
Good swimming conditions
Five volleyball courts
Beach shop
A playground
Live music at sunset
Restrooms
Showers
Bike racks
Changing cabanas
Watersport and paddleboard rentals
Manatee Beach is at 4000 State Road 64, boasts a parking lot with over 100 spots, and is open from sunrise to 10 PM.
Bean Point Beach
Bean Point Beach is the northernmost tip of Anna Maria Island. The wide-open swath of sand is a gorgeous, quiet option for people who don't love crowds. It's the place to head when you're ready to be hypnotized by the thrum of lapping waves and the soothing sound of birdsong.
Bean Point — named after George Emerson Bean, the island's first resident who arrived in 1892 — doesn't have vendors, lifeguards, or washrooms. Swimming also isn't recommended due to strong currents.
But if you want to take pictures of kites, head to the beach on windy days. Otherwise, it's a great spot to enjoy views of Tampa Bay and the Gulf Coast, in addition to the marine life that calls it home, including dolphins and sea turtles.
Frisbee is also a popular pastime on Bean Point.
It's one of the few beautiful beaches on Anna Maria Island without a dedicated parking lot. But there is street parking, and visitors can access the beach via two gates on North Shore Drive and Gladiolus Street.
Bradenton Beach
Situated toward the island's southern end, Bradenton frequently lands on best-beach lists. Not only does it have all the amenities — showers, grills, lifeguards, picnic tables, playgrounds, and showers — but it's wide and long, which means people aren't piled on top of each other.
Beach House Restaurant — a local favorite with great grub — is near Bradenton Beach, but it gets busy. So prepare to wait for a table during peak hours.
Bradenton Beach is one of the beaches on Anna Maria Island near the Historic Bridge Street district, with its gift shops, restaurants, and ample parking spots.
Holmes Beach
Named after the property developer who built the area's first community, Holmes is one of the quieter beaches on Anna Maria Island.
Tucked between Manatee Beach and Bradenton Beach in the middle of the spit, it's fronted by private homes and condos.
Beach access points off side roads will get you easy access, although Holmes Beach has limited street spots available. Additionally, there's a small shop and restaurant strip nearby.
Truthfully, there's not much to say about Holmes Beach except that it's not busy and doesn't have amenities. But if you're looking for a dose of serenity, away from the hustle and bustle, it may be the ideal spot on Anna Maria Island to catch some rays while reading a juicy novel.
Bayfront Park Public Beach
Out of all the beaches on Anna Maria Island, Bayfront Park may be the most unique. Situated near the public pier, Bayfront is actually a city park with a slight stretch of sand. Most people set up under the trees and branch out from there.
At Bayfront Park, you'll find some people making sandcastles at the shoreline while others enjoy the swings and playground. Every Tuesday, vendors set up a farmer's market between 8:30 AM and 2:30 PM. Got the munchies? Head to the cafe at the end of the pier.
A row of boutiques and eateries are also a short walk away, and parking is relatively easy.
Palmetto Avenue Beach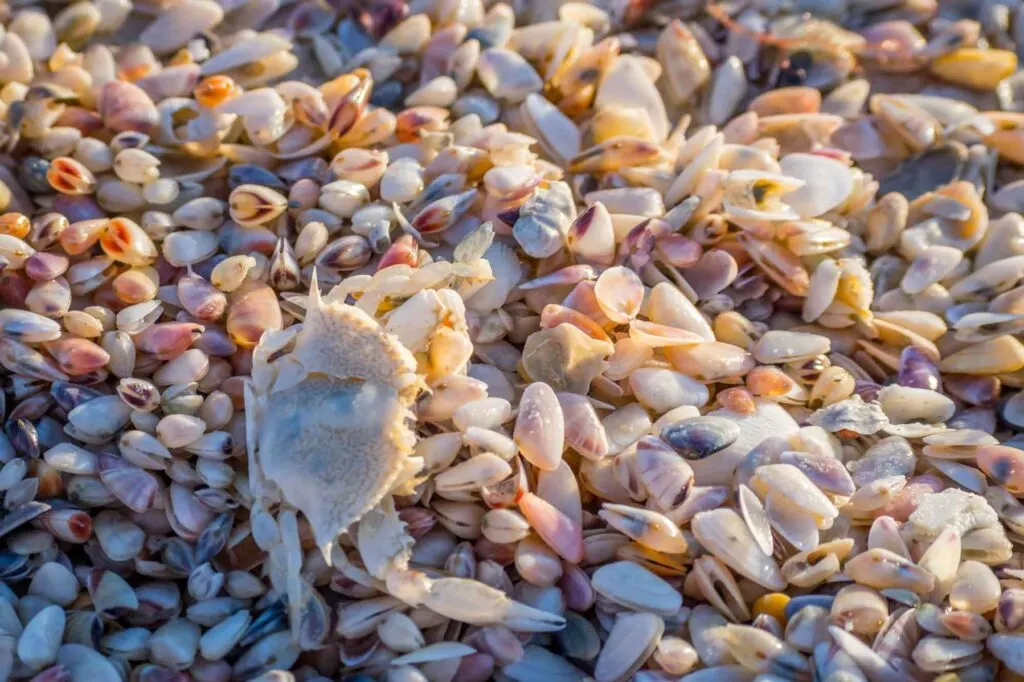 When it comes to beaches on Anna Maria Island, Palmetto Avenue is the best one for folks who like shells and shopping! The beach itself doesn't have many features. Lifeguards don't patrol the stretch, and there aren't any showers, bathrooms, or other facilities. Pets aren't even allowed.
But the sand is velvety — and the area shells are usually in-tact and impressive. It's also the closest beach to "downtown" Anna Maria shopping.
To get there, park on either Palm or Magnolia Avenues. Both streets have an entrance to Palmetto Beach.
Beach Parking on Anna Maria Island
Two bridges — the Cortez and Anna Maria — connect the island to the mainland, and there's plenty of parking. Several beaches maintain large parking lots; street parking is also available across the island.
Most beaches have parking lots, but depending on how crowded they get, it's a good idea to arrive early to snag a spot.
A free trolley, with 35 stops, runs every 20 minutes up and down Gulf Drive, the island's main thoroughfare, and MCAT buses connect with the trolley at Manatee Public Beach. You can also catch SCAT ones at Coquina Beach.
Several taxi companies, including Uber and Lyft, service the island. Cycling and walking are also options, and the island is dotted with bike racks.
Anna Maria Island Beaches
Whether you're staying for a week or an afternoon, Anna Maria Island is a great getaway. The family vacation vibe is strong, the sand smooth, and the views are incredible. So if you're looking for the ideal stateside holiday with blue waters, consider the Anna Maria Island beaches.