This barrier island is one of the best hidden-gem American vacation destinations — so, of course, there are plenty of things to do on Anna Maria Island!
The stretch of land off Tampa Bay's coast on Manatee County is home to beautiful beaches, bright-blue waters, specialty shops, art galleries, world-class chefs, and bartenders who believe in the palliative power of a strong drink!
The vibe on Anna Maria is laid-back, and many people compare the AMI experience to that of a posh Caribbean island — with better amenities!
It's also one of the few places left in the Sunshine State that celebrates "Old Florida" — where the bungalows were low and time was a mere suggestion.
So today, in an effort to help you determine whether AMI is your next getaway, we've curated a list of Anna Maria island attractions.
Looking for vacation rentals on Anna Maria Island? This guide reviews the very best places to stay on the island!
The 17 Best Things to Do on Anna Maria Island, Florida
Get a Bird's Eye View of the Island
Get a bird's eye view of Anna Maria Island and pump adrenaline up while parasailing smoothly along the coast. This activity is suitable for all skill levels.
This 12-minute parasailing adventure takes you 350-400 feet above water from where you can have a mesmerizing view and create unique memories with your family.
Besides, the staff is very professional and knowledgeable and will make you feel at ease.
Don't miss out! Click here to book your parasailing adventure
Catch Some Rays at the Beach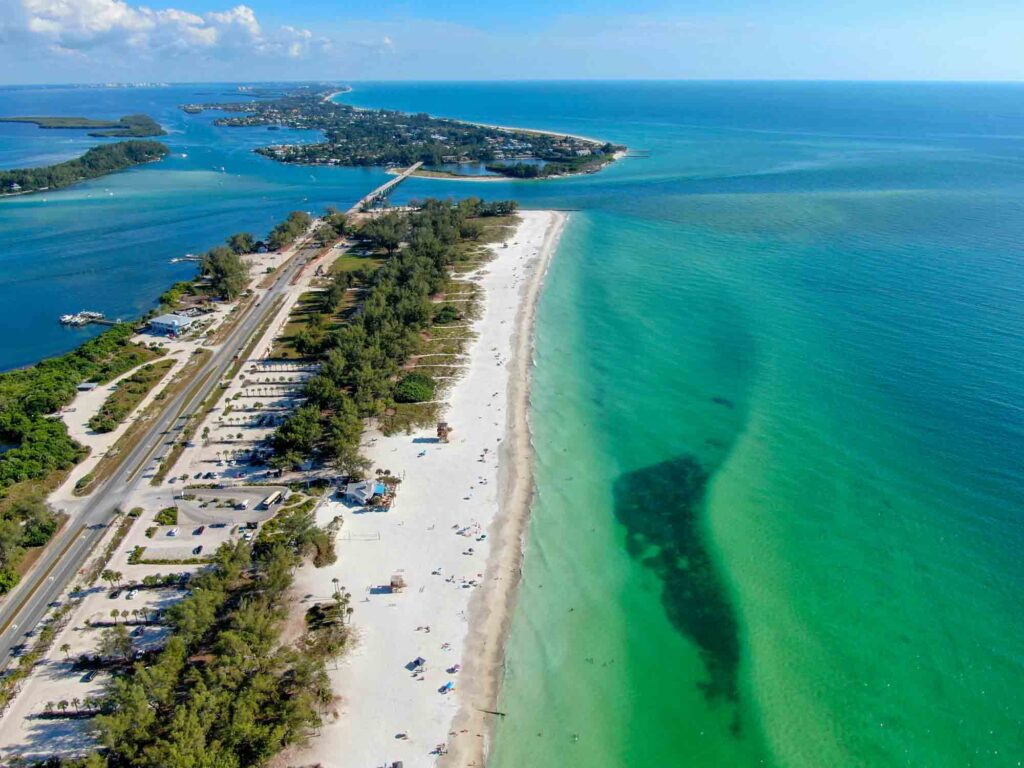 In terms of things to do on Anna Maria Island, the gorgeous beaches take center stage. The white sand is soft, and the sun seems to shine extra brightly on the seven-mile stretch of land.
Whether you're interested in beach yoga, seashell hunting, beach reading, or a pickup game of volleyball, there's a stretch of sand on AMI that fits the bill perfectly.
Anna Maria has six main beaches, which you can read about here, and each has its own personality.
As a general rule of thumb, Manatee Public Beach, Bradenton Beach, and Holmes Beach host the action along the Gulf Coast, whereas Bean Point (limited parking) and Palmetto Avenue Beach are more tranquil.
Cortez Beach and Coquina Beach are popular beaches on the southern end of the island.
Bike Around the Island
Biking is a favorite Anna Maria Island pastime as there are so many things to see on Anna Maria Island.
Several shops rent out cycles, locks, and helmets, plus bike racks are strategically placed throughout the island.
Meander through the quiet side neighborhoods, where giant Poinciana trees line the streets or stick to the main drag, Gulf Drive, to be part of the action.
Biking is the quickest way to dart around AMI during the busy season. However, if you choose to peddle, plan for flash rainstorms.
After all, Florida is a subtropical climate, and torrential downpours are common. Sometimes they last 10 minutes; other times an hour.
Thankfully, there are plenty of cafes, lounges, and shops on Anna Maria Island you can duck into when the sky opens up!
Chow Down on Good Seafood
One of the best things to do on Anna Maria Island is eating — as the seven-mile-long spit of land is jam-packed with restaurants.
Some specialize in simple menus, others cater to fancier tastes, and all of it's good. Notable Anna Maria Island restaurants include:
Beach Bistro
Ginny's and Jane E's Café
The Waterfront Restaurant & Craft Bar
Gulf Drive Café
Rod and Reel Pier
Anna Maria Oyster Bar
Compared to other tourist enclaves, the island has relatively few chain restaurants, adding to its charm. For a comprehensive AMI foodie guide, click here for our list of the best restaurants on Anna Maria Island.
Give Your Wallet a Workout at the Island's Shops
Like any viable vacation destination, Anna Maria Island provides plenty of places to engage in a bit of retail therapy.
Clothing boutiques, jewelry stores, art galleries, and specialty stores line the streets. Gulf Drive is the main drag, and it's a mix of restaurants, stores, and businesses.
But the best areas for boutique hopping are Pine Street and the Historic Bridge district.
Watch the Magical Sunset
One of the best parts about tropical vacations are the ocean sunsets — and Anna Maria Island is no slouch when it comes to the daily event.
For unobstructed views, make your way to Bean Point (some street parking, but not enough). It's the best spot on the island to watch the sun descend below the horizon. If you're lucky, the dolphins may decide to give a sunset show.
Another great sunset-watching spot on AMI is the Rod & Reel restaurant at the end of the City Pier.
Stay for Mother Nature's night-light show once the sun bids adieu. Since Anna Maria Island has minimal city lights, the star-filled sky dazzles in the dark.
Or, you could go for the sunrise at Bradenton Beach City Pier, where you have excellent views of Sarasota Bay and Cortez fishing village.
Learn About the Area at the Anna Maria Island Historical Museum
Before Spanish explorers happened upon Florida's shores, Anna Maria Island functioned as a fishing outpost for the area's native peoples.
Eventually, Spanish colonizers set up camp, and the first homesteader, George Emerson Bean, arrived in 1893.
Since then, many people have come and gone from the island, including Fig Newton creator Charles Roser, and the Anna Maria Island Historical Museum tells all their stories.
The building in which the museum is currently housed has its own eclectic history. At points it was used as the island's ice house, a garage, an administrative building, and a sea turtle hatchery.
Belle Haven Cottage, one of AMI's original settler homes, also sits on the museum's property.
The Anna Maria Island Historical Museum opens at 10 a.m. daily and closes at either 4 p.m. or 1 p.m. depending on the time of the year.
Hang Out on the City Pier
Anna Maria City Pier is situated in the northern neck of the island, and it's a fun place to hang out for a few hours on Pine Ave. Hurricane Irma battered and broke the long boardwalk in 2017, but it's since reopened.
Some people fish off its sides, and others grab front-row seats for dolphin and manatee watching.
There's a restaurant and shop at the end, in addition to a place to get ice cream. While there, check out the names on each of the boardwalk planks.
The Sunshine Skyway Bridge will drop you off near the pier, and there's parking along South Bay Boulevard.
Make a One-of-a-Kind Donut
They may not be great for the waistline, but donuts rank among the yummiest treats on the planet!
That's why a snack pilgrimage to The Donut Experiment on Pine Avenue is a must when visiting Anna Maria Island.
Instead of picking from pre-made donuts, customers can make their own creations. It's like a donut salad bar where you can choose from around 20 to 30 toppings — including unorthodox options, like sriracha and key lime!
For budget-conscious travelers, a trip to The Donut Experiment is one of the more affordable things to do on Anna Maria Island.
Understand, however, that the lines get long at The Donut Experiment. But it goes fast — and waiting is definitely worth it. Also, arrive early because the shop closes promptly at 1 p.m.
Take Pictures at the Anna Maria Jail
Once a subject of curiosity on "Ripley's Believe it or Not," the Anna Maria Jail is one of the area's most-photographed tourist attractions, and it regularly tops lists detailing what to see on Anna Maria Island.
Built in 1927, it was used as a detention center for minor criminals, and what made it remarkable was the lack of a roof, doors, bars, or windows.
However, mosquitos would swarm the inmates at night — a fate worse than following the law — and therefore served as an effective petty crime deterrent.
Despite the lack of traditional barriers, the jail operated until 1940, when a fire ravaged the structure.
Commune With Nature and Area Wildlife
Anna Maria Island is a wildlife haven for sky and sea animals alike — in addition to the area flora. The slight stretch of land is home to several nature preserves and protected lands.
Bottlenose dolphins and manatees frolic in nearby waters, and from May to October, Loggerhead sea turtles waddle ashore to nest on the beach.
During these months, residents and vacationers must shut their lights after sundown so the turtles don't grow confused and mistake the two for the ocean.
Places to enjoy and commune with nature on Anna Maria Island include:
Leffis Key Preserve
Dolphin and Manatee Boat Tours
Perico Preserve
Grassy Pointe Preserve
John M Durante Community Park
Bayfront Park Addition
Bicentennial Park
Enjoy a Taste of "Old Florida" in the Historic Bridge Street District
Anna Maria Island is an "Old Florida" enclave, and the Historic Bridge Street District is the living preservation of that throwback vibe.
Located in the Bradenton Beach section of town on the southern end, the Bridge Street District has streets are lined with souvenir and specialty shops, in addition to some of the area's best restaurants.
Make sure you take a selfie by the hand-painted sign of two pelicans welcoming people to the neighborhood. It's delightfully old-school!
Go Snorkeling in Pristine Waters
One of the best things to do on Anna Maria Island is snorkeling. The clear surrounding waters, replete with coral reefs, are filled with fascinating and beautiful marine life.
Plenty of people go it alone and snorkel close to the piers and beaches. But if you want an enhanced experience, sign up for one of the island's many snorkeling tours — one of the best things to do on Anna Maria Island.
AMI Escapes Boat Tours, Egmont Key Adventures, Nature Coast Excursions, and Passage Key Dolphin Tours all run them.
With a guide, you'll learn the basics and be ushered to the best sites. Some snorkeling tours stick close to the shore; others venture out into deeper waters.
If you don't have snorkeling gear, don't worry. Plenty of places on the island rent out equipment.
Fish for Fun or Food
One of the most popular things to do on Anna Maria Island is fishing. Some people surf fish, and others head out to one of the area piers. Several companies offer charters, and there are even kayak fishing tours.
Anna Maria touches three bodies of water — the Intercoastal Waterway, Gulf of Mexico, and Tampa Bay — so the island enjoys a diverse fish population.
Anglers can expect to find:
Redfish
Spotted Seatrout
Tarpon
Snook
Grouper
Snapper
Cobia
Amberjack
Kingfish
Spanish mackerel
and more
Bait and tackle shops are scattered throughout the island, and if you want to catch what you eat, several of the public beaches have grills.
Remember, however, that you may need a license to cast your line, so check out the state's licensing requirements before making plans.
Learn How to Surf
Anna Maria Island may not be Cocoa Beach — the hometown of legendary surfer Kelly Slater — but it's no slouch either. When conditions are ideal in the Gulf, the surf is nothing to sneeze at.
Manatee Beach in Holmes Beach, near White Avenue, is a favorite beach for catching waves, but you can also find luck near Bradenton Beach at a spot called "the three jetties."
The West Coast Surf Shop and Eternal Summer Surf Camp offer classes in July and August for kids and adults.
Hike the Coquina Baywalk
Close to Coquina Beach is the Coquina Baywalk, which wends its way along Leffis Key shore between Longboat Key and Bradenton Beach.
The trail is less than a mile long, but it's beautiful. Visitors stroll through mangrove tunnels and learn about the surrounding wildlife via intermittent placards.
Since Coquina Baywalk is a raised wooden boardwalk with rails, it's an easy hike that's wheelchair- and stroller-friendly. But sorry dog parents, canines are strictly prohibited.
Browse the Coquina Beach Market
In addition to the Baywalk, the south end's Coquina Beach is also home to an open-air market.
Vendors sell crafts, baked goods, jewelry, produce, paints, photography, and much more.
Hours and days change depending on the month, and it's permanently closed during hurricane season — August through October.
As a bonus, the AMI String Band sometimes serenades shoppers.
Check Out the Anna Maria Historic Green Village
To check out a bit of island history with an eco-friendly twist, head to the Historic Green Village.
It's on Pine Avenue and contains a gift and jewelry shop, baker, outfitter, and art gallery — all of which run on natural energy. Several of the structures on the green are over 100 years old!
Parking is strictly enforced on Anna Maria Island, and pedestrians have the right of way. The Sarasota-Bradenton International Airport and Tampa International Airport are the area's main hubs, and accommodations abound on and around the island.
Final Words on Things to Do on Anna Maria Island
We hope you found our list of what to do on Anna Maria Island helpful. It's an excellent American vacation destination with a little something for everyone in the family. So if you're looking for laid-back fun in the sun, start planning your trip!