Here are 18 of the best places to visit in the Northeast, USA, that you'll love!
Filled with epic outdoor adventures, big cities, and quaint small towns, the US northeast is one destination that can't be missed.
The best places to visit in the northeast encompass what this region is so well known for, its rich history.
If you've been wondering what places in the northeast are worth visiting, you're in luck. Your USA bucket list will have grown exponentially by the end of this post because a vacation spent there is a vacation well spent.
Whether you're looking for a day or weekend getaway in the northeast, any of these places are a perfect fit.
Spend the day stepping back in time, mingling with locals, and trying northeastern delicacies. Here are the best places to visit in the northeast!
18 Places to Visit in the Northeast, USA
Here are our favorite places to visit in the northeast, USA, in no particular order because these are breathtaking sites.
1. Boston, Massachusetts
One of the best northeast cities to visit is Boston. Famously known for its clam chowder and home to the Boston Red Sox, Boston is a coastal city that is rich in history dating back to the American Revolution.
Some of the can't-miss things to do in Boston include exploring the Freedom Trail on a walking tour, having tasty Italian food in the North End, and shopping on Newbury Street.
While it's doable to spend one day in Boston, a weekend allows you to experience even more of the highlights without being rushed.
Don't forget to try a cannoli from Mike's Pastry before you leave! The line usually goes all the way down the street during peak times.
Where to Stay in Boston
2. New York City, New York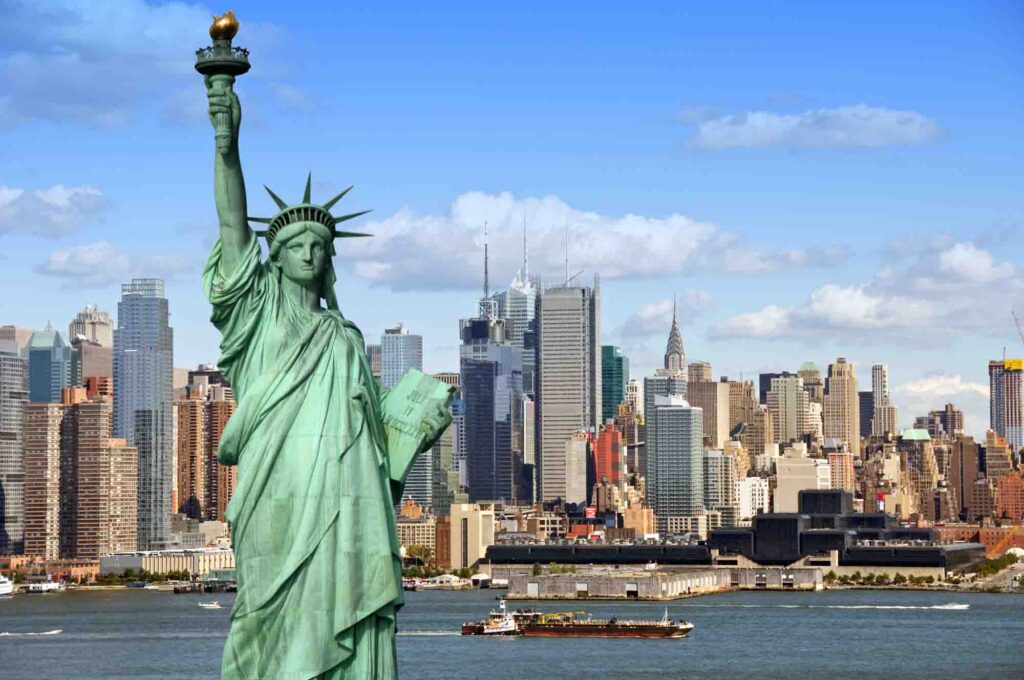 New York City is one of the popular northeast cities that everyone knows about. Fondly referred to as the big apple, New York City is truly a city that never sleeps.
You'll never run out of things to do there, from seeing a famous play like Hamilton on Broadway and taking the ferry to Staten Island to wandering in the Central Park and going up in the Art Deco Empire States.
Many people only take the time to explore Manhattan, but don't let Times Square lights blind you. Be sure to step away from the busy places and venture out to other areas like Queens and Brooklyn.
Each borough has its charms that are worth exploring and experiencing during a visit to New York, US's largest city.
Since NYC is an incredible place to visit in December, plan your trip in the winter for a real magical experience. You could even see the big tree set up in Rockefeller Center!
Where to Stay in New York City
Check accommodation in New York City
3. Portland, Maine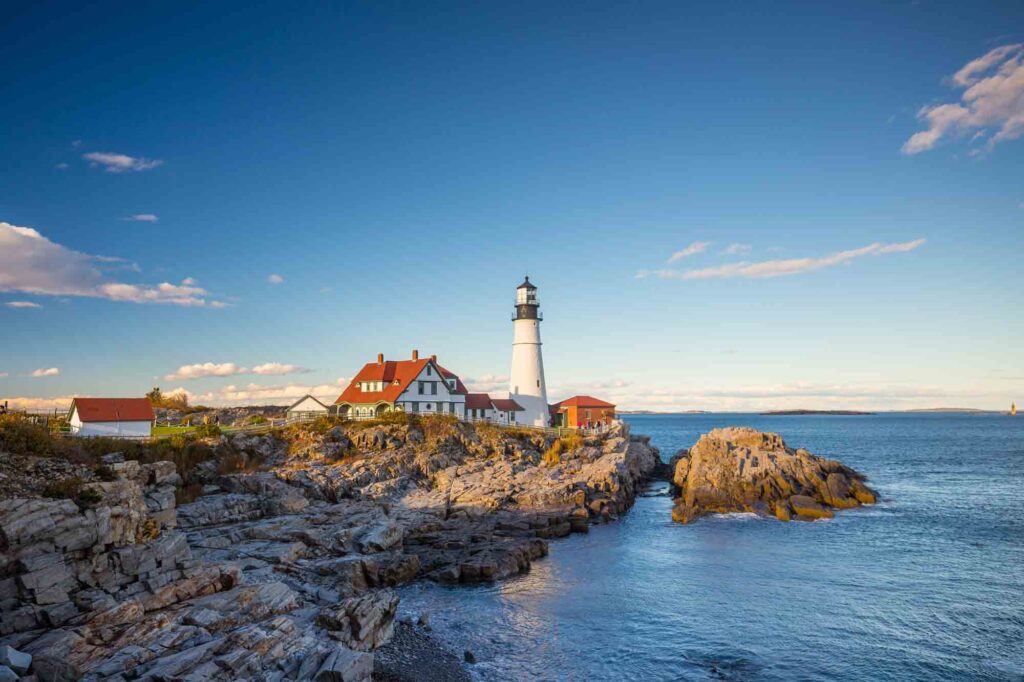 Another one of the great places to visit in the northeast is Portland, Maine. It's located right on the coast and is famous for its lobsters.
Seriously, no trip to Portland is complete without having lobster at either The Highroller Lobster Co. or Portland Lobster Company!
Some great places to visit while in Portland include the Portland Head Light, Portland Museum of Art, and Bug Light.
If you're traveling to Portland with kids, then be sure to stop by the fun Children's Museum & Theatre of Maine for hands-on educational experiences.
Where to Stay in Portland
Check accommodation in Portland
4. Montpelier, Vermont
When planning a weekend getaway in the northeast, many people overlook Vermont, but Montpelier is the state's capital city and is hands-down one of the best places to visit in Vermont.
The city is surrounded by mountains and is home to one of the largest urban populations in Vermont.
If you're a first-time Montpelier visitor, you absolutely have to visit the Vermont State House, which dates back to the 1850s.
The Vermont Historical Society Museum is a must-visit, too, so you can learn more about the state, and a stroll through the beautiful Hubbard Park is a great way to spend the afternoon.
Before you leave, make sure to stop by Bragg Farm Sugar House, a family-run business that's taught eight generations the secret to crafting perfect maple kettle corn, cookies, and candies.
Where to Stay in Montpelier
Check accommodation in Montpelier
5. Atlantic City, New Jersey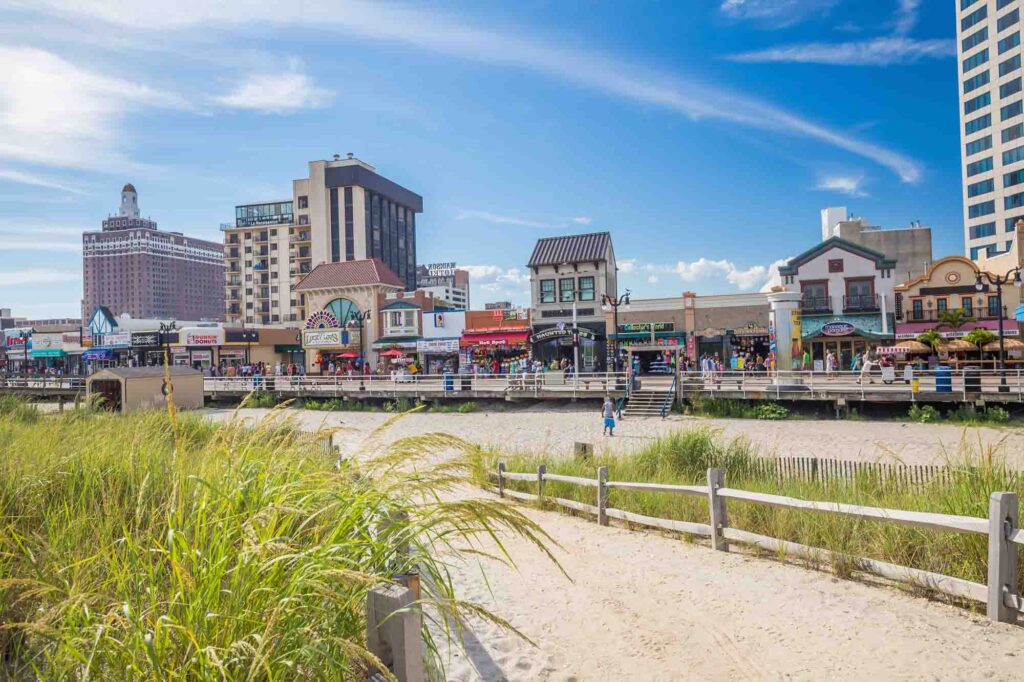 Atlantic City is famous for its fabulous resorts, and it's yet another one of the coastal places to visit in the northeast.
You can find everything from casinos to a boardwalk that's an absolute must-visit for first-timers throughout the city.
Most people who visit Atlantic City are on a couple's weekend away just because of all the fun activities that can also be seen as romantic.
Just imagine walking along the sandy beach, relaxing at the resort, or even relaxing at the spa.
There are also many kid-friendly activities like the Atlantic City Aquarium and Steel Pier amusement park.
Where to Stay in Atlantic City
Check accommodation in Atlantic City
6. Cape Cod, Massachusetts
Have you ever seen the hook that's on Massachusetts? That's Cape Cod, a popular destination to visit in spring and summer!
It's located right on the coast and has beautiful northeastern towns just waiting to be explored.
Similar to Portland, trying seafood is an absolute must-do on Cape Cod. Some of the best towns to visit include Provincetown, Yarmouth, and Barnstable.
No matter where you plan to visit on the Cape, make sure you book your accommodation in advance because many New Englanders vacation there often!
Where to Stay in Cape Cod
Check accommodation in Cape Cod
7. Manchester, New Hampshire
Located along the Merrimack River, Manchester is one of the top places to visit in the northeast, no matter the time of year.
It's one of the bigger cities to visit in New Hampshire and has lots to do, mainly because it has a bustling arts and culture scene.
Most people who visit Manchester hit the museums, including the Currier Museum of Art and the Manchester Historic Historic Association's Millyard Museum.
Outdoor enthusiasts should definitely hit the mountains with tubes at the McIntyre Ski Area or spend the day exploring around Massabesic Lake.
Where to Stay in Manchester
Check accommodation in Manchester
8. Newport, Rhode Island
Anyone who is a historic home enthusiast has heard of Newport, and it's truthfully an excellent spot for a weekend getaway in the northeast as it offers a unique East Coast vibe.
It's another location right on the coast that is filled with tons of mansions dating back to the Gilded Age, like The Breakers.
The famous Gatsby mansion, Rosecliff, is even located in Newport. It's where the 1970s movie was filmed.
Be sure to go on a trolley tour to see all of the mansions from afar with a tour guide.
Where to Stay in Newport
Check accommodation in Newport
9. Mystic, Connecticut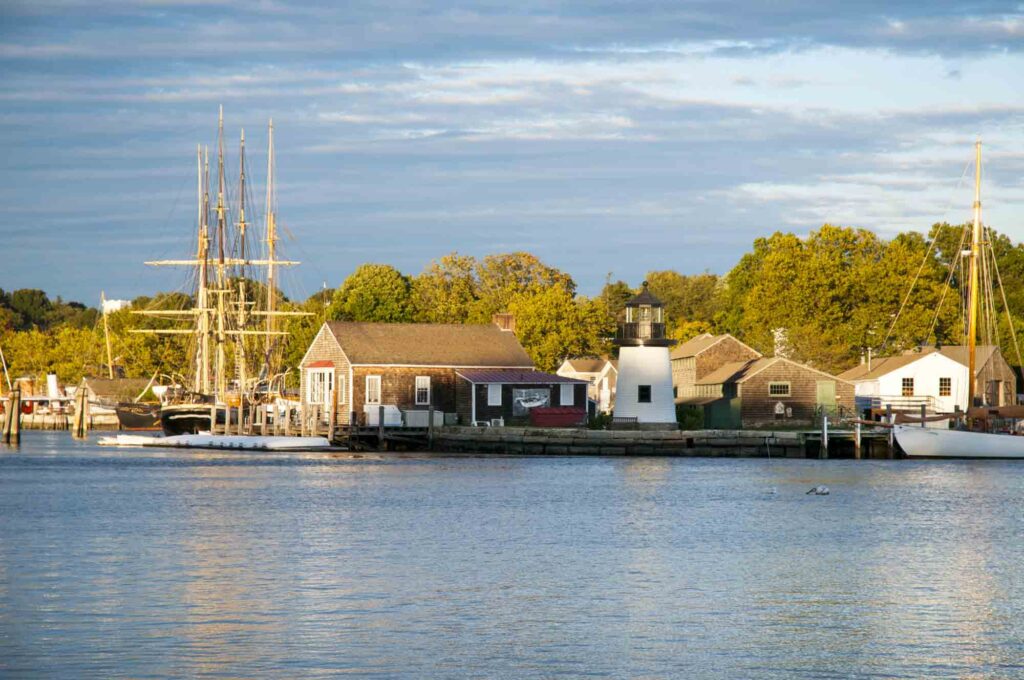 Historically, Mystic was a famous seaport, and that sailing history is still present today, especially at the museums.
This seaside town's museum is a way to step back into the 19th century by exploring exhibits and old ships.
Many local cruises also run in the Mystic area and are a great way to get to know the history while also enjoying the water.
In addition, the Mystic Aquarium, home to beluga whales and penguins, provides a great way to learn about sea life, and the Denison Pequotsepos Nature Center is perfect for hiking.
Oh, and you'll want to grab a slice at Mystic Pizza, the setting for Julia Roberts' film.
Where to Stay in Mystic
10. Acadia National Park, Maine
The northeast isn't filled with many national parks, but it is home to Acadia. This park covers the majority of Maine; in fact, it covers just shy of 50,000 acres!
Anyone who visits the state of Maine has to try at least to drive through or stop for a hike in Acadia National Park.
The most popular spot in Acadia is Cadillac Mountain, a top site to see in the northeast of the United States.
Other must-visit destinations in Acadia include Jordan Pond, Bass Harbor Head Lighthouse, and Sand Beach in Bar Harbor.
With a shorter amount of time in Acadia, be sure to go on a short road trip through Park Loop Road. This scenic drive is the perfect way to see more of the park without making many stops along the way.
Where to Stay near Acadia National Park
Check accommodation near Acadia National Park
11. Philadelphia, Pennsylvania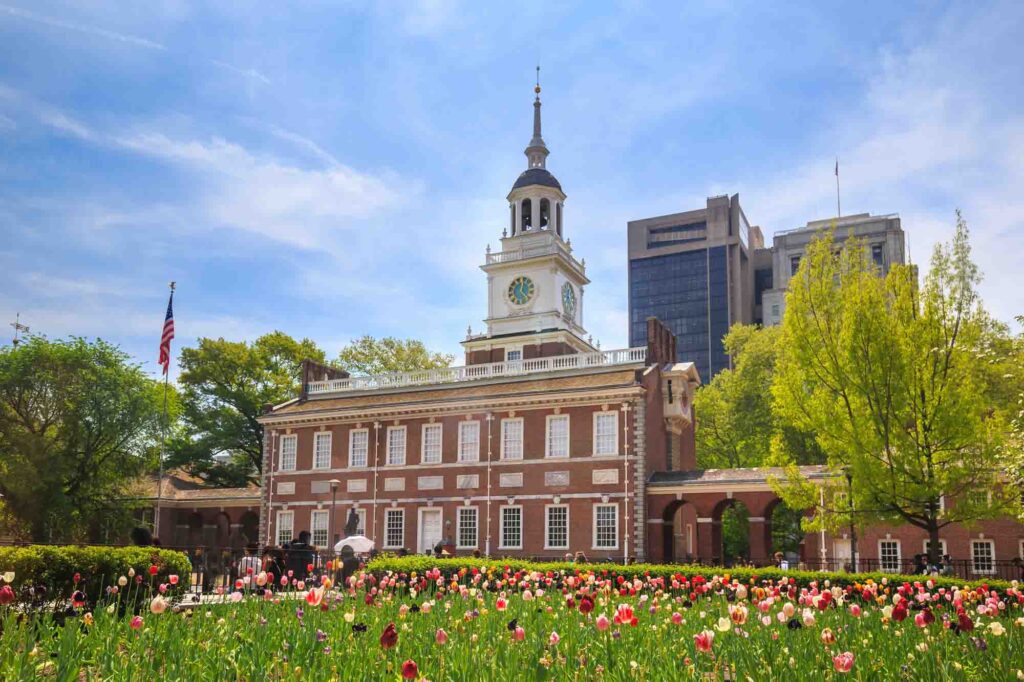 Philadelphia is one of the most popular places to visit in the northeast due to it being home to the Liberty Bell at Independence Hall.
Like Boston, Philadelphia is one of those northeast destinations mainly visited by history buffs, especially those interested in learning more about the American Revolution.
Learn more about the city by going on a walking tour to see all historical sites and walk the cobblestone streets with a tour guide.
Are you more of a fan of movies? Be sure to check out the "Rocky" steps by the Philadelphia Museum of Art!
If you're spending a few days in town, you might even want to go on a day trip to Washington DC!
Where to Stay in Philadelphia
Check accommodation in Philadelphia
12. Cape May, New Jersey
Cape May is one of the less busy places to visit in the northeast, with a population of just 3,000.
It's located right on Cape May Peninsula and has grand mansions similar to Newport but dates back to the Victorian era.
An absolute must-see in Cape May is the Cape May Lighthouse which features a museum where you can learn more about it. Adults should visit the Willow Creek Winery & Farm and tour it.
Lastly, history fanatics will love the Emlen Physick Estate, which will make you feel like you're stepping back in time in an old Victorian house.
Where to Stay in Cape May
Check accommodation in Cape May
13. Burlington, Vermont
Vermont's biggest city is one of the top places to visit in the northeast, located right along Lake Champlain.
This beautiful city is located in the northern part of the state, so it receives lots of snow, making it truly a winter wonderland in the colder part of the year.
Any visitor to Burlington should absolutely spend a day exploring Church Street, an outdoor pedestrian-only shopping mall filled with local shops. Be sure to stop by Ben & Jerry's, one of Vermont's local delicacies!
Other spots in Burlington work visiting include Lake Champlain, the Shelburne Museum, and the Ethan Allen Homestead Museum. Waterfront Park is also very peaceful no matter the time of year.
Where to Stay in Burlington
Check accommodation in Burlington
14. Providence, Rhode Island
Providence, the capital of Rhode Island, is one of the best places in the northeast! It's pretty well known for being home to Brown University, one of the northeast's many Ivy League institutions.
The city is located right near Narragansett Bay and served an important part in history with its factories.
The city is relatively big for northeastern standards and is only about thirty minutes from the beach.
In Providence, be sure to visit the RISD Museum, Roger Williams Park, and see the WaterFire sculpture.
Children will love visiting the Providence Children's Museum, which puts education at the forefront.
Where to Stay in Providence
Check accommodation in Providence
15. New Haven, Connecticut
Yet another one of the best places to visit in the northeast along the coast is New Haven!
It has a similar atmosphere overall to Providence as it's home to its own Ivy League institution: Yale University.
What makes New Haven so great is that it's a very walkable city making it perfect for tourists visiting for the first time. The city is also very safe, which is why it's such a popular place to live in the northeast.
When visiting New Haven, some of the top spots to visit include the Yale University Art Gallery, the Peabody Museum of Nature History, and Lighthouse Point Park. First-time visitors should also ride the Shore Line Trolley!
Where to Stay in New Haven
Check accommodation in New Haven
16. Pittsburgh, Pennsylvania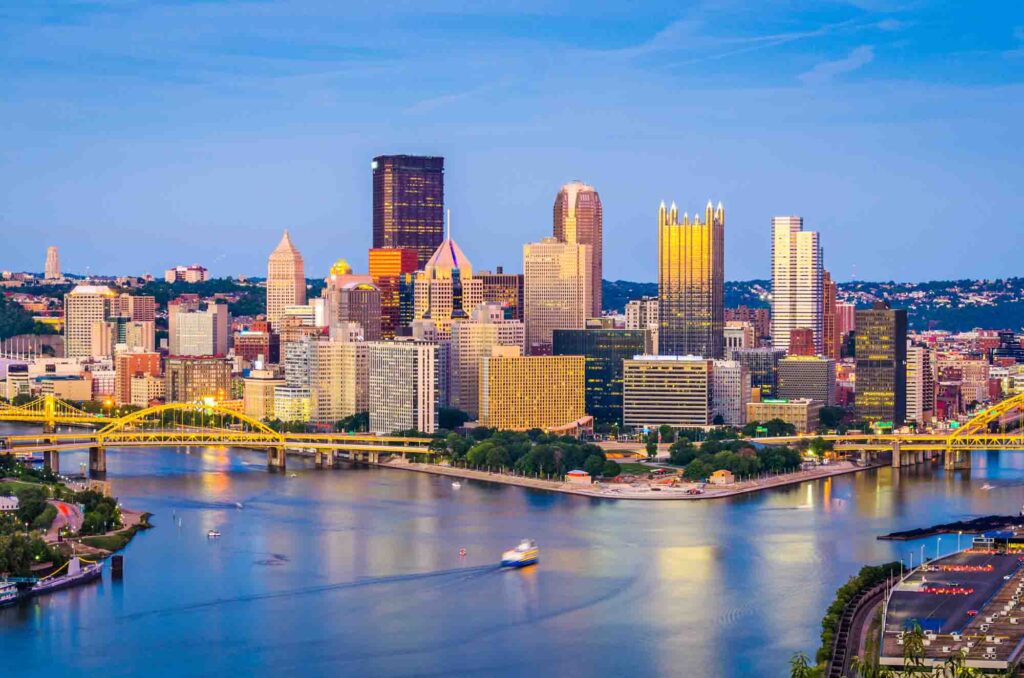 Pittsburgh, Pennsylvania, is one of the state's largest cities. It's famously referred to as the steel city because it's home to so many bridges!
In fact, there are over 300 that you can find throughout Pittsburgh; it's impossible to visit without seeing one.
In Pittsburgh, one of the best places to visit in the northeast, you should stop by the Carnegie Museum of Art as well as the Andy Warhol Museum.
Pittsburgh is a big art city, so it's a great way to get involved with the local culture.
Those who prefer outdoor attractions should opt for a visit to Phipps Conservatory and Botanical Gardens.
Where to Stay in Pittsburgh
Check accommodation in Pittsburgh
17. White Mountain National Forest, New Hampshire
Calling all outdoor lovers! White Mountain National Forest is truly one of the most scenic parts of the northeast.
Located in New Hampshire, this forest is filled with both breathtaking drives and great outdoor hikes to the best views of the nearby mountains from above, including Mount Washington.
The best way to see the White Mountains National Forest is to visit Franconia Notch State Park.
You can ride the Cannon Mountain Aerial Tramway in the state park, which is one of the most remarkable ways to experience the forest. Another great spot to visit is Flume Gorge.
Where to Stay in White Mountains
Check accommodation in White Mountains
18. Finger Lakes, New York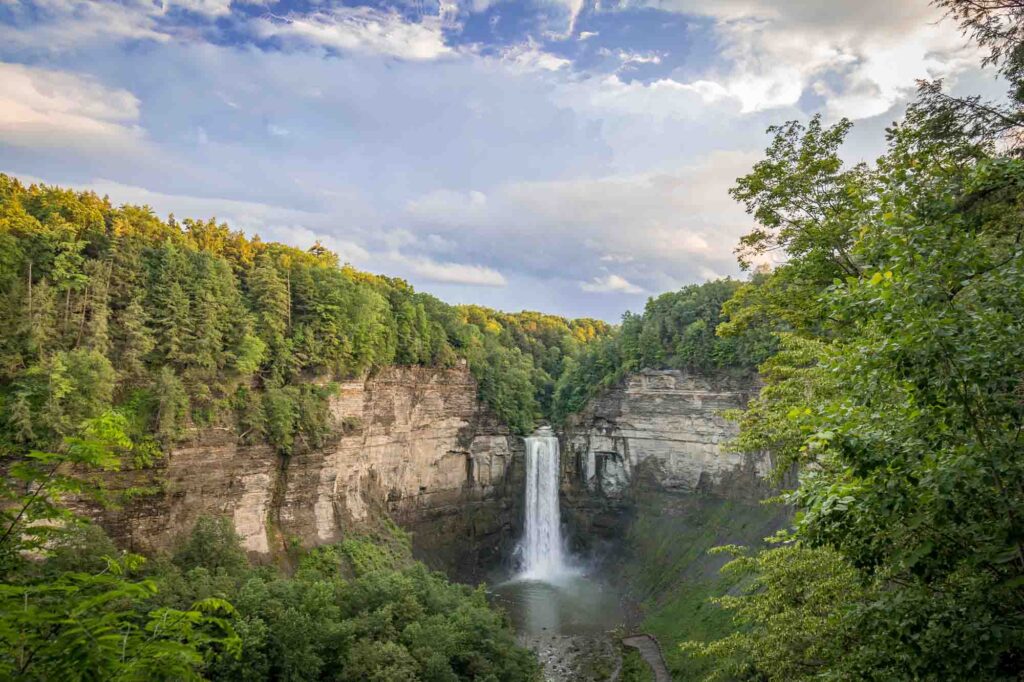 The Finger Lakes is one of the most beautiful places to visit in New York! They all run vertically and are near Syracuse, Rochester, and Ithaca.
They got their name because they genuinely do look like fingers, but there are eleven of them.
Keuka Lake is one of the top spots in the Finger Lakes area to visit, which features excellent campgrounds.
Taughannock Falls is also excellent to see, featuring one of the most beautiful waterfalls in this part of New York. Many trails are here where you can get a great view of the waterfall!
Where to Stay in Finger Lakes
Check accommodation in Finger Lakes
Did you enjoy reading about the best places to visit in the northeast USA? Then share this article with a friend who might enjoy it too!