You've probably heard plenty about this Texas hotspot with its sprawling ranches, fast-growing Downtown, and larger-than-life attitude, but have you gotten in on the best-kept secret of them all…the beaches in Dallas, Texas?
The city certainly isn't known for its water features, but lucky guests who score the inside tips (that's you!) can enjoy plenty of refreshing splashes not far from Downtown.
In this list, we're giving you the intro to some of the best beaches in Texas, without the long drive to standard haunts like South Padre Island, Mustang Island State Park, or Galveston Island, which are great beach towns.
These natural getaways are just the thing to pop into your urban itinerary and see a different side of North Texas while you're at it.
Keep reading for all our tips and tricks, including how to get to these spots, how busy they are, what to do, amenities on-site, and more!
Best Beaches in Dallas (+ Nearby!)
Ah, Dallas. This urban destination has exploded in recent years, experiencing rapid development all across the board.
While massive new shopping malls, award-winning restaurants, and world-class performances are all well and good, we're taking a look at the lesser-known side of the city–its beautiful beaches!
Here are 13 of our favorite Dallas beaches.
1. Lynn Creek Park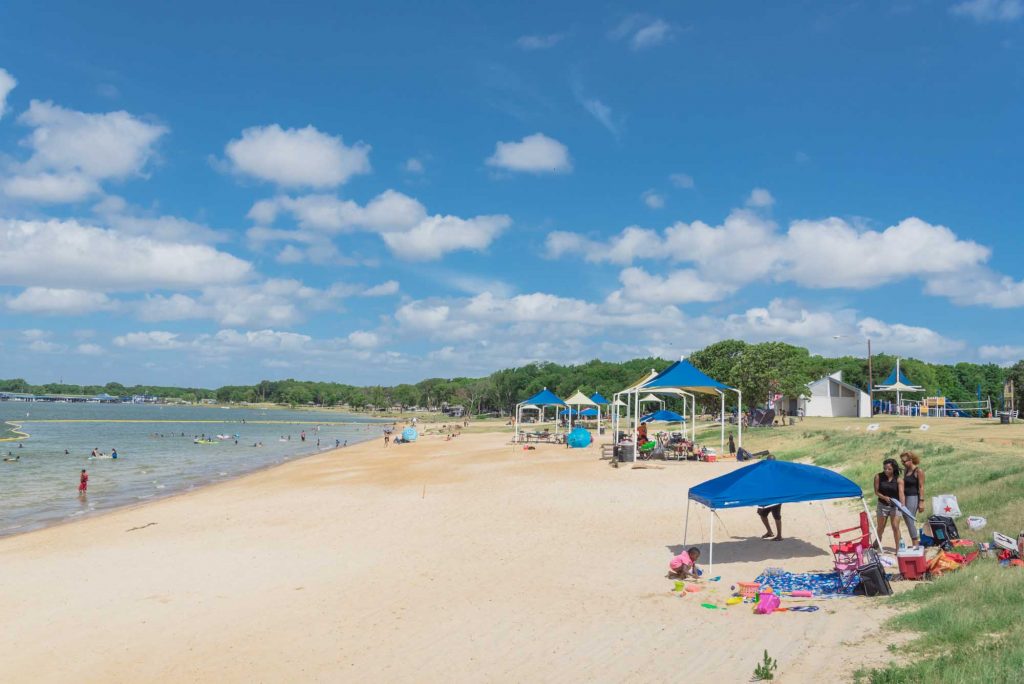 A beautiful white sand beach just 30 minutes from Dallas? It may sound too good to be true, but Lynn Creek Park delivers.
The long sandy stretch is perfect for sunbathing and swimming, and the area also boasts a playground, concession stand, grassy picnic and barbecue sites, and a beach volleyball court.
There are two boat ramps and a marina for those that want to head deeper into the blue waters of Joe Pool Lake.
All in all, it's a super comfortable, family-friendly place to spend a warm day. You could easily let the hours slip by, enjoying the epitome of a dreamy Texas lake day.
The park is open March-September from 6 AM-10 PM. Entrance costs $15 per vehicle (with a maximum of 6 people) or $20 on holidays.
2. Burger's Lake Park
The stunning Burger's Lake Park is your one-stop-shop for summer fun.
With a sandy bottom and water that has been cleaned and filtered, this spring-fed spot is not only refreshing but stunningly clear.
Adrenaline seekers can plunge into the turquoise pool from one of the water slides, diving boards, or even a giant 25-foot trapeze while loungers enjoy one of two sandy beaches.
Little ones will love the splash park and bounce pad, and lifeguards are always on duty to ensure their safety.
As the name suggests, burgers and other classic lake day snacks are available on site (snow cones, pizza, and ice cream…oh my!). You can also bring your own picnic or some good things to grill up at the barbecue pits.
The park is located on the outskirts of Fort Worth, so it makes for an excellent half-day adventure in between sightseeing in Dallas' neighboring city. Don't forget to check out the Stockyards and Kimbell Art Museum!
Burger's Lake is open to the public on Saturdays and Sundays from 9 AM-7 PM late May-early September. Entrance costs $15 per person or $5 for children who are six and under.
3. Collin Park
Just 40 minutes from the city center is one of North Texas' largest lakes and an ultra-popular weekend getaway for locals–Lake Lavon.
Collin Park is tucked away on a grassy stretch of shoreline that offers hiking, boating, camping, and more.
There's a large stretch of sand where you can sunbathe, swim, or play beach volleyball.
In the harbor, you'll find the marina and a casual restaurant that often features live music.
Perhaps the biggest perk of this spot is that it's much quieter than other lakefront properties, so it's well-suited for a relaxing retreat.
Access to the recreation area costs $3 per vehicle and $3 per person, and the campgrounds cost $25 for tents or $38 for RV sites.
4. Ticky Creek Park
Only accessible via dirt road and free of fees, Ticky Creek Park is a secluded spot on the northern shores of Lake Lavon, making it a great road trip from Dallas.
There are covered picnic tables right on the shore where you can enjoy a packed lunch before heading to the spacious sandy beach.
The water is gentle and clean, so visitors of all ages can enjoy a dip or bring an inflatable to float in the waves.
While parking and restrooms are available, there aren't many other amenities. Be sure to stock up on all the food, drinks, and towels you need outside the park.
Tickey Creek closes at sunset, but you will want to stick around to watch the show before heading home. After all, Texas is known for its stunning evening skies!
The park is open April-September and rarely gets busy, even in the most popular summer months. Pets are welcome!
5. Ray Roberts State Park
There are nine sections of this massive park 1 hour north of Dallas, virtually ensuring that whatever you're looking for, you'll find it here.
A 20-mile series of hike, bike, and horseback riding trails run throughout the Greenbelt Corridor between Ray Roberts Dam and Lake Lewisville.
Head to Isle du Bois for a large sandy beach and your choice of nearly 200 campsites complete with fire rings and picnic tables.
Other popular activities include birdwatching, beach volleyball, and smelling wildflowers in the spring.
You can also take to the water via boat or paddle yourself out in a canoe or kayak.
Johnson Branch has even more opportunities for aquatic activities, with water skiing and sailing. It's a bit quieter than Isle du Bois, yet still boasts gorgeous camping and both sunrise and sunset views!
Entrance to the state park costs $7 for adults and is free for kids 12 and under.
Pssst: Did you know? Ray Roberts is one of more than a dozen stunning state parks near Dallas, making the city an excellent hopping-off point to see some of Texas' best natural wonders.
6. Cedar Hill State Park
Just over 20 minutes from the city center, Cedar Hill State Park is one of the closest beaches near Dallas and super accessible for a quick half-day trip.
With almost 2,000 acres to explore, there are various activities on land and out on the water alike.
The gravel swimming beach is surrounded by barbecue pits, picnic tables, and plenty of shady spots to set up a blanket.
If you're looking to venture out from the beach, you can walk or cycle the extensive trail network, climb through the rugged limestone landscape, or visit a historic Texas farm built in the 1800s.
Entrance to the state park costs $7 for adults and is free for kids 12 and under. Overnight stays cost $5 per person.
7. Pebble Beach Park
Quiet, shady, and free to enter, Pebble Beach Park is a go-to destination for no-fuss lake days.
Picnic under the shade of the towering trees along the sandy shoreline, splash around in the shallow area or take to the water in a kayak.
The boat ramps are also free to use, so you can launch your own kayaks, canoes, or larger boats.
Just bring your own food, drinks, and equipment, as there aren't rental shops or restaurants on site.
This secluded haven is just 50 minutes from downtown Dallas, making it ideal for a half-day outing.
The park is open April-September for day use only.
8. Little Elm Park
A list of beaches in Dallas wouldn't be complete without mentioning the charming, picture-perfect Little Elm Park.
Only 45 minutes from the city center, set on the shores of Lake Lewisville, this spot has all you need for a day of fun in the sun.
The beach boasts one of the largest swimming areas in North Texas, with life vest loans available on site.
There are also a dozen beach volleyball courts, kayak and paddleboard rentals, fire pits open for public use, and a huge playground that the little ones will love.
And the list of amenities goes on! Guests can enjoy a number of hiking and biking trails, amphitheater, and softball fields.
Once you work up an appetite, stop by Lighthouse Grill for burgers, snacks, or a cold beer.
The nearby Little Elm town holds events throughout the year, like July Jubilee, Autumn Fest, Pumpkin Hollow, and Christmas at the Beach.
The park is open Monday-Thursday from 8 AM-sunset and from 8 AM-8 PM on the weekends. There is a parking fee of $10 per vehicle during the busy season (every weekend, May 1 through Labor Day).
9. Granbury City Beach Park
This is one of the longer drives on the list, about 1 hour and 10 minutes outside of downtown Dallas, but its prime location on the banks of the Brazos River makes it well worth the extra time on the road.
Besides, when you're greeted by soft white sand and quaint thatched-roof picnic pavilions, all stress will slip out the window.
Tons of toys are available at a beachside tiki hut, including kayaks, paddleboards, tubes, bicycles, and surreys (those crazy quadricycles beloved by Texas beachgoers).
For swimmers, free life jackets can be borrowed on-site, and beach monitors are stationed throughout the area to provide extra assistance and safety.
Just nearby, you can stroll along the boardwalk or pop into the historic downtown square for a meal or drink out of the sun.
This spot is beloved by locals and travelers alike but still unknown enough that the crowds won't drive you crazy, especially if you visit outside of the peak season.
To top it all off, there is ample parking and no entrance fee. It doesn't get any better than that!
10. Meadowmere Park
Did someone say the largest floating aqua park obstacle course in Texas? Welcome to Meadowmere Park, an all-out, action-packed wonderland just 30-40 minutes from Dallas.
The aptly named WhoaZone is a massive playground of bouncing, flipping, acrobatic fun. Children age 7 and up (yes, adults too) can take on the Aqua Zone, while little ones aged 4-6 play at the shallow-water kids' course.
Meadowmere Park also offers hourly game rentals like corn hole and spike ball on the beach, as well as alternative water activities such as kayaking or paddleboarding.
Among the more standard fare, you'll find lounging set-ups of umbrellas and chairs on the sand, picnic tables, and nature trails.
Entrance costs $5 per vehicle or $1 per person for pedestrians. On holidays, ticket prices jump to $10 per vehicle and $2 for walk-ins.
11. Willow Grove Park
Although Willow Grove is only 40 minutes from the clamor of the city, it feels totally immersed in nature, a world away from Dallas' gleaming skyline.
With uninterrupted scenery, quiet shores, and a swimming cove sheltered from the wind, it's the perfect place to find some solitude and even spend a night under the stars.
There are 15 RV campsites and 15 primitive camping areas, with fire pits, picnic tables, bathrooms, and hiking trails accessible throughout the park.
Daily parking passes cost just $5 per vehicle, and pets are welcome.
12. Lake Park
If you only have a weekend in Dallas, this is a great one to sneak into the itinerary!
The shores of Lake Park can be reached in only a 30-minute drive from Downtown.
Golfers will appreciate the 18-hole course, and families looking to have some fun can try out the 18-hole Frisbee golf course.
The athletics don't end there–Lake Park also boasts soccer, baseball, softball, and football fields, as well as a couple of playgrounds for the little ones.
As for sand and sun, there are numerous swimming areas to choose from and an abundance of shady spots where you can rest in between dips.
Entrance costs $10 per vehicle for non-residents.
13. Stewart Creek Park
Wrapping up our list of beaches in Dallas is Stewart Creek Park, a 65-acre recreational space on the shores of Lake Lewisville.
The family-friendly destination is a dream for afternoon picnics, complete with tables, pavilions, and barbecue grills.
It's also one of the cleanest beaches in the area, excellent for swimming and lounging on the sand.
For a bit more action, head out on one of the short hike and bike trails or challenge your group to a game of beach volleyball.
Stick around for the sunset if you have time, as the colors over the water are a true Texas spectacle.
Daily permits cost $15 per vehicle for non-residents.
Pssst: It goes without saying that White Rock Lake Park is a no-brainer if you want to experience a beach vacation without leaving the city!
Dallas Travel Resources
Whether you're spending one day or a whole weekend in the city, you might want to take a look at the guides we wrote here on the blog, including complete guides on where to stay and day trips in Texas.
If you're looking for more things to do in Dallas, especially outdoors, you might consider going on a mural hunt through the city.
But, if you also want to discover more of the surrounding region, check out these weekend getaways from Dallas.
Did you enjoy this article about the best beaches in Dallas, Texas? Then share it with a friend who might enjoy it too!