Whether you're a downtown resident looking for a break or a tourist without time to spare, these day trips from Houston will help you enjoy the area's highlights on quick and easy outings.
We're breaking down 17 of the best nearby attractions, including need-to-know info like driving times from the city and must-see hotspots at each destination.
Although there are dozens of things to do in Houston itself, these getaways will introduce you to the myriad of memorable activities, diverse cities, and natural landscapes just a brief drive from downtown.
17 Best Day Trips From Houston
So leave the big city behind and get ready to explore more of Texas on these short but super sweet Houston day trips!
Galveston Island
We kick things off with easily one of the most popular day trips from Houston, which promises an escape from the big city to a paradise of sun, sand, and surf.
Galveston is a beach town just under an hour outside downtown, so roll down the windows as you get closer and let the salty breeze in!
Once there, you'll be greeted by a colorful boardwalk full of shops, restaurants, Moody Gardens, and the iconic Pleasure Pier, an amusement park that boasts carnival games and thrill rides that swoop out over the bay.
If the day is too hot, you might want to make a splash at the Schlitterbahn water park, one of the best water parks in Texas, or Stewart Beach, an excellent Texas beach.
The Historic Strand District on Galveston Island, with its early 1900s architecture, art galleries, and charming old-school candy shop (La King's Confectionery), is also well worth a visit.
If you're into history, stop at the Texas City Museum to learn more about the history and important events of the region.
San Antonio
As a big city, Houston has lots to offer, but the slightly smaller San Antonio is the state's true cultural center, bringing together incredible food, enchanting 18th-century Spanish missions, and the largest Mexican market in the United States.
Luckily, it's just a 3-hour drive from Houston, which means an early morning departure will give you plenty of time to hit San Antonio's highlights in one day.
Once there, head straight to the River Walk (one of the most visited places in all of Texas!) to enjoy shopping, dining, and drinking galore.
You can even hop in a boat to see the attraction from a different perspective, plus learn more about local history.
Besides, the city makes a super romantic getaway in Texas if you're visiting it with your significant other.
Austin
Trade elegant urban districts for the more relaxed streets of Texas' coolest city, Austin, on one of the most classic day trips from Houston.
Known as the "Live Music Capital of the World" and bustling with a younger crowd thanks to the University of Texas, Austin is a prime spot for concerts, nightlife, and award-winning cuisine.
In the warmer months, Zilker Park is the perfect place to spend an afternoon, complete with the natural spring-fed Barton Springs Pool, a world-class botanical garden, and Lady Bird Lake, one of the best lakes in Texas where you can canoe, kayak, or just lounge on the shoreline.
Year-round, the 6th Street entertainment district is the place to spend an evening, with its buzzy atmosphere and array of popular bars and restaurants.
Brazos Bend State Park
Less than an hour outside Houston, you can treat yourself to pristine nature, 37 miles of hiking trails (and biking trails, too), and one of the largest domed telescopes in the country open to the public (found at the George Observatory).
The park's most iconic residents are the American alligators, but it also houses river otters, wild pigs, white-tailed deer, and well over 300 species of birds.
To learn more about the wildlife, you can opt for a guided hike offered through the nature center. Entrance to the state park costs $7 per person for a day pass.
Sam Houston National Forest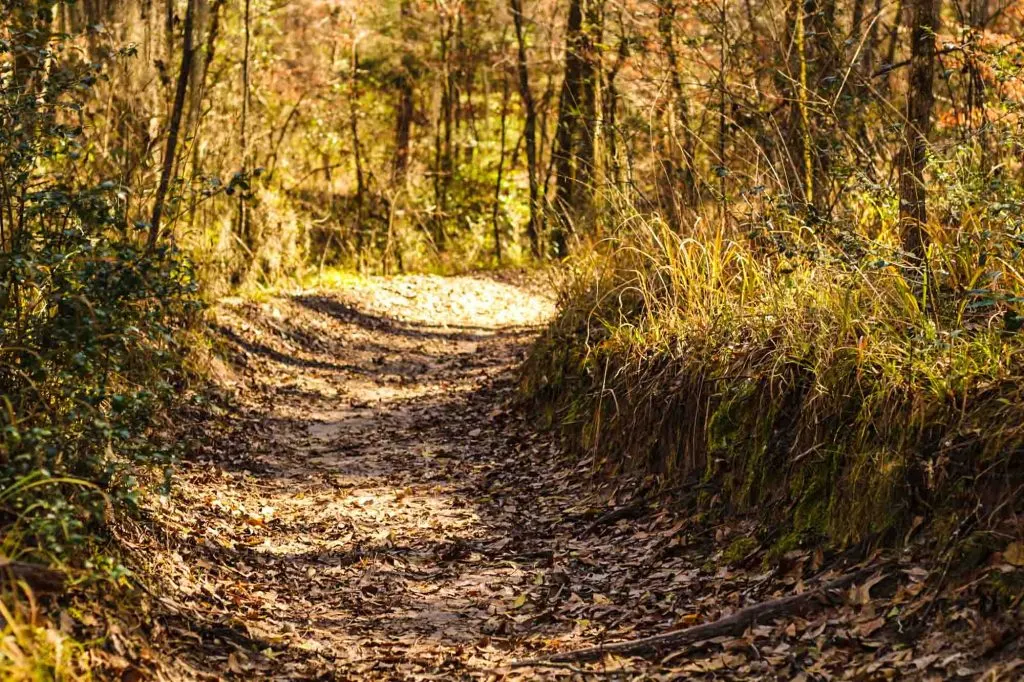 Although this lovely spot is just an hour from downtown Houston, it feels like a whole new world.
Sam Houston National Forest promises dense, tranquil woodlands, meandering lakeshores, and tons of wildlife.
Bald eagles can be spotted in the winter, while deer, woodpeckers, and other native species are year-round residents of the area.
Up for a challenge? The longest continuous hiking trail in Texas and one of our favorite trails near Houston (stretching a whopping 129 miles!) runs straight through the national forest.
Although you won't have time for all of it, the route has numerous points where you can hop on and off, perfect for day hikers.
Space Center Houston + Johnson Space Center
This attraction is technically in Houston, about 30 minutes from the city center, but it's so good that it deserves a whole day's worth of exploring.
Johnson Space Center is actually NASA space center for human spaceflight, where training, research, and flight control all take place.
You can take a tram tour around the property to see 1 of the 3 remaining Saturn V rockets, astronaut training facilities, and Apollo Mission Control.
On the other hand, Space Center Houston houses the official museum and visitor center.
Here, you can ride in a space flight simulator, touch an authentic Mars rock, and explore inside a replica space shuttle.
Don't forget to buy your ticket with access to the NASA Tram. Alternatively, you can buy the Houston City Pass, which gives you access to a bunch of attractions in the city, including the Space Center, Houston Aquarium, and more.
San Marcos
If you prefer a slower pace and full weekend trips from Houston are more your style, San Marcos is an excellent choice.
Located 3 hours from downtown, it's close enough for a day trip but surrounded by enough natural beauty to keep you occupied for longer.
Hike the trails at Purgatory Creek Natural Area, tube and kayak at Rio Vista Park, or cool off in the gorgeous swimming hole at Five Mile Dam Park.
Prefer your outdoor time with a side of adrenaline? Thrill-seekers will love water skiing or wakeboarding at Texas Ski Ranch.
Conroe
Few Houston day trips are as convenient as an escape to Conroe, found just 40 minutes north of the big city.
Escape the crowds along the trails of the oh-so-peaceful W G Jones State Forest, enjoy pumpkin patches or sunflower fields at P-6 farms (depending on the season), or peek into the past at the living museum and log cabins of Fernland Historical Park.
If you're traveling with little ones, 7 Acre Wood is a must-visit. They offer a playground, zipline, petting zoo, mini-golf course, and tons of fun for the whole family!
In addition, Lake Conroe is a few minutes from downtown, and you can find a fishing pier, sports fields, pavilions, and more.
Corpus Christi
Did you know that there are beautiful sandy beaches near Houston?
Sandy shores and blue skies are just what you need to truly feel like you've left the city behind, so there's no wonder Corpus Christi is one of the most popular places to visit near Houston.
Among its most popular attractions are the USS Lexington, a WWII-era aircraft carrier converted into a floating museum, as well as the South Texas Botanical Gardens & Nature Center, which features rose, hummingbird, and succulent gardens.
As for seashore spots, North Beach is the most popular place to set up an umbrella and enjoy the waves. You can also stroll a 1.5-mile-long Beachwalk and score a bird's eye view of the ocean from atop a colorful Ferris wheel.
Schulenburg
With a motto of "Halfway to Everywhere," Schulenburg is not only 1.5 hours from downtown Houston City but the same distance from Austin and San Antonio too.
As a result, Schulenburg is a popular stopping point on Texas road trips. But we think it's a destination in its own right!
You'll be greeted by a picturesque main street, rich Czech and German heritage, and lots of Southern comfort food.
To make the most of the latter, hit City Meat Market for BBQ and Potter Country Store for all kinds of pecan treats.
The main attraction, however, is the Painted Churches, a series of 15 small cathedrals scattered around the area, of which 4 can be visited throughout the week. The others are either no longer functioning or open only on Sundays.
College Station
As the name might suggest, College Station is most widely known as the home of the Texas A&M University campus.
But it has a number of other sites that make it perfect for a day trip, just 1.5 hours from Houston.
The George H.W. Bush Presidential Library and Museum, located within the campus, offers an in-depth look at the life and legacy of the 41st president, while the Museum of the American GI showcases military vehicles and weapons.
For something a bit lighter, kick back and relax at one of the many wineries in the area. Messina Hof is a visitor favorite, founded in 1977 and the third-oldest in the state.
Navasota
Many of these Houston day trips are to destinations you've probably heard of before. But Navasota is a lesser-known getaway packed with unusual attractions that make it worth a visit.
Start with a photo-op at the World's Largest Teapot, where you'll also find a plant nursery, cozy restaurant, and antique shop.
Then, head to 1 of 3 alpaca farms in the area or BeeWeaver, a local honey farm.
You could spend hours in Navasota's tiny but mighty downtown, which showcases late-19th and early 20th-century architecture and beloved institutions like a family-run department store open for more than a century, P. Nemir's Dry Goods.
Last but not least, swing by one of the best historical sites in Texas at Washington-on-the-Brazos, where the Texas Declaration of Independence from Mexico was signed in 1836!
Brenham
Settled by German immigrants in the mid-1900s, Brenham is a small town full of culture, history, and one of the most beloved pieces of Texas heritage–Blue Bell ice cream.
Any Texas local has heard of this legendary brand, and newcomers will quickly be converted to fans.
You can visit the original creamery, opened in 1907, to learn about Blue Bell's history, observe the sweet treats being made, and sample flavors to your heart's content.
Anahuac National Wildlife Refuge
The best day trips from Houston trade bustling downtown streets for pristine natural landscapes and outdoor activities, and that's exactly what you'll discover at the Anahuac National Wildlife Refuge.
The 2-hour drive from the city wanders over lakes and wraps around the scenic Trinity Bay before depositing guests among the meandering bayous of the refuge.
There, you can venture out on a number of nature trails (keep an eye out for alligators!), enjoy the colorful butterfly garden, and search for shells and sea turtles along the shoreline.
Birders will be in paradise, with hundreds of species of waterfowl and shorebirds to observe (pelicans, storks, geese, sandpipers, etc.), as well as the chance to spot larger raptors.
Beaumont
In 1901, the Gladys City Company tapped into a massive oil well that sent black gold spraying 100 feet into the air for 9 days straight.
Thus, Beaumont and its oil boom were born. And much of that history is still embedded in the area today.
To dig deeper, visit the Texas Energy Museum or the Spindletop Gladys City Boomtown Museum, which is set up like a small 1800s village and often holds community events like jazz nights and picnics.
For a more natural activity, walk the trails of the Cattail Marsh Wetlands, a 900-acre preserve where you can spot alligators and rare bird species.
Alternatively, you can hike or bird-watch in the Village Creek State Park just north of the city.
Then, fuel up for more sightseeing on the Beaumont Cajun Food Trail, a self-guided experience that walks you through delicious regional dishes (think BBQ, gumbo, and more).
The drive from Houston to Beaumont takes about 1.5 hours.
Port Arthur
Two hours from Houston and right on the Louisiana border, Port Arthur is home to historical sites and museums galore, plus the picturesque vistas alongside Lake Sabine's shoreline.
Visit the Sabine Pass Battleground State Historic Site to learn about local Civil War history and explore a scale model of the Civil War-era fort and battle that took place there.
Then, head to the nearby Sabine Pass Lighthouse first lit in 1857 and 1 of only 3 built in the United States of similar design.
Other favorite museums in the area include the Texas Artists Museum, a Dutch Windmill Museum, and the Museum of the Gulf Coast.
Lake Livingston State Park
There is an abundance of state parks near Houston, but this has to be one of our favorites.
About an hour north of the city, you can find the tranquil shores and spectacular sunsets of Lake Livingston.
It's the second-largest lake in the state, so there's tons of space to boat, fish, swim, kayak, and stand-up paddleboard.
On land, enjoy hiking along quiet, wooded trails, searching for geocaches, and sampling reds and whites at one of the area's many wineries.
And if one day just doesn't feel like enough time to relax, there are dozens of overnight options, from campgrounds to cozy lakefront cabins.
More Houston Day Trips Worth Your Time
Mustang Island State Park
Surfside Beach
South Padre Island – you might even want to extend your stay at this wonderful resort town on a barrier island and make it a weekend getaway.
Goose Island State Park