Looking for incredible family vacations in Texas? We got you! Here's a list of wonderful family getaways in Texas.
The Lone Star State is one of the best destinations for families looking for fun and excitement.
There are many things to enjoy here: cowboys' stories, amusement parks, beaches, museums, BBQs, and so many more!
Planning a Texas family vacation? Let's go through some of the best family vacations in Texas.
19 Best Family Vacations in Texas
Here are our favorite family getaways in Texas for you.
1. San Antonio
A list of best family vacations in Texas is not complete without San Antonio.
Here, you and your family can visit popular historical spots like Alamo or the Missions, take the River Walk, and explore the Natural Bridge Wildlife Ranch.
This charming city also has some of the best restaurants in Texas, where you can enjoy spicy BBQs and other mouth-watering dishes.
If you are here with small children, you should take them to the SeaWorld San Antonio, the DoSeum Children's Museum, and Morgan's Wonderland.
These places in San Antonio are specially made for young children, and you don't want them to miss these opportunities.
2. Big Bend National Park
If your family enjoys outdoor activities like hiking, horseback riding, and camping, Big Bend National Park might be just perfect.
Big Bend National Park is one of the best vacation spots in Texas for families owing to the natural beauty, the unique wildlife, and the plethora of outdoor activities for kids available.
Some fun things you can do here include biking, stargazing, kayaking, and signing the kids up for Junior Ranger programs. All in all, a trip to Big Bend is an incredible family getaway!
Where to stay? Lajitas Golf Resort! Your family will love it.
3. South Padre Island
South Padre Island is a great place to go on vacation in Texas, as there are so many attractions suitable for the entire family.
You can visit the historic lighthouse, enjoy a dolphin tour, take a pirate cruise, and cool off at the beach.
We recommend you visit the South Padre Island Adventure Park, where you can enjoy adventures like ziplining, horseback riding, and other fun activities for the entire family.
You may also consider visiting the Schlitterbahn Beach Waterpark or taking the family to the sea turtle rescue center at Sea Turtle Inc.
South Padre Island is a popular vacation destination, so rest assured you will find many vacation rentals that can comfortably take your whole family.
As for a family resort, we recommend Isla Grand Beach Resort for a beachfront getaway.
4. Austin
The state capital, Austin, is perfect for a Texas family vacation.
You and the family can explore the Texas State Capitol, swim at the Barton Springs Pool, stroll around Zilker Park, and visit famous lakes like Lady Bird Lake and Lake Travis.
Austin is also considered the Live Music Capital of the World, so you should get tickets to one or more live concerts while you are here.
You can also take a round trip through the Texas Hill Country or take the 25-minute train ride at Zilker Zephyr.
If you intend on having a long vacation, we recommend you stay in the Hotel Viata with your family.
Also, if you visit Austin with kids between March and October, you should go to The Congress Avenue bridge, where you will see the largest urban bat colony in North America.
5. Dallas
If you're looking for an ultra-modern city with a family-friendly atmosphere and a lot of attractions, Dallas is what you're looking for!
Dallas is one of the best family vacation spots in Texas, especially if you have adventurous young children.
Your children will not forget their trip to this city anytime soon. You can take your kids to the Dallas Firefighters Museum, the Children's Theater, and Hurricane Harbor.
Other attractions that will blow the mind of the whole family include the Dallas Heritage Village, Perot Museum of Nature and Science, and Sandy Lane Park.
After a day of touring the city, you and your family can stop at Sandy Lane Park for mini golf and boat rides.
I think it's safe to say there are many fun things to do in Dallas with kids, right!
6. New Braunfels
New Braunfels has one of the largest water parks in the world, where visitors come all the way to enjoy all sorts of family-friendly activities.
If you are here during the summer, you can enjoy tubing at the two rivers that flow through the town, spend time at the beach, and visit the Spring Loaded trampoline park.
Texas Ski Ranch is another great place to come if you want action sports like wakeboarding, cable, and parks.
If you love wine, head to the Dry Comal Creek Vineyards to try some of Texas's best wines.
This winery has such a beautiful outdoor place to keep kids busy while you enjoy delicious wine.
And if you've heard of the famous Texas Bluebonnets, New Braunfels is one of the best places to spot and appreciate these unique state flowers in spring.
A Texas family vacation in spring isn't complete without the stunning sights of the state flower.
7. Amarillo
Amarillo offers unique attractions, including the Cadillac Ranch at Route 66 Historic District, where you will find an iconic collection of overturned cars in graffiti!
It is such a delight for car lovers! Your kids will also enjoy the Wonderful Park, a small amusement park with a lot of play structures, the Jack Sisemore Traveland RV Museum, and Bill's Backyard Classics.
You can also enjoy scenic drives through the area, shop for souvenirs at the antique stores and explore the Grand Canyon of Texas by bike or horseback.
8. Fort Worth
Fort Worth is a perfect destination for the entire family. This city offers a wide range of kid-friendly activities, including museums, a zoo, water parks, a lazy river, and water gardens.
One of the best places you can go if you love nature is the Botanic Gardens, the oldest botanic garden in Texas.
Here you will find gorgeous roses, and you can even learn how to grow plants in your backyard.
You can also head to the Fort Worth Zoo, where you find over 7000 animals, and the National Cowgirl Museum and Hall of Fame are dedicated to trailblazing cowgirls.
Another great place in the area is the Fort Worth Museum of Science and History, with various exhibits, an IMAX dome, and a planetarium.
While you are here, you should try out barbecue at one of the many restaurants, get souvenirs from the stores, and explore the Vintage Flying Museum.
Oh, and the fun Dinosaur Valley State Park is just one hour drive from Fort Worth!
9. Grapevine
If you're looking for fun family vacations in Texas around Christmas time, Grapevine will be just perfect for you.
Young children can enjoy the train ride with Santa at the Grapevine Vintage Railroad, attend one of the 1,400 events hosted during the Christmas season, and visit the glockenspiel to watch animatronic characters perform.
You will also enjoy shopping at the farmers market and visiting the LEGOLAND Discovery Center featuring rides and playscapes.
Grapevine's Main Street also features cafes, restaurants, boutiques, and numerous wine-tasting rooms that you can explore.
Great Wolf Lodge has a massive indoor waterpark that is perfect for children who are more sensitive to the sun.
Alternatively, Gaylord Texan Resort & Convention Center is also an excellent place to stay. It is one of the largest resorts in Texas, and it is perfect for family fun with indoor and outdoor pools, water slides, and more.
10. Corpus Christi
Corpus Christi promises a lot of fun if you are looking for a quick Texas family vacation.
You will find beautiful beaches, fun historical sites, and great seafood restaurants. We recommend you get a lodge close to the water to enjoy tranquil scenery from your windows.
You can visit the Texas State Aquarium to watch dolphins, marvel at the sea life and enjoy water sports like jet skiing and paddleboarding.
Texas State Aquarium is one of the largest aquariums in the state and a must-visit for kids fascinated by the sea world.
Other fun sites you can visit include Hurricane Alley Waterpark, with its array of slides, and Selena Museum, with its awe-inspiring pieces.
11. El Paso
El Paso is a go-to destination for family vacations in Texas. Also known as Sun City, El Paso gets hot in the summer, but there are a lot of activities to keep you cool.
You can swim the heat away at Camp Cohen, take a plunge at Endurance River, and splash around in Wild Lagoon.
For other outdoor activities, you will enjoy a cable ride at the Wyler Aerial Tramway, sign up for ranger-led tours at the Franklin Mountains State Park, and watch a concert at The Plaza Theatre.
Another destination for a Texas family vacation is Hueco Tanks State Park & Historic Site, where families can hike, stargaze, picnic, and enjoy stunning views of nature.
12. Port Aransas
If your family is looking forward to beach camping, you should consider Port Aransas for your Texas family vacation.
A perfect way to spend your day in Port Aransas is to head to the beach, take the pirate-themed cruise with Red Dragon Pirate Cruises, and enjoy a seafood dinner at one of the great restaurants.
Port Aransas also offers fun festivals and events that families and travelers can enjoy all year round.
Other activities perfect for family trips include dolphin watching, birding, parasailing, and golfing.
13. Waco
Waco is one of the best family vacations in Texas, especially if you want to shop a lot!
Head to the Magnolia Market, where you can shop for anything, including food, bath supplies, clothes, decor items, and jewelry.
The outdoor space of this shopping area is also filled with food trucks and yard games where your family can have a fun time.
While the Magnolia market is one of the major sites in this area, Waco also offers a lot of things to see and do.
This city is home to five historic homes, seven recreation centers, and nine arts organizations, making it an excellent place for family vacations in Texas.
Other fun places to explore are the Dr. Pepper Museum, Hawaiian Falls, and the Texas Ranger Hall of Fame and Museum.
End your trip to Waco by visiting the Cameron Park Zoo, where you will find over 1,731 animals.
14. Mustang Island
Another great place for family vacations in Texas is Mustang Island, beyond the area of Port Aransas. This Texas destination is known for its miles of beaches and the wild mustangs that lived in the area till the 1800s.
One of the fun places to visit here is the Mustang Island State Park, where you will find a beachfront with picnic areas, campsites with modern facilities, and paddling trails for canoers & kayakers.
You can also head to Roberts Point Park featuring an observation tower, picnic tables, and a playground where children can jump around.
Other great sites in Mustang Island for a Texas family vacation include the Leonabelle Turnbull Birding Center, Hot Spot Fishing Charters, and the Fire It Ceramics.
15. Houston
Houston is one of America's top barbecue destinations and the best city to experience Texas food.
Travelers can also check out the Art Car Museum, the Johnson Space Center, Houston Zoo, and Buffalo Bayou Park.
Johnson Space Center is one of the major attractions in Houston, and here you can try space gear and meet a real astronaut.
If you love art and history, you should visit the Houston Museum District, where you will find many museums within walking distance from each other.
One of our favorites is the Houston Museum of Natural Science, featuring a butterfly center in a simulated rainforest.
Visiting Houston with kids is an adventure for the entire family!
16. Galveston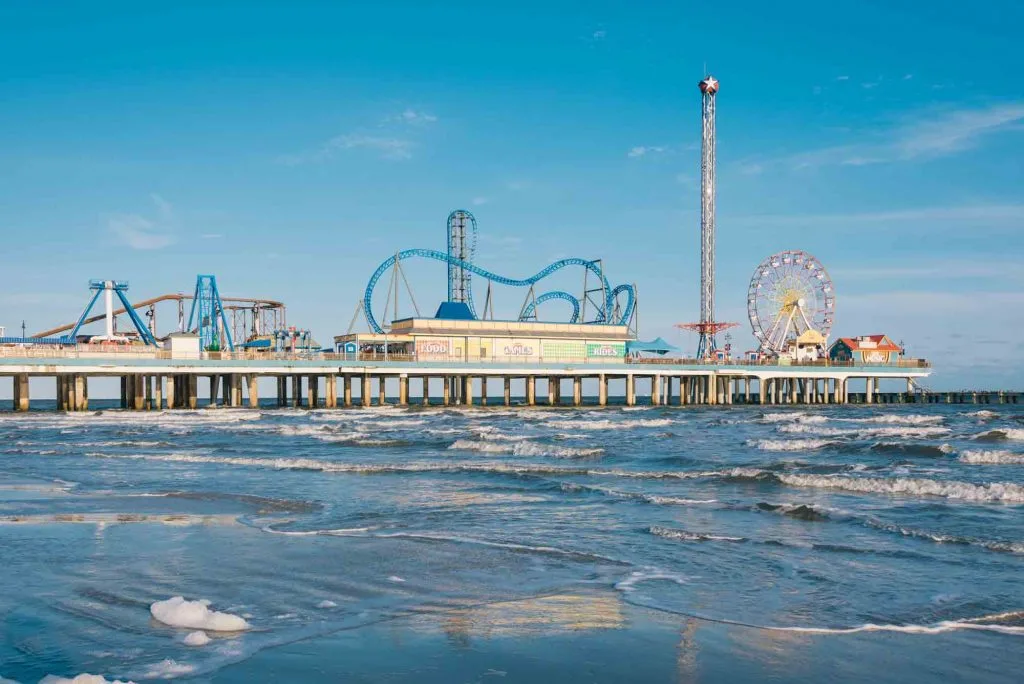 Galveston is 45 minutes from Houston and a perfect place for fun family vacations in Texas.
The primary attraction in Galveston is the beach, where you can relax on the sandy shores, take a dip in the water, enjoy a picnic with the family, and take rides at the Pleasure Pier.
Children will love the Galveston Children's Museum, where they can explore hands-on activities, and the Moody Gardens, where they will find an aquarium, a rainforest exhibit, and a movie theater.
Other attractions here on Galveston island are the Galveston Railroad Museum, the Rainforest Pyramid, and the longest See-Wall mural, which runs between the 8th and 89th streets.
17. The Woodlands
There are a lot of things you and your family will enjoy in Woodlands, including outdoor adventures like kayaking, live music concerts, and shopping.
The Woodlands also offers some noteworthy attractions like Town Green Park featuring an amphitheater and characters from Aesop's fables.
You can take the kids to Woodlands Children's Museum, where you will find hands-on exhibits, the George Mitchell Nature Preserve to enjoy miles of natural beauty, and Waterway Square, where you find a water fountain with synchronized choreography & music.
18. Frisco
Frisco is perfect for family vacations in Texas, especially if you want to have a lot of fun without having to spend much.
There are many kid-friendly sites to visit here, including the National Videogame Museum showcasing old and new video games.
Kids will also love the art museums, the live theater, the shopping stores, and the numerous art pieces around Frisco Square.
Another fun experience in Frisco is touring the Dallas Cowboy Practice Facility, where you can get a close view of the Ford Center with the practice fields and 12,000-seat stadium.
If you are more into outdoor sports, you should head to the Frisco Mountain Bike Trail or Cottonwood Creek Greenbelt to enjoy hiking, fishing, and cycling.
19. Garner State Park
Garner State Park is one of the most popular family vacation spots in Texas during the summertime.
This park is known for its beautiful waters, the cypress trees lining the waters, and the limestone river rocks.
It's a beautiful sight to behold, especially if you take a road trip to explore the area.
This beautiful state park is also a perfect destination to enjoy much summer fun like golfing, horseback riding, camping, river floating, and night dancing!
This park has been holding evening dancing events in front of the state park since 1941, from Memorial Day to Labor Day!
This dancing activity is definitely a fun way to enjoy your vacation if you're in the area.
Final Words on Family Vacation Destinations in Texas
We hope we inspired you to book your next family vacation in Texas, whether you live in the state or not.
There are lots of fun and excitement in all shapes and colors, and you're bound to find the type of fun that matches your family's needs.
Enjoyed reading about these family vacations in Texas? Then share it on your social media!
19 Best Family Vacations in Texas
1. San Antonio
2. Big Bend National Park
3. South Padre Island
4. Austin
5. Dallas
6. New Braunfels
7. Amarillo
8. Fort Worth
9. Grapevine
10. Corpus Christi
11. El Paso
12. Port Aransas
13. Waco
14. Mustang Island
15. Houston
16. Galveston
17. The Woodlands
18. Frisco
19. Garner State Park