A place of Southern pride, Wild West landscapes, and storied history, it's no surprise that the nicknames for Texas and its cities are as fascinating and diverse as the state itself.
You may have heard some of Texas' many titles, but do you know the stories behind them?
We've done the research for you, so enjoy this deep dive into Texas nicknames of all kinds as we explore Dallas' musical moniker, Fredericksburg's German heritage, the best barbecue city, and more.
Then, the next time you travel to the Lone Star State, you can impress locals with your insider knowledge of all the tall tales that make Texas one of the coolest states in the country.
Nicknames for Texas
Here are some Texas nicknames! Do you know others? Then share them below in the comments.
Lone Star State
If you've ever met a Texan, you've probably been introduced to the fiercely independent spirit that sets them apart from other Southerners. But what is the Lone Star meaning?
Well, this nickname is a nod to that go-it-alone pride, as well as Texas' history as an independent republic.
The moniker's most recognizable association is with the state flag, which features blocked red, white, and blue stripes and a single white star.
The design was adopted when Texas gained its independence from Mexico in 1836 as a reminder of that struggle.
There's a popular myth that Texas is the only state allowed to fly its flag at the same height as the US flag, although in truth, national law allows all states the same privilege.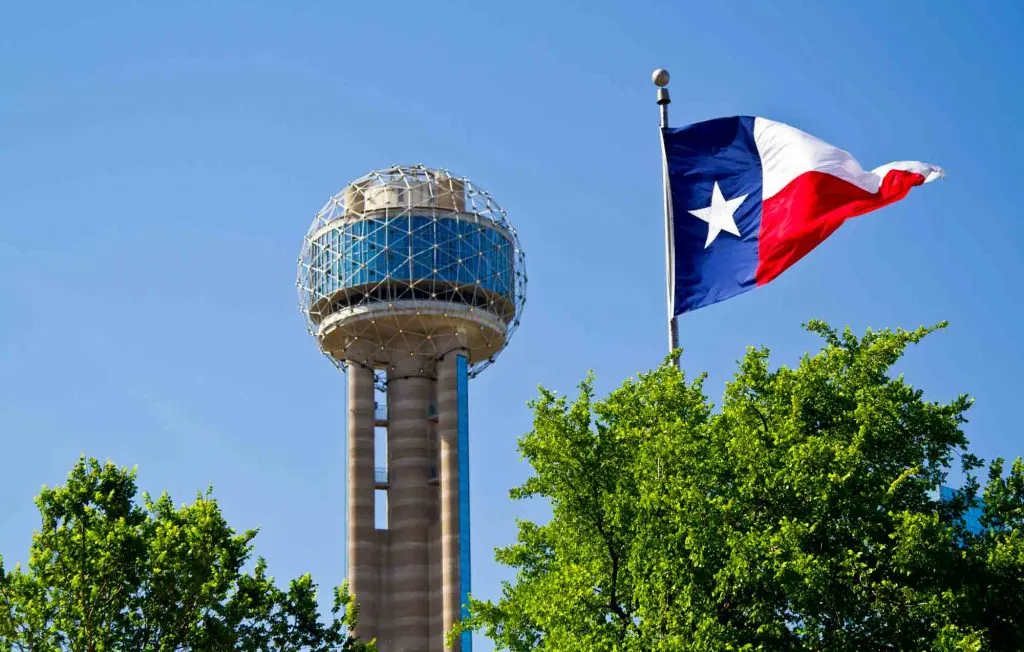 Beef State
You can probably guess how this moniker was earned. With roughly 13 million cattle calling the state home (that's 14% of the total US cattle population), Texas knows its beef.
Cattle rearing dates back as early as 1680 when Spanish missionaries began to establish ranches throughout the El Paso region, and the practice continued to shape Texas economics and politics for centuries.
Fun fact: this nickname is more commonly ascribed to Nebraska, whose main industry is agriculture (with cattle farming as the number one category). However, they only have about half of Texas' cattle population.
Jumbo State
Have you heard the phrase, "Everything is bigger in Texas?" Well, that's exactly the origin of this next nickname–the Jumbo State.
The word "jumbo" comes from the name of a famous circus elephant brought to the United States by P.T. Barnum in 1882 and was used to describe anything of significant size around that time.
And Texas certainly has size on its side. It is the second-largest state by land area (a whopping 268,000 square miles) and also ranks number two in terms of population (with nearly 30 million residents).
Super-American State
Texas is also known as the "Super-American State." This nickname came courtesy of a 1961 article in New Yorker Magazine, which described Texas as "a mirror in which Americans see themselves reflected, not life-size but, as in a distorting mirror, bigger than life."
Many Texans will tell you that their state is the best in the country, and locals are certainly known for their strong beliefs on any number of issues.
Banner State
While the origins of this moniker are a bit unclear, some historians suggest that it's a nod to Texas' significant political influence afforded by its large population.
In another sense, "banner" is used to mean "front-runner" or "leader." Texas' fight for independence left it with a strong legacy as a state carrying the banner for democracy and freedom.
Blizzard State
Our favorite Southern giant is much more famous for its scorching summers than any kind of cold weather, so this last moniker is a bit of a head-scratcher.
Sharing the title with South Dakota, Texas actually earned this nickname for the harsh windstorms that sweep across parts of the state–not for super-snowy conditions.
Nicknames for Texas Cities
Austin: Live Music Capital of the World
With thousands of bands and performing artists who call the city home, and more live music venues per capita than anywhere else in the country, Austin's nickname is a no-brainer.
The Texas capital was officially recognized as the "Live Music Capital of the World" in 1991.
On any given night, you can find as many as 100 live shows to enjoy, from coffee shop jazz band performances to club DJ sets.
And every year, the city holds some of the largest and most recognized music festivals in the world, including South by Southwest (SXSW) and Austin City Limits (ACL).
Dallas: Big D
Dallas' beloved nickname, "Big D," first appeared in print in a 1933 edition of the Dallas Morning News, and would go on to become the title of a popular column by staff writer, Paul Crume, in the 1950s.
However, it really took off after the release of a 1956 musical, The Most Happy Fella, which featured a Bing Crosby song titled "Big D." As the tune's catchy refrain goes, "Big D, little A, double L, A, S!"
Houston: Space City
Before it received its current moniker in 1967, Houston was known as the "Bayou City" for its winding waterways.
But when the federal government chose this Texas city as the site of NASA's Manned Spacecraft Center, their nickname was officially updated.
Houston is still a major center for space exploration. From here, all the country's human spaceflight is coordinated and monitored and Space Shuttle missions and activities aboard the International Space Station are directed.
San Antonio: Alamo City
San Antonio's nickname comes from its most iconic attraction, the 18th-century Spanish mission that saw a dramatic clash between the Mexican Army and soldiers fighting for the Texas revolution.
Aside from the historic architecture, you can enjoy rich Mexican culture, dramatic natural caverns, and lots of art museums.
Fort Worth: Cowtown
Seeing as one of the nicknames for Texas is the "Beef State," it only makes sense that they also have a "Cowtown."
In the 1800s, Fort Worth was a major jumping-off point for long-haul cattle drives throughout the South, and the railroad boom transformed it even further.
By the time of WWI, the Fort Worth Stockyards housed the largest horse and mule market in the world.
Today, you can still pay a visit to this historic site to watch authentic cattle drives, buy penny candy, and line dance at the honky tonk.
Fredericksburg: Fritztown
Anyone who visits this bustling Texas Hill Country city can instantly see the German influence–from the array of restaurants dishing up schnitzel and beer to Fredericksburg's name itself.
The city was founded in 1846 by a group of German emigrants, and locals in the know honor that European history with the nickname, "Fritztown."
The title is derived from the unique Texas-German dialect spoken by early settlers who refused to learn English.
Jacksonville: Tomato Capital of the World
Found 2 hours outside of Dallas, in far East Texas, Jacksonville has one of this list's most unique nicknames for Texas cities.
They earned the title in the early 1900s for their profuse production and distribution of tomatoes.
Every year on the second Saturday of June, you can celebrate the town's history at their annual Tomato Fest, which features tomato eating contests, awards for the best home-grown tomatoes, and hundreds of vendors offering all the juicy red fruit you could ask for.
As you're sightseeing around Jacksonville, keep an eye out for the nearly 200 giant concrete tomatoes found in parks, restaurants, and businesses around town.
Jefferson: Bed and Breakfast Capital of Texas
Jefferson has one of the most fun nicknames for Texas cities, the kind of moniker that makes you want to start planning a trip straight away.
At the "Bed and Breakfast Capital of Texas," you'll be treated to a quaint small town that has just 2,500 residents but more than 20 adorable lodging options.
Among our favorites are Azalea Inn, a vibrant, historic home built in 1873, and The Carriage House, a quaint 1920s cottage complete with a fire pit, wrap-around porch, and a mouth-watering multi-course breakfast.
Lockhart: Barbecue Capital of Texas
Although Austin is known for its award-winning barbecue joints, even more mouth-watering options can be found just 30 minutes from the big city.
Lockhart earned the designation of the "Barbecue Capital of Texas" in 1999 for its abundance of incredible BBQ restaurants, many of which have been around for a century or more.
To sample some of the goodness, visit Black's, the oldest family-run barbecue joint in Texas and a legendary maker of the best brisket in the state.
Kreuz Market, Smitty's Market, and Chisholm Trail Barbecue are also well worth a try.
Corpus Christi: Sparkling City by the Sea
Although better known for its deserts and plains, Texas has beaches too!
And Corpus Christi is one of the state's most beautiful, boasting long stretches of white sand and protected reserves full of unique wildlife.
Even better, it can be reached via a short 3-hour drive from big cities like Austin or Houston.
The nickname comes from a series of ad campaigns in the 1960s designed to promote tourism to the city.
Burnet: Bluebonnet Capital of Texas
Every spring, Texas' stunning state flower carpets yards, roadside fields, and wildflower farms in seas of blue.
And there is no better place to see them than in Burnet, a small town found 1 hour outside Austin.
Burnet earned their moniker in 1981, and now it celebrates annually with one of the state's largest bluebonnet festivals, held on the second weekend in April when the wildflowers are in peak bloom.
Abilene: Buckle of the Bible Belt
Sharing the title with Nashville, Tennessee, Abilene is known as the "Buckle of the Bible Belt" because it houses only 125,000 residents but 3 major Protestant universities.
The broader "Bible Belt" encompasses most of the South and is a nod to the high percentage of religious residents, as well as the deep ties between Christianity and public life.
El Paso: The Sun City
Not a fan of the rain? Head to El Paso. Charmingly dubbed the "Sun City," this far West Texas destination enjoys approximately 302 days of sunshine annually!
As though that isn't enticing enough, El Paso also boasts dramatic mountain landscapes, delectable TexMex cuisine, and plenty of historical landmarks.
Tyler: Rose Capital of the World
Now, this is a place where you can stop and smell the roses! Take a short, 1.5-hour drive from Dallas and you'll find sprawling gardens and lots of sunshine in one of Texas' most beautiful cities.
One thing that has to be on your itinerary? A stop at the Tyler Municipal Rose Garden, the largest of its kind in the country and home to more than 32,000 rose bushes, plus over 500 varieties of the gorgeous blooms.
Since 1933, the city has held an annual Rose Festival on the third weekend of October, during which you can watch a lively floral parade and wave to the Rose Queen and her court.
Nacogdoches: Oldest Town in Texas
In one of the more straightforward nicknames for Texas cities, Nacogdoches has been dubbed the "Oldest Town in Texas."
The Caddo Indians were among the first to arrive in the area (around 800 CE), and a whopping 9 flags have flown over the city throughout its history.
Nacogdoches was formally founded in 1779 and today is the perfect place to enjoy antique shopping, historic landmarks, and the largest azalea garden in Texas.
San Angelo: End of the Rainbow
San Angelo is a small city 3.5 hours from Austin and 4.5 hours from Dallas, largely known for its historic architecture.
In the late 1920s, a few local businessmen decided to put funds towards a community-focused cause.
For whatever reason, they ultimately settled on a giant neon sign in the shape of a rainbow that read, "Rainbow's End: San Angelo."
The sign remained a downtown landmark until it was destroyed by a dust storm years later, but the name stuck.
Galveston: The Oleander City
Of all the nicknames for Texas cities, this might be one of our favorites. The already gorgeous Galveston is made even more charming by the oleander flower bushes dotted throughout its historic streets.
The plant was first brought to the island in the 1840s by visiting merchants and only took off from there, with prominent residents and organizations planting more and more.
Galveston's first Oleander Festival was celebrated in 1921 and remained a favorite springtime activity for locals and tourists alike.