We've broken down the go-to spots for craft beers in San Antonio, Dallas, Fort Worth, Houston, Austin, and beyond, but now we're back for an all-star round-up of the very best breweries in Texas.
From buzzy downtown establishments to sprawling, rustic lawns, every beer drinker will find a new favorite hangout on this list.
Just like the state that holds them, Texas breweries have a reputation for being bold, inventive, and oh-so-fun to spend time in.
Add a few to your itinerary and do your Lone Star State sightseeing through the lens of a nice, cold glass.
14 Best Breweries in Texas
Ready to discover the crown jewels of Texas beer? Keep reading to learn more about each brewery's atmosphere, events, and (of course) the drinks you just have to try.
Peticolas Brewing Company
Taking over a former warehouse in the city's Design District and transforming it into an airy, social 3-level taproom, Peticolas is one of the oldest and most beloved breweries in Dallas.
Their fan-favorite menu offerings are practically synonymous with Dallas craft beer, led by the legendary Velvet Hammer.
Peticolas says it best, describing this bestseller as "malt-forward with elements of caramel and the sweetness of light brown sugar, balanced nicely by a combination of floral hops and a noticeable alcohol bite."
Other must-orders include the Sit Down or I'll Sit You Down, a fresh, golden, and oh-so-flavorful IPA, as well as the seasonal Wintervention, an award-winning dark ale spiced with nutmeg, cinnamon, allspice, and ginger.
Want to see how the bacon gets made? They run brewery tours every first and third Saturday of the month from 1-3 PM. For a $10 ticket, you get 3 beers of your choice and a branded glass to take home.
Read next: Best Rooftop Bars in Dallas
Rahr & Sons Brewing Company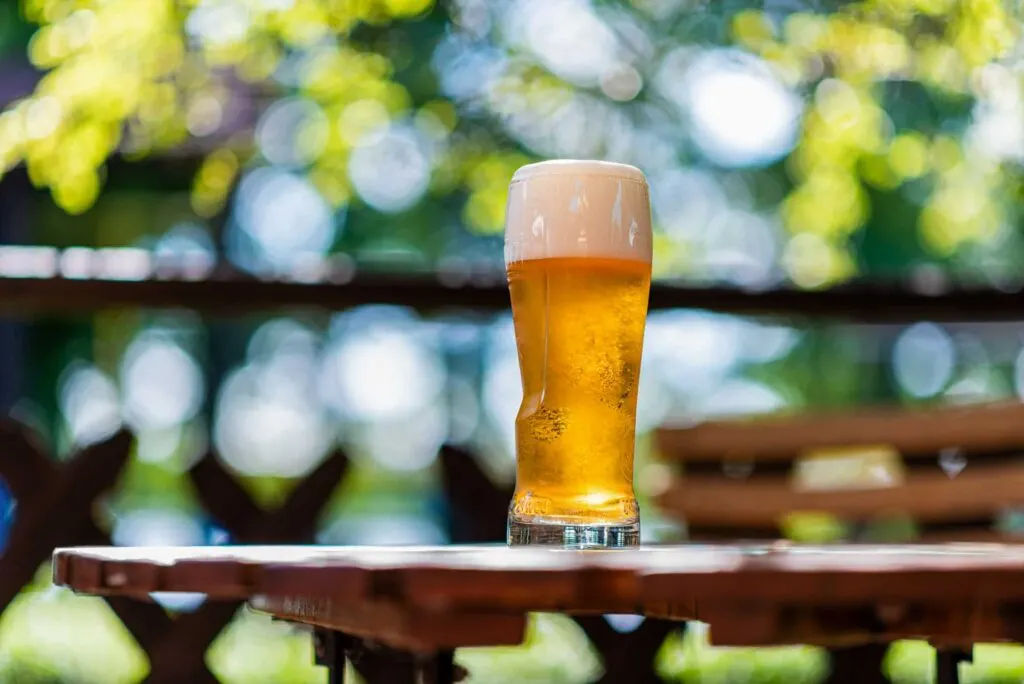 Proudly representing breweries in Fort Worth, this spot revolves all-around tradition and togetherness.
The Rahr family represents a long line of German craft brewers, and when William and Natalie Rahr immigrated to the US from Europe in 1847, they brought that delicious history with them.
The resulting Eagle Brewery was the first lager brewery in Wisconsin!
More than a century and a half after that original operation was established, William and Natalie's great-great-grandson opened Rahr & Sons' doors in downtown Fort Worth.
Whenever you visit, you can expect to see all kinds of local colors–from musicians playing sets to artisans and small businesses offering their wares to family-owned food trucks serving up steaming hot plates.
As for drinks, we recommend the Texas Red, a perfectly balanced, super smooth lager beer with notes of caramel, or the Rahr's Blonde, the brewery's first beer and still a favorite today.
Karbach Brewery
If you believe that beer is meant to be fun, then you'll fit in just fine at Karbach, one of the best German-inspired breweries in Houston.
Karbach Brewery bestsellers include the Hopadillo, a bitter IPA named after the state animal, the clean, floral Love Street blonde, and the Rodeo Clown Double IPA with its delectable blend of raisin, bread, and citrus.
They're quite an active bunch at this spot. The Karbach Biergarten features outdoor games like cornhole or Jenga, live concerts, and plenty of space to spread out. Meanwhile, weekly events add further to the fun.
Catch their Brew Camp Cross-training Series every Wednesday for strength and conditioning workouts, followed by a recovery Weekend Warrior Beer.
Or visit on the first Monday of the month to participate in the Karbach Brews Cruise, a cycling tour around the area.
Read next: Best Rooftop Bars in Houston
Ranger Creek Brewing & Distilling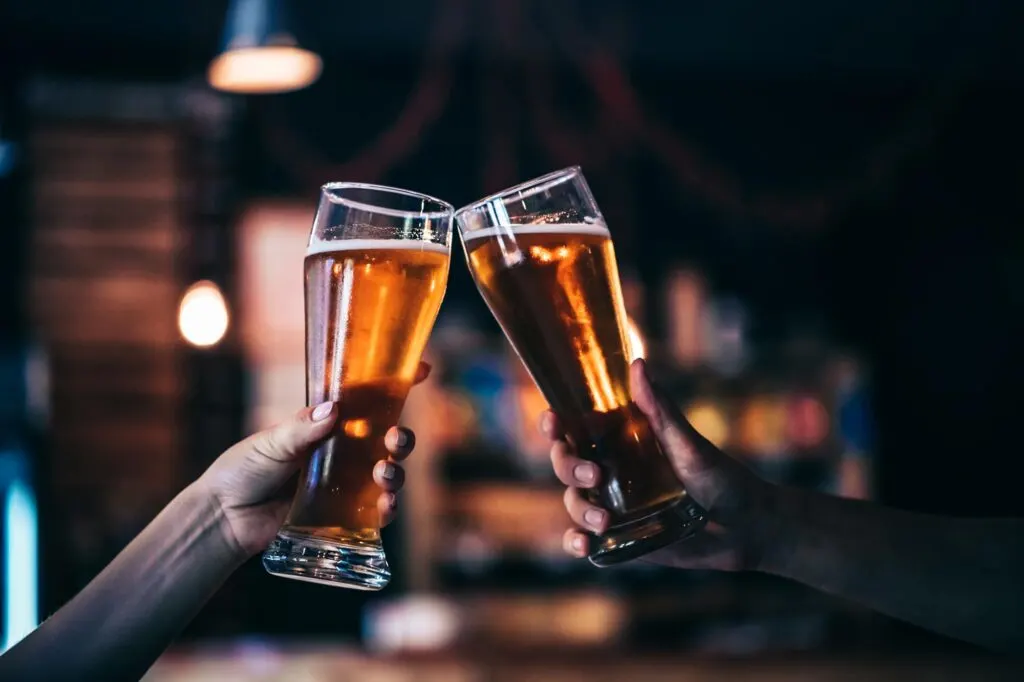 Too skilled to choose just one specialty, Ranger Creek is more than just one of the best breweries in San Antonio; it's their premier "brewstillery," turning out craft beer AND whisky. While you're there, you might as well try both!
On the spirits side, opt for their flagship product, a .36 Texas Straight Bourbon that tastes of caramel, butterscotch, and cinnamon and leaves a warm, sweet finish.
As for brews, order the Love Struck Hefe, a traditional German wheat beer with a Texas twist and subtle notes of banana and clove.
You can even go behind the scenes and score two tours in one! Their $10 immersive experience walks you through both the beer and bourbon-making processes, plus you'll get to sample three of their finest menu items.
For an additional $15, true aficionados can join the VIP Whiskey Sampling Experience and snag an advance tasting of two future releases straight from the barrel.
Austin Beerworks
Texas's capital city is home to all things cool–live music, incredible barbecue, and some of the best nightlife in the state.
Although there are dozens of breweries in Austin, this option never fails to draw a crowd.
Tap into tried-and-true flavors with the Amber Vision, a clean and classic amber ale, or the Fire Eagle, an award-winning, punch-packing, all-American IPA.
Or branch out from the typical and sample something with a tasty infusion. From a blood orange IPA to a coffee oatmeal stout to a poppy raspberry-lemon brew, there's no shortage of unique beers on offer at Austin Beerworks.
While the drinks are the star of the show, you can also fill your belly with fresh orders from Can-Tina, the onsite food truck serving up local Tex Mex, tacos, and burgers.
Saint Arnold Brewing Company
Ever heard the saying, "You can't teach an old dog new tricks?" Well, Saint Arnold flies in the face of that cliche.
As Texas's oldest craft brewery and a real Houston institution, Saint Arnold has both mastered tradition and stayed on top of the latest trends.
They shipped their first keg in 1994, and the rest was history, as Houstonians and travelers from around the globe flocked to their storied grounds to sample world-class beers.
The most popular offerings on the menu include the Lawnmower, a crisp, refreshing, and slightly fruity German-style Kölsch, as well as the super hoppy Art Car IPA, with its notes of apricot, tropical fruit, and mango.
Saint Arnold Brewing Company has also expanded into a few non-beer beverage options, including a carefully curated selection of ciders and a new hard seltzer line made with 100% real fruit. We'll drink to that!
Lone Pint Brewery
Nature lovers and large groups of any kind will find an oasis in Lone Pint Brewery, located 40 minutes north of downtown Houston.
Sprawl out on grassy lawns or around picnic tables, surrounded by towering oaks and blue Texas skies.
Enjoy live music, featured food trucks, and monthly market nights. Bring the kids and the pups, as long as the latter are kept leashed.
Crowd favorites include year-round menu items like the grapefruit, pineapple, and blueberry-flavored Yellow Rose, as well as the 667 Neighbor of the Beast, an American India pale ale full of piney-grapefruit flavor and a sweet peach and honey finish.
Lone Pint also keeps up an exciting rotation of limited releases. Some of their latest include a mead-ale hybrid inspired by the Middle Ages and a ghost chili porter balanced with dark chocolate.
Guadalupe Brewing Company
New Braunfels is known for its nature, but Guadalupe Brewing Company has put this Hill Country city on the map for its delicious beer as well.
Always experimenting and introducing delicious new brews, Guadalupe delivers on whatever they do.
Among the crowd, their favorite beers are Texas Honey Ale, a malty, clean brew made with local honey, as well as the award-winning Scotch Ale.
They also have a mouth-watering selection of sweeter stouts, with flavors like peanut butter and coffee, German chocolate, coconut, s'mores, and the oh-so-Texan pecan cocoa.
Live music is featured Friday-Sunday, and their gorgeous outdoor space (complete with gardens and picnic table seating) is the perfect place to spend a slow afternoon.
Pssst: The Fredericksburg Brewing Company is also a wonderful German restaurant!
Jester King Brewery
Next, we travel outside the hustle and bustle of Austin's city center to a nearby (but much more secluded) destination.
Jester King Brewery sits on a gorgeous 200-acre ranch just 30 minutes from downtown.
Between outdoor games, nature trails, picnic tables, and a goat barn, you'll hardly remember to head for the taproom. But their bread and butter? A broad selection of farmhouse ales and barrel-aged wild ales.
Their tap list runs so long it's hard to pick favorites, especially because IPAs, lagers, and stouts also make an appearance.
We hear the recently released EEZY PEEL (refermented with mangos!) is just as popular with Jester King's staff as with their customers.
Another highly recommended order is the Biere de Miel, lovingly infused with raw Texas wildflower honey and aged in oak barrels of beer.
Vista Brewing
The aptly named Vista Brewing is tucked away in the stunning Texas Hill Country, just outside the tiny town of Driftwood (and 30 minutes from Austin).
Their 21-acre ranch doesn't just hold a brewery and tasting room but also a farm-to-table restaurant, organic farm, apiary, and a handful of private event spaces.
And no one does Texan beer like this place. Vista has collected an impressive number of accolades, from "Best New Brewpub in Austin" to "Brewery of the Year."
The Austin Beer Guide awarded them the prize of "Best Limited Release Beer" for two years in a row–both 2018 and 2019.
Luckily, one is still in their summer rotation! The Stonewall is a tart, dry, barrel-aged beer made with fresh peaches from just down the road.
If it's not on the menu when you visit, the expertly-made (and also award-winning) Dark Skies is also worth an order; its tasting notes of coffee and roasted marshmallows are absolutely irresistible.
Family Business Beer Co.
Dripping Springs, Texas, may be better known for its natural wonders and wineries, but Family Business Beer Co. is putting brewing on the map in this small city.
Family-owned and family-friendly, they boast live music, bar games, food trucks (with some of the best pizza around), and a kid-friendly area on their 15-acre property.
They're always mixing up their menu, but you can count on a few year-round favorites.
Pineapple, grapefruit, and pine blend beautifully in the Cosmic Cowboy, while the Hamilton Pale is full of juicy flavors of apricot, peach, and tropical citrus.
Visiting in the winter? Get your hands on their Kick Out the Yams, which swaps played-out pumpkin spice flavors for candied sweet potatoes, toasted marshmallows, and honey-soaked wood chips. Yum!
Thirsty Planet Brewing Company
Thirsty Planet is the epitome of an Austin brewery–trendy, funky, and fun, with a solid lineup of brews and frequent events revolving around arts and culture in the community.
They debut a small batch each month, called the "Special Brewski," so there are always new options to try.
You can also opt for a long-running favorite like their Pailhead Pale Ale, Yellow Armadillo Wheat, Thirsty Goat Amber, or Buckethead IPA.
Best of all, Thirsty Planet maintains a focus on giving back, partnering up with all kinds of Austin organizations, and donating a portion of their profits to initiatives ranging from wildlife conservation to food security.
Bluebonnet Beer Company
Closing out our list of breweries in Texas is the Bluebonnet Beer Company, named in honor of the state flower.
They can be found in Round Rock, just 30 minutes north of downtown Austin.
Although they're lesser known than the hotspots in the city center, true brew fans are willing to make the drive, and crowds can always be found when they open on weekends.
The husband and wife team behind Bluebonnet emphasizes approachable, easy-drinking beers, which makes for a classic core beer menu available year-round.
We hear the Cream Ale, Texas Pecan Brown Ale, and classic American IPA are all worth a try.
They also feature a menu of salads, sandwiches, and snacks to keep you full in between drinks.
Alamo Beer Company
Located just 0.5 miles away from the iconic San Antonio landmark, the Alamo Beer Company carries on the spirit of its namesake, crafting brews that are "courageous, independent, unrestrained, and true to themselves."
Sip on the sweet, subtle Alamo Golden Ale or try their strong, hoppy Alamosaic IPA. You can also order from the onsite kitchen, which specializes in comforting dishes easily paired with a cold glass.
We hear the jumbo soft pretzels and the pulled pork sandwich are particularly delicious.
Trivia, karaoke, live music, fundraising initiatives, and other regularly-scheduled events mean that whenever you visit, you'll find something going on on this independent brewery in San Antonio.
Good to know: Unfortunately, Pedernales Brewing Company is permanently closed.
We hope all the beer lovers out there (21+) enjoyed reading this article about the wide variety of beers and breweries from Texas. Drink responsibly!