Visiting the west coast and looking for quotes about California for your Instagram? Look no further! We got a bunch of California Instagram captions for you.
California is one of the greatest places to visit in the US–a true USA bucket list item.
Amazing national parks, beaches, and cities are just a little part of all its awesomeness.
And if you're looking for quotes about California, chances are you are visiting this unique summer vacation spot in the US or you have already been there.
Either way, feel free to use these California quotes on your social media. We're sure they will add an inspiring touch to your day.
Looking for some awesome California Instagram captions? Read on!
Inspiring Quotes About California
These quotes about California are very inspiring. We hope they can give your day a boost to read so many inspiring quotes.
"To capture a California sunset in South Pasadena is to hold an angel's wings with bated breath." – Ace Antonio Hall
"I've never been somewhere I belonged, but there are places where I think I could be happy. Like San Francisco." – Heather Demetrios
"There is science, logic, reason; there is thought verified by experience. And then there is California." – Edward Abbey
"California is where you get to start over." – Tracy Chevalier
"Southern California, where the American Dream came too true." – Lawrence Ferlinghetti
"Everything is just better in California – the wine, the food, fruits and vegetables, the comforts of living. Even the instrumentalists are generous and curious. Everything is wonderful." – Beth Anderson
"Life in California is beautiful." – Oscar Nunez
"California is an unbelievable state." – Drew Barrymore
Famous California Quotes
These California quotes are pretty famous or were said by a famous person, celebrity. In fact, we gathered quotes about California from Gigi Hadid, Arnold Schwarzenegger, and even Meghan Markle!
"There are so many different challenges California has; it's the greatest state in the greatest country in the world. Hasta la vista, baby!" – Arnold Schwarzenegger
"I love driving; driving along the California coastline is the best drive in the world." – Al Jardine
"I'm a California girl, even if I try and cover it up with leather." – Gigi Hadid
"Everyone who comes to California brings a little of his own state with him. His own old state, regardless of where or when, is always lurking in the back of his memory for comparison with what he finds here." – Max Miller
"There are no real Californians. There are only people who live there and people who don't." – Laura Kalpakian
"In California, the only way to look like you are getting older is to look like you are getting younger…if you can move your forehead over the age of forty, then people become very suspicious." – Matt Haig
"Secretly, I think everyone who makes fun of California really does want to be in California." – Zooey Deschanel
"I am a California girl, born and raised, so flip-flops and cutoff shorts are my go-to look. An easy Angeleno uniform, so to speak. But for my role in 'Suits,' I'm dressed in Alexander McQueen, Tom Ford, and Prada almost every day. And therein lies the difference. For work, I wear art; in real life, I wear clothes." – Meghan Markle
Interesting Quotes About California
These interesting quotes about California might be funny, mysterious, inspiring, political, nasty, or simply romantic.
"All scenery in California requires distance to give it its highest charm." – Mark Twain
"Californians try everything once." – T. J. MacGregor
"Helsinki may not be as cold as you make it out to be, but California is still a lot nicer. I don't remember the last time I couldn't walk around in shorts all day." – Linus Torvalds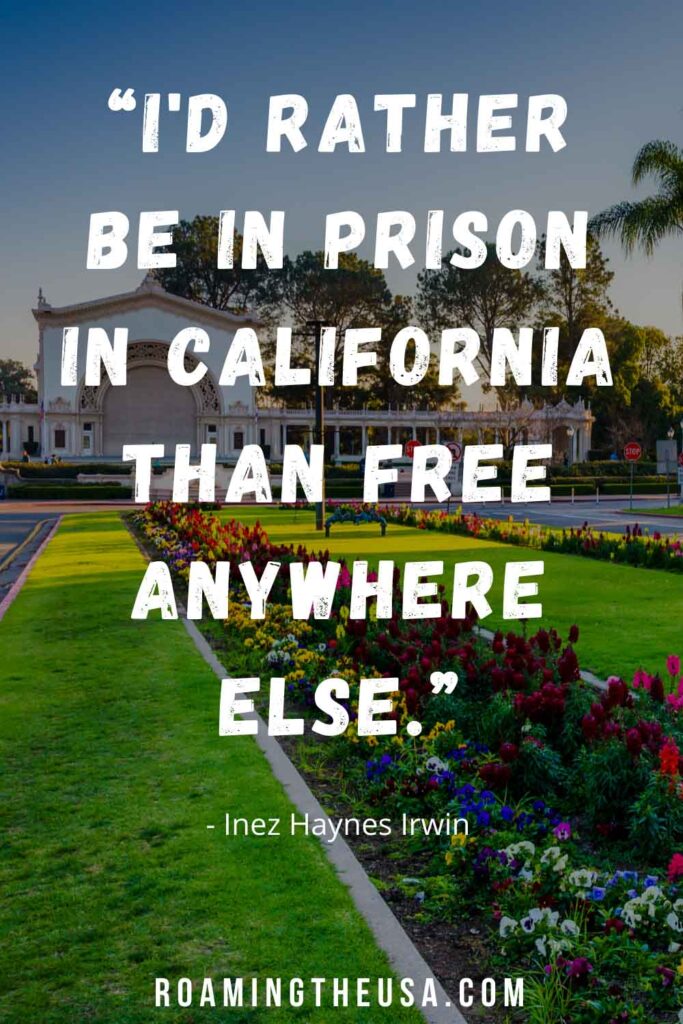 "I'd rather be in prison in California than free anywhere else." – Inez Haynes Irwin
"California, where the spring comes in the fall and the fall comes in the summer and the summer comes in the winter and the winter never comes at all." – Inez Haynes Irwin
"Everyone in California is from somewhere else." – Wright Morris
"California is an Italy without its art." – Oscar Wilde
"I love California. It definitely represents wild freedom." – Jenny O.
"I think my best memories are when I go home to California and I get to play beach volleyball with my friends from home." – Gigi Hadid
"There are no old people in California. Nobody ever gets a chance to grow old there. The climate won't let you. The scenery won't let you. The life won't let you." – Inez Haynes Irwin
"California is like an artificial limb the rest of the country doesn't really need. You can quote me on that." – Saul Bellow
"When I came to California, it was the mecca of the world. Every young person on the planet wanted to be here." – Joni Mitchell
"One of the things I had a hard time getting used to when I came to California in '78 was Santa Claus in shorts." – Dennis Franz
"The only grounds for divorce in California are marriage." – Cher
"California is our biggest economy. California is our biggest agricultural producer. So what happens here matters to every working American." – Barack Obama
"California is full of homesick people." – Judy Van Der Veer
"The yard was full of tomato plants about to ripen, and mint, mint, everything smelling of mint, and one fine old tree that I loved to sit under on those cool perfect starry California October nights unmatched anywhere in the world." – Jack Kerouac
"The hardest part about moving from nice California weather was the freezing cold New York." – Mark Indelicato
"There's also this weirdness to California, this darkness, it's a place where people come to follow their dreams and sometimes don't make it." – Mark Hoppus
"California, still a magical vanity fair." – Eileen Granfors
California Instagram Captions
Here are our best California Instagram captions so that you can rock on your social accounts.
"You're not done with LA until LA is done with you."
"California dreamin'"
"California is always in my mind."
"Salt air. Cool breeze. Adventure in my soul."
"I know once you come to California you will never look back."
"California is always a good idea."
"West coast. Best coast."
"Listen to your heart, even if it takes you all the way to California."
"If they can't do it in California, it can't be done anywhere."
"But first, let's go to California."
"My favorite color is sunset."
"In a California state of mind."
"If you can't do it in California, it can't be done anywhere."
California Captions
These California captions are great for Instagram or any other social account you might have.
We gathered all sorts of captions about California for you.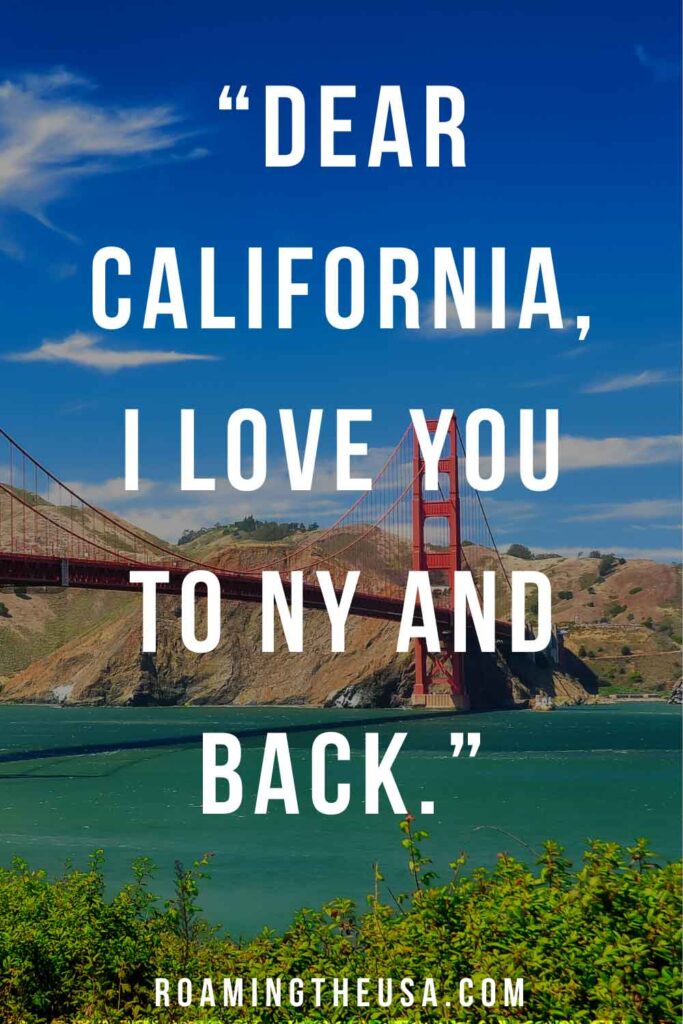 "Dear California, I love you to NY and back."
"Golden state of mind."
"I love California; everything is so artificial."
"Sunsets & palm trees."
"Here's to you, California."
"Nothing comes close to the Golden Coast."
"I love you like the sun loves California."
"I'm all about palm trees and 80 degrees."
"California, I just can't help loving you."
"Stay golden."
"You know you're from California when you don't call it Cali."
Read next: Best Road Trips in California
"Follow your heart, even if it takes you all the way to California."
"Calif*ckingfornia"
"I left my heart in California."
"California vibes."
"Home is where the heart is. And mine is in California."
"California: where it always is summertime."
Funny California Quotes
These funny California quotes are ideal for adding a little sass to your Instagram.
"Watching more sunsets than Netflix…in Cali."
"More Pacific Ocean, please."
"California English: No yeah = yes. Yeah, no = no. Yeah, no, for sure = definitely."
"California's a wonderful place to live – if you happen to be an orange."
"If I can't go to heaven, let me go to LA."
"California is a place where they shoot too many pictures and not enough actors."
"There's nothing wrong with Southern California that a rise in the ocean level wouldn't cure." – Ross MacDonald
"It's a scientific fact that if you stay in California you lose one point of your IQ every year." – Truman Capote
"In California, they don't throw their garbage away – they make it into TV shows." – Woody Allen
"All of a sudden, I feel very old and very tired. Maybe when I get to California, the smog, brush fires, floods, and earthquakes will cheer me up." – Erma Bombeck
"When the Okies left Oklahoma and moved to California, they raised the average intelligence level in both states." – Will Rogers
"Where is Hollywood located? Chiefly between the ears. In that part of the American brain lately vacated by God." – Erica Jong
"Everybody knows what California smog is – that's fog with the vitamins removed." – Bob Hope
"Whatever starts in California, unfortunately, has an inclination to spread." – Jimmy Carter
"I love California, I practically grew up in Phoenix." – Dan Quayle
"Hollywood is like Picasso's bathroom." – Candice Bergen
Read next: One Day in San Diego
California Quotes From Songs
These California quotes from songs are our all-time favorite ones.
While many of them are very inspiring, we love California Gurls…
"You could travel the world
But nothing comes close
To the golden coast
Once you party with us
You'll be falling in love" – Katy Perry, 'California Gurls'
"It's the edge of the world and all of the western civilization
The sun may rise in the East at least it's settled in a final location
It's understood that Hollywood sells Californication" – Red Hot Chili Peppers, 'Californication'
"And here we go again Its never gonna end
We're all so sick of California Songs
Yeah, We know you love LA
There's nothing left to say
Please no more California Songs" – Local H, 'California Songs'
"These palm trees they sway,
Each night and each day
I'm California dreamin' 'bout you." – Snoop Dogg, 'California Dreaming'
"Made up my mind to make a new start,
Going to California with an aching in my heart.
Someone told me there's a girl out there with love in her eyes and flowers in her hair." – Led Zeppelin, 'Going to California'
"Hello, can you hear me?
I'm in California dreaming about who we used to be
When we were younger and free" – Adele, 'Hello'
"California girls
We're unforgettable
Daisy dukes
Bikinis on top
Sun-kissed skin
So hot
We'll melt your popsicle" – Katy Perry, 'California Gurls'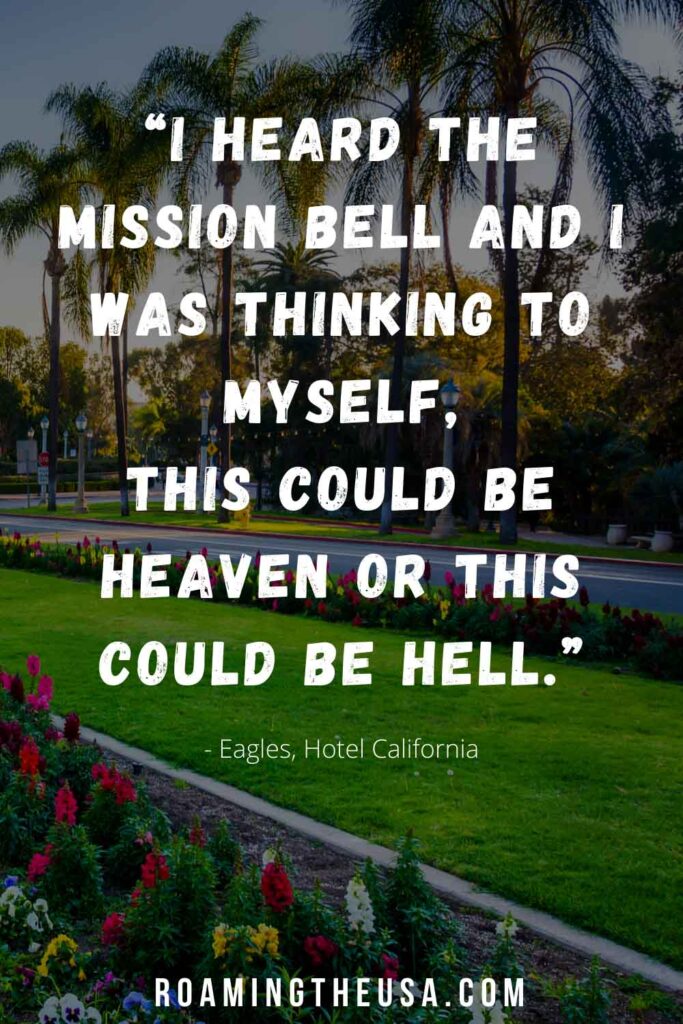 "I heard the mission bell and I was thinking to myself,
this could be heaven or this could be hell." – Eagles, 'Hotel California'
"If everybody in the U.S.A
Could come with us to Californ-i-a
We could take 'em to a place out west
Where the good sun shines every day
Now there's a touch o' Californ-i-a
In everyone who's ever been this way
And when your telephone begins to ring
And the operator comes on the line
California callin'
I'll be there right away" – The Beach Boys, 'California Calling'
"Hey here's to you California
Beautiful haze of suburbia
Living in the perfect weather
Spending time inside together
Hey here's to you California" – Blink 182, 'California'
"I hate California
The sun goes down the wrong side
Something in the water, maybe something in the sand
Maybe some west coast thing I'll never understand
Maybe just because
I hate California" – Jonathan Coulton, 'I Hate California'
"'Cause All I wanna do is have some fun
I got a feeling I'm not the only one…
Until the sun comes up over
Santa Monica Boulevard" – Sheryl Crow, 'All I Wanna Do'
"I always thought I would sink, so I never swam
I never went boatin', don't get how they are floatin'
And sometimes I get so scared
Of what I can't understand
But here I am
Next to you
The sky's more blue
In Malibu" – Miley Cyrus, 'Malibu'
"I wish they all could be California girls" – The Beach Boys, 'California Girls'
"But one day I woke up like
'Maybe I'll do it differently'
So I moved to California' but it's just a state of mind
It turns out everywhere you go' you take yourself' that's not a lie" – Lana Del Rey, 'F**k It, I Love You'
"So I called up the captain,
'Please bring me my wine'
He said, 'we haven't had that spirit here since nineteen sixty-nine'
And still those voices are calling from far away,
Wake you up in the middle of the night
Just to hear them say…
Welcome to the Hotel California
Such a lovely place
Such a lovely face
They livin' it up at the hotel California
What a nice surprise, bring your alibis" – The Eagles, 'Hotel California'
"I don't need another gift
I just have one wish
This year can you
Just make it snow in California
I'll even settle for rain
Don't want him to go tomorrow morning
Give me something to make him stay" – Ariana Grande, 'Snow In California'
"Take away my heart,
It doesn't wanna work no more
I never meant to make you cry,
California calling 20 miles to go,
And I don't, I don't know,
Should I turn around or should I leave you alone?" – Enrique Iglesias, 'California Callin''
"My heart goes boom as the stars go blue,
Like a sea of cell phone lights,
The moon gets light as the sun goes down,
Somewhere behind the Hollywood sign,
Have you ever felt like your living in the shadows?" – Jonas Brothers, 'Feelin' Alive'
"I know a place
Where the grass is really greener
Warm, wet n' wild
There must be something in the water
Sippin' gin and juice
Laying underneath the palm trees
(Undone)
The boys
Break their necks
Try'na to creep a little sneak peek (At us)" – Katy Perry, 'California Gurls'
"Goodbye cold, goodbye rain
Goodbye sorrow, goodbye shame
I'm headed out west with my headphones on
Boarded a flight with a song in the back of my soul
And no one knows
I just found out her ghost left town
The Queen of California is stepping down, down" – John Mayer, 'Queen of California'
More Travel Quotes
From romantic to funny to inspiring, we all love travel quotes.
They fuel our soul and give that little motivation we look for to start a new day or, who knows, a trip.
And to help you keep that spark alive, we wrote a few other posts like these ones on Las Vegas captions, Seattle quotes, and New York captions.
Save these California quotes to Pinterest so that you can find it later!