Offering deluxe accommodations, delectable dining, relaxing amenities, and many outdoor activities, these weekend getaways in Vermont are not to be missed!
Whether you're searching for an exciting adventure in the great outdoors, a romantic getaway in the mountains, or a restful break from the city, you're sure to find all you're looking for and more among the Green Mountains of Vermont.
To help you plan an unforgettable weekend away, we've compiled below a list of the 17 best Vermont getaways!
From the shores of Lake Champlain to the mountains of the Northeast Kingdom and the green forests of southern Vermont, there's so much to do and see in this small but incredibly diverse state!
17 Unforgettable Weekend Getaways in Vermont
Here's a list of our top weekend getaways in Vermont! We've gathered together everything you need to know about the accommodations, the food, and the local attractions, so you can make the most informed decision possible!
Castle Hill Resort & Spa
If you're looking for a relaxing vacation in Vermont, look no further than Castle Hill Resort and Spa.
Located in Cavendish, amid the Okemo Valley Region, Castle Hill is an award-winner historic mansion featuring luxurious accommodations, timeless decor, and fine dining.
Some of the resort's most popular amenities include its state-of-the-art fitness center, heated pool, on-site library, and full-service spa.
Outside of this, the Ludlow area offers a variety of notable attractions and activities.
While Okemo Mountain is the most popular destination, especially among skiers and snowboarders, the area is also home to several historical sites, state parks, museums, and nature preserves.
In addition to this, there are an array of restaurants, shops, and breweries that you can explore.
Rabbit Hill Inn
Located in Waterford, near the border with New Hampshire, Rabbit Hill Inn is a romantic bed and breakfast that offers cozy accommodations, exceptional cuisine, and a variety of on-site activities.
Spanning a total of fifteen acres of wood, the inn's property encompasses vibrant gardens, a waterfall, as well as a spring-fed swimming pool.
With miles of walking trails to explore, you could easily spend your entire weekend just traversing the inn's property.
But that doesn't mean you should!
In the area surrounding the inn, you'll find a variety of shops, restaurants, breweries, museums, and galleries worth checking out.
Depending on the season, it's even possible to take a day trip to the White Mountains in New Hampshire for some hiking or skiing.
The Essex Resort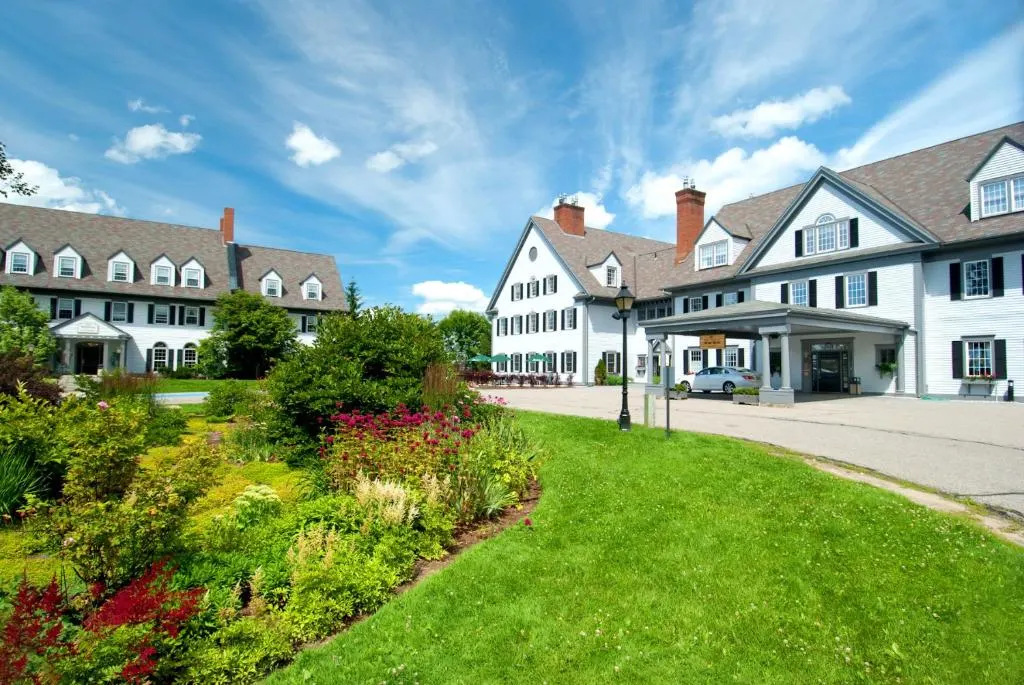 The Essex Resort is one of the best foodie destinations for weekend getaways in Vermont.
Nicknamed Vermont's Culinary Resort, the hotel is renowned for its restaurants, as well as its cooking courses.
Located on 18 acres of land just outside Burlington, the Essex Resort provides a wide variety of on-site amenities, including a fitness center, indoor swimming pool, and full-service spa.
In addition to this, there are an array of activities to partake in, such as snowshoeing, tennis, and lawn games.
Given its proximity to downtown Burlington, the resort is a great place to base yourself if you plan to explore the city and its fun attractions!
Marble Mansion Inn
Located in the heart of the Green Mountains, Marble Mansion Inn is one of the most historic weekend getaways in Vermont.
Set in a 19th-century home, this Fair Haven inn offers lush accommodations, historical decor, a gourmet breakfast, and access to a wealth of historical sites.
Within driving distance from the inn, you'll find several museums, including the Hubbardton Battlefield Museum, the Vermont Marble Museum, and Wilson Castle.
The state historic site of Mount Independence is also located nearby, offering the opportunity to explore one of the country's most significant sites from the Revolutionary War.
The Norwich Inn
Situated on the border between Vermont and New Hampshire, The Norwich Inn is an excellent destination for exploring both states at once.
With its convenient location in Norwich, the inn provides easy access to several notable attractions on both sides of the border.
From Dartmouth College to the Quechee Gorge, the Montshire Museum of Science, the Connecticut River, and the Appalachian Trail, there's plenty to do and see in the area.
In addition to this, the inn offers a variety of accommodations to suit everyone's needs.
With three lodging options to choose from, including the historic Main Inn, the pet-friendly Ivy Lodge, and the brand new Walker House, you should have no problem finding the perfect fit for your getaway.
Going on a romantic weekend getaway? Some guest rooms are spacious, have gas fireplaces, and are decorated with historic charm like four-poster beds and many other romantic accents.
The Blue Horse Inn
If you're searching for a quintessential country vacation in Vermont, be sure to check out The Blue Horse Inn.
Located in the heart of Woodstock, the Blue Horse Inn is an award-winning 19th-century hotel that offers quaint accommodations, farm-to-table breakfast, a seasonal pool, and an on-site library.
Alongside its charming lodging, the inn provides convenient access to many attractions, including the Billings Farm and Museum, Quechee Gorge, Killington Resort, Long trail Brewing Company, and the Marsh-Billings-Rockefeller National Historical Park.
In addition to this, the Woodstock area is celebrated for its countless covered bridges, white church steeples, and incredible fall foliage.
The Equinox Golf Resort & Spa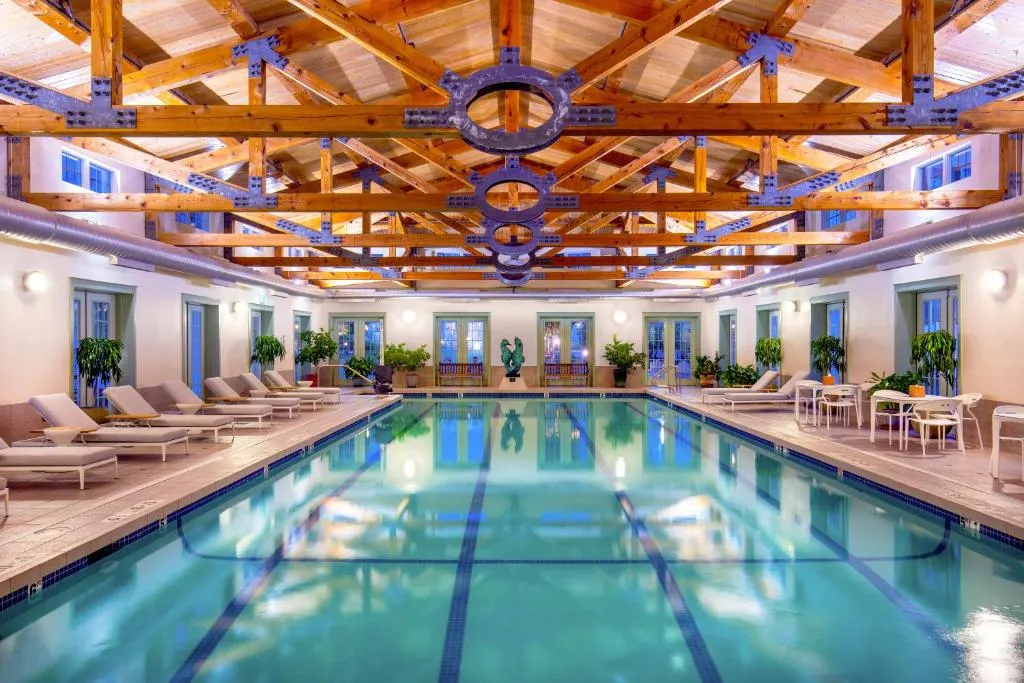 If you are looking for weekend getaways in Vermont that feature an abundance of outdoor activities, you'll want to consider visiting The Equinox Golf Resort and Spa.
Situated in the midst of Manchester, the resort is within driving distance of several attractions, including two ski resorts, Bromley Mountain and Stratton Mountain.
In addition to this, Emerald Lake State Park and the Equinox Preservation and Pond are located nearby and offer the opportunity to partake in an array of outdoor outings involving hiking, biking, kayaking, and snowshoeing.
Meanwhile, on-site at the resort, you'll find various activities, including golfing, swimming, horseback riding, fly fishing, and off-roading.
Hotel Vermont
Most Vermont getaways incorporate Burlington to some extent, and for good reason – simply put, there's so much to do here!
From Lake Champlain to the Church Market Place, the Flynn Theater, and the ECHO Aquarium, Burlington has a lot to offer!
Whether you're looking to spend your weekend shopping, hitting the beach, discovering Burlington's restaurants, or hiking in the Green Mountains, Burlington is the place to go.
And one of the best accommodations in Burlington is, without a doubt, Hotel Vermont.
Centrally located in the heart of the city, Hotel Vermont offers modern accommodations, delectable dining, and a wealth of amenities, including free bike rentals!
Craftsbury Farmhouse
The Northeast Kingdom may not be the first destination that comes to mind when planning weekend getaways in Vermont, but it certainly should be!
Offering access to some of the state's most pristine forests and mountains, the northeastern region of Vermont is a haven for outdoor adventurers.
The opportunities here are endless, from hiking to biking, kayaking, canoeing, skiing, snowboarding, dog sledding, and fishing.
And if you opt to stay at the Craftsbury Farmhouse, you'll be treated to some of the best accommodations around.
This boutique vacation property has everything from traditional farmhouse bedrooms to luxurious glamping tents, on-site walking trails, and infrared saunas.
Wilburton Inn
Nestled along the outskirts of Manchester Village, Wilburton Inn is a luxurious resort that offers cozy accommodations, fine dining, a plethora of amenities, and breathtaking views of Vermont's scenery.
Set on a sprawling, 30-acre estate, the resort provides a wide variety of lodging options, including guest suites, small cottages, entire house rentals, as well as spacious hotel rooms in one of two historic mansions.
In addition to this, the resort is home to an outdoor swimming pool, tennis courts, basketball hoops, an art gallery, and several gardens.
If you'd like to explore around town, the resort can even assist you in booking a wide variety of excursions that feature golfing, skiing, kayaking, tubing, and hayrides.
Willard Street Inn
The Willard Street Inn is another excellent option for exploring Burlington while on their weekend getaway.
Situated just a mile from the city center, this bed and breakfast provides easy access to some of Burlington's top attractions, including Lake Champlain and the Church Street Marketplace.
The inn also happens to be within walking distance of two college campuses, Champlain College and the University of Vermont.
Set in an 18th-century Victorian-style mansion, the inn offers cozy accommodations, complimentary breakfast, a daily dose of freshly baked cookies, as well as full use of the property's spacious lawn.
Cold Moon Farm B&B
If you're looking for truly unique weekend trips in Vermont, you should consider staying at the Cold Moon Farm B&B.
Located on a working farm in the town of Jamaica, Cold Moon offers immersive farm experiences that provide an insider's look into what it means to live on a farm.
From gathering eggs to mucking the barn, feeding the goats, picking vegetables, or planting seeds, you'll have the chance to get as involved as you like!
In addition to this, the bed and breakfast offers many amenities that you're sure to enjoy. This includes daily breakfast, a fitness center, miles of trails, a billiard room, a game room, complimentary fishing, snowshoeing, and skiing equipment.
Jackson Gore Village on Okemo Mountain
Winter weekend getaways in Vermont are perfect for outdoor enthusiasts!
And one of the best places to experience all of the cold weather fun is Okemo Mountain in the historic village of Ludlow, Vermont.
Offering a wide variety of activities, including skiing, snowboarding, ice skating, and snow tubing, Okemo is the ultimate winter destination in Vermont.
In addition to its endless recreational amenities, the resort also provides some lodging experiences at its Jackson Gore Village. You'll find everything from spacious hotel rooms to guest suites and fully functional apartments.
There's also an on-site restaurant, outdoor pool, hot tub, as well as ski-in/ski-out access.
Grunberg Haus Inn & Cabins
The Grunberg Haus Inn and Cabins is perfect for those who are looking to explore various attractions across northern Vermont.
Situated in Waterbury, the inn is centrally located within driving distance of some of the area's most popular destinations.
From the city of Burlington to Lake Champlain, Smugglers' Notch Ski Resort, Stowe Mountain, and the state's capital of Montpelier, the opportunities are endless!
Aside from its convenient location, the inn also offers many desirable amenities, including complimentary hot breakfast, pet-friendly rooms, an outdoor fire pit, and cozy Austrian-inspired accommodations.
You may also like: Cabins in Vermont
Woodstock Inn & Resort
Offering elegant accommodations in an early 19th-century setting, the Woodstock Inn and Resort is a romantic destination that provides convenient access to some of Vermont's most quintessential attractions.
Located in the heart of Woodstock, the resort is within driving distance of several historical sites, state parks, and ski resorts.
From the Billings Farm and Museum to the Quechee State Park, the Marsh-Billings-Rockefeller National Historical Park, and the town's Nordic Center, there's certainly plenty to do and see in town.
In addition to this, the resort offers its own set of activities and amenities, including four restaurants, a full-service spa, tennis courts, an indoor pool, a game room, and on-site walking trails.
Trapp Family Lodge
The Trapp Family Lodge was founded in 1950 by the von Trapp family; the very same family featured in the "Sound of Music."
Situated on 2,500 acres just outside of Stowe (one of the best places to visit in Vermont), the resort offers Austrian-inspired accommodations that feature stunning views of the mountains and oozes old-world charm.
Alongside its exquisite lodging, you'll find a variety of exceptional amenities, including several restaurants, an on-site brewery, a wine cellar, a plethora of recreational courts, and 60 miles of hiking trails in Vermont. Mount Mansfield is only 6.4 miles away.
European-style cuisine awaits guests at the Main Dining Room, which serves daily country breakfast and candlelit dinner.
In addition to this, the resort hosts several events such as fondue nights, yoga courses, and von Trapp family history talks.
Meanwhile, the town of Stowe offers the chance to explore a variety of boutique shops, restaurants, art galleries, and museums, as well as the Stowe Mountain Resort.
The Grafton Inn
Nestled in the heart of Grafton, The Grafton Inn is a historic bed and breakfast that offers quaint accommodations, fine dining, and a variety of on-site amenities.
You'll find everything you need and more to have a memorable weekend away from the bar lounge to the swimming pool, the tennis courts, and the fitness center.
The inn even provides trail passes and equipment rentals to the Grafton Trails and Outdoor Center, a recreational center that offers 2,000 acres of trails and forest to explore. Here you can go hiking, mountain biking, snowshoeing, cross country skiing, and even go for a sleigh ride.
Final Thoughts on Weekend Trips in Vermont
With so many weekend getaways in Vermont to choose from, you're bound to find what you're looking for!
From historical escapes to expansive resorts, bustling city centers, and quintessential farms, Vermont truly has something for everyone!
Did you enjoy reading about Vermont's getaways? If so, be sure to share this article with a friend who may be interested in visiting Vermont as well!
Latest posts by Charlotte Bailey
(see all)