These romantic getaways in California traverse far and wide to showcase the Golden State at its most swoon-worthy.
From big cities and luxury stays to secluded oases nestled amidst breathtaking natural landscapes, we've got something for every kind of couple.
In the land of Hollywood, life really can be like the movies. Your love story is ready to unfold–it just needs the perfect backdrop. Luckily, there are plenty to choose from.
18 Romantic Getaways in California
So grab a glass of wine and your leading lady (or gentleman) by the hand, and use these charming destination breakdowns as inspiration to start planning the dreamiest romantic couple's getaway.
These are hands-down the best places to visit in California for couples.
1. Santa Barbara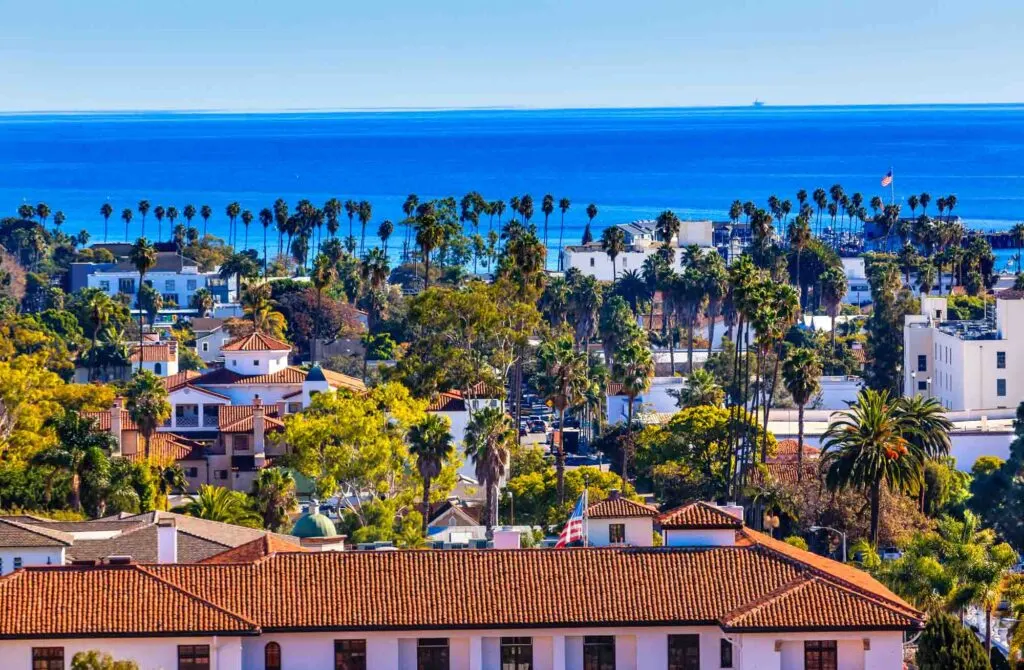 Few romantic getaways in California set the stage for a love-filled romantic weekend quite like Santa Barbara.
Imagine palm trees and rolling green hills, a sweeping coastline, Mediterranean-style buildings with red-tile roofs, and the dramatic Santa Ynez Valley in the background. Are you swooning yet?
To soak in the scenery, start with a slow sunset drive down Camino Cielo or wander the historic State Street Promenade, which is overflowing with date night spots–al fresco dining, wineries, local marketplaces, art installations, and more!
Although the waiting list for ceremonies at the Old Mission Santa Barbara stretches on for months, you should still pay a visit to this stunning 1786 property.
A colorful rose garden, stunning architecture, and panoramic views guarantee that love will be in the air in this Central California getaway for couples.
Where To Stay In Santa Barbara
Click here to check the best accommodation options in Santa Barbara.
Read next: 25 Best Weekend Getaways in the USA
Big Sur is a magical coastline stretch extending for around 90 miles along the Pacific Coast Highway—the most romantic road trip in California, and arguably one of the best road trips in the US.
This adventurous yet romantic route is characterized by dramatic redwood forests on one side and incredible ocean views on the other.
The appeal of Big Sur is that it remains largely undeveloped and pristine.
To give you an idea, the area is listed among the top 35 tourist destinations on the globe, which is a testament to its incredible beauty.
Although there aren't any huge national parks in Big Sur, some state parks allow visitors to spend time soaking in the splendor of their surroundings, like Pfeiffer Big Sur State Park.
Also, you can visit a few gorgeous beaches along the way, like Pfeiffer Beach and Garrapata State Beach.
Where To Stay in Big Sur
Click here to check the best accommodation options in Big Sur.
Read next: 21 Best Scenic Drives in California
3. San Francisco
San Francisco may be one of the more obvious choices when it comes to romantic getaways in California, but for good reason!
This cultural hub is home to renowned museums, entertainment venues, and architectural wonders, like our favorite US bridge.
Outdoorsy couples will be absolutely spoiled for choice.
You can picnic with incredible views of the Golden Gate Bridge (an American landmark) at Baker Beach, visit the sea lions at Pier 39, or go for a romantic rowboat ride on Stow Lake.
When the weather is particularly nice, one of our favorite San Francisco date nights is a movie at Foreign Cinema.
This magical outdoor space screens old films paired with craft cocktails, Californian-Mediterranean cuisine, and an extensive wine list (still, you could also take your date to one of these incredible wine bars).
Where To Stay In San Francisco
Click here to check the best accommodation options in San Francisco.
4. Napa Valley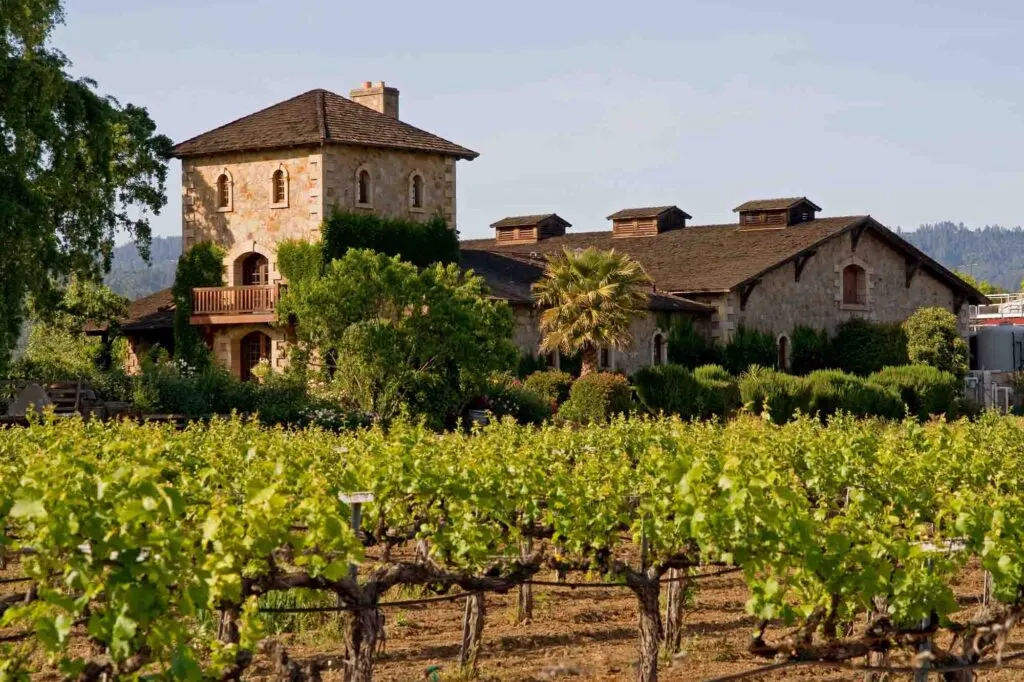 Whether or not you're a wine lover, there are plenty of reasons Napa Valley ought to top any list of Northern California getaways for couples.
You'll be treated to sprawling landscapes in every direction; Redwood forests, rolling vineyards, natural hot springs, and winding hiking trails fill the region.
While in the wine country are opportunities to rough it, many couples come with an appetite for luxury, as the whole Napa Valley area is renowned for gourmet food and drink as well as resort stays.
To really sweep your special someone off their feet, book a hot air balloon ride over the lush valleys, soak in rejuvenating mineral and mud baths at Indian Springs Calistoga, or share elevated Californian fare at the Michelin-starred Solbar.
Of course, your romantic trip to Napa Valley wouldn't be complete without a wine tasting.
Schramsberg Vineyards, Rutherford Hill Winery, and the ultra-romantic winery/castle Castello di Amorosa are our favorites.
Where To Stay In Napa Valley
Click here to check the best accommodation options in Napa Valley
5. San Diego
Known for its balmy weather, miles of sandy West Coast beaches, and impressive arts scene, San Diego boasts a practically neverending list of activities for two.
Stunning natural landscapes are found not far from the city center, like the pristine wilderness of Torrey Pines State Natural Reserve, where you'll find dramatic cliffs, lots of wildlife, and fantastic hiking trails to explore.
Meanwhile, Downtown boasts nature of its own in the impressive 1,200-acre Balboa Park—the perfect place for a date in San Diego.
Wander through one of 17 museums, catch a theater show, ride an original menagerie carousel, and shop for handmade arts and crafts.
Or, simply pack a picnic to share and claim a shady section of green space for the afternoon.
San Diego is your ideal romantic escape in the city.
Where To Stay In San Diego
Click here to check the best accommodation options in San Diego.
Read next: One Day in San Diego
6. San Luis Obispo
Oprah once called San Luis Obispo "America's happiest city."
Between its quirky attractions (like a 70-foot alley covered in chewing gum), bustling farmers' market, and charming historic streets, we believe her!
Foodie couples will love the abundance of local farms in this region.
Depending on what time of year you visit, you can pick your own apples, blackberries, pumpkins, lavender, and more.
Of course, the bustling Thursday night farmers market is a must-visit.
This SLO gem is open year-round and packed with food stalls, baked goods, fresh produce, artisan crafts, and live entertainment.
For date night, it doesn't get much cuter than Sunset Drive-In, where you can cuddle up in your car to a double-header of recent releases and treats from the vintage snack bar.
Where To Stay In San Luis Obispo
Click here to check the best accommodation options in San Luis Obispo.
7. Sacramento
A diversity of romantic outings abound, from cutesy park picnics and drive-in double-headers to wine tastings and food tours that will please even the most particular culinary couples.
A fabulous farm-to-table dining scene and a rich history (literally–it was built by the California Gold Rush), paired with a landscape of lush gardens and quirky buildings, make Sacramento an easy city to fall in love with–and to fall in love in.
To help you out, here are a few date ideas in Sacramento that are just the thing to send sparks flying as you explore the vibrant California capital, which is only a little over an hour's drive from San Francisco.
Where To Stay In Sacramento
Click here to check the best accommodation options in Sacramento.
8. Lake Tahoe
Calling all outdoorsy couples! Straddling the border between California and Nevada, Lake Tahoe (the largest alpine lake in North America) is a natural playground any time of the year, with beautiful beaches and acclaimed ski slopes to soar down in the winter vacation.
Take in the views with a ride in the Heavenly Gondola, which carries you for 2.4 miles over the lovely alpine forest and ends with stunning views from 10,000+ feet.
From the top, you can ski down, hang out at the observation deck, or snuggle up in a lodge with some drinks.
If you're visiting Lake Tahoe when the weather is warm enough, hit the water on a sunset champagne cruise or Venetian-style gondola ride, both sure to have you swooning over breathtaking vistas and colorful dusk skies.
Where To Stay In Lake Tahoe
Click here to check the best accommodation options in Lake Tahoe.
9. Laguna Beach
Surf, sun, and some of the best sandy shores in Orange County, let alone in the state, make Laguna Beach a no-brainer when it comes to romantic California getaways.
Waiting to be discovered along the 7-mile coastline are hidden coves, majestic canyons, wildlife-rich tide pools, and secluded swimming spots.
Settle into a day of sunbathing and exploring at the quiet, intimate Moss Cove (make sure to visit at low tide).
Feeling more adventurous? Head to Aliso Beach and try your hand at the tricky sport of skimboarding, which actually originated in Laguna Beach in the 1920s.
While the beaches are this area's main attraction, this hot spot in Southern California also features a lively arts scene!
More than 100 galleries and studios fill the streets, and the beach town hosts four annual arts festivals every summer.
Where To Stay In Laguna Beach
Click here to check the best accommodation options in Laguna Beach.
10. Joshua Tree National Park
Any true romantic has surely seen snaps of the pristine stretch of Southern California wilderness that is Joshua Tree, one of the best West Coast National Parks.
Windswept rock formations, enchanting night skies, rugged mountains, and desert flora and fauna make this area instantly distinct. It also shows why Joshua Tree is one of the most visited national parks in America.
To take it all in, book a stay at one of the area's unique properties, which range from decked-out Airstream campers to glamping tents to cozy ranch-style houses surrounded by nature.
Make sure your Joshua Tree National Park itinerary includes some hikes (we love the easy Arch Rock loop and the more challenging but super scenic 49 Palms Oasis trail), as well as a sunset at Keys View, where you'll be treated to panoramic views of the Salton Sea, San Andreas Fault, and Coachella Valley.
Oh, and Palm Springs' romantic resorts and luxury hotels with outdoor pools are only about one hour from Joshua Tree–the perfect day trip for couples!
Where To Stay In Joshua Tree
Click here to check the best accommodation options in Joshua Tree.
Read next: 63 National Parks by State
11. Carmel-by-the-Sea
This quaint coastal town in Monterey Peninsula, Northern California, is not only a romantic destination but also a fairytale come to life, complete with cozy cottages, a village-like center, and an idyllic coastline.
Stroll along the pristine, powdery sands of Carmel Beach, pick out thoughtful trinkets for each other on Ocean Avenue, and relax at Devendorf Park (after snagging a picnic lunch from the beloved Bruno's Market & Deli).
A visit to the 1771 Carmel Mission is a must for any romantic itinerary.
Here, you can get lost amidst historic architecture, soak up the courtyard sunshine, admire religious artifacts, and see California's first library.
It's a popular wedding venue, so love is definitely in the air!
Where To Stay In Carmel-by-the-Sea
Click here to check the best accommodation options in Carmel-by-the-Sea.
12. Santa Catalina Island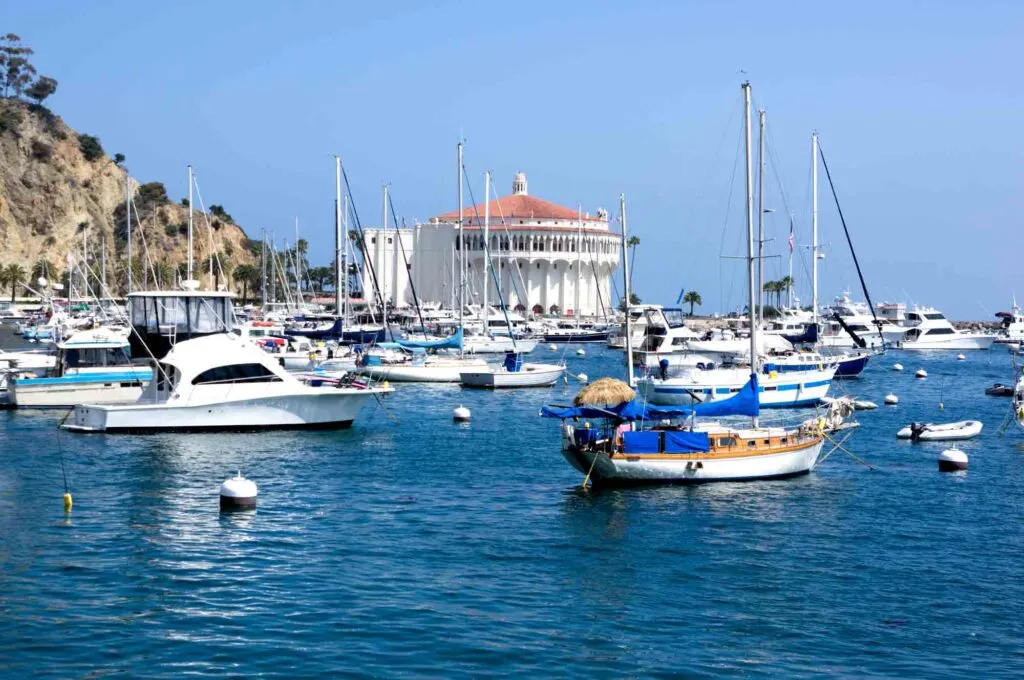 A true classic in the world of romantic getaways in California, Santa Catalina Island boasts rugged wilderness, excellent dive sites, and the slow pace of island life that is oh-so-conducive to romance.
Choose between the island's pair of towns: charming, historical Avalon or the more rustic, remote Two Harbors.
In the former, couples can wander the colorful downtown streets, explore the fascinating displays of the Catalina Art & History Museum, or enjoy a couples massage at Island Spa.
In the latter, nature is the main focus. Sprawl out side by side in chaise lounges at Harbor Sands or scuba dive in crystal-clear waters.
For those with a bigger budget, parasailing and helicopter tours are a fabulous way to see more of this beautiful island in Southern California.
Where To Stay In Santa Catalina Island
Click here to check the best accommodation options in Santa Catalina Island
13. Mendocino
With the slogan "Room to roam," Mendocino is a haven for adventurous couples.
Outdoor activities, wellness retreats, and opportunities to rekindle romance abound throughout this picturesque paradise.
In fact, the community's official website has a whole page dedicated to Mendocino "love shacks," from tree houses tucked away in redwood forests to a refurbished water tower/rustic eco spa.
If you manage to leave your one-of-a-kind accommodations, there's plenty more to see!
Catch a show at the Mendocino Theatre Company, learn about local history at the Ford House Museum, or take a hike through the dramatic landscapes of Russian Gulch State Park.
Where To Stay In Mendocino
Click here to check the best accommodation options in Mendocino
14. Malibu
Malibu is more than celebrity sightings and high price tags; It's also one of the best couple getaways in California for pairs who want to bring together outdoor activities + a bit more luxury.
To get your nature fix, head for the Santa Monica Mountains National Recreation Area, home to more than 500 miles of hiking trails.
Or pack a picnic and cozy up at tranquil Point Dume, a secluded cove at the southernmost point of Malibu.
If you prefer to sip as you stroll through this region's lush landscapes, book a tour with the uber-popular Malibu Wine Hikes.
They show you around the scenic Saddlerock Ranch, with plenty of tasting stops throughout.
Lastly, work out all the soreness and explore the city's more indulgent side with couples massages + coastal views at CURE Medical Club.
Where To Stay In Malibu
Click here to check the best accommodation options in Malibu
15. Yosemite National Park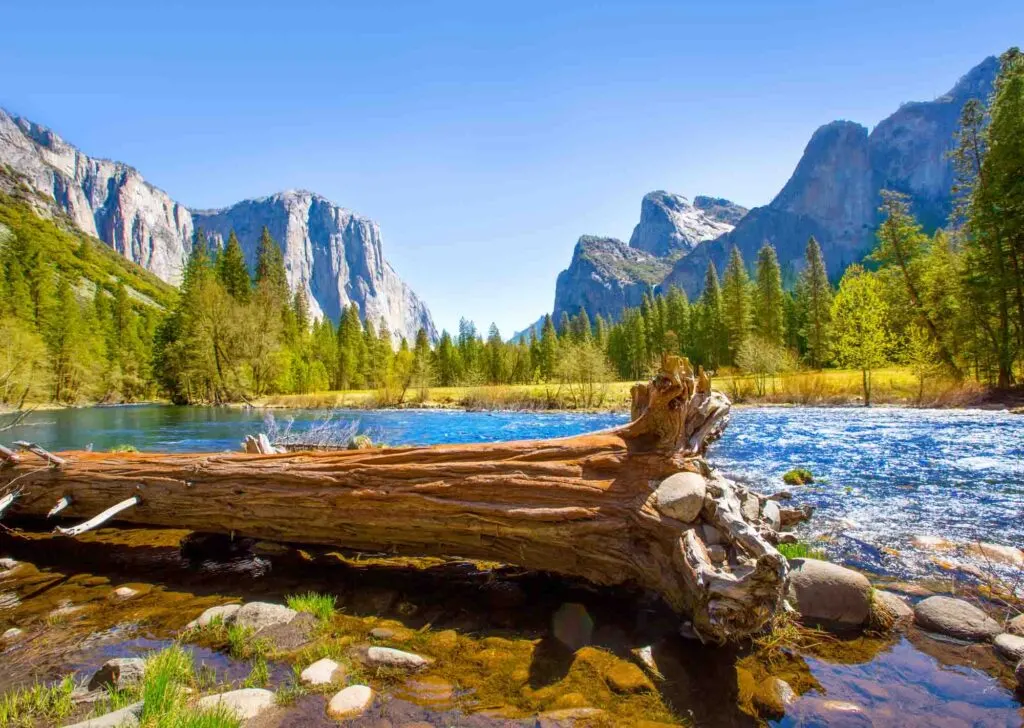 If you and your special someone love to hike or camp, then no romantic getaway in California can compete with the wonders of Yosemite, one of the most beloved natural areas in the entire country.
Towering waterfalls, granite cliffs, ancient sequoia trees, and snow-capped peaks set the stage for romance.
If you're visiting in mid to late February, don't miss the stunning "firefall" phenomenon, which happens when the 2,030-foot Horsetail Falls is backlit by the setting sun.
Although the resulting spectacle, which looks like flowing lava, lasts only 10 minutes, the memories will last a lifetime.
Up for splurging? Book a stay at The Ahwahnee, a legendary luxury lodge on the valley floor.
You can also visit just for a meal; The 34-foot-high beamed ceilings and giant windows of their dining room make it an incredible date night destination.
Where To Stay In Yosemite
Click here to check the best accommodation options in Yosemite
16. Eureka
Dozens of romantic getaways in California can be found in SoCal, but the northern part of the state deserves some love, too!
Eureka is full of natural beauty and rich history. Take a slow spin on the country's oldest passenger ferry and learn more about the wildlife of Humboldt Bay.
Immerse yourself in the magic of old-growth redwood forests in Sequoia Park. Stroll hand in hand through the elaborate Victorian architecture of Old Town.
For date night, look no further than Humboldt Bay Provisions, an all-local tasting room that dishes up only the freshest oysters, cheeses, meats, breads, and desserts, plus an extensive selection of local wines, beers, and ciders.
Where To Stay In Eureka
Click here to check the best accommodation options in Eureka
17. Sonoma
Sonoma is practically synonymous with wine, so a tasting or two should definitely be on your itinerary if you choose this romantic spot for your couple's retreat in California.
Found just 30 miles north of San Francisco, this area boasts many of the same attractions you'll find in the bigger city–art galleries, historical missions, and acclaimed wineries galore.
Send sparks flying with a stay in Raford Inn, a country bed and breakfast built in 1880, or something even more indulgent, like the Fairmont Sonoma Mission Inn, which features geothermal-fed mineral pools, farm-to-table dining, a championship golf course, daily hikes and fitness classes, and more.
Where To Stay In Sonoma
Click here to check the best accommodation options in Sonoma
18. Solvang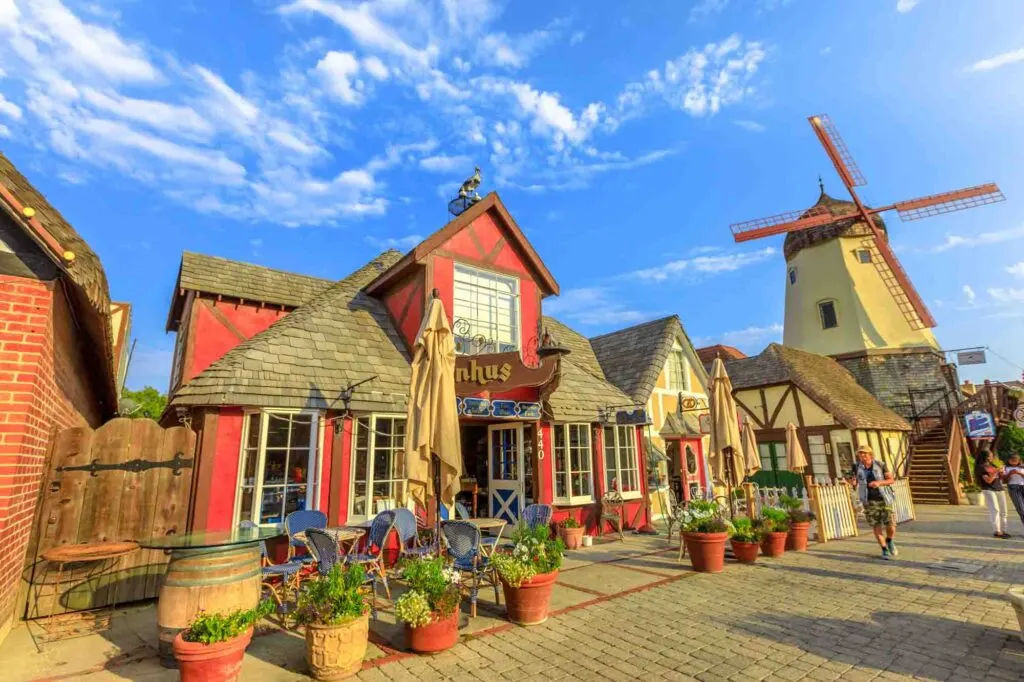 You're probably familiar with many of the romantic getaways in California on this list, but we're wrapping up with a tiny town that often flies under the radar.
Solvang can be found 2 hours from Los Angeles and just under an hour from Santa Barbara.
This romantic getaway on the Central Coast of California is known primarily for its Danish-style architecture and abundance of wineries, and it's the perfect place to settle into a slower pace of life and truly enjoy each other's company.
Cozy up at a romantic holiday home (we love the Solvang Alisal Vacation Cottages).
Then, spend your days wandering through a village full of European bakeries, quaint boutiques, and old-world architecture–including a handful of whimsical windmills and fountains.
Where To Stay In Solvang
Click here to check the best accommodation options in Solvang
Final Words on Romantic Getaways in California for Couples
We hope you enjoyed reading about these romantic weekend getaways in California, one of the most beautiful states in America. If you have suggestions on the perfect getaway in California, please share them below and help us inspire other couples!
18 Romantic Getaways in California
Santa Barbara
Big Sur
San Francisco
Napa Valley
San Diego
San Luis Obispo
Sacramento
Lake Tahoe
Laguna Beach
Joshua Tree National Park
Carmel-by-the-Sea
Santa Catalina Island
Mendocino
Malibu
Yosemite National Park
Eureka
Sonoma
Solvang