Looking for the best cabins in Arkansas for a weekend getaway or vacation? You're in the right place. Here are the coziest Arkansas cabins to enjoy with your loved ones!
When it comes to cozy rentals, there are cabins in Arkansas that could blow your mind with the rustic charm and serenity vibe they emit.
So whether you're looking for a romantic getaway for just the two of you or a family vacation with a well-spring of fun activities, there are many gorgeous rental cabins to choose from in Arkansas.
So if you're heading over there to enjoy the incredible wild nature or just to decompress and cultivate mindfulness, we can help you make your pick. We did the research for you and found the coziest cabins in Arkansas.
Every one of them is a beauty, with some unique features. Depending on what you're looking for, we're optimistic this detailed guide will help you choose the one you'll really enjoy.
Editors' Picks: The Best Cabins in Arkansas for Rent
1. The Cabin at Wildflower – A Place of Peace and Authenticity on the Little Red River
This authentic log cabin rental on the Little Red River might be perfect for anyone looking to get off the grid. This rental has 202 feet riverfront with its own private boat dock providing incredible views of the Libby bluffs.
A family that owns this place made it a complete package packed with activities like canoeing, kayaking, fishing, croquet, biking… Or just watching geese swim in the lake.
There is also a fire pit, bag go, horseshoe pit, hammock, rocking chairs, and a new Kenmore gas grill just outside the cabin.
If it happens to rain while you're at the cabin, you can still have fun in front of the fireplace with the free WIFI, Smart 55″ HDTV, Directv, DVD library, CD collection for Bose surround sound, a variety of books, and games.
A unique thing about this cabin is undoubtedly the selection of coffees for many coffee lovers out there. You can grind it yourself to enjoy that wonderful, fresh smell and taste after waking up.
This can sleep six people in the three bedrooms, all equipped with a hand-carved pine queen bed.
According to the reviews, this cabin will provide you with tranquility. The Cabin at Wildflower is just a few minutes drive from Ozark town of Heber Springs and can be whatever you want it to be – a romantic getaway, or a bachelorette venue, for example.
This cabin has excellent reviews, mainly for its spacious deck with the stunning view of the crystal-clear river.
But, if you're traveling with your feline friends, this cabin is not for you since the family owning it is highly allergic to cats. So, it's forbidden to bring them in.
But, you can bring a maximum of two dogs, paying a $100 fee per dog.
2. Riverside Retreat Cabin – A Romantic Getaway on a Bluff Right on the Mountain Fork River
Once you reach the top of this cabin's driveway, you will be amazed by the stunning view of Rich Mountain. But, at the bottom of it, you will be able to enjoy a beautiful section of the Mountain Fork River.
This is one of the unique cabins in Arkansas since it sits on a bluff right on the Mountain Fork River, with direct access to it.
If you're planning to visit with your significant other, this seems like a perfect romantic getaway.
The cabin, which can sleep four, is surrounded by nature. You would probably enjoy a two-person jacuzzi jetted tub and a two-sided fireplace.
With access to the river, you can canoe, fish, paddleboard, or just enjoy the beautiful rock formations right out the back doors.
Some might say the lack of WiFi is a downside. However, people that spent some time in this cozy cabin say its best features are the beautiful scenery and serenity it offers.
Watching wildlife from the porch while sipping tea is something many remember fondly.
3. Intimate Historic Log Cabin for the Most Intimate Ones – Right on Beautiful Lake Catherine
If you're a sucker for a spectacular view and large decks, this cabin in the Hot Springs and the Diamond Lakes area might be just the place for you.
This historic log cabin built in the 1920s makes one the most charming cabins in Arkansas, with the original stone fireplace being its most captivating feature.
However, this cabin is pretty intimate. It has an open floor plan, so if you're not that close with the person you're traveling with, privacy might be an issue.
On the other hand, this would be a lovely choice for couples looking for a romantic getaway overlooking Lake Catherine.
The downside is you cannot bring your pets or have any events at the property. But the upside is that it's a perfect base for exploring nature and relaxing afterward.
This peaceful setting in the woods and the surrounding water is what people loved most in the cabin.
However, some people said they were chilly since there was no heating other than a small heater they found in the cabin. The cabin has air conditioning though for warm summer days.
If you're looking for nearby things to do, Lake Catherine State Park, Hot Springs National Park (one of the best national parks in Arkansas), and Magic Springs (amusement and water park) are just a couple of miles away in opposite directions.
This vacation home certainly has one of the best locations when it comes to cabins in Arkansas.
Located within 10 minutes from downtown Mountain View, this luxury rental is also mere yards away from the White River.
It's ideal for large families or groups, with four bedrooms and three baths, as well as a full-size wood-burning fireplace to enjoy.
If you're into hiking, this might be just the place for you. You can explore the Ozark National Forest, rent a boat and fish, or swim in one of the many swimming holes in Blanchard Caverns.
The Bannock Lodge offers the best from both worlds; it's a totally secluded cabin, with only three houses in the proximity, but also located within minutes from all local attractions.
The definite pro is the 900 square feet of decks, a loft game table, and the fire pit by the river.
In fact, people say the latter is worth the whole trip. However, you should be aware that you might be off the grid since the cell signal is relatively poor. However, that might be a benefit for some. But, to each its own, right?
This one-bedroom, one-bath cabin in Arkansas is brilliant when it comes to the beautiful mountain view. You might like that this property is off the beaten path.
The cabin sits atop a bluff overlooking the cove, just a few minutes' drive to public boat ramps.
Lake Place Cottage is cozy, with remodeled cottage serving as a warm base for enjoying an activities-packed weekend.
However, if you're looking to relax more than anything, you'll be glad to know that Lake Hamilton Cottage has a top-notch Casper mattress with high-density memory foam.
The cabin is perfect for couples or small families. That said, you should be aware there is a long stairway down to the dock, which may not be that ideal for the elderly or frail. Also, there are no pets allowed.
Reviews show people love staying in the Lake Place Cottage, mainly for the stunning views and the deck to sit on and watch the ducks fly in.
Designed and built by owners, you can really see the family's fingerprints in this Arkansas cabin rental.
The custom-made doors and cathedral-like windows are a unique feature, with the wrap-around deck and Jacuzzi tub making it a nice place to rejuvenate.
If you opt to sleep in the loft part of this amazing property, you will enjoy an incredible view. The cottage can sleep four to eight people.
This one is pretty charming because each room is unique. But, all rooms provide a beautiful sunrise view through the cathedral windows.
If you're into spectacular views and solitude, you might enjoy the wrap-around deck.
Those needing some TV fun might be a bit disappointed, though, since there is no cable at the cabin. But, there is WiFi, and you can take your two dogs with you.
For some, prohibited smoking both in the cabin and on deck might be the downside.
However, people in the reviews didn't have a problem with that. But, they did with some nasty cobwebs that surprised them in those large windows. So, if you're an arachnophobe, maybe you should look elsewhere to relax.
7. The House on the Rock – Selfie Heaven for Families and Friends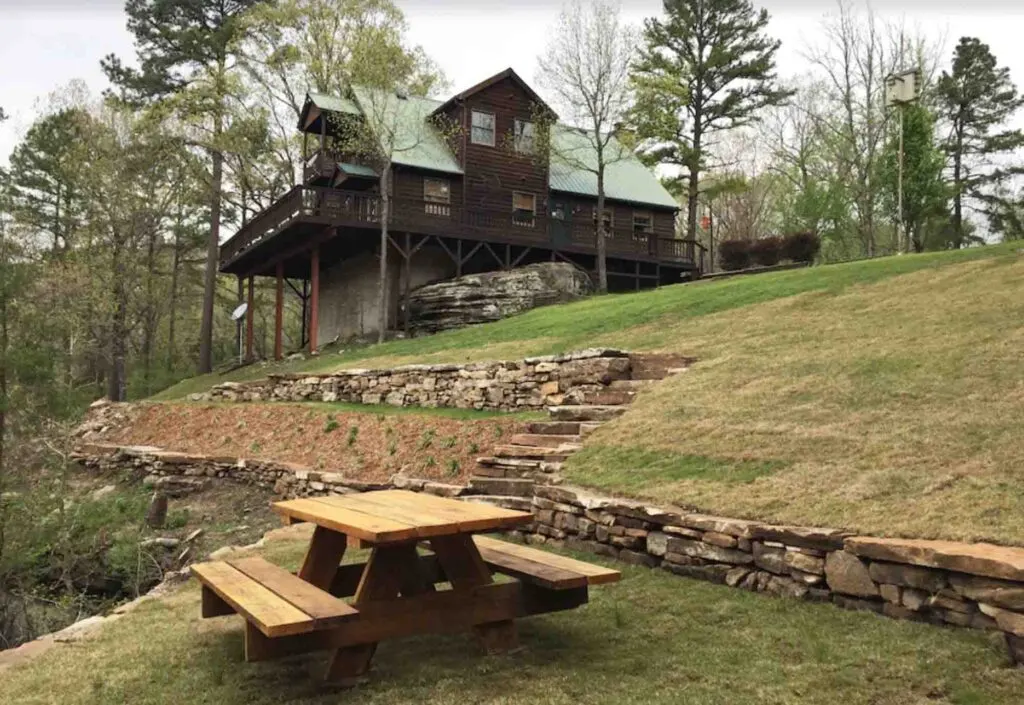 The perfect view seekers will love this typical but still unique Arkansas cabin in Ozark National Forest.
The House On The Rock has an elevated screened-in porch which provides a fantastic view of the Rock Bluff and Cave. Fun fact, it also has two doggy doors for your furry family members.
Right across the cabin are the White River views and City Rock Bluff, one of the most Instagramable sites in all of Arkansas.
The cabin is secluded but sits next to a really high cliff—a two-minute walk from there, and you at yet another bluff over the White River.
One of the definite pros of this rental is the quality of the faucet water. People that have spent some days there say it's as good as bottled water.
The cabin is roomy, has a fireplace and a stereo located over the fireplace. You can connect your smartphone to it via Bluetooth.
This Arkansas cabin located in a wooded area on the Little Red River really is something else.
If you're looking for a charming, romantic getaway, this might be the place. This incredible cabin is nestled in a canopy of trees on a world-class trout stream.
However, the unique feature of this rental is the work of art fireplace.
The cabin can sleep up to six people, up to two couples, or one family. However, if you're okay with someone using the sofa and sleeping porch, or one of the blow-up mattresses, this place could accommodate six.
Although it looks romantic, it also seems like a solid place for some solo healing or recreation.
As with most Arkansas cabins, this one also features two large decks overlooking the river.
You'll find a daybed on the porch, which is definitely a nice touch. Once you get out, you can follow a rock walkway to your private and fishing deck.
The cabin serves as an excellent home base to explore the River Valley, but close to the Ozarks. The store is literally two minutes away, and the art galleries are 15 minutes away.
All in all, this cabin seems like a solid choice, considering the number of people stating they plan to come back.
However, there is a downside. The cabin is located in a dry county, with the closes liquor store being 38 miles away.
9. Sunset Cabin – For Fabulous Mountain Views and Sunsets Lovers
One of the cool things which everyone who stayed in this lovely Arkansas cabin liked is a self-check-in system.
This rental is the only one on the Cornerstone Mountain Retreat Property, and it provides lots of open space and a beautiful private lake where you can swim, fish, and kayak.
This cabin can sleep six to eight people, in three bedrooms and with two full bathrooms.
Feel free to bring your pets if you pay an extra $25 per animal buddy. The cabin is a three-story house with multiple decks, a fire pit, a grill, a large hot tub.
The property is secluded yet easily approachable since it's only a half-mile from the highway.
All in all, this Mountainview rental has excellent reviews. However, some say they expected a more quiet setting since they could hear the traffic.
If you're coming in a bigger crowd, this rustic rental on the banks of White River might be an excellent pick.
The luxury cabin can sleep 12 people and has a unique feature we did not find in other Arkansas cabins – a Pack and Play crib located in the master closet.
There are Keurig and gas and charcoal grills and two fire pits; one smaller on the lower deck and a large fire pit and terrace on the river bank. You can also enjoy a full-size gas log fireplace.
Water and mountain views are nothing short of amazing, but you can also enjoy many local attractions close to the property.
Although it can accommodate up to 12 people, people reviewing it say it's a nice spouse getaway or group of friends destination.
However, if you plan to have some louder fun, keep in mind that the neighborhood is usually tranquil.
That might be a downside for some since no pets or music noise after 10 pm is allowed. You might hear some owls, though, which most don't mind.
This is one of the unique cabins in Arkansas, mainly because it's actually a treehouse surrounded by mature forest and four lakes.
There is even a jungle garden with canals and an African Queen-type riverboat.
The property is filled with souvenirs the owners brought back from their many travels. They even made a replica of a Buddhist Lost Temple according to the one they saw in Cambodia.
The treehouse can sleep five and is accessible by staircase and a luggage and supply lift. The cabin has everything you might need, including a Sonos Sound System.
It is surrounded by three porches overlooking the jungle gardens. Think of a maze of bamboo, tropical fauna, and over 100 palm trees.
The lake is full of native fish, so if you like fishing, this might be your place. For those who love sunbathing, there is a lovely sandy beach.
There is also a Native American village close by and five-mile wooded nature trails for those who love nature walks.
People who spent some time in Toucan Treehouse are mostly impressed by the magnificent scenery made for exploring.
For families who want to explore the Hot Springs area, this cabin might be just the place.
The cottage offers kayaking, paddle boarding, and swimming in the lake. It's located in a quiet street but still close to stores, restaurants, and tourist hot spots. You can also golf or have a spa day.
The deck extends over the lake, making fishing very convenient. However, you must purchase a non-resident fishing license and bring your fishing poles and supplies. But no worries, you can get all that in a local Walmart.
That said, you should know that the lake level gets lower in early November and back to normal in early March.
As for the cabin, there is a downside to it. It's a studio style, meaning it has an open concept floor plan.
So, if you need some privacy, this is not the place. In fact, there are three additional cabins on the property, so if you're searching for complete seclusion, you won't find it here.
That said, people who have stayed there loved the extended deck and the location 10-15 drive to historic downtown.
This little cabin is ideal for enjoying the great outdoors. The man who runs this lake view rental is full of exciting stories, say those who spent some time in Eureka Springs.
Since the cottage is relatively tiny, it can accommodate three couples maximum. However, it's affordable for single couples also.
It has a deck overlooking the pristine Beaver Lake and a hot tub, which you have to pay a one-time fee of $50 to use while you're staying there.
A boat launch ramp is just down the hill, and a dam site park is a few minutes away. You can zip line there or check out a wild animal shelter with lions, tigers, and bears.
People in the reviews say they enjoyed the hot tub very much, but mostly, the owner's company.
The only downside with this property is that you have to drive for twenty minutes to reach Eureka Springs.
This charming cabin overlooking the lake is a 1940's property created as a peaceful retreat for honeymooners or families looking to unwind.
The cabin can sleep eight people maximum. You would enjoy the porch swing on the extended deck, as well as a nicely positioned hot tub overlooking the lake.
If you're looking to relax, you might enjoy this place since the neighborhood is peaceful and quiet.
As far as the reviews go, this Arkansas cabin has excellent. In fact, some people say pictures don't do this cottage justice.
This low-key retreat provides a fantastic mountain view and peace of mind, say those who stayed there. The cabin can sleep four people and has a $100 percent native cedar and cypress interior.
If you're the adventurous type, you might be pretty content exploring this part of the land.
After all, the cabin is less than five miles from the Syllamo Mtn Bike trails, Blanchard Springs Caverns & Loco Ropes. Likewise, Mountain View is five minutes away.
For a family of four, this place is fantastic. The rental has primarily excellent reviews.
People who stayed there were mainly happy with the view, gorgeous natural beauty, and many different activities available in the area.
Did you enjoy reading about these fantastic cabins in Arkansas? Then share it with a dear friend who might enjoy it too!
Latest posts by Victoria Green
(see all)