With picturesque alpine towns, mysterious Georgia Guidestones, and spectacular countryside, there are so many great day trips from Atlanta to choose from!
There are so many hidden little gems close to Atlanta, ranging from the historic Chattanooga and the family-friendly LaGrange to the thrilling white-water rafting mecca of Columbus.
If, after spending a weekend in Atlanta, you want to see some of these incredible places near the city, here are some of the best day trips from Atlanta, and the region's best-kept secrets, including drive times – read on!
16 Best Day Trips from Atlanta, Georgia
Chattanooga: 2 Hours Drive From Atlanta
Winner of the Outdoor magazine's "Best Town Ever" award, Chattanooga offers visitors a plethora of fun outdoor, historical, and cultural activities and is one of the best day trips from Atlanta!
History buffs will enjoy exploring the historic downtown area's Civil War-era monuments, including guided tours of the Chickamauga Civil War Battlefield, 6th Cavalry Museum, including the Cravens House, interspersed with a Riverwalk and lush parks.
However, if you are looking for more of a thrill, try your hand at white-water rafting on the tumultuous Tennessee River, explore the miles of trails, or hand-glide to get a birds-eye view of the scenic landscape.
Then head on over to the Incline Railway that meanders along the steep slope towards the panoramic Lookout Mountain, and towards the Ruby Falls, and onwards to Rock City.
The spectacular 145 ft high, 30-million-year-old Ruby Falls resides hidden underground, and it is one of Georgia's most breathtaking attractions.
Enjoy panoramic views from Rock City's ledge, which is Chattanooga's most iconic landmark, as you can view seven states from there. Then brace yourself to cross the swing bridge, which is 200 ft long – but makes up for all the nervous jitters with spectacular views.
Lake Lanier: 1 Hour Drive From Atlanta
Manmade Lake Lanier was originally built in 1956 to contain the Chattahoochee River's flooding as a reservoir and to provide water for Atlanta city.
Today it's an outdoor lovers' paradise where you can experience the thrill of a jet ski, swim in the lake, jump on a boat, zip-line through the trees, or strap on your hiking boots to explore breathtaking Sawnee Mountain or other incredible trails in the local parks.
If you are feeling more laidback, grab your fishing rod and spend a lazy afternoon soaking up the sun; who knows, you might catch dinner!
Alternatively, head over to LanierWorld with your kids to whirl around on their water slides or attempt a hole-in-one on their mini-golf course.
Macon: 1 Hour Drive From Atlanta
Home to the pink-hued springtime Cherry Blossom Festival, Macon's charming downtown area, is a foodie's paradise with incredible restaurants, which are even more special during the holidays when they are festively adorned with twinkling lights!
Other must-see attractions, especially for avid kayakers, include the picturesque Amerson River Park, including the popular Ocmulgee National Monument.
Alternatively, strap on your hiking boots, grab your mountain bike and explore the magnificent Ocmulgee Heritage Trail or pack a picnic basket and relax at idyllic Lake Tobesofkee.
And don't miss the annual Bragg Jam 2-day music festival in July, which is simply incredible! Then head over to The Allman Brothers Band Museum, situated at the fascinating Big House.
LaGrange: 1 Hour From Atlanta
LaGrange is a family-friendly destination that will keep your kids well entertained and is one of the best day trips from Atlanta!
Great Wolf Lodge is jam-packed with family-friendly activities and entertainment like an indoor water park, cartoon characters, camp-fire story areas, and so much more!
The lodge is also perfect for a family weekend getaway from Atlanta as they offer accommodation ranging from budget-friendly to premier suites.
Other great LaGrange attractions include Azalea Storytelling Festival, Biblical History Center, and Hills Dales Estate, interspersed with incredible restaurants.
Then head over to the Wild Animal Safari Park, situated on the outskirts of LaGrange, where your kids will be enthralled with giraffes and other incredible wildlife species – just be warned, they won't stop talking; about it for weeks!
Columbus: 1.5 Hour Drive From Atlanta
Voted as the world's greatest location for white-water rafting adventures by USA Today, Columbus is a prime destination for outdoor enthusiasts and a great Atlanta day trip!
Alternatively, zip-line from Georgia all the way to Alabama across the Chattahoochee River or explore the stunning 22-mile Columbus RiverWalk trail, which meanders alongside the picturesque river with numerous restaurants, shops, parks, and stunning views dotted along the way.
Then head over to the Sculpture Walk on Broadway, which showcases incredible works of art and sculptures that are added each year, and visit some of Columbus' finest museums like the National Civil War Naval Museum situated at Port Columbus.
Stone Mountain Park: 30 Minutes' Drive From Atlanta
The majestic Stone Mountain Park is home to Georgia's most popular attraction and a fantastic place near Atlanta, so you won't have to drive for hours on end (with moaning kids asking when will we get there) to have a fun family day out.
The park's greatest attraction is the world's largest granite structure that depicts the faces of the South's leading figures like Jefferson Davis, Robert E. Lee, including Stonewall Jackson.
There are several informative historical displays and a fun amusement park with a great variety of exciting rides, including a great four-story barn and rope course, great camping facilities, and hotels nearby if you want to extend your stay.
Athens: 1 Hour 20 Minutes' Drive From Atlanta
Home to the University of Georgia, Athens is a walkable college town with a great indie music community and numerous elegant Southern-style 18th-century architecture, and amazing museums. So, it's a great day trip from Atlanta!
The vibe downtown area is an art lovers' haven with several art galleries and performing arts centers in the city's pulsing heart.
Head on over to the 313-acre State Botanical Garden of Georgia to explore the University of Georgia's beautiful gardens, or take your kids to the enchanting Bear Hollow Zoo.
Alternatively, join an exciting scavenger hunt by downloading the "Let's Roam" app-led tour and discovering Athen's historical landmarks and its rich history.
You can even compete with your kids to see who wins the trivia quizzes and other challenges along the way.
However, if you are more into sports, head over to Sanford Stadium for a nail-biting Bulldogs football game.
Georgia Guidestones: A 2-Hour Drive From Atlanta
Note: Unfortunately, the America's Stonehenge has been demolished after a blast.
Commonly known as America's Stonehenge, the Georgia Guidestones is a fascinating collection of massive granite situated on a breathtaking hill in Elbert County, Georgia.
The Guidestones are comprised of five towering columns that support a 19 feet tall capstone in the center, and all of them contain ten commandments or guidelines to living a good life in four ancient and eight modern languages.
It's a fascinating and eerie attraction that is cloaked in mystery as no one knows who commissioned this fascinating landmark, so it's well worth a visit!
Birmingham: 2 Hours 10 Minutes' Drive From Atlanta
Birmingham, founded in 1871, is one of Alabama state's most populated cities; it was once a leading steel manufacturing hub as it contained significant quantities of iron, limestone, and coal in its heydays.
It has since transformed into the state's cultural mecca with numerous popular annual festivals and theatres, including the Birmingham Museum of Art, the largest art museum in the region.
Home to numerous colleges and universities, Birmingham has a youthful buzz about it and several great attractions like the incredible Barber Vintage Motorsports Museum, which features 750 modern, and vintage motorcycles, or the educational McWane Science Center.
Dahlonega: 1 Hour 30 Minutes' Drive From Atlanta
History buffs, look no further! The historic town of Dahlonega is situated in the spectacular Blue Ridge Mountains in North Georgia and was established during the beginning of the Gold Rush, and you can still look for gold there today and learn about the town's fascinating past.
The quaint little town is also situated in the heart of Georgia's wine region, with 12 cozy wine tasting facilities and five vineyards.
Listed on the Historic Register, Dahlonega's quirky downtown area features several great museums and guided tours, and there are several amazing festivals to celebrate the town's rich history throughout the year, surrounded by the beautiful countryside.
Mableton: 20 Minutes' Drive From Atlanta
Charming Mableton, with only 20,000 residents, is a stone's through away from Atlanta and well worth a visit!
One of the towns leading attractions is the elegant and historic Mable House, home to a performing arts company, and there are numerous beautiful parks where you can soak up the Georgia sun and enjoy a laid-back picnic.
Mableton is also a foodie haven, with several traditional southern-style eateries and restaurants serving delicious contemporary meals.
Avid hikers will love exploring the Silver Comet Trail that follows the old railway line to the Georgia-Alabama border, with beautiful views along the way!
Alpine Helen: 1 Hour 30 Minutes' Drive From Atlanta
Alpine Helen is often described as a one-of-a-kind charming Bavarian town in the heart of the spectacular Blue Ridge Mountains.
So, if you need some fresh air in the great outdoors, head on over to Alpine Helen as its prime hiking and kayaking region, where you can roam through corn mazes and even pan for gold.
Then head on over for lunch at one of the town's cozy restaurants, where you can choose between casual or fine dining eateries that serve authentic German cuisine, including great kiddie meals.
Helen is a gorgeous mountain town that you can't easily visit on a day trip from Atlanta!
Callaway Gardens: 1 Hour 20 Minutes' Drive From Atlanta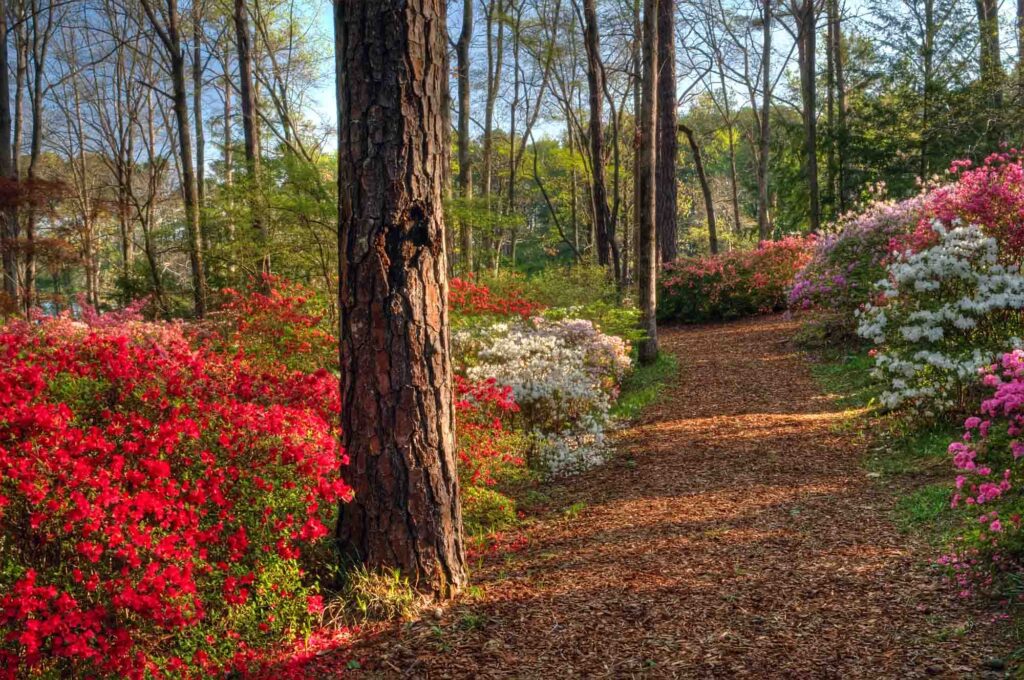 The sublime Callaway Gardens is a great family-friendly outing that caters to everyone with a wide range of outdoor activities.
There are several beautiful lakes dotted around the garden where you can try your luck at fishing, water sports, or boating, including numerous gorgeous beaches to soak up the sun.
While there are also several great shops and restaurants, the garden's main attraction is its stunning natural displays, holly, azalea, and hydrangea gardens, including a fascinating old pioneer log cabin.
The garden's crowning glory is the spectacular Cecil B. Day Butterfly Center, home to over 1,000 butterflies representing 50 species. So, if your little girl is obsessed with butterflies, it is a must-visit destination!
Hillcrest Orchards: 1 Hour 30 Minutes' Drive From Atlanta
Although the Hillcrest Orchards, situated in Ellijay, are only open to visitors for part of the year, it is a great family outing, especially for a fall vacation.
So, pack some snacks, and take some bags as your kids will love picking their own apples, and they can take as much as they want during any apple-picking weekend.
Then head over to the bakery for some indulgent apple-enthused treats and watch your kid's little faces glow when they feed the animals at the charming petting zoo or enjoy some fun rides, play in mazes, or watch entertaining pigs racing each other.
Pop into the Country Café for a delicious lunch, and stock up on fresh veggies at the Farm Market on your way back home.
Blue Ridge, Georgia: 1 Hour 30 Minutes' Drive From Atlanta
Blue Ridge, nestled amidst Georgia's stunning mountains, is one of the region's best-kept secrets, with numerous fun activities on offer.
The beautiful town offers horseback riding, zip-lining, and spectacular hiking trails, including the enchanting Blue Ridge Scenic Railway with breathtaking views along the way.
Then stop over at Mercier Orchards to pick your own apples, enjoy a delicious bite at the deli, and sample the region's finest wines at their beautiful tasting room.
Barnsley Resort and Spa: 1 Hour Drive From Atlanta
If, after days of sightseeing, you need a little pampering or some family-friendly entertainment with your fur baby, head on to the Barnsley Resort, considered the greatest pet–friendly resort in the Southeast and is a great day trip from Atlanta!
Set in the elegant Grand Southern Estate, there's a wide array of activities to choose from, like bicycle rides along the pristine lake, canoeing, playing disc golf, horseback riding, or testing your shooting aim at the sporting club.
Then take kids for a splash in the pool, explore the charming barnyard, or have a well-deserved relaxing massage in the spa.
More Atlanta Day Trips Worth Checking Out:
Toccoa Falls, Georgia
Providence Canyon State Park, Georgia
Asheville, North Carolina
Amicalola Falls State Park, Georgia – home to the tallest waterfall east of Mississippi. Here, you can also hike to Springer Mountain, the southern endpoint of the Appalachian Trail.
Greenville, South Carolina – home to the incredible Falls Park
Nashville, Tennessee – the Music City
Summerville – Paradise Garden is ideal for those traveling with kids!
Black Rock Mountain State Park, Georgia
Cloudland Canyon State Park