These are the all-time best quotes about New York City.
Most tourists from all over the world usually name the Big Apple among their top 5 America bucket list, which is completely understandable.
NYC is not only a great summer destination in the US but also a pretty delightful winter vacation spot too. Either way, New York should be on everyone's USA bucket list.
The city inspires dreams and hopes in its residents and visitors, after all. It's impossible not to feel its energy.
For that reason, why we gathered the best New York quotes, New York Instagram captions, and even some lyric/movie quotes about New York–to inspire you even more.
From funny to romantic to clever, we're sure you'll find an inspiring quote about NYC on this list.
Looking for some New York captions? Read on!
Inspirational Quotes About New York
These are our favorite New York quotes in no particular order.
"I love New York." – Hillary Clinton
"Each neighborhood has its own beauty & idiosyncrasies that spark creativity."
"New York is not a city. It's a world." – Iman
"New York to me means the world." – Donna Karan
"You're going to make it happen. This is New York."
"Somewhere between living and dreaming, there's New York."
"Pull up the shades so I can see New York. I don't want to go home in the dark." – O. Henry
"I regret profoundly that I was not an American and not born in Greenwich Village. It might be dying, and there might be a lot of dirt in the air you breathe, but this is where it's happening." – John Lennon
"There is more sophistication and less sense in New York than anywhere else on the globe." – Elbert Hubbard
"When you leave New York you ain't going anywhere." – Jimmy Breslin
Quotes About New York City
Here are the greatest New York and Manhattan quotes:
"As for New York City, it is a place apart. There is not its match in any other country in the world." – Pearl S. Buck
"This isn't a fairytale. It's New York City." – Alex Flinn
"You haven't lived until you died in New York City." – Alexander Woollcott
"New York City is where your wildest dreams come true."
"I love New York City…you're never alone but you're always on your own." – Blair Waldorf, Gossip Girl
"The diversity, the food, the culture, the constant change–New York City is truly one of the most inspiring places on the planet." – XXMK
"When you leave New York, you are astonished at how clean the rest of the world is. Clean is not enough." – Fran Lebowitz
"I knew I couldn't live in America and I wasn't ready to move to Europe so I moved to an island off the coast of America – New York City." – Spalding Gray
"If a man can live in Manhattan, he can live anywhere." – Arthur C. Clarke
"It is a fact of big cities that one girl's darkest how is always another's moment of shining triumph, and New York is the biggest and cruelest city of them all." – Anna Godbersen
"Cities have sexes: London is a man, Paris a woman, and New York a well-adjusted transsexual." – Angela Carter
Famous New York Quotes
These quotes about New York are either pretty famous or were said by someone famous.
"New York has romanced me unlike anything else." – Blake Lively
"I love New York. You can pop out of the Underworld in Central Park, hail a taxi, head down Fifth Avenue with a giant hellhound loping behind you, and nobody even looks at you funny."- Rick Riordan
"I love New York, even though it isn't mine, the way something has to be, a tree or a street or a house, something, anyway, that belongs to me because I belong to it." – Truman Capote
"If London is a watercolor, New York is an oil painting." – Peter Shaffer
"Practically everybody in New York has half a mind to write a book–and does." – Groucho Marx
"It is ridiculous to set a detective story in New York City. New York City is itself a detective story." – Agatha Christie
Interesting New York City Quotes
Here are the most interesting quotes about NYC:
"There's an inherent energy in New York City that it's famous for. It makes you want to get up and do a million things all day and stay up all night."
"I'm having an affair with New York."
"One belongs to New York instantly, one belongs to its as much as five minutes as in five years." – Tom Wolfe
"My life didn't begin until I got to New York."
"London is satisfied, Paris is resigned, but New York is always hopeful. Always it believes that something good is about to come off, and it must hurry to meet it." – Dorothy Parker
"But there is one thing about it – once you have lived in New York and it has become your home, no place else is good enough." – John Steinbeck
"There is a time of year in New York when, even before the first leaf falls, you feel the seasons click."
"There is nothing prettier than a city at 5 AM with its empty streets and cold wind."
"People never forget two things: their first love and their first day in New York City."
"More than anything else New York is a city of superlatives, a place where the best, the brightest, the biggest is the norm." – Marilyn J. Appleberg
New Yorkers Quotes
"Yet, as only New Yorkers know, if you can get through the twilight, you'll live through the night." – Dorothy Parker
"New Yorkers are born all over the country, and then they come to New York City and it hits them: oh, that's who I am."
"You can do what you like, sir, but I'll tell you this. New York is the true capital of America. Every New Yorker knows it, and by God, we always shall." – Edward Rutherfurd
"Bike like a New Yorker."
"The true New Yorker secretly believes that people living anywhere else have to be, in some sense, kidding." – John Updike
"If you want to become a real New Yorker, there's only one rule: You have to believe New York is, has been, and always will be the greatest city on earth. The center of the universe." – Ellen R. Shapiro
"The flag of New York City should be someone with four bags opening a door with their shoulder." – Alex Baze
Great NYC Quotes
"When I'm in New York, I just want to walk down the street and feel this thing, like I'm in a movie." – Ryan Adams
"There is something in the New York air that makes sleep useless." – Simone de Beauvoir
"Things always change and New York teaches you that." – Richard Hell
"A hundred times I have thought: New York is a catastrophe, and fifty times: it's a beautiful catastrophe." – Le Corbusier
"I look out the window and I see the lights and the skyline and the people on the street rushing around looking for action, love, and the world's greatest chocolate chip cookie, and my heart does a little dance." – Nora Ephron
"Either you love New York or you are wrong."
"If you're greedy for life, that's what New York is all about. If you're trying to get as much as you can every day, this city is the place to be." – Pam Nelson
"One can't paint New York as it is, but rather as it is felt." – Georgia O'Keefe
"I don't like Los Angeles. The people are awful and terribly shallow, and everybody wants to be famous but nobody wants to play the game. I'm from New York. I will kill to get what I need." – Lady Gaga
"I get out of the taxi and it's probably the only city which in reality looks better than on the postcards, New York." – Milos Forman
Clever New York Quotes
"I would give the greatest sunset in the world for one sight of New York's skyline. Particularly when one can't see the details. Just the shapes.
The shapes and the thought that made them. The sky over New York and the will of man made visible. What other religion do we need?
And then people tell me about pilgrimages to some dank pesthole in a jungle where they go to do homage to a crumbling temple, to a leering stone monster with a pot belly, created by some leprous savage.
Is it beauty and genius they want to see? Do they seek a sense of the sublime?
Let them come to New York, stand on the shore of the Hudson, look and kneel. When I see the city from my window – no, I don't feel how small I am – but I feel that if a war came to threaten this, I would throw myself into space, over the city, and protect these buildings with my body." – Ayn Rand, The Fountainhead
"People go to LA to "find themselves", they come to New York to become someone new." – Lindsey Kelk
"There is no question that there is an unseen world. The problem is, how far is it from midtown and how late is it open?" – Woody Allen
"When it's 100 degrees in New York, it's 72 in Los Angeles. When it's 30 degrees in New York, in Los Angeles it's still 72. However, there are 6 million interesting people in New York, and only 72 in Los Angeles." – Neil Simon
"New York is a different country. Maybe it ought to have a separate government. Everybody thinks differently, they just don't know what the hell the rest of the United States is." – Henry Ford
"New York City is the most fatally fascinating thing in America. She sits like a great witch at the gate of the country, showing her alluring white face and hiding her crooked hands and feet under the folds of her wide garments–constantly enticing thousands from far within, and tempting those who come from across the seas to go no farther.
And all these become the victims of her caprice. Some she at once crushes beneath her cruel feet; others she condemns to a fate like that of galley slaves; a few she favors and fondles, riding them high on the bubbles of fortune; then with a sudden breath she blows the bubbles out and laughs mockingly as she watches them fall." – James Weldon Johnson
"If a newspaper prints a sex crime, it's smut, but when The New York Times prints it, it's a sociological study." – Adolph S. Ochs
"In Boston, they ask, how much does he know? In New York, how much is he worth? In Philadelphia, who were his parents?" – Mark Twain
New York Instagram Captions
Here you will find our best New York Instagram captions not only for IG but also for other social accounts you might have.
"New York state of mind."
"NYC is always a good idea."
"New York: concrete jungle where dreams are made of."
"New York is a 24-hour city. It never stops."
"Keep calm and go to New York."
"New York is the city that other cities can only dream of being."
"I want to wake up in a city that never sleeps."
"Dear New York, I'll never get over you."
"New York. City of dreams."
"Take me to New York."
"You cannot stop New York City."
"Hello, New York. You're looking gorgeous today."
"A bad day in New York City is still better than a good day anywhere else."
"I think I was made to live in New York."
"New York, here we come!"
New York Captions
"Follow your heart, even if it takes you all the way to New York."
"Meanwhile, in New York…"
"The sky is the limit."
"New York is always in my mind."
"The people who say Las Vegas never sleeps must never have visited New York."
"Oh, New York."
"New York, I love you."
"Something's always happening here. If you're bored in New York, it's your own fault."
"Take me to New York City."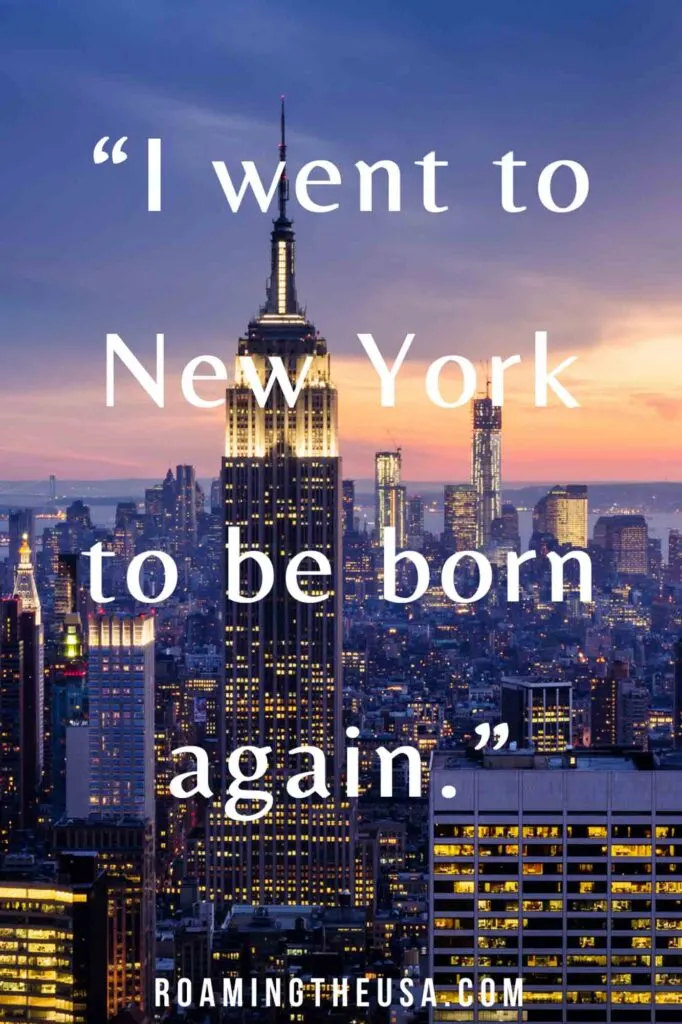 "I went to New York to be born again."
"These lights will inspire you."
"I fell in love, his name is New York."
"New York. it puts a spell on you."
"New York is not a place. It's a feeling."
"These streets will make you feel brand new."
New York Puns
These New York puns are some of the funny Instagram captions we use in our social accounts.
"The views from the Empire States couldn't be any NYCer."
"What a brew-tiful day!
"In winter, NYC is the city of tights."
"Winter in NYC is snow joke."
"In New York, the vegan puns are so corny."
Funny New York Quotes
Why so serious? Let's talk about some funny New York quotes, for a change.
"New York is the only city in the world where you can get deliberately run down on the sidewalk by a pedestrian." – Russell Baker
"Someone asked me for directions, so you can call me a real New Yorker."
"Of course, in Los Angeles, everything is based on driving, even the killings. In New York, most people don't have cars, so if you want to kill a person, you have to take the subway to their house.
And sometimes on the way, the train is delayed and you get impatient, so you have to kill someone on the subway. That's why there are so many subway murders; no one has a car." – George Carlin
"Someone tell Gossip Girl I'm here right now."
Quotes About New York From People Who Dislike the City
"New York is appalling, fantastically charmless and elaborately dire." – Henry James
"New York is an ugly city, a dirty city. Its climate is a scandal, its politics are used to frighten children, its traffic is madness, its competition is murderous."
"Manhattan is an accumulation of possible disasters that never happen." – Ed Koch
"New York is a place where the rich walk, the poor drive Cadillac's, and the beggars die of malnutrition with thousands of dollars hidden in their mattresses." – Duke Ellington
"On a New York subway you get fined for spitting, but you can throw up for nothing." – Lewis Grizzard
"I moved to New York City for my health. I'm paranoid and it was the only place where my fears were justified." – Anita Weiss
"New York is a sucked orange." – Ralph Waldo Emerson
"You can try to change New York, but it's like Jay-Z says: 'Concrete bunghole where dreams are made up. There's nothing you can do.'" – Liz Lemon
New York Quotes From Songs
These are our favorite songs are about New York.
"Welcome to New York, it's been waiting for you." — Taylor Swift, 'Welcome to New York'
"I want to be a part of it, New York, New York." – Frank Sinatra, 'New York, New York'
"Now you're in New York
These streets will make you feel brand new
Big lights will inspire you
Hear it for New York." – Alicia Keys and JAY-Z, 'Empire State of Mind'
"Times Square can't shine as bright as you." – Plain White T's, 'Hey There Delilah'
"I'm in a New York state of mind." – Billy Joel, 'New York State of Mind'
"Look around, look around at how lucky we are to be alive right now! History is happening in Manhattan and we just happen to be in the greatest city in the world!" – Hamilton Cast, 'The Schuyler Sisters'
New York Quotes From Movies
"The city seen from the Queensboro Bridge is always the city seen for the first time, in its first wild promise of all the mystery and the beauty in the world." – F. Scott Fitzgerald, The Great Gatsby
"When I first moved to New York, I bought Vogue instead of dinner. I just felt it fed me more." – Carrie Bradshaw, Sex and the City
"The only people who can afford to be artists in New York are rich." – Sophie, Frances Ha
"Don't you love New York in the fall? It makes me wanna buy school supplies. I would send you a bouquet of newly sharpened pencils if I knew your name and address. On the other hand, this not knowing has its charms." – Joe Fox, You've Got Mail
"Here we are Marv. New York City, the land of opportunity." – Harry, Home Alone 2
"And I always heard people in New York never get to know their neighbors." – Paul Varjak, Breakfast at Tiffany's
"I'm staying! You hear that, New York? THE FROG IS STAYING!" – Kermit the Frog, The Muppets Take Manhattan
More Travel Quotes
From romantic to funny to inspiring, we all love travel quotes.
They fuel our soul and give that little motivation we look for to start a new day or, who knows, a trip.
And to help you keep that spark alive, we wrote a few other posts like these ones on California captions, Seattle quotes, and Las Vegas captions.
Did you like these quotes about New York? Then save it to your Pinterest board.