Searching for the best beaches in Oahu? Hawaiian beaches are world-renowned for being pretty much as close as you can get to paradise.
If you're currently planning your getaway to the Aloha State, chances are that checking out a few of its shores is high up on your bucket list.
Spread over a total of eight islands, finding beautiful beaches in Hawaii isn't exactly a difficult feat, but choosing where to go can become quite the challenge, especially when you consider how much it has on offer!
Being enveloped by beautiful coastlines, the best way to choose which Hawaiian beaches to head to during your visit is by taking into account your interests.
Luckily, Hawaii has a ton to offer, no matter your travel style. Whether you're looking for days on end spent sunbathing amid palm trees or would rather combine a beach day with outdoor adventures, you're bound to find the perfect beach to suit your needs.
Whether you're spending a week or 3 days in Oahu, here're our favorite and most beautiful beaches in Oahu to consider visiting during your time here!
Things to Know Before Visiting Hawaiian Beaches
All beaches in the state of Hawaii are considered public land. Yep – there are NO private beaches here, and it is regarded as a misdemeanor to block public access to any beach, so you should have no issue whatsoever. Even if there are houses or resorts built along the beaches, you'll always be able to find public rights-of-way. The only exceptions are certain federal government spots, but they are sporadic and few!
Make sure you always read the signs posted at any beach when you arrive – they are placed for a reason! These signs can either indicate that there's wildlife around you should watch out for, alert visitors of dangerous shore breaks and strong currents, or state whether swimming at a particular beach is safe or not.
Pack a reef-safe sunscreen. Hawaii's shores brim with endangered marine life and coral, and most regular sunscreen brands contain chemicals that can harm them. If you're in doubt, check your sunscreen's ingredient list to ensure it doesn't contain oxybenzone or octinoxate. Even if a certain brand is marked as "reef-safe," make sure you always check the list of ingredients nonetheless.
Don't leave any valuables in the car.
Watch out for slippery rocks. At many Hawaiian beaches, you'll need to walk over rocks to access the water. Be careful as slipping is easy, or stay extra safe by bringing along a pair of water shoes.
Check out the Hawaii Beach Safety website for updates on water conditions and any current warnings in place. Moreover, if you're traveling with kids, it's imperative that you research each beach carefully before visiting. While some beaches feature calm and serene waters, others boast giant waves capable of knocking over even the strongest bystanders and can be pretty dangerous for kids and even adults.
Research the beach you're headed to in order to know what to bring. Some beaches in Hawaii feature plenty of amenities that all you'll need to bring along is the basics, while others are more untouched, and more preparation will be needed.
The Most Beautiful Beaches in Oahu
1. Waikiki Beach
Located in the city of Honolulu on the island of Oahu, Waikiki Beach is one of the most beautiful and popular beaches in Hawaii to visit.
If you don't mind the crowds, Waikiki Beach is a perfect go-to for swimming, sunbathing, and people watching, especially if you're landing on Oahu and want to explore Hawaii's metropolitan beaches before heading out to the more rugged coasts of the island.
Plus, Waikiki Beach is also a wonderful place to try your hand at surfing, with gentle waves perfect for beginner lessons.
There are many instructors available right on the beach, so you can easily find yourself an expert to teach you how to ride Hawaii's famous waves!
2. Hanauma Bay
Located only 30 minutes away from the city of Honolulu, Hanauma Bay is one of the best beaches in Hawaii to visit if what you're after is to get away from the more crowded shores of the city.
Even though it makes for a very quick and easy day trip from the state's capital, being at Hanauma Bay will make you feel as though you're worlds away from the bustle and hustle of the rest of the island.
Moreover, Hanauma Bay is also a wonderful place to check out if you want to explore Hawaii's underwater world as well as its on-land nature, as it combines the best of both worlds!
Snorkeling is prime here, with hundreds of marine animals swimming pretty close to the shore.
Here, you can easily spot honus (Hawaiian green sea turtles), who love gliding inside the bay.
After exploring the ocean for a while, you can make your way back to land and finish off the day by hiking the Koko Bay Trail, a hike that will take you all the way up to a volcanic crater where you'll be able to catch wonderful views of the bay and its verdant hills.
3. Turtle Bay
Named after the large number of green sea turtles who once used the bay as their spot to lay eggs, Turtle Bay is the spot that marks the entrance to Oahu's North Shore, one of the most scenic coastlines in entire Hawaii.
This beach isn't ideal for swimming due to its rocky bottom, but popular activities you can try during your visit include scuba diving, surfing (especially during the winter months), sunbathing, and picnicking (Ironwood trees create a beautiful backdrop to the beach, and provide tons of shade for a relaxing lunch out!)
4. Wailea Beach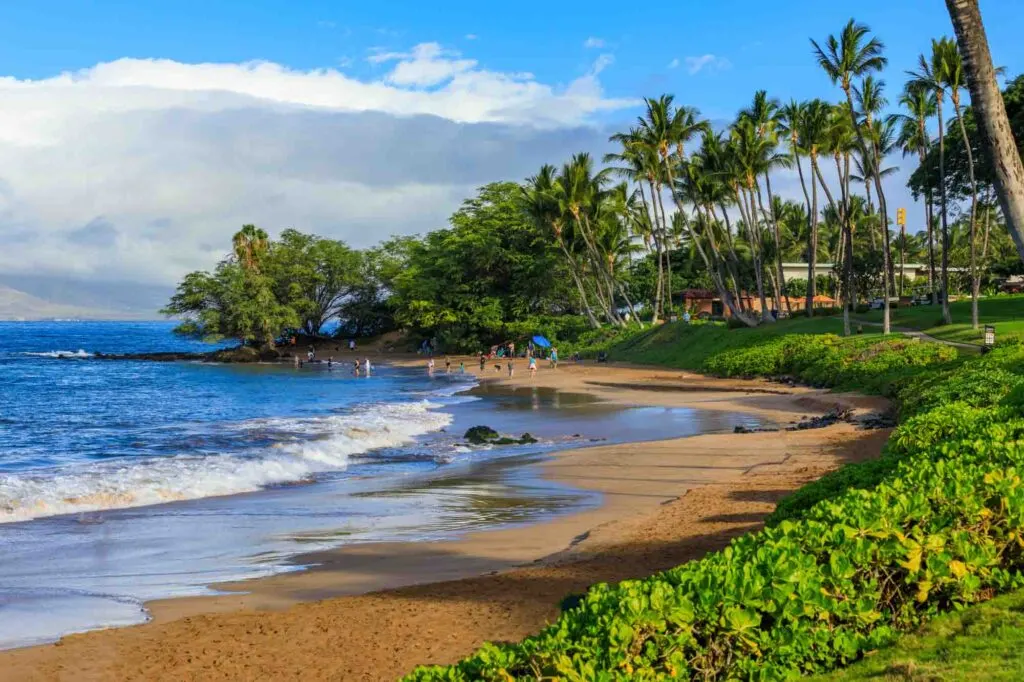 If chic resort vibes are what you're after, look no further than Wailea Beach.
Constantly ranked as one of the best beaches in the entire world, this beach stands at two of the most famous resorts on the island, which means facilities and activities are plentiful.
The beach is wide and provides striking views of the Kaho'olawe, Molokini, and Lana'i.
If you're visiting during the winter months, keep your eyes out for whales, as sights are common on this side of the island.
While simply lounging at a cabana is the top thing to do here, you'll also find plenty of activities to keep you entertained at Wailea if adventure is your jam.
Snorkeling, boogie boarding, and body surfing are just a few of the favorite things to do here!
5. Yokohama Bay
Also known as Keawaula Beach, Yokohama Bay is tucked away in one of the most secluded parts of Oahu, making it one of the most beautiful Hawaiian beaches if you're into quiet spots.
What makes Yokohama Bay so great is that it's almost untouched by development, with only a few amenities like bathrooms and showers available (make sure to pack a lunch and an umbrella!).
Finding this beach empty is not a rarity, making it perfect for a quiet day spent by the ocean with glorious views of the Waianae Mountains, creating a picture-perfect background you're not bound to find in most guidebooks!
6. Kailua Beach
Boasting a long stretch of soft powdery sand dotted by palm trees and water as turquoise blue as it can get, Kailua Beach is one of the most beautiful Hawaiian beaches for all the right reasons (in fact, it's ranked as the second most beautiful in Oahu!).
This stunning beach is located in a suburban area on the East Coast of Oahu, which makes it the perfect go-to if what you're after is a beach with a much more local feel to it.
Despite the fact that it's located right around the corner from the super popular Lanikai Beach, it still remains pretty quiet, making it a perfect escape after you're done exploring Lanikai Beach's picture-perfect (but somewhat crowded) views.
7. Kahana Bay Beach
Tucked away amid the awe-inspiring Ko'olau Mountains, Kahana Bay is one of the most beautiful Oahu beaches and a bit of a hidden gem on the island's windward coast.
Shaped like a crescent moon, this gorgeous beach boasts picture-perfect blue waters set against a gorgeous backdrop of ironwood trees and mountains.
While swimming isn't ideal at Kahana due to its rocky bottom, it does make for a perfect place to sunbathe and picnic under the shade of trees.
Camping is also a popular activity here, especially for locals during the weekends.
If you want to experience a night under the stars by the ocean, make sure you plan ahead, as a permit is required for overnight stays.
Tip: Walk over to the southern end of the bay, where you'll find Huilua, an ancient Hawaiian fish pond!
8. Ala Moana Beach Park
Featuring half a mile of sandy shore and gorgeous ocean vistas, Ala Moana Beach Park is a 100-acre space that brims with life located amid bustling Honolulu.
A favorite for swimmers, paddleboarders, and families with small children, thanks to its calm waters, this beach is a perfect go-to if amenities are what you're after.
Aside from enjoying its water activities, this park also boasts ten tennis courts, picnic tables, and tons of kid-friendly activities for the entire family to enjoy.
9. Bellows Field Beach Park
Located on the Windward Coast, Bellows Field Beach Park is as pretty as it gets.
Home to soft white sand, bright blue waters, and relatively calm waves protected by an offshore reef, this beach is a favorite for locals and tourists alike.
Camping amid the rows of ironwood trees in the background is a popular weekend activity, so make sure to snag yourself a permit if a night spent outdoors with the sound of crashing waves in the background sounds like your jam.
Keep in mind, though, that unless you have a Military ID, Bellows Field is only open to the general public from noon on Fridays to midnight on Sundays.
This is due to the fact the park is located right in front of a military base (in fact, it's the exact same beach pictured in the Pearl Harbor & USS Arizona Memorial movie!).
10. Ko Olina Beach
Made up of four magical beach coves, Ko Olina Beach is your go-to if a resort-like experience is what you're looking for in your Hawaii vacation.
The entire beach is tucked away inside the Marriott Ko Olina Resort, one of the most fabulous spots to be at when in Oahu, especially if you want to stray away from the Waikiki area to have a more isolated experience.
Even if you're not an overnight guest at the resort, you can still enjoy the beaches and calm waters as a day visitor as well as wander around the resort to enjoy its amenities.
There is a fabulous outdoor bar just up the stairs from the beach area, where you can listen to music and order drinks to kickstart a perfect day at the beach.
For a super fun night, both the Marriot and Aulani host outdoor movie nights at the beach where you can enjoy a film at the beach as you watch the sun go down!
11. Pokai Bay Beach
Located between Kane'ilio Point and a boat harbor in Wai'anae, Pokai Bay is a glorious Hawaiian beach to visit to get that local feel.
Thanks to a rock jetty that stops waves from crashing, the waters here are pretty tranquil and perfect for swimming, snorkeling, and gentle surfing in some areas (in fact, the bay was once called Malaea, which translates into "calm").
Aside from enjoying the water, the bay also offers a grassy area under the shades of trees that is commonly used as a picnic spot by locals and visitors alike.
If you're into culture, you can drive a short distance south to the Ancient Hawaiian Temple Site, an extremely sacred place for Hawaiians.
12. Lanikai Beach
As soon as you inch your first step into Lanikai, you'll very quickly understand why it's not only considered the most beautiful beach in Oahu but also why it's constantly ranked as one of the best beaches in the entire world!
Surrounded by miles upon miles of calm, bright blue waters, the views at Lanikai are the epitome of paradise (in fact, Lani Kai translates to "heavenly ocean", a pretty fitting name at that!).
Swimming is a top activity at Lanikai thanks to its super calm waters, but another popular activity to do while here is kayaking.
There are two tiny islands located a bit off the shore, which are a fun place to row towards!
13. Sandy Beach
Located on the South Shore of Oahu, Sandy Beach is the ultimate go-to for the chance to ride inside a Hawaiian "tube" wave because pretty much every single wave on the shore breaks forms one before crashing onto the sand!
While Sandy Beach is extremely beautiful, we do recommend extra caution when visiting as the waves here are strong enough to knock you over.
Visiting with small kids is not recommended unless you stay as far away from the water as possible (it is considered a pretty great place for kitesurfing, after all!)
14. Makapuu Beach
Sitting right below the dreamy Makapuu Point in southeast Oahu, Makapuu beach is one of the most beautiful beaches in Hawaii but also one of the most overlooked ones!
Most visitors to this striking beachhead on this side of Oahu hike over to the famous Makapuu Lighthouse, but most of them rarely take the time to linger a while longer in order to uncover the beauty of this Hawaiian gem.
Makapuu's unique beauty comes from the fact that it's nestled inside a bay that looks like a small cove with banks of sand falling down into the ocean, all with a dark lava rock mountain backdropping the scenery!
15. Ehukai Beach
Located on Oahu's North Shore, Ehukai Beach is one of the most beautiful beaches in Hawaii but also one of the most dangerous ones in the world.
Home to the famous Banzai Pipeline, Ehukai is known for its giant waves that break once they reach shallow water above a cavernous reef.
This results in large and hollow curls that are perfect for tube riding, making it a favorite destination for professional surfers!
The winter months are when waves reach their peak, with some reaching heights of a whopping 25 feet!
During the spring and summer, swimming is doable, but checking in with a lifeguard is recommended in order to make sure the coast is clear (and we mean that literally!)
16. Malaekahana Beach
If a quiet beach is what you're after, Malaekahana Beach is your go-to.
Located on Oahu's northwestern shore right between Kahuku and La'ie, this beach features a dreamy mile-long white sandy beach where activities like volleyball and hiking are offered.
A highlight of Malaekahana Beach is its excellent swimming, especially when you consider the waters are usually pretty calm.
17. Sunset Beach
Sitting just outside of Haleiwa Town on the Oahu's North Shore, Sunset Beach is one of the most beautiful family-friendly beaches in Hawaii, especially if you're visiting during the summer months when waves are calm and perfect for swimming and snorkeling.
Come (warm) winter, Sunset Beach becomes the go-to for surfers.
This famous beach is actually ranked as the longest stretch of ridable waves for surfing in the world, so whether you're looking to catch waves or just want to experience Hawaii's surfing culture, make sure you place Sunset Beach at the top of your bucket list.
Tons of surfing events take place here, including the world-renowned Vans Triple Crown of Surfing.
18. Kailua Beach
Featuring a dreamy white sandy shore and gentle waves, Kailua Beach is one of the best beaches in Hawaii to visit for windsurfers, sailboarders, and families traveling with children.
Aside from simply enjoying the glorious views it offers, there are plenty of activities to do at Kailua Beach, including hosting a picnic, playing volleyball, swimming, or trying your hand at various watersports, as there is a boat ramp where you can hire equipment.
Moreover, Kailua Beach Park is located in the town of Kailua, a lovely beachside locale where you'll find plenty of local restaurants and shops.
19. Laniakea Beach
More commonly known as "Turtle Beach," Laniakea is an extensive beach that is the perfect place to visit in Hawaii if you want to see giant green sea turtles, who love hanging out here are pretty much any time of the day!
Once considered an endangered species, thanks to the conservation effort of the Hawaiian government and thousands of volunteers, seeing so many of them happily swimming around the island or lounging on the sand is a truly heart-warming experience.
This Oahu beach is located in the North Shore area.
20. Waimea Bay Beach Park
Located on Oahu's North Shore area, Waimea Bay Beach Park is world-famous for its gigantic waves, some of which have been known to reach 30 feet in height during the winter!
If you're keen to see expert surfers brave enormous waves, Waimea Bay Beach Park is a popular spot to do that during the season. Moreover, it's also an excellent way to experience Hawaii's famous surfing culture.
During the summer months, waves calm down, and Waimea Bay becomes the go-to for swimming, bodyboarding, snorkeling, or simply relaxing with views of crystal-clear turquoise waters surrounding you.
21. Waimanalo Beach
Waimanalo Beach Park stretches almost five miles from Wailea Point to Makapuu, making it one of the longest shores in Oahu and one of the most beautiful beaches in Hawaii!
While its rough waters aren't exactly ideal for swimming if you're inexperienced, the soft sand and dreamy scenery you'll find here make it a perfect beach to head to for a relaxing day spent boogie boarding, catching sun rays, or simply going for a long walk along the shoreline to admire picture-perfect views.
Best Oahu Beaches
We hope this list of the most beautiful Hawaiian beaches helped you plan the perfect beach-hopping adventure.
What makes Hawaii so unique is that it has a few beaches to offer everyone no matter their travel style, be it a hidden cove that feels untouched to fabulous beach-side resorts where you can lounge for hours on end!
Have you ever been to any of these beautiful Hawaiian beaches? If so, which one was your favorite and why? Let us know in the comment section down below!
Latest posts by Olivia Perez
(see all)