After carefully sifting through VRBO's perfect getaway for lovebirds listings, we can say with absolute certainty there's an abundance of romantic cabins in Ohio.
Those of you looking for romantic rentals that will relax you and give you peace of mind amid beautiful nature will find precisely what you're looking for in our comprehensive guide below.
We've done our best to showcase the uniqueness of each of our top 16 romantic cabin rentals in Ohio.
We're positive you will love it wherever you stay since Ohio offers so much to experience and enjoy.
Whether nature walks in Hocking Hills State Park and Cedar Point or visiting the Rock & Roll Hall of Fame, any couple can have tons of fun in one of these secluded cabins in Ohio.
Editors' Picks: The Most Romantic Cabins in Ohio
Walnut Lakes Cabin Retreat
This romantic rental is undoubtedly at the top of our most romantic cabins in Ohio list. After all, it was named "best Ohio waterfront Cabin rental" three times already.
One of the unique features is undoubtedly the expansive windows overlooking the lake overlooking the fishing lake with a dock. Additionally, there is a very spacious deck surrounding the cabin. The best thing about this place is undoubtedly the private lake with canoes available to use for free.
The cottage is very private yet located near many attractive locations such as Hocking Hills State Park, Lake Hope State Park, Zaleski State Forest, and Athens.
Guests here especially enjoy making campfires in a fire ring while basking in the outstanding scenery. Some say they would stay here for weeks if they could.
Whispering Pines Cabin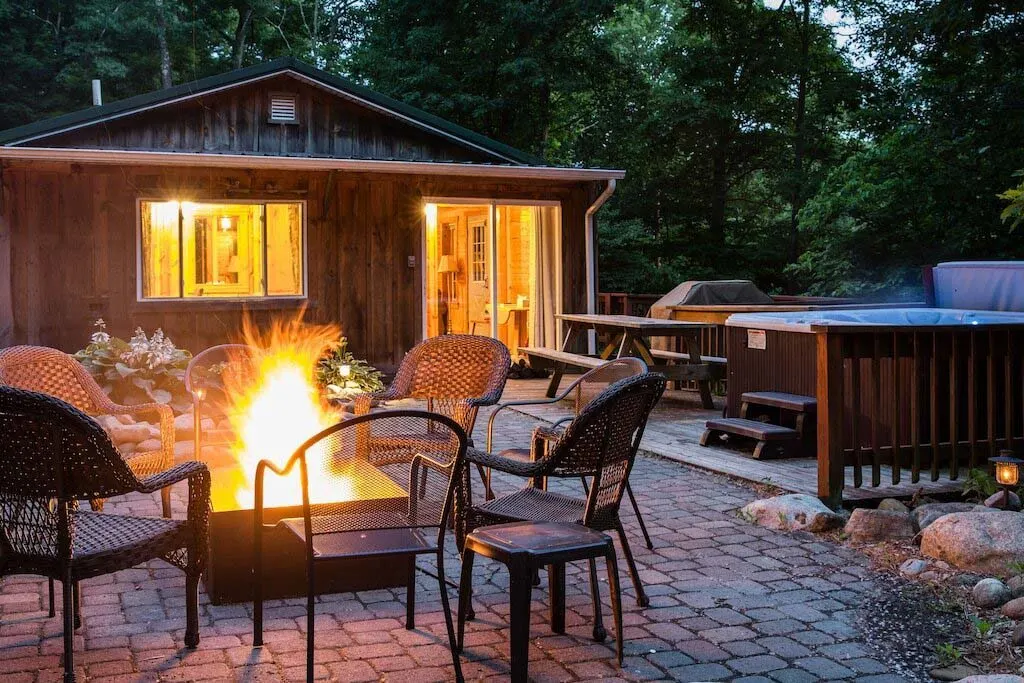 A rustic feel with modern amenities makes this romantic Ohio Cabin a pretty luxury choice for anyone looking to enjoy some downtime with their SO. The waterview property is surrounded by much to explore and do, be it fishing, hiking, sailing, snowboarding, or horseback riding.
The cottage seems quiet and peaceful, with fantastic amenities such as a gas fireplace, therapeutic hot tub, covered deck with grill, comfortable seating, and a beautiful butcher block to make special dinners.
Guests loved this place for its comfiness and peacefulness, saying it's enough just to sit and stare into the pine forest to enjoy your time there.
Red Hickory Fairytale in the Middle of the Woods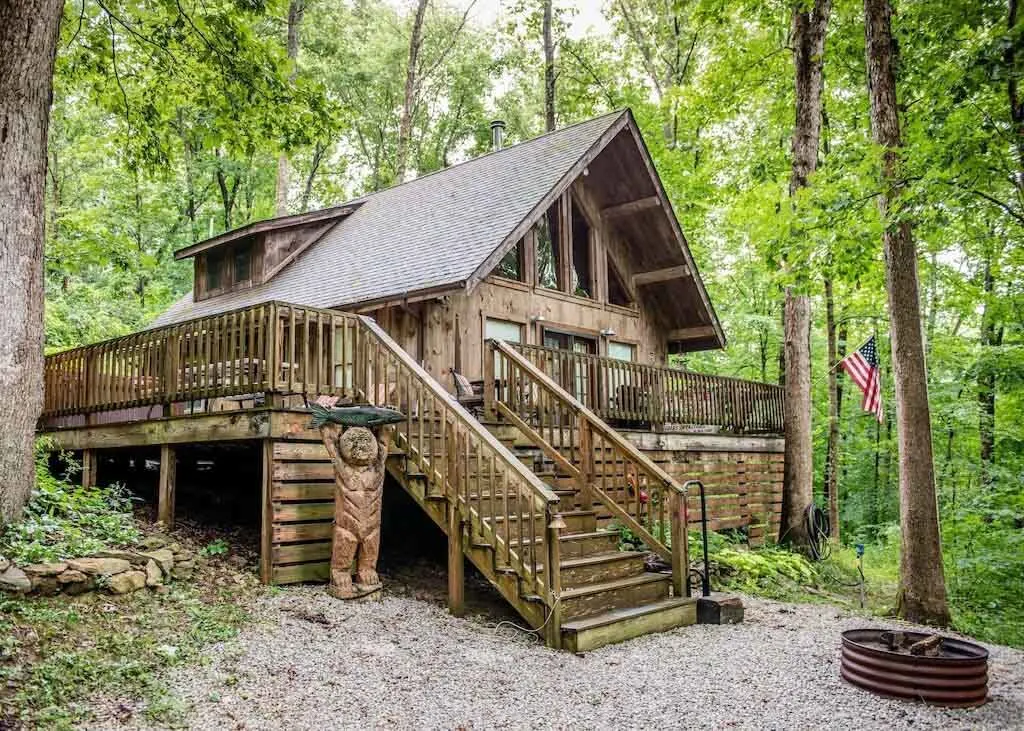 Serene woods with hiking trails, privacy, and beautiful decor make this unique rental one of the most romantic cabins in Ohio. Although it's very private, it's still close to the highway and minutes to Logan or Nelsonville. Also, since it's located right in the middle of Hocking Hills, there are tons of things to explore around.
A cozy cabin is surrounded by approximately eight acres of woods, which you can observe snuggled in front of the wood-burning stove. No less importantly, there's a lovely hot tub with views of the surrounding nature. In addition, there is a fire ring just off the deck so you can still enjoy the chilly evenings.
Just a warning, though. People say the driveway is steep and a bit rutted. But, if you put the gear in low and gun it well, you should have no problem getting up there.
Lake Front Rustic Cabin With Lovely Sunset Views
The west-facing cabin with spectacular sunset views would be a fantastic choice for any couple looking to unwind or have some night's fun. Those who like to stay in would undoubtedly love the new jacuzzi just steps away from the main bedroom. Finally, those into nightlife will love this secluded rental within walking distance from Cranberry Resort with boat docks.
People gave this place excellent reviews, stating the neighborhood is lovely and peaceful, with super friendly people all around. Many also said those sunset views are just tough to beat.
Romantic Cabin Getaway at Maple View
The Amish built this cozy one-bedroom cabin, but it's brand new – only a couple of years old. You'll find a comfy couch to sip your favorite beverage together, a queen-sized bed for the lovebirds, and more.
What makes this one of the most romantic cabins in Ohio is the historical value and peacefulness it offers. Couples who love to hike would love this cabin in the woods, with lots of trails and wildlife throughout.
You'd have the whole place to yourself, but we're optimistic you would spend more time outside than in because the backyard looks impressive with the outdoor fire pit, string lights, and other lovely decorations. The fantastic thing is it's totally private since there are no visible neighbors at all. Instead, you're surrounded by 80 acres of manicured woods with a few miles of trails.
After hiking in the woods, retire to the cabin proper for a bit of R&R. The rustic and inviting interior provides a wonderful atmosphere for the lovebirds.
Wood Wonderland Cabin in the Land
This could be for those into rustic feel romantic cabins in Ohio. Located in beautiful Wayne County countryside, close to the magical Holmes County Amish community (northeast Ohio), this secluded cabin has it all. It's very private and beautifully decorated. Moreover, it has a very steep ravine with a creek and waterfalls. But, you should be careful, though.
Couples would undoubtedly enjoy the lovely patio with a fire pit and a large hot tub.
The location is excellent for hiking and wildlife viewing, ice skating, and hunting. This rental looks like a fantastic "base of operations," with excellent reviews, mainly for the privacy and lovely setting.
Green Valey Cabin in Hocking Hills
Logan's Retreat is the only secluded rental in Ohio situated on more than four acres atop Logan's Hill, featuring a private pond, hot tub, heated rec barn, lounge area with a remote-controlled fireplace to cozy up next to, and several other fantastic amenities—a true full-service romantic cabin.
For example, they have a game room, an oversized deck with a spa whirlpool tub, and a WI-FI telescope that locates celestial objects. After all, Hocking Hills features the best stargazing in Ohio.
This rental is minutes from the famous Hocking Hills State Park, Wayne National Forest, Hope Lake, Cedar Falls, and Old Man's Cave.
People who stayed in this secluded Ohio rental praise it for the peace and quiet it offers, far, far away from noise and traffic.
Ridgetop Setting Ashmoor Cabin
This secluded, off-the-beaten-path cabin is undoubtedly one with inspiring scenery. The place is perched on a wooded ridge top, and it's really spacious, with a log-like exterior and a wind-down to a small creek. There is a spa whirlpool available with fantastic views to relax with.
This spacious cabin is only 17 miles to Ash Cave and 12 miles to Uncle Buck's Riding Stable and Dance Barn. Likewise, the R Adventure Park is just 17 miles away.
Gastro freaks will love the Lake Hope Lodge just 7 miles away, with excellent cuisine to enjoy.
There is one downside, though. Getting up the hill is challenging if you don't have a four-wheel drive. But, there is a way – maintain a steady pace at the beginning of the driveway, and you should be good.
Forest Views Dundee Log Cabin
This Dundee rustic getaway certainly deserves to be one of the most romantic cabins in Ohio because it has such an inviting atmosphere. It's situated on a secluded plot of land with wooded hiking trails, a stocked fishing pond, a hammock, and a covered porch to enjoy your wildlife viewing.
It' sure looks like a lovely retreat, mainly because of the hot tub and fire pit, as well as vaulted ceilings that give it uniqueness.
This gorgeous log cabin is ideal for couples looking to spend a couple of mindful, relaxing days reconnecting to Mother Nature. If you by any chance get bored, there is Ohio's beautiful Amish Country to explore nearby.
However, some might feel that the total lack of Wi-FI is a considerable downside. We don't think so since there are wide-open vistas to admire, with grazing sheep, goats and horses all around. But, it all depends on what you're looking for in your couple's retreat in Ohio, after all.
More Than Rustic Cabin at Saltcreek Pond
The rustic yet modern tranquil log cabin is nestled in the woods of Amish Country but just 15 minutes from shopping and dining spaces. We don't think you will want to leave it, though. Here you can enjoy watching the birds chase around the pond while cuddling in front of a stone fireplace.
The outdoor setting is lovely, with a hot tub, gas grill, and bonfire perfect to roast sticky marshmallows while gating at the starry skies. The front porch certainly looks like the ideal resting place and makes this beautiful cabin one of the most romantic rentals in Ohio.
The bedrooms here look comfy and peaceful, making it a lovely place to unwind. People commented the same, alongside the beautiful sunsets and charming wineries in Sugarcreek.
Art Deco Winter Wonderland Cabin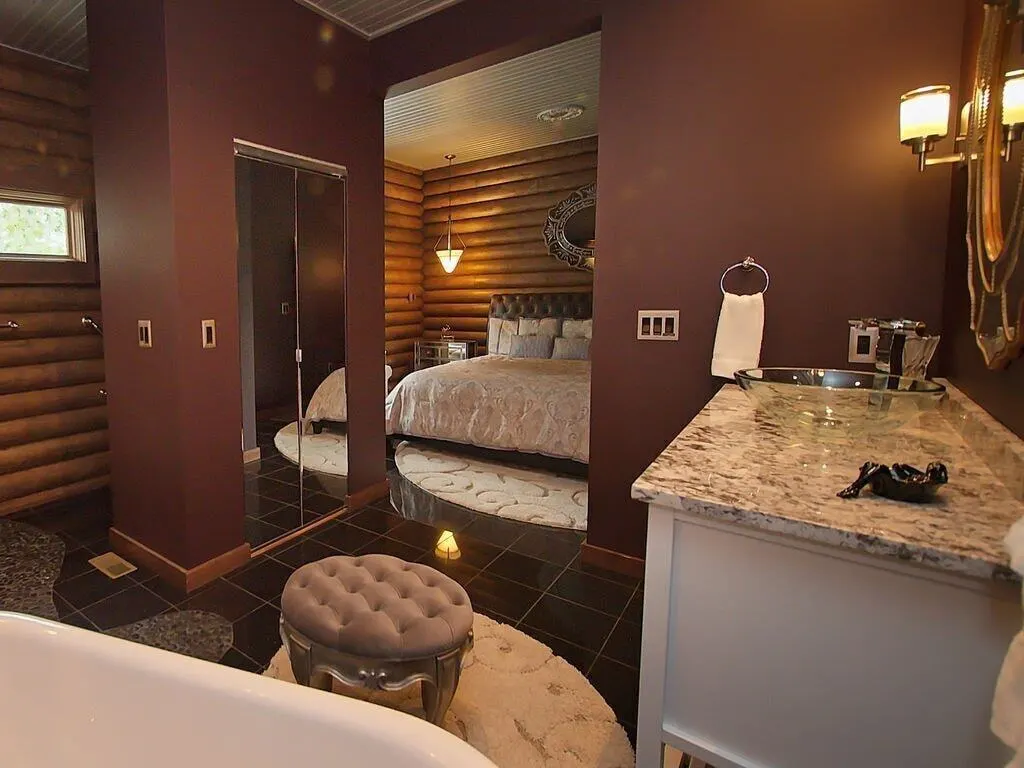 The lake-front property in the wooded ravine – what more could a couple want. The unique features of this romantic cabin include very upscale Paris Art Deco, with beautiful log construction, Chevron windows, and crystal chandeliers.
You would undoubtedly enjoy a 10×12 outside deck, garden and park-like surroundings, fire pits in various locations, and seven acres of ground to explore. There are also private docks for boating and fishing, with kayaks, canoes, and mountain bikes included.
The unique thing about this luxury cabin is you don't have to do anything but relax; there is even a pizza delivery available! However, restaurants are just two miles away. But, we would love to cook in the fully appointed kitchen with granite countertops.
Honestly, everything in this rental looks top-notch and luxurious, and the reviews say so too. It's an elegant, romantic retreat.
Blue Dreamcabin on a Pond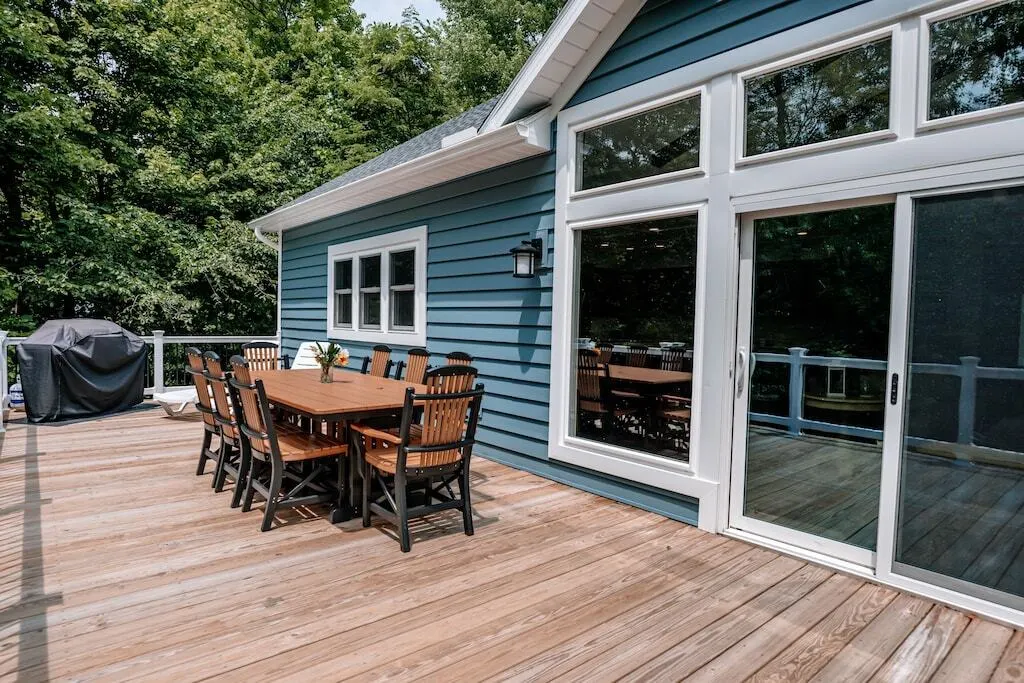 The cottage at Maple pond is undoubtedly a lovely place for any couple to pump the breaks on life. It's nestled on 19 acres of old oaks and maples; it's newly constructed and absolutely private.
Nature lovers will especially love this rental since it offers an abundance of outdoor activities such as hiking, paddling around the private 2-acre pond, or simply hot-tubing while stargazing. And you won't get bored at night since there is a lovely geared-up game room with many games to choose from.
Guests who stayed here praised this wonderful cabin's layout, saying it's spacious, comfy, and well-stocked with anything you may need for a carefree vacation.
"Aspen Retreat" Lodge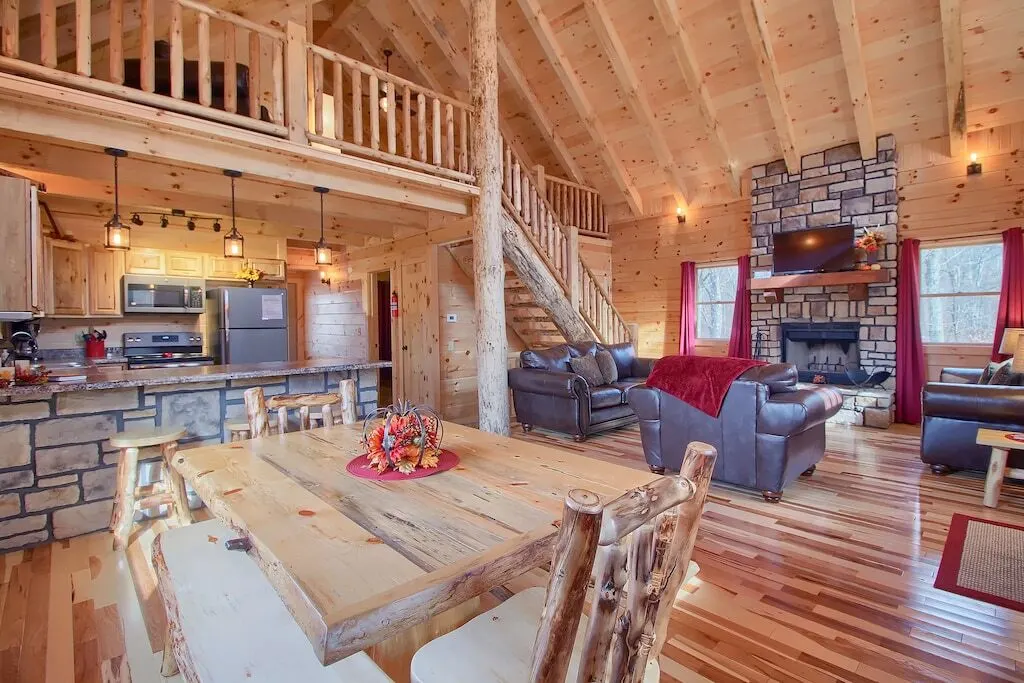 Couples looking to run away from the hustle and bustle of everyday life would enjoy this lovely mid-size secluded cabin in Ohio. "Aspen Retreat" is located on 60 acres of wooded land, off-path, but still only 3.4 miles of US Route 33.
The peaceful cabin has a lovely fireplace and a spa whirlpool overlooking the woods to enjoy when you're not exploring the many nearby state parks and attractions.
In fact, this property is only a 30-minute drive to the many caves, trails, and rock formations of the incredible Hocking Hills. Also, it's close to Major Wayne National Forest Trail Heads and the Brass Ring Golf Course.
People loved the wildlife here and the cleanliness and beautiful views of the cottage.
Fern Haven Cabin
This open concept, modern cabin is a true luxury in the woods, just a short 10 to 20-minute drive to the main Hocking Hills attractions.
Looking at it, it seems like a perfect romantic getaway, especially for its wall of wall-to-ceiling windows and vaulted ceilings. Moreover, the main bedroom has direct access to the hot tub.
Outside, you will find a wrap-around, private deck with a fire pit and access to trails that run throughout this lovely rental.
There is a downside, though. Unfortunately, you would have a neighboring cabin nearby, so it's not totally secluded.
People in reviews didn't seem to mind, after all. The hot tub stargazing was just too good to notice any other distractions.
The Château at Winter Wonderland
Who wouldn't want to stay in this lake-front, beautiful European-style lodge just ten miles away from the caves?
The opulent luxury is located on seven acres of gardens and ravines with plenty of privacy, yet only two miles away from bars and restaurants. It's in southern Ohio.
You can kayak and canoe on the beautiful Lake Logan or simply gaze into the decks and gardens from the spa whirlpool, basking with your better half in the warmth of the hot tub and the fire ring. (Click here for more cabins with hot tubs in Ohio.)
People say the cabin truly is lovely, praising the French Old World Opulent decor with it. No less importantly, there is a cute deer prone to visiting people in the evenings, which is undoubtedly a unique experience for you two.
The White Pine Cabin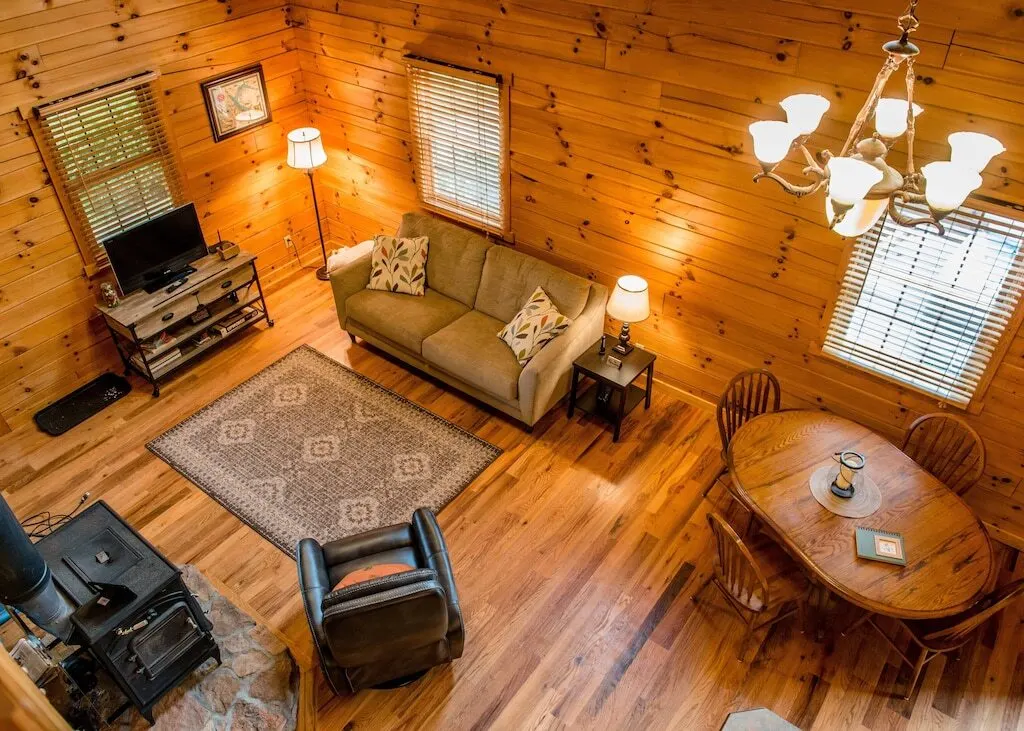 A quiet country road will lead you to the cozy log rental on three country acres, with a private balcony to enjoy the beautiful sunsets. The cabin is equipped with a new hot tub, fire ring, and glass grill with plenty of open space.
When it comes to activities, you're covered there since this property is located in the heart of Hocking Hills. So the location is full of fun things to do and explore. Yet, the cabin is very private and peaceful.
People say it's adorable for those bringing their pups with them since they really enjoy the big yard and the fantastic hiking trails surrounding one of the most romantic cabins in Ohio.
Romantic Getaway Cabins in Ohio
We hope you enjoyed reading about these charming cabins and can find one that fits your dream honeymoon or anniversary celebration.
These vacation rentals feature a wide range of styles, from rustic and classic to classy and modern. Whether you're looking for a private setting to enjoy some quality time together or celebrate a special occasion, these romantic cabins in Ohio are precisely what you need.
Latest posts by Liam Carter
(see all)