Stumped about how to spend your Christmas in Nashville, TN? Don't stress; we'll help you with this comprehensive list!
Throughout this guide, you'll find out the best things to do in Nashville during Christmas, which has something for everyone in the family.
There are many options for every type of budget, including visiting markets, touring historical sites, visiting festive events, and trekking through light displays.
Also, there are many benefits to enjoying Christmas in Nashville, such as attending exclusive Christmas events, exploring local landmarks, having amazing photo opportunities, and eating the best yuletide treats!
18 Festive Ways To Celebrate Christmas in Nashville
Here are our favorite things to do in the Music City during Christmas. Ready to get in the holiday spirit?
1. Hop On Board The North Pole Express Santa Excursion Train
Choo-choo, all hop on board for the most amazing Christmas experience ever!
On the North Pole Express Santa Excursion Train at Tennessee Central Railroad Museum, the wonder of the holiday truly comes alive with a 2-hour train ride from Nashville to Lebanon, complete with caroling!
During the journey, all passengers will be treated to a reading of 'Twas the Night Before Christmas by the train conductor, much to the kids' delight!
While on board, you can also buy souvenirs, chat with the elves, and even meet Santa! Look out for when the event starts in December!
Read next: Best Christmas Towns in the USA
2. See The Lights at Zoolumination: Chinese Festival Of Lights
The great sights of Chinese New Year celebrations come alive at the annual Zoolumination event, held at the Nashville Zoo at Grassmere.
This magical spectacle also combines the cheer of Christmas with visits from Santa and a North Pole Village display!
Once you're there, you'll want to take photos of the 500 silk Chinese lanterns. If you're feeling hungry, you can grab some traditional Chinese snacks at the vendors.
You can find Zoolumination being held from November to December, and tickets are priced at $19 per adult and $14 per child.
Read next: Best Restaurants in Nashville
3. Take A Tour Through A Historical House
If you're interested in Nashville's long history or just looking for Christmas things to do in Nashville, then attending a tour of one of Nashville's many historic houses would be a great option.
These tours are not only informative but can also be super enjoyable during the festive months!
Why not try the Christmas Tour of Two Rivers Mansion, where you can tour this exquisitely preserved Italianate-style mansion built in 1859 alongside the 1802 House?
The house is decorated to match the holiday season, and tour tickets are available in December at $15 per person.
4. Have Fun At Nashville's Christmas Village
Why not attend a Christmas market for fun for the whole family?
You can browse through some of the best Nashville offers during the festive season, purchase many artisanal festive-themed crafts, grab a hot chocolate, a candy cane, and take a photo or two with Santa!
During your Christmas in Nashville, look out for the Christmas Village, which, for over 60 years, has brought delight and Christmas spirit to the city and provides all of its proceeds to various local charities.
You can find the market in Nashville's Festival Grounds starting in November.
5. Join In On The Fun At Christmas 4 Kids
Why not do some good while spending your Christmas in Nashville and head to the Ryman Auditorium on 116 5th Avenue to watch the annual Christmas 4 Kids concert?
Every year in December, concerts and bus tours of your favorite country singers are held in Nashville for charity.
Once you're there, you can even catch an autograph from celebrities like Taylor Swift and Wynona Judd.
You'll be delighted to hear that by attending the concert, all the proceeds will be donated to help local orphans and impoverished children pay for $150 of toys of their choosing!
6. Take A Tour Of The City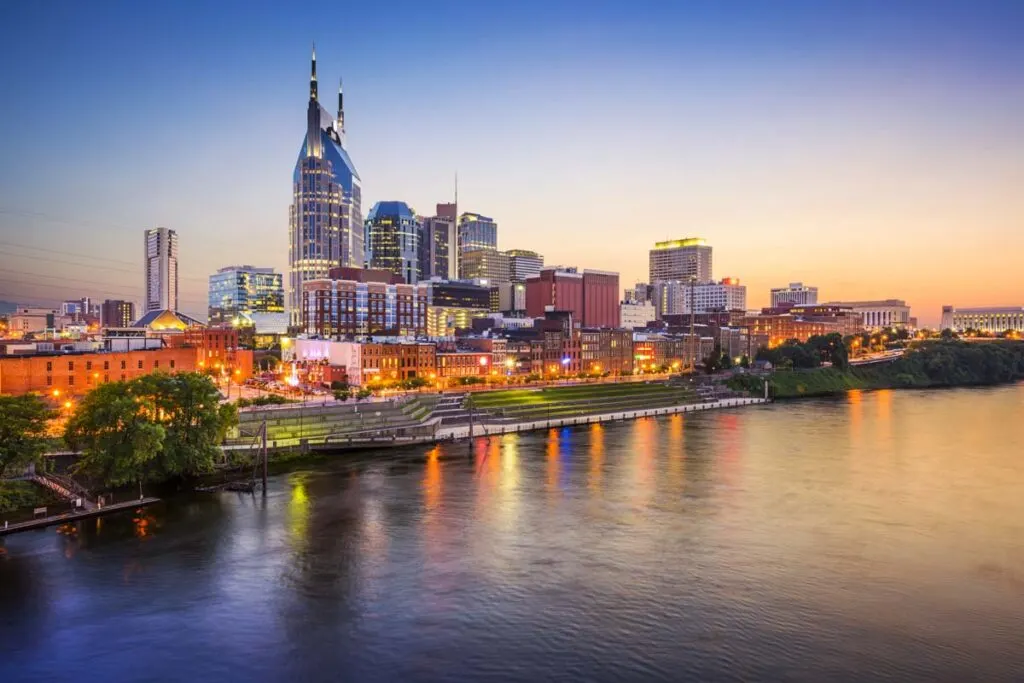 If you've got itchy feet and can't wait to explore the Music City, why not hit up one of the many tour operators in Nashville?
After all, not only can you soak up the city's history in combination with Christmas decor, but you can also find out from your guide the best places to eat and do things!
So, now that you're curious, try the Free Tours By Foot which offers free tours of the city of Nashville, like its namesake.
If you want a private tour, you can arrange it for an additional cost, or you can simply purchase a narrated audio guide of the city, which newsletter subscribers can get for free.
7. Take Some Photos At The Nashville Metro Christmas Tree Lighting
For a budget-friendly and momentous activity to do during your Christmas vacation in Nashville, why not try paying a visit to the annual Nashville Metro Christmas Tree Lighting?
The tree lighting ceremony occurs every December in the Public Square at 3rd Avenue N. and Union Street.
Not only will you watch the gigantic Christmas tree lit up with fabulous rainbow-colored lights, but you can also catch a sighting of Nashville's Mayor John Cooper and listen to holiday music and the local choir performances.
If you get peckish, you can also purchase hot cocoa or a snack from the nearby food truck vendors!
8. Attend A Christmas Market Fair
Suppose you want to browse through the perfect yuletide curios and get to have some fun. Well, when you're spending your Christmas in Nashville, you're certainly in luck!
You'll be treated to a wide selection of local crafts, food, and live music at the city's various festive markets.
Pop over to the Music City Center Christmas Craft Market to pick up some unforgettable Christmas gifts, vinyl, or just to catch a bite to eat.
The market is located at 201 Rep. John Lewis Way Street and takes place annually from 10 to 12 December.
9. Go To The Tennessee State Museum
Since you're in the city of Nashville, why not try visiting the Tennessee State Museum, which has an amazing assortment of exhibits and displays that detail the history of Tennessee?
After all, why not go when you can get this for free? Plus, the additional Christmas events going on there is a bonus!
Are you all revved up to go? You can find the museum on 1000 Rosa L Parks Boulevard and the Christmas event Carols, Crafts, and Cookies every December.
Here you and the kids can decorate Christmas cookies, listen to local choirs and carollers, and purchase Christmas crafts.
Read next: Best Day Trips from Nashville
10. Book A Seat At Nashville's Nutcracker
You're really in for a treat when you watch Tchaikovsky's Nutcracker in concert, so you should head on to Nashvilles' Nutcracker!
This ballet version features the wonderful story of The Nutcracker with the musical complement of the sounds of the Nashville Symphony.
With glitzy costumes, dancing Sugar Plums, and immersive sets, this rendition of the Christmas classic is an incredible experience to have during your Christmas in Nashville.
The concert is held annually in the TPAC Andrew Jackson Hall from the 9th to the 24th of December, with tickets starting from $35.
11. Spend Some Time At The Annual Handmade Nashville Holiday Market
Looking for an exceptional Christmas present for someone, or if you just want an unforgettable Nashville Christmas, head over to the Annual Handmade Nashville Holiday Market.
Every November, the Handmade Nashville Market undergoes a special Christmas holiday transformation.
Everything from handcrafted Christmas Tree décor to artisanal foods is available for you to browse here with dozens of vendors!
And when you're there, you can also pick up a snack from one of the many available food trucks and vendors to warm you up. You can find all this in Red Caboose Park!
12. Stroll Through The Lights At ICE!
Now there's truly nothing more breathtaking than strolling through the lights on a cold Winter's eve!
Especially if you can take selfies with Rudolph the Red-Nosed Reindeer, take a trip down ice slides, and walk through over 19 000 ft of a Christmas-themed landscape!
So, now that you're excited, take a trip to ICE! This fantastic winter wonderland takes place every year from November to January, when you'll be treated to skilfully carved sculptures and buildings that consist of over 2 million pounds of ice and LEDs.
You can find ICE! taking place at 2800 Opryland Drive.
13. Sip On A Drink At The "Home Alone" Themed Hidden Bar
The Christmas hijinks of Home Alone are completely fleshed out in one of Nashville's coolest and most hip bars Hidden Bar.
Every December, the bar is transformed into a 90s-style home to the likes of Kevin McCallister's, complete with a roaring fireplace, Christmas stockings, and tinsel wreaths.
If you can find Hidden Bar under Nashville's Noelle Hotel, you'll be treated to "Home Alone" themed- and festive cocktails, sundaes, and delicious appetizers.
The bar has a relaxed vibe, so there's no need to rush and make reservations. Excited? Well, the Hidden Bar's open from Wednesdays to Saturdays.
14. Watch The Muppet Christmas Carol in Concert
There's so much excitement to be had while watching holiday classics, so why not take a jaunt over to the One Symphony Place to watch The Muppet Christmas Carol In Concert?
Here you can experience the wonder of watching Charles Dicken's wonderful tale of the redemption of Ebenezer Scrooge!
Alongside Michael Caine playing Ebenezer, you can also find all your favorite Muppets characters in the show, including everybody from Ms. Piggy to Kermit the Frog!
The concert is in December and is accompanied by live performances of the classic soundtrack by the Nashville Symphony.
Read next: Best Places to Visit During Christmas in the US
15. Visit The Country Music Hall Of Fame And Museum
For a treasure trove of fun and one of the best Christmas activities in Nashville, visit the Deck The Hall Christmas Event!
This month-long event truly celebrates the holiday season, with everything from live music and entertainment shows to making snowglobes and Christmas origami.
For the entirety of December, when you visit the Country Music Hall of Fame and Museum, you can expect to find a range of activities and events in the center, including performances by country singers.
This is all for the price of general admission, which costs $23 to $26 per person.
16. Take A Christmas Tour At The Belmont Mansion
Get to know the past at the Belmont Mansion Christmas Tour while you take in the lovely festive atmosphere!
Constructed in 1860, the mansion and its surrounding lands reflect the history of Nashville, especially during the Civil War. So why not learn a bit during your Christmas in Nashville?
Christmas tours take place in the home, which is spectacularly decorated for Christmas starting in November and ending in January.
You can find the tickets on the Belmont Mansions' website at $22 for adults and $12 for children, and tours take place at multiple time slots throughout the day.
17. Drive Through The Jingle Beat
Attending Jingle Beat should be a no-brainer when spending your Christmas in Nashville!
Since it's one of the coolest and most unique experiences you can have in the city during this time, it's even more fantastic since you get to do this all from the comfort of your own vehicle!
Every December, the Nashville Fairgrounds Speedway is transformed into a festive wonderland with the addition of thousands of brightly-colored lights that line the 2-mile drive.
Audio effects and Christmas tunes also accompany this. The ticket price of a ticket per car starts at $45.
18. Enjoy The Holiday Lights
Your stay during Christmas in Nashville wouldn't be complete without strolling through one of Nashville's most iconic holiday traditions, The Holiday Lights!
There you can find over a million lights covering the grounds of the Cheekwood Estate and much more than you bargained for!
The Holiday Lights is also a great place to do some holiday present shopping at the Garden Gift Shop, and once you're there, you can also grab a meal at Café 29.
Or you can grab a hot cocoa and visit Cheekwood's many exhibitions. The Holiday Lights is open from November to December.
Final Thoughts on Nashville Christmas Events
You'll be pleasantly surprised and make wonderful holiday memories at the boatloads of activities and places to visit during Christmas in Nashville—our favorite holiday.
From sampling artisanal foods to watching light displays to attending concerts, you're spoiled for choice when creating the perfect Christmas vacation!
Enjoyed reading about Christmas in Nashville? Then spread the holiday cheer and share this article with your friends!
Latest posts by Victoria Green
(see all)