If you're looking to spend Christmas in Charleston, you might wonder what kind of holiday events and activities you can attend.
Don't get me wrong, but it can sometimes be hard to find something to do for Christmas, especially if it's in another city. But you'll come to find that in Charleston, South Carolina, you are certainly spoiled for choice!
This comprehensive guide will help you find the best Christmas activities in Charleston, including eating and drinking, attending concerts and markets, and participating in holiday festivities—everything to make your holiday season memorable.
Some advantages when it comes to visiting Charleston during Christmas include being able to attend once-a-year special events, shorter waiting lines, no freezing snow compared to other cities, and eating Christmas-themed foods!
Ready for some wonderful time in Charleston? Read on!
19 Festive Ways To Celebrate Christmas In Charleston
Here are our favorite ways to experience Christmas in Charleston! They are sure to bring out the holiday cheer in you and your family!
1. Entertain The Kids At The Children's Village
The Children's Village At Magnolia Plantation is one of the best Christmas activities in Charleston for little ones who are itching to have some good, old-fashioned Christmas fun!
Here they can meet Santa Claus, visit a candy factory, ride a kiddy train, and stroll through the Christmas Village.
The Children's Village also includes an Elf-themed school and a gingerbread house and allows pets on the grounds.
The event is held every year at Magnolia Plantation from November to the end of December, and tickets cost $15 per adult and $10 per child. Children under three can attend for free!
Read next: Best Christmas Towns in the USA
2. Have A Ball At Holiday Pops
It would be such a shame if you were to have your Christmas in Charleston and not attend the annual holiday tradition of Holiday Pops!
Every December, the Charleston Symphony holds this show to commemorate the spirit of Christmas through music and dance, so it's really not something to miss!
Once you're there, you're certain to be entertained with their long line-up of yuletide-themed performances.
Christmas classics such as the "12 Days of Christmas", "The First Noel", and "Sleighride" are featured in combination with their rendition of "The Nutcracker" and much, much more!
3. Participate In A Candlelit Tour At Drayton Hall
Now there is nothing more memorable than wandering around in a historical house guided by candlelight and the voices of the past, so to speak!
At Drayton Hall, you can travel back to the past through their Candlelight Tours of this historical residence which has stood since 1738!
You can reserve a spot at the tours, which take place every year at Drayton Hall in November and December, for $55 and $50 per person for non-members and members, respectively.
At the end of your tour, warm up with some cider or hot cocoa and visit the Gift Shop to do some browsing.
Read next: Best Places to Visit During Christmas in the USA
4. Catch A Sleigh Ride
For a spectacularly magical Christmas in Charleston, hop aboard the Holiday Sleigh Ride!
Here you can ride a Christmas-themed carriage drawn by horses and commanded by one of Santa's elves. For 25 minutes, you'll be driven through downtown Charleston and feel the joy of caroling!
To top it off, you'll also be treated to a one-of-a-kind experience at the end, where you can meet Mr. and Mrs. Claus at their magical stable located behind Old South Carriage's barns.
As you take some selfies, you can munch on some choc-chip cookies and drink some delicious hot chocolate!
Read next: Weekend in Charleston Itinerary
5. Join The Charleston Reindeer Run
There is just so much festive fun to be had at the Charleston Reindeer Run, which is held every Christmas in Charlotte in December.
At the race, participants can walk or run for 3.1 miles among 3500 people, some of whom are dressed in festive clothing to win the best-dressed prize. Also, dogs are welcome!
The proceedings of the race are donated to local charities, including the Charitable Society of Charleston and the Medical University of SC Shawn Jenkin's Children Hospital, which contributes to welfare programs.
The tickets for the event are $35 for adults over 17 and $25 for children between 5 to 16.
6. Head Over To Illumination Charleston
No Christmas in Charleston is ever complete without attending Charleston's amazing Illumination Charleston!
This event occurs over three days in December and showcases the best food, artistry, and talent the South has to offer you!
The event also includes tours through some of Charleston's oldest locations, such as the Nathaniel Russel House.
It also hosts the Tastemakers Holiday Market, the Southern Living Early Access Shopping and Cooking Demo, and the sounds of the Ranky Tanky Concert, which has won a Grammy Award!
7. Stroll Through The Charleston City Market
If you're pondering over what to do during your Christmas in Charleston? Then visit the renowned The Charleston City Market!
Visited daily by Charleston locals and tourists alike, the market is a popular choice for entertainment in the city, especially during the Christmas season!
At Charleston City Market, you can find buy from over 300 vendors selling all sorts of things, from local produce and artisanal foods to books and clothing.
The venue also often hosts live music and is surrounded by restaurants and cafes. And don't fret, it also has many restrooms and is near parking!
8. Gaze In Wonder At The Charleston Festival Of Lights
Experience the magic of Christmas in Charleston by paying a visit to its breathtaking Festival of Lights!
During November and December, the James Island County Park becomes home to over 750 dazzling light displays that line the pathways and adorn every tree and building.
While you're there, you can even catch a Christmas-themed train ride, visit Santa's Sweet Shoppe, ride an antique-looking carousel, pick up a souvenir at the gift shop, roast marshmallows over a fire, or watch the dancing display of light.
This festival in James Island County Park is truly one of the top Christmas things to do in Charleston!
9. Visit Aquarium Aglow
Light displays amongst the glowing aquariums and otherworldly marine life make this one of the most unique things to do in Charleston for Christmas!
From November to January each year, Aquarium Aglow showcases ocean-inspired light displays, including the occasional scuba-diving Santa in the aquarium!
You can even expect to find live entertainment, food stands, and music accompanying your walk-through of South Carolina Aquariums, covered by tens of thousands of lights.
The tickets cost about $25 per adult over 13 and $20 per child under 3 to 12 for non-members, and $20 and $15 for members.
10. Watch "White Christmas" At The Dock Street Theatre
Love all things Christmas? Then pay a visit to the beautifully ornate 19th Century Dock Street Theatre, which can be found in one of Charleston's oldest districts.
Here you'll find a play rendition of the holiday classic "White Christmas" held every December with a local cast and directed by Marybeth Clark.
The play features the soundtrack of the film with many fan favorites such as "How Deep Is The Ocean", "White Christmas," and "Blue Skies".
You can buy tickets for the show from $30 to $67 per adult and $25 to $67 per student under 25, depending on whether you're a member or not.
11. Browse Through Christmas Souvenirs
If you're desperately searching for the ultimate souvenir you can take home to remind you of your Christmas in Charleston, then why not pay a visit to the Charleston Christmas Collectibles!
This themed gift market can be found in the City Market Great Hall by the junction of Market Street and Meeting.
You'll find all sorts of cute and quirky festive trinkets at the market, handmade name collectibles, and Charleston-themed Christmas tree ornaments and decorations.
It takes all year round on a daily basis, with opening hours from 9:30 AM to 5 PM.
12. Have A Glimpse At The Charleston Tree Lighting Ceremony
For another fantastic photo opportunity, look no further than the Charleston Tree Lighting, which you can find in Marion Square on 329 Meeting Street.
The ceremony, which takes place in December, will even feature a few musical performances before switching on the Christmas tree light display.
Here you can expect to hear the sounds of the Charleston Symphony Brass as they perform the songs of the season.
Afterward, the tree, which is a staggering 64 feet, and the surrounding displays are lit up with dazzling white and colored lights. Remember to bring a camera!
13. Listen To The Sound Of Charleston Holiday Edition
Want to experience the music scene of Charleston during the Christmas celebrations?
Then try booking a night at The Sound Of Charleston Special Holiday Edition, where you'll be treated to the sounds of the Southern Gospel and a selection of many Christmas classics from over the years.
The show is held on select nights throughout November and January, and tickets go for about $25 to $28 for adults and $16 for children.
Additionally, the venue of the concert, the Circular Congregational Church, is located on 150 Meeting Street, adorned with illuminating holiday decor to match the festive mood.
14. Enjoy A Meal At The Charleston Holiday Progressive Dinner
Take part in one of Charleston's best time-honored Christmas traditions by booking a slot at the 37th rendition of Charleston Annual Progressive Dinner!
Guests are transported after each course of the dinner to various historical locations and restaurants around Charleston, including Circa 1886 Restaurant.
You can expect to experience the holiday magic of a Charles Dicken's style Christmas as you're delivered by horse-drawn carriage to your next course of the dinner, which includes hors d'oeuvres and dessert.
A ticket per person costs about $125, and the dinner is held on multiple nights spanning November and December.
15. Attend the Folly Beach Christmas Parade
So you want to catch a glimpse of Jolly Old Nick, why not attend the renowned Folly Beach Christmas Parade?
This colorful parade takes place annually on the second Saturday in December and features a host of Christmas-themed floats that distribute candy to the little ones!
You can find the parade starting at West Ashley Avenue and Second Street and making its way to Center Street.
As a bonus, you can visit the Post-Parade holiday market held nearby or the Arts and Crafts Show held in Folly River Park, where you can visit Santa, sip some hot cocoa, or pick up the perfect present.
16. Walk Through Charleston's Historic District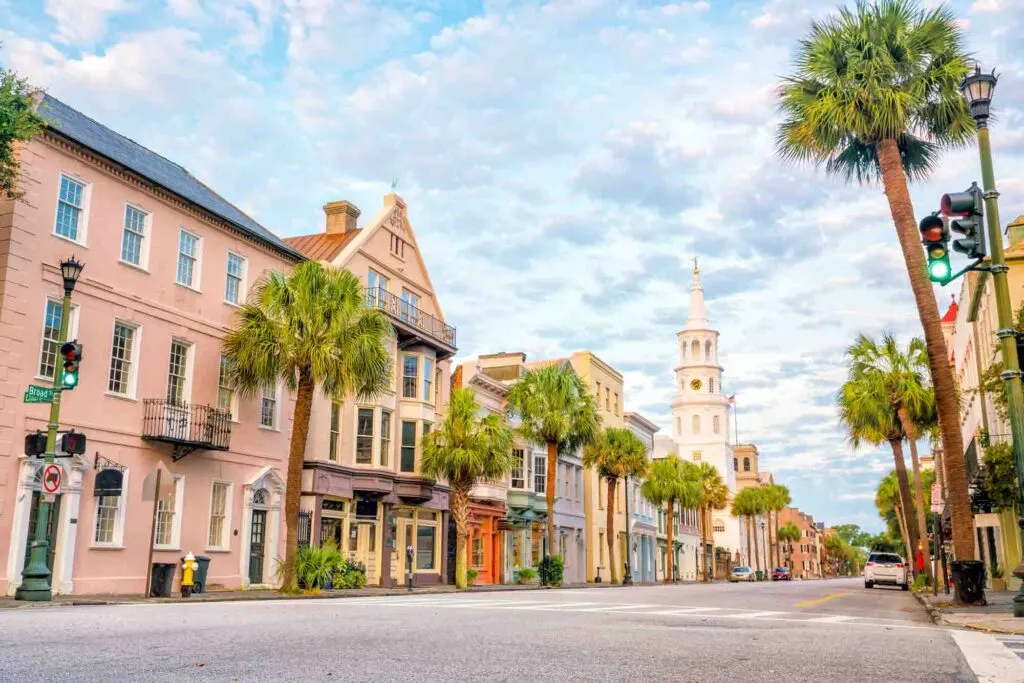 Suppose you're a history buff or you're just looking for something to do during Christmas in Charleston, then you'll absolutely enjoy The Holiday Walking Tour!
This tour of Charleston's oldest locations is held every day in December by Bulldog Tours from 10 AM. The tickets are $45 per adult and $35 per child.
You can expect to visit the Four Corners of the Law, which is where the Meeting and Board Streets intersect in Charleston and is comprised of several buildings dating back to the 18th century.
You'll also pass the Edmondston-Alston House and the historic neighborhoods decorated for the festive season.
17. Book A Seat To Watch "The Nutcracker"
One thing is certain: watching "The Nutcracker" is probably one of the most festive things you can ever do!
Join in on some fun and catch a show of this classically-festive masterpiece held by the Charleston Dance Conservatory with over 200 cast members.
Twirling Sugar Plums, dazzling snowflakes, and scores of Nutcracker soldiers will fill your heart with Christmas magic as the music of Tchaikovsky carries you away into this wintertime wonderland.
You can catch the performances being held every December, with tickets per person costing $27.50 to $57.50.
18. Scamper On Over To The Holiday Market In Marion Square
Feel like picking up a few Christmas gifts, snacks, or trinkets? Then pay a visit to the Holiday Market held every December in Marion Square in downtown Charleston!
The market is also within walking distance of many restaurants, hotels, and Air BnBs, so you'll have no problem getting there!
Here you can listen to live local entertainment while you browse through stalls selling flowers, plants, local crafts, and produce, as well as many foods stands selling delicious meals, snacks, and hot beverages.
Attendance is free, and you can attend the market every weekend for the first three weeks of December.
19. Stare In Wonder At The Charleston Holiday Boat Parade
Catch some of the Christmas spirit at the Charleston Holiday Boat Parade!
The parade has occurred every December for over 40 years, starting at Mount Pleasant and passing through the Cooper and Ashley rivers. The procession of boats is visible from 7:30 PM onwards in the downtown area.
You can even enter the parade itself by decorating your boat, or you can watch from the shore.
Either way, just watching or participating in the boating parade is one of the best Christmas activities in Charleston. So, bring along a camera and some hot cocoa and be prepared to take a lot of photos!
Did you enjoy reading about Christmas in Charleston? Then share the holiday spirit (and this post) with your dear friends and help us spread the word. After all, Charleston Christmastime is unique, and everyone should experience it once!
Latest posts by Victoria Green
(see all)