If you plan to spend a weekend in Charleston, you are in for a treat. This wonderful city is steeped in history and has become a melting pot of American culture.
In this short article, we take you through the history of this incredible southern city and, at each stop, offer you different things to do to ensure you have an enjoyable time away.
Charleston, SC, offers an opportunity to learn about and relive the historical events which shaped the country into what it is now while also being able to soak up the colorful and diverse culture.
It has become a microcosm of what makes America unique and shows that all cultures have a home here.
You will not be bored if you spend 3 days in Charleston or a month.
Whether you are a history buff wanting to see and, in some cases, experience history, or you are looking for a weekend of entertainment and amazing food, Charleston is renowned for its eclectic culture and historically relevant sites.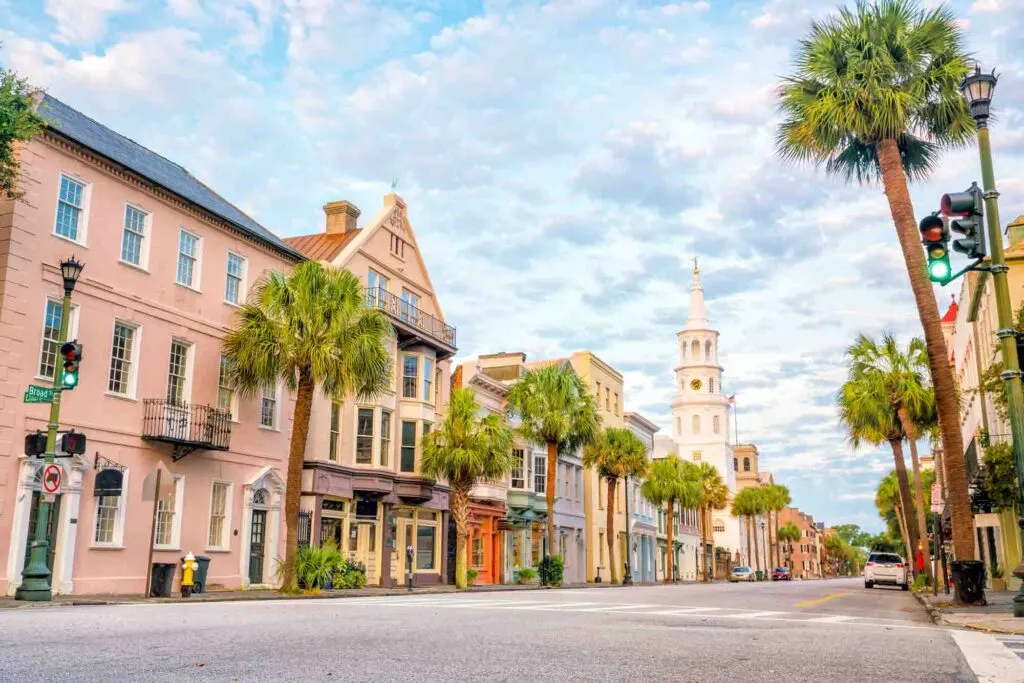 Where to Stay in Charleston, SC
Here are our favorite places to stay in Charleston for a weekend. They are particularly good for a weekend trip because of their location and unique ambiance.
When To Spend a Weekend in Charleston
Charleston is renowned for its hot and humid summer, and if you are not acclimatized to the heat, you will enjoy a short stay much more during the more temperate months.
Spring In Charleston
Charleston shows off in spring, and with its mild temperatures and blooming magnolias, it is easy to fall in love with this vibrant and colorful city.
Temperatures will range from 60- to 80 degrees, and the city is extravagantly painted with a colorful array of blooms you can see while you join the annual Festival of Houses and Gardens.
March is celebrated with the annual Charleston Food + Wine Festival and the international Spoleto Festival USA is held during May and June.
Be careful around Easter when the tourists take over and accommodation prices rocket.
Summer In Charleston
With temperatures exceeding 80 degrees, summer in Charleston is only for the hardiest.
Despite this, tourists fill the city over the summer holidays.
August is the wettest month on the calendar; the town often experiences flooding.
Fall And Early Winter
Charleston excels itself in Autumn and early Winter with glorious weather and temperatures in the 70s.
There are plenty of festivals and displays to excite even the most cynical traveler and accommodate all tastes.
Lowcountry Jazz Festival (August-September)
Charleston Restaurant Week (September)
MOJA Arts Festival (September-October)
Taste of Charleston (October)
Holiday Festival of Lights (November-December)
Winter In Charleston
Winter is a less intense time for Charleston; however, temperatures remain very comfortable and rarely dip below the 50-degree mark.
Visit the town when it is resting and enjoy fewer crowds and less "ooh-ing" and "ahh-ing" from the smaller number of tourists.
The events to watch out for during this time are.
Holiday Festival of Lights (November-December)
Lowcountry Oyster Festival (January)
Getting to Charleston
If you're spending a weekend in Charleston, chances are you're arriving at Charleston International Airport — if you're flying, of course.
The airport is only 20-25 minutes from the historic Downtown, so it's easily reachable.
If you live nearby and are arriving by car, you can easily drive into town since Charleston is a car-friendly city with many parking spots.
Charleston Weekend Itinerary – Day 1
Start the day with a breakfast at your local B&B or hotel, and ensure you drink a lot of liquids because there is a lot planned and the temperatures are high.
With Charleston having played such a pivotal part in the war of independence, slavery, and the civil war, let's spend the first day visiting some of the iconic places you may have only read about in history books.
Don't worry; it's not all museums and artifacts but rather a variety of activities that will bring the past to life.
Visit the Charles Towne Landing State Historic Site
King Charles II gave the Province of Carolina to eight of his loyal friends, known as the Lords Proprietors, on March 24, 1663. In 1670, the Governor, William Sayle, organized shiploads of settlers from Bermuda and Barbados.
Originally named Charles Towne (in honor of Charles II King of England – May 29, 1630 – February 6, 1685), The town's residents started referring to it as Charleston around 1719.
The new immigrants established Charles Towne at Albemarle Point, on the banks of the Ashley River, Northwest of the present-day city center.
You can visit the Charles Towne Landing State Historic Site and interact with hands-on exhibits in the Visitor Center. The knowledgeable staff are a fountain of information and are always willing to chat.
There is also an audio tour on a self-guided history trail.
Go on a Charleston Pirate Tour
From the 1690s through to the 1720s, Charleston's combination of a weak government and corruption made it a popular hub with pirates operating in the region (including the infamous Blackbeard). In 1718, pirates besieged the city and took several residents hostage.
The situation was resolved when Governor Robert Johnson provided a chest of medicine in payment as ransom for the prisoners.
This walking tour leads you through the highlights of Charleston, including the Battery, Waterfront Park, and St Michael's Church, among other places.
It's a 90-minute tour that teaches you about the bardy taverns, pirates, heroic patriots, and much more.
The reviews rave about this tour, mentioning the guide exceeded expectations as they are masters storyteller and will keep you captivated as they regale you with wonderful tales of pirates from this era.
You will learn about this "colorful" time of Charleston's history and all of pirate life's fascinating facts.
Discover the Charleston Food Scene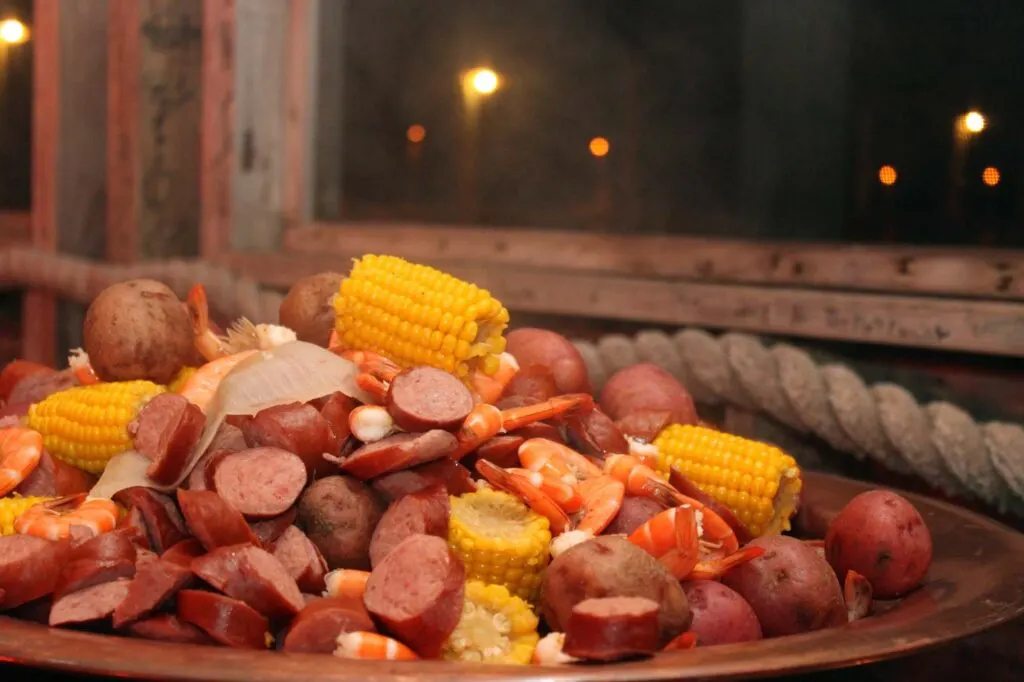 It's no secret that Charleston has a celebrated food scene, from award-winning chefs to Lowcountry fare.
That's why you should join a food guided and tasting tour and learn more about this incredible side of the city during your weekend in Charleston.
In this 2:30-hour tour, a knowledgeable guide will teach you about the local food history while you get to sample local products, including South Carolina barbecue and collard greens.
It's an excellent way to taste local foods and learn more about Charleston!
Visit a Plantation During Your Weekend in Charleston
After a busy morning and a pleasant lunch, you will want to take it a bit easier, and there is no better place to do this than at a plantation where you can learn about the dark past of Charleston.
You have two excellent options: the Middleton Place Plantation and Drayton Hall.
The period between the Revolutionary War and the Civil War is called the Antebellum Era.
During this time, Charleston experienced some of its best and darkest times.
With the expansion of cotton as a cash crop, there was an economic boom for the top strata of society. Charleston's prosperity increased with the invention of the cotton gin, which allowed cotton crops to be processed over 50 times faster.
With the advent of the Industrial Revolution in Britain, there was a hunger for cotton, and Charleston profited even further.
During this time, an impressive amount of architecturally significant buildings were constructed.
The Middle Place ticket offers a package featuring access to the plantation, hotel pickup and drop-off, a guided tour at the house, and a 3-course lunch.
On the other hand, the ticket for Drayton Hall only offers access to the premises, narrated home tour, and an interactive educational program — but you need to get there by car.
Whichever option you choose, you will definitely learn a lot about Charleston's dark history of slavery.
See How Slaves Were Treated At The Old Slave Mart Museum
Sadly, the cotton industry's thriving also increased the value of enslaved people, and the restrictions on Black Charlestonians increased significantly. Slave ownership became a sign of wealth, and even black freedmen and free people who were wealthy enough kept slaves.
So ingrained into the southerners' beliefs that free Black sailors were required to be imprisoned while their ships were in Charleston Harbor.
In 1794 American traders were not allowed to import enslaved people from across the Atlantic, and from 1808 the whole practice of importing enslaved people was forbidden.
Unfortunately, these restrictions did not apply to the domestic slave market, which experienced a boom in the cotton plantations of the deep south.
Over 1 million enslaved people were imported from the north to the south during this period.
The first dedicated slave market was established near Chalmers and State streets in Charleston.
Visit the Old Slave Mart Museum, the only known building used as a slave auction site in South Carolina. It's a place you need to visit during your weekend in Charleston to learn about the atrocities that happened to those people.
Enjoy An Evening Celebrating Charleston's Cultural Heritage
Charleston is a rich mixture of traditional Southern, English, French, and West African cultures, some of which can be experienced in isolation and others as a fusion of different influences.
Whether you are looking for "typical" Charleston cuisine, entertainment, music venues, or even a visit to a local theatre, Charleston has a mouth-watering selection of venues to visit.
Finding An Amazing Restaurant
A word of caution is that Charleston, like every other touristy venue, has places that can be described as tourist traps.
We recommend leaving the "tourist map" at your accommodation and finding where the locals eat.
Don't be fooled by loud marketers trying to entice you into the rows of tourist restaurants, even if there are long lines of people waiting to get in.
The people of Charleston are renowned for their friendliness and approachability, so don't be afraid to ask for directions and recommendations for the best places to eat in Charleston.
Theatres That Regularly Present Performances
If you want to take in the arts, there are many community theatres in Charleston.
The Footlight Players which has been performing since 1931.
The historic Dock Street Theatre.
If You Want A Night Out On The Town
Let's face it, one of the main attractions of Charleston is nighttime entertainment.
Charleston has a rich history of music that blends various influences and cultures and presents a rich tapestry of offerings. Some of the venues we recommend are.
Visit the Firefly Distillery on a Saturday with local and regional musicians while you sip on cocktails and eat a meal.
The Pour House is a Charleston institution and offers free attendance to watch live artists.
The Commodore is similar to a wine buffet where customers choose what and how much they eat. There are live jazz and blues bands to entertain you.
The Music Farm accommodates upwards of one thousand people and features local and national artists.
Charleston Music Hall is renowned for its acoustics and specializes in theatrical events, including music, performance art, dance, and theatre.
Tin Roof produces all genres of live music, from country to Punk Rock.
Purple Buffalo is an eclectic music/bar venue presenting DJs, performing bands, and even live art shows.
Charleston Weekend Itinerary – Day 2
If you enjoyed being entertained by pirates the day before, hold onto your hats because today will be just as interesting and off the wall.
Once again, enjoy a good breakfast and drink lots of liquids because it will not be any cooler. Here's Day 2 of your weekend in Charleston.
Be Entertained By The Charleston Raconteurs
Charleston Raconteurs offers a fascinating tour led by a raconteur who will tell you stories skilfully and amusingly about the events which influenced modern-day Charleston.
These are not history lessons but real tours led by amazing storytellers who will keep you entertained and on the edge of your seat with anticipation.
There are specific tours that provide detailed stories.
The American Revolution
Charleston's historic epidemics & pandemics.
The Civil War.
The general history of Charleston.
You will walk away from this rich experience with a newfound understanding of our country's founding. It's a must-do experience on your weekend in Charleston.
Time For Some Lunch
When you visit Charleston, take some time to try out Hannibal's Soul Kitchen in East Charleston.
Hannibal's has been in business for almost 40 years and is famed for its crab rice dish.
This restaurant is famed for this Gullah dish, prepared customarily.
You will enjoy a buttery mix of white rice, crabmeat, bell pepper, onion, celery, and bacon fried up and served hot for the hungry traveler.
It's one of the best restaurants you could find during your weekend in Charleston.
Warren Lasch Conservation Center
On our last day's stop, visit the Warren Lasch Conservation Center.
In 1864 the confederates were desperate to break the naval blockade of the city.
On February 17, history was made when the first-ever submarine, the H.L. Hunley, was used as an active weapon and a crew of seven volunteers successfully attacked the USS Housatonic, ramming Hunley's torpedo against the enemy's ship's hull.
The torpedo was blown up, and the USS Housatonic sank in five minutes, along with five of her crew members.
Before this success, however, the submarine had sunk twice, killing all of the crew and its inventor.
Each time it was raised to the surface, another crew finally tried again to succeed against the USS Housatonic.
The actual vessel has been lifted from the seabed and preserved, and you can now view this remarkable bit of history at the Warren Lasch Conservation Center.
Visit Rainbow Row
Charleston's tourism boom began in earnest when the rich historical value of Charleston's Architecture was highlighted in a publication by Albert Simons and Samuel Lapham in the 1920s.
A wonderful and colorful example of this can be seen if you take a walk from 83 to 107 East Bay Street along the colorful Rainbow Row. This row of pastel-colored historic homes dates back to 1740 and provides a chance to exercise your photographic abilities.
Learn More About Charleston at the Old Exchange and Provost Dungeon
If you want to learn about Charleston's past, there are no doubts you should visit the Old Exchange and Provost Dungeon. It's a fantastic place with lots of history.
To give you an idea, this building pre-dates USA's first President and is where the Constitution was ratified.
It is a great eye opener in history, from pirates to slavery, General George Washington, and beyond.
If you take the tour, a knowledgeable and enthusiast guide will lead you on an educational experience of this historic building, a former Revolutionary prison and City Hall.
Shop til' You Drop at King Street
King Street is a historical road that dates back to the colonial period. Unsurprisingly, the street was named after King Charles II of England.
Nowadays, King Street is a lively spot dotted with southern comfort foods (aka excellent restaurants), shops, and boutiques.
So take your time to browse around and enjoy the views. It's a unique place that you have to visit during your weekend in Charleston.
Have More Days in Charleston?
In that case, you can…
Head to Folly Beach for an easy day trip
Hit Myrtle Beach
Check out the oak trees at White Point Garden
Buy souvenirs at Charleston City Market just off the Market Street
Wander through the cobbled streets of Charleston and spot historic buildings and iconic landmarks
Head to Patriot's Point to learn a bit about Charleston's military history
Final Thoughts on Weekend in Charleston SC
There is an almost endless range of activities for a weekend visitor, and the only recommendation is to choose where you are going before time because it is too easy to get carried away in this beautiful city.
There is so much to do across many eclectic activities, so you will not be bored but challenged to come back for many more visits.
We hope you have an incredible weekend trip to Charleston City!
Latest posts by Victoria Green
(see all)