From the rustic and remote to the all-inclusive, these cabins with hot tubs in Kentucky are just the inspiration you need for a trip down South.
When a vacation includes pristine nature, stunning mountain views, and quality time with loved ones, there's only one thing that can make it even better. That's right–a hot tub.
Lucky for you, we've got 18 stellar picks that boast vistas, jacuzzis, and much, much more.
Kentucky is often overlooked as a state to visit, but take one peek at these cabins, and you'll quickly change your travel plans.
Editors' Picks: The Best Cabins with Hot Tubs in Kentucky
So pack your swimsuit and get ready to indulge at one of these fabulous Kentucky cabins with hot tubs.
Whether you're planning an adult summer camp or a family reunion, this spacious cabin comfortably sleeps eight and has all the amenities you could ask for, including air conditioning.
With 1,200 square feet to go around, everyone can have their own space while still enjoying time together.
Gather on the private deck for dinner and drinks, start some friendly competition at the downstairs pool table, then wrap up the night around the giant fire pit on the lawn. Of course, a dip in the pond-view hot tub goes without saying.
Outside the cabin itself, you'll find rock climbing and hiking trails at Red River Gorge and zip lines and underground kayaking at Natural Bridge State Park.
Calling all couples! From the cozy master loft to the hot tub for two that looks out over acres of woodland, this property is perfect for a romantic getaway.
Within just a 15-20 minute drive, you can reach Red River Gorge, Natural Bridge State Park, and Mill Creek Lake.
That means excellent restaurants, lovely hikes, water activities, horseback riding, and even a million-year-old sandstone arch (one of the area's most popular attractions) are all close by.
A few things to keep in mind: the cabin is located up a steep hill, so a 4-wheel-drive is recommended, and the heavily wooded surroundings can mean occasional power outages and other minor inconveniences.
There's tons of family fun to be had at Cozy Canopy, one of the most spacious of our cabins with hot tubs in Kentucky!
In the home (which sleeps up to 7), you'll find board games, a flat-screen TV with Roku, and free wifi.
Nearby, mini golf, zip lines, and world-class rock climbing will keep all ages entertained.
The famous Nada Tunnel entrance to the Red River Gorge is just 5 minutes away from the cabin.
As for the hot tub, it sits on a covered patio, so you can enjoy it whatever the weather and maybe even spot some wildlife as you soak.
Please note that the cabin is located up a steep hill, and a 4-wheel-drive is recommended.
Many cabins with hot tubs in Kentucky have neighbors nearby, but not here in Laurel County!
If seclusion is what you're seeking, then Bass Cabin is the place to book.
At this property, you won't run into others, and all you'll hear is the local wildlife, but the town is still close enough to swing by, and high-speed wifi will keep you connected if you wish.
Right outside the cabin, you can stroll down to Bass Pond, build a blaze in the fire ring (although wood is not provided), or simply enjoy the woods all around you.
No pets or children are allowed, so this is a retreat best taken solo or in pairs.
A sprawling green lawn, outdoor firepit (bring your own wood and charcoal), and cozy bedrooms make this the perfect small family retreat.
Heavenly Hideaway is far enough from the attractions of Red River Gorge that you'll truly get to enjoy your own space, yet it boasts plenty of hiking trails and wildflower fields of its own nearby.
The private hot tub looks out over rolling hills and dense woods, while porch swings provide peaceful seating during the warmer months.
The gravel road and driveway are fairly steep, so a 4-wheel-drive is recommended.
It's hard to beat the gorgeous views from the front deck at this two-bedroom, one-bathroom property, which looks out over the lush greenery of the Appalachian Mountains and Eastern Kentucky.
An easy-start, propane-fueled fire pit, six-person hot tub (private), and modern kitchen make this a luxury cabin with rustic interiors and lots of wildlife sightings that keep it rooted in nature.
Guests have spotted deer, turkey, rabbits, black bears, and other local critters nearby!
Sugar Camp Golf Course is just 5 minutes away, and the town can be reached within a 10-minute drive for any last-minute conveniences.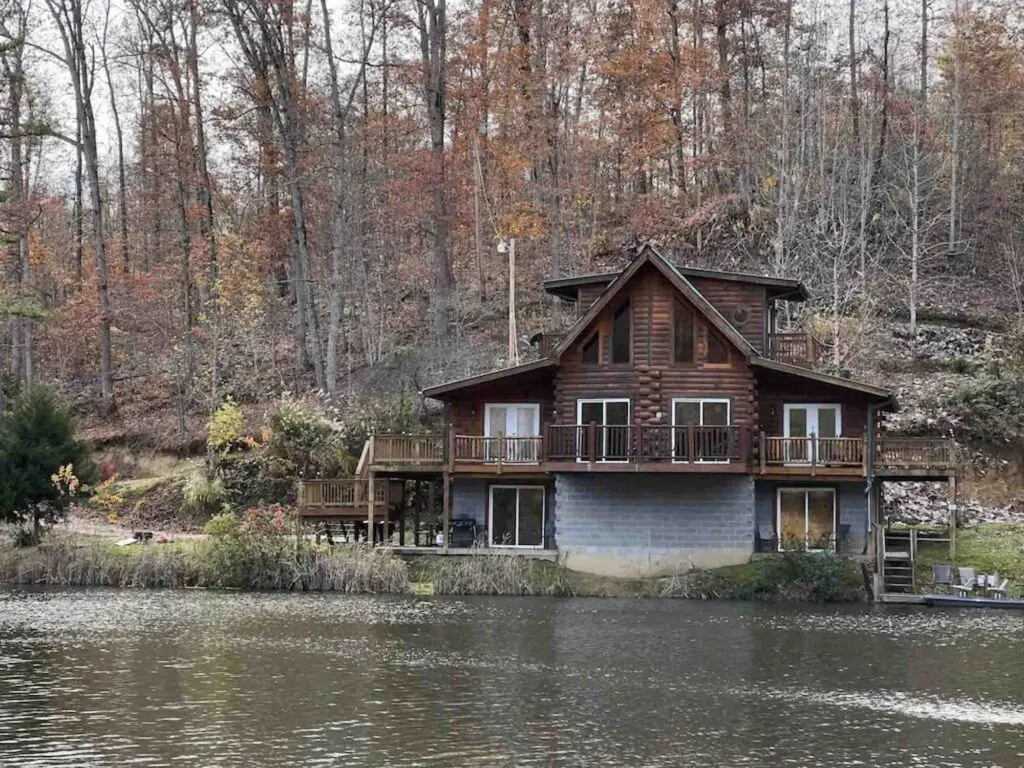 Few Kentucky cabins with hot tubs come with such a laundry list of unique features.
Our favorite has to be the 21-foot-tall tree that rises up through the great room, supporting the main beams of this cabin in Kentucky.
Furthermore, both bedrooms boast private balconies, and outdoor living spaces can be found on both sides of the house. A rec room contains a hot tub, pool table, and treadmill.
Prefer to make your own favorite meals? Guests have raved about the well-stocked kitchen, which has lots of spices and utensils to use for cooking and grilling, plus thoughtful touches like dishwasher tabs and extra garbage bags.
Besides, the private dock is the perfect spot for fishing. Guests can also rent an ​​electric trolling boat for just $10/day!
There are lots of cabin rentals in Kentucky with hot tubs, but Bill's Place brings an extra dose of charm with its lovely decorations, gas log fireplace, picnic shelter, and spacious front covered porch (complete with rocking chairs and swing).
Thoughtful touches like DVDs, books, and bicycles, plus extra towels, pillows, and blankets will make families of 4 feel right at home here, and the hosts are super responsive in case you need anything during your stay.
A 20-minute drive will get you to all the attractions of Red River Gorge, which include hiking trails, rock climbing spots, and more.
This newly-remodeled cabin tucked away in the hills of Campton, Kentucky, is a beautiful base from which to explore nearby natural wonders.
Nada Tunnel and Natural Bridge State Resort Park are both 20 minutes from the property.
At Whispering Winds itself, amenities like an arcade game table, dual coffee maker, and private hot tub are sure to make your stay memorable.
However, past guests have reported some run-ins with local critters (a risk you run with any place out in nature), and a 4-wheel-drive is recommended to make it up the steep hill to the home.
The aptly-named Sunrise Cabin is most notable for its morning views, looking out over rolling farmland and tranquil forests.
Four can fit in the cozy space, but couples particularly love this property.
Of all the cabins in Kentucky with hot tubs, this certainly isn't the most secluded.
However, within 20 minutes, you can reach all the hotspots of Red River Gorge, and the Scenic Byway is even closer–just 10 minutes from the cabin.
A 4-wheel-drive is recommended year-round and required in winter!
When it comes to the ideal location, this is probably one of the most uniquely situated cabins with hot tubs in Kentucky.
Serenity Falls sits in the middle of a horseshoe-shaped canyon, which means you'll be in a secluded cabin and surrounded by lots of nature to explore–creeks, old-growth forests, fascinating rock formations, and a seasonal waterfall visible from the porch!
You can even drink your morning coffee in Adirondack chairs sheltered by a rock overhang. Indoors, enjoy amenities like a wood stove (firewood provided), comfy beds (can sleep up to 7!), and a newly-remodeled kitchen.
To access the property, you have to hike up some steps, about a 3-minute walk. Dogs are welcome.
Couples or small families on a budget can find a rustic cabin not far from Red River Gorge's points of interest (ziplining, kayaking, rock climbing, and more) at this cozy cabin.
This is one of the lower nightly prices to be found for cabin rentals in Kentucky with hot tubs, although that means you should expect less in terms of amenities.
As the name suggests, this newly-constructed Campton cabin is quietly nestled away in the Kentucky woods, yet only 10 minutes from Red River Gorge.
Even closer by, you can access Wolfe County Lake, which boasts great fishing spots and a number of hiking trails.
The cute and comfy home features three queen beds, a well-equipped kitchen, and an electric fireplace.
The property is located up a steep gravel drive; a 4-wheel-drive is recommended, and only two cars can be parked on the property.
Few cabins in Kentucky with hot tubs also boast an 11-foot-tall bear statue, but this small family-friendly cabin does!
If Barley's friendly face isn't enough of a welcome greeting, then you can also look forward to a spacious, resort-style screened-in porch. Its best feature? A luxurious 2021 Nordic hot tub equipped with massage jets and a whirlpool function.
Cave Run Lake and Long Bow Marina are just 2 miles from the cabin, where you can rent boats, fish, and swim or sunbathe at the lake beaches.
Strategically located 20-40 minutes from many of the area's attractions (Red River Gorge, Daniel Boone National Forest, and Cave Run Lake), the Wander Inn is the perfect place to base a big group eager to explore Kentucky's natural beauty.
The cabin sleeps eight and features two full bathrooms, plus lots of outdoor space means you can grill, gather around the fire pit, lounge in the hammock, or organize games with ease.
Make sure to be around at dusk, as the sun sets directly behind the property, and you can score stunning views from the balcony.
Unlike many cabins with hot tubs in Kentucky, this property is free of additional pet fees, so you can bring your furry friends along!
Newly listed and crafted with care, Boulder Ridge promises an unforgettable, picture-perfect stay near Cave Run Lake.
The property owners are boaters, so if you want to access the lake, they have two spacious turnarounds and parking for your own boat or boat rental, saving you money on dock fees.
A nostalgic Nintendo game station, pool table, and flatscreen TVs will keep guests entertained indoors, while the place's proximity to Red River Gorge and Natural Bridge State Park (20-30 minutes away) means lots of hiking opportunities are in store.
When you're not soaking in the 2022 Nordic hot tub, make sure to spend some quality time in the "Four Seasons" room, which boasts nine large windows and spectacular panoramic views of the surrounding woods.
Located in beautiful Lake Cumberland, Kentucky, and less than a mile from Alligator 2 Marina, this Beary Cute Cabin comfortably sleeps four but can accommodate up to 6 if you bring your own air mattress(es).
It has the feel of a cozy family home, with a fully-equipped kitchen, gas fireplace, picnic table, charcoal grill, and fire pit. If you're renting or traveling with a boat, there is plenty of trailer and boat parking onsite, as well as external electricity to charge up.
A few things to keep in mind: The hot tub is an older model but still does the trick if you're not fussy, and this area is full of beautiful cabins, so it's not the most secluded spot.
Wrapping up our list of cabins with hot tubs in Kentucky is this rustic property located very close to Red River Gorge and Natural Bridge State Park.
The home sleeps six and has plenty of added touches to keep you comfortable during your stays, like a gas log fireplace, board games, and Roku TV.
Good to know: A 4-wheel-drive is recommended to make it up the steep hill to the home.
Enjoyed this list of cabins in Kentucky with hot tubs? Then share it with your dear friends!